10 Hotels Near Disneyland with Free Parking
Disclosure: This site uses affiliate links. Hotels change their policies regularly, please double check that this perk still exists with the hotel or Get Away Today directly.
Save money on a Disneyland vacation by searching for hotels near the Resort with free parking. Theme parks charge $30 per day to park, and hotels also often charge for parking! Save money by choosing a hotel that is within walking distance with free parking options. Below is a list created by Get Away Today with free parking options for your next Disneyland resort vacation. Please note that hotels update their perks regularly. This post is not automatically updated and should only serve as a guide. Please double-check with Get Away Today directly for the most up-to-date information.
We all know going to Disneyland can be costly. Disneyland parking is $25, but many hotels offer free parking and free shuttles! We have many ways to save money on your Disney vacation, starting with parking fees. I get to work closely with the travel agents at Get Away Today, and not only do they guarantee the lowest prices on Disneyland tickets, but they also partner with hotels near Disneyland to give you exclusive perks.
Disneyland is a dream vacation for many families, but the cost does not stop at the tickets. Parking at the Disneyland Resort will cost you $25 each day. One of the ways you can enjoy saving money at Disneyland is by finding an amazing family-friendly hotel with free parking. Not only will this save you each night of your stay, but you can often enjoy a free bus or shuttle ride to Disney and save the parking structure fee too! Lexi from Get Away Today has compiled a list of 10 hotels near Disneyland with FREE parking.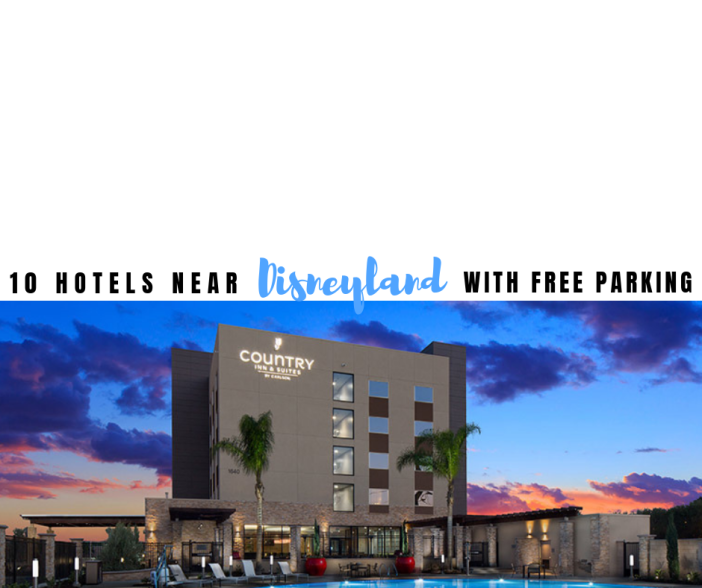 At the time of this list, our prices and information has been verified with each Disney Good Neighbor Hotel. Please know that things change and we always suggest calling and making sure that information is current. When you call Get Away Today make sure to ask about all the perks the hotel you are considering has to offer. Please leave a comment to let us know any updates you may have. Check out comments and call the hotel to double check!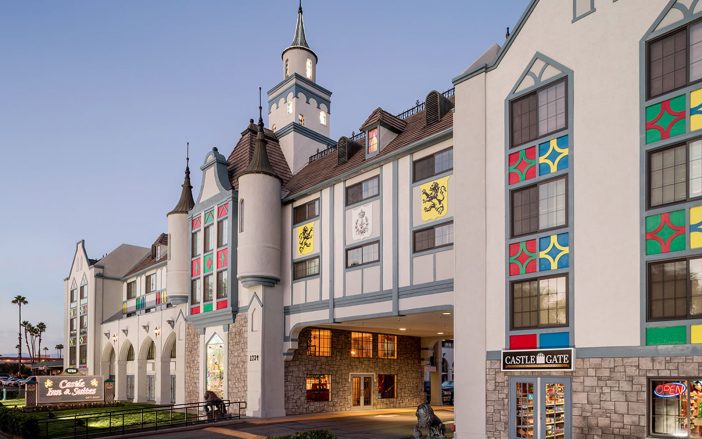 Castle Inn & Suites
Less than one mile from Disneyland is Castle Inn & Suites. The castle theme is a lot of fun for families traveling with kids. In addition to free parking, Castle Inn & Suites also boasts an outdoor pool, wading pool and hot tub. Their rooms also have mini fridges, and are eligible for 4th Night Free discounts on select dates. Choose from a 2 Queen standard room for up to four guests, or a 1 King and 1 Queen family suite that sleeps up to six guests.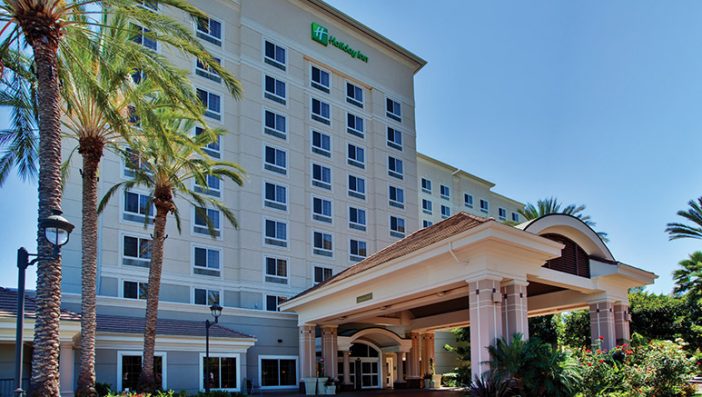 Holiday Inn Anaheim Resort
Holiday Inn Anaheim Resort is one mile from Disneyland. It offers an outdoor BBQ area, on site dining and an outdoor pool. This hotel near Disneyland not only has free parking but complimentary breakfast as well. The 1 King standard room sleeps up to four, as does the 2 double bed room option. Rooms feature a fridge, free wi-fi and cable TV.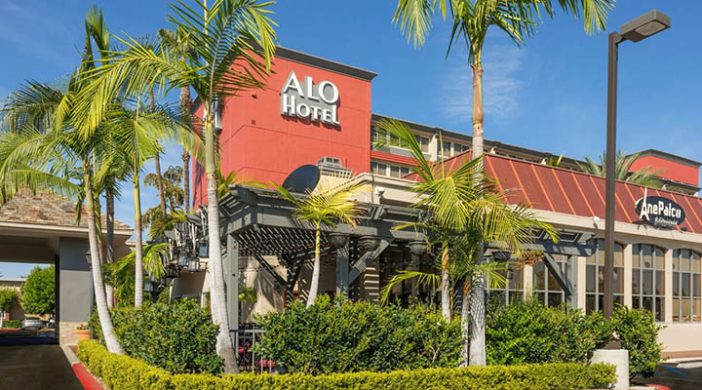 ALO Hotel by Ayres
Just under two miles from Disneyland is the ALO Hotel by Ayres. It has free parking as well as free hot breakfast buffet. There's also an in room mini fridge. Room options include 1 King plus sofa bed deluxe that sleeps up to 5, as well as the 2 Queen Deluxe. Other amenities include an outdoor pool and a fitness center.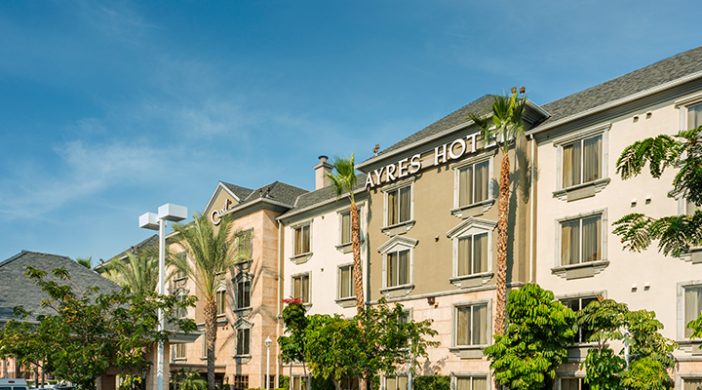 Ayres Hotel Anaheim
The Ayres Hotel Anaheim is less than 3 miles from Disneyland. It's another one of Get Away Today's partner hotels near Disneyland that offers free parking and Extra Night Free specials for select dates. Choose between a 1 King room with sofa bed or a room with 2 Queen beds. Either will offer a microwave and refrigerator in the room. There is also an outdoor pool, hot tub and a fitness center at the Ayres Hotel Anaheim.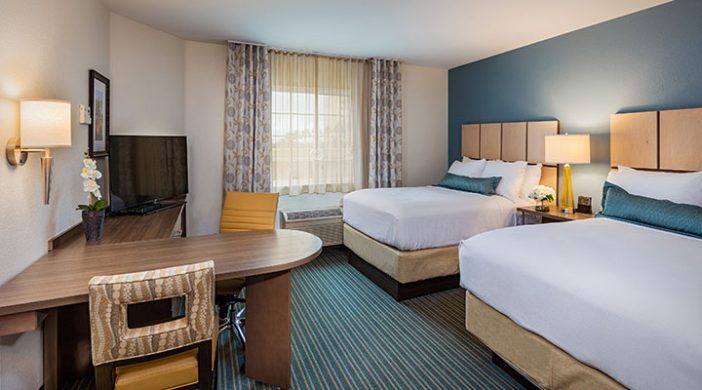 Candlewood Suites
Candlewood Suites is just one mile from Disneyland. It has apartment style suites, perfect for groups who need a little more space. The in-room kitchen makes meal prep easy so you not only save with the free parking, but on food expenses as well. This hotel is eligible for 4th Night Free specials for select dates, and offers an outdoor pool and BBQ area.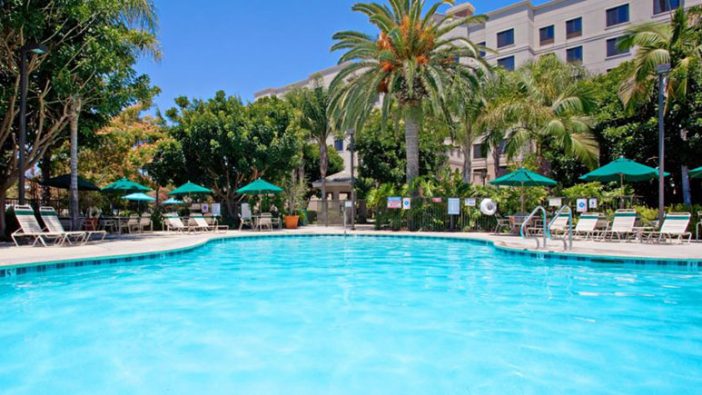 Staybridge Suites by Holiday Inn
Another hotel near Disneyland with suite style rooms is Staybridge Suites. It offers free parking when you book with Get Away Today, and you can also enjoy amenities such as kitchens in room, a large outdoor pool and complimentary hot breakfast every morning. Suites can sleep four to eight guests depending on your room choice.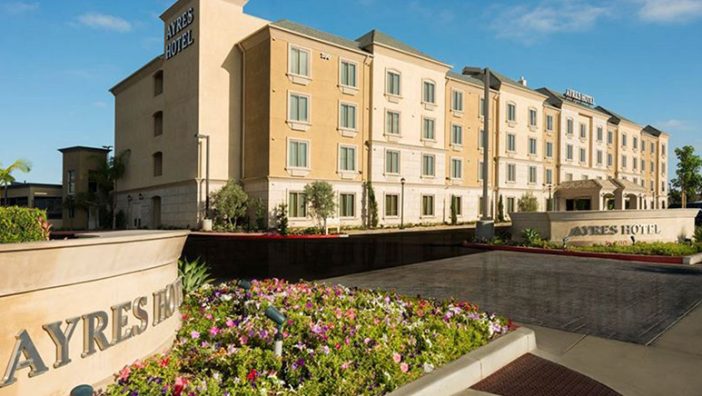 Ayres Hotel Orange
Another great choice less than two miles from Disneyland, Ayres Hotel Orange not only offers free parking, but a microwave and mini fridge in room as well. This hotel near Disneyland also has free breakfast, an outdoor pool and hot tub, and the option to sleep up to five guests per room.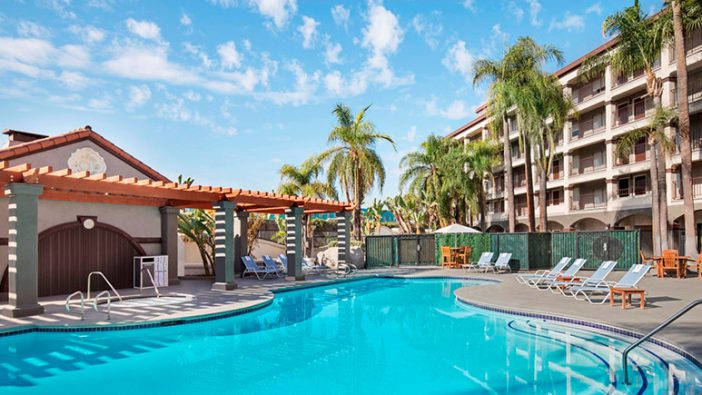 Four Points by Sheraton Anaheim
Just two blocks from the Disneyland Resort, free parking is one of many perks at Four Points by Sheraton Anaheim. Peppered with palm trees, you know you're in Southern California at this hotel based on the landscaping alone! You can also enjoy rooms which sleep up to four guests, plus free wi-fi and cable. The in-house restaurant is a great choice for dining, and each room also offers a mini fridge. Also available at this property is an outdoor pool, a hot tub and a fitness center.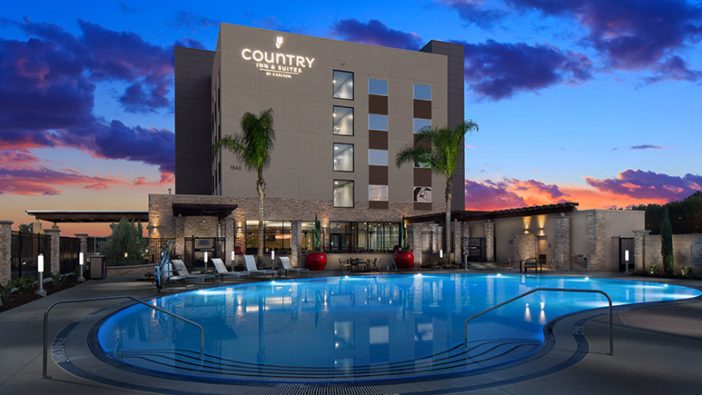 Country Inn & Suites Anaheim
Only half a mile from Disneyland, you'll enjoy more than just free parking at Country Inn & Suites. The guest rooms are spacious and have mini fridges and microwaves. Enjoy additional amenities such as a fitness center, hot tub and outdoor pool. There's even free breakfast when you book with Get Away Today. When we have stayed here in the past we found the walk to Disneyland to be so nice! We saved money staying here, enjoyed free breakfast, and saved by not having to pay for parking in the parking structure!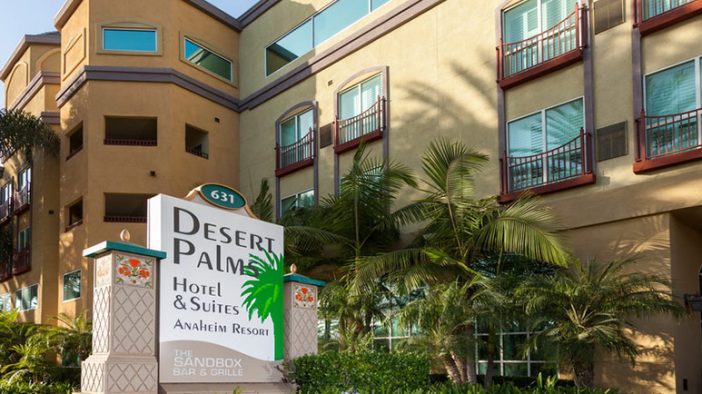 Desert Palms Hotel & Suites
Last, but not least, there is Desert Palms Hotel & Suites. For free parking, a pool, spa and complimentary breakfast, look no further than this hotel near Disneyland. Located about one block from Disneyland and just one block from Knott's Berry Farm, it's a great choice.
We have shared several articles to help you plan a wonderful trip to Disneyland in California. Many of these articles can help you save money and time! Please make sure to check out all of the following posts before you visit! Of course make sure to book with Get Away Today – but don't forget to use your discount code HIGHLIGHTS to save a little extra!
10 Hotels that offer FREE Breakfast near Disneyland (some are repeats here – but make sure to get the whole list!)
The Benefits of staying on Property at the Disneyland Resort – These are generally the more expensive hotels, but check out the benefits. There are so many bonuses offered to those that stay on property. The most exciting reason to stay at a Disneyland Resort Hotel of course is because you guarantee a reservation for Star Wars Galaxy's Edge.
Time Saving Tips for Disneyland From the Disneyland App to Maxpass to ways to meet the characters without standing in line for an hour and more!
Make sure to pin this post about saving money with free parking for your next trip to Disney!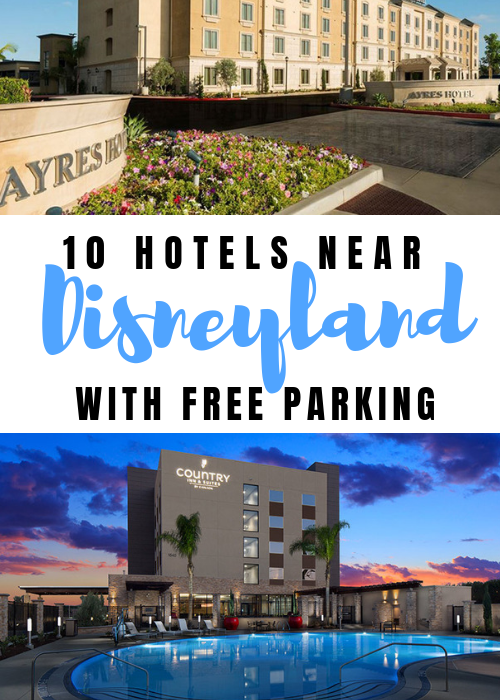 As you can see, there are many benefits to booking with Get Away Today and hotels near Disneyland with free parking is just one of them. If you have questions about other hotels near Disneyland not on this list, feel free to call the Get Away Today travel agents at 855-GET-AWAY. You can also see all their vacation packages online at www.getawaytoday.com. When you book with Get Away Today, let them know Highlights Along the Way sent you and mention code highlights for an additional $10 of your package.