10 things to do in Anaheim besides Disneyland
Disclosure: This site uses affiliate links.
Hi everyone, this is Lexi from Get Away Today, here to talk to you about Southern California. More specifically, I want to talk to you about Anaheim, California. Whenever most of us think about the city of Anaheim, we automatically imagine the Disneyland Resort. However, Anaheim isn't just home to "The Happiest Place on Earth." With shopping, entertainment, dining and professional sports teams around every corner, this city has something for everyone to enjoy. Because of this, I wanted to share my top ten activities to do in Anaheim besides Disneyland.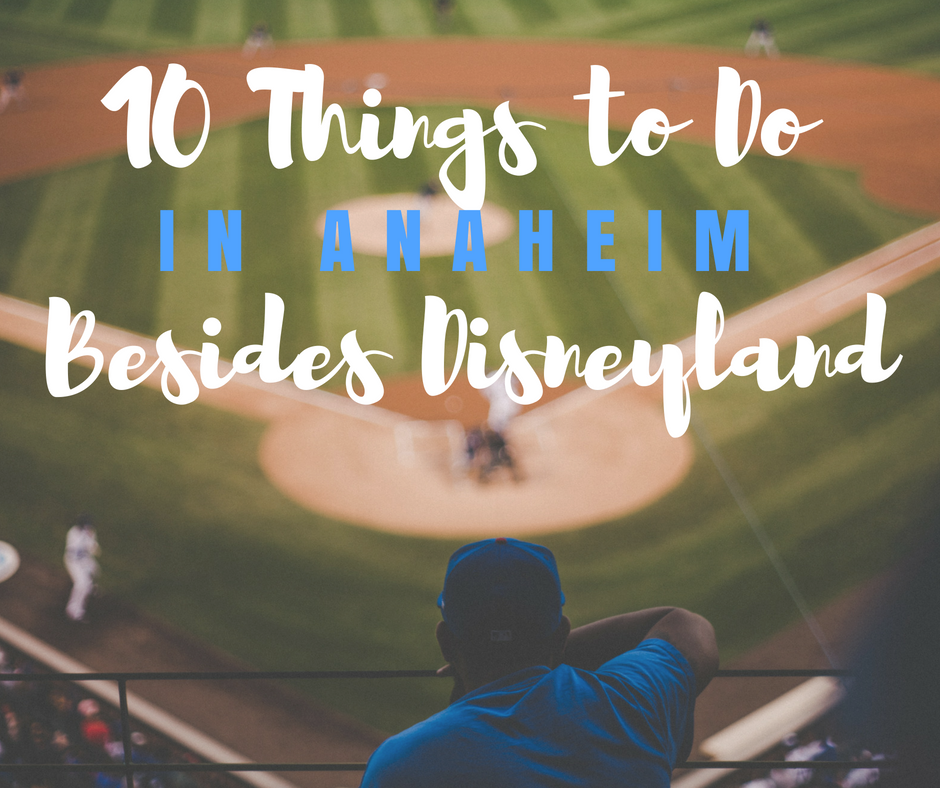 Los Angeles Angels of Anaheim
If you're a sports fanatic or simply love ballpark food, Angel's Stadium has something for everyone. If your little ones aren't as into the game as you are, there is no need to worry. Every Sunday, the ballpark hosts Family Sunday. On these days, they have an area located in the Right Pavilion that has interactive games, arts and crafts for your little ones to enjoy.
If you're a fan of sweets, be sure to check out The Mound. This delicious kiosk serves chocolate chip cookies in a souvenir helmet. The best part? It comes with a dozen cookies, so everyone will be able to snack on one. However if you're looking for a bigger meal, you'll want to try the Meatball Grilled Cheese located on the Terrace Level. This delectable sandwich is served on a grilled hoagie roll that's stuffed with meatballs, provolone and savory marinara sauce.
Anaheim Ducks
Speaking of professional sports, the Anaheim Ducks have their home at the Honda Center in the heart of Anaheim. If you've never been to an NHL hockey game, you need to put it at the top of your bucket list. The atmosphere, food and fun are hard to beat at an Anaheim Ducks game. Plus, the Anaheim Ducks were recently in the NHL playoffs, so you know you're in for some competitive games. Since baseball and hockey have opposite schedules, you'll be able to enjoy athletic events all year round in Anaheim!
Outlets at Orange
If you want to shop 'til you drop, Anaheim has plenty of options for you. The first mall you should check out are the Outlets at Orange. Here, you can enjoy a variety of stores from high-end shopping like Calvin Klein to more budget friendly options like H&M and Forever 21. In addition to this, the outlets at Orange is home to over 25 restaurants, a bowling alley, AMC movie theater and more! Whether you're looking to have a fun day of shopping or an exciting night-out, the Outlets at Orange has it all.
Vans Skatepark
Speaking of the Outlets at Orange, did you know it has it's very own skatepark? You heard that right! The Vans Skatepark has become a local favorite for residents of Anaheim. If your children (or you) are looking to become the next Tony Hawk, the skatepark offers lessons for $50 an hour. However, they offer a discounted rate of $130 an hour if you bring a group of five or more. This means that you and your friends can learn from the pros! Plus if you're already an experienced skater, you can ride at the park for FREE! The Vans Skatepark will be a unique highlight to any Southern California vacation.
Anaheim Garden Walk
Another shopping mall you can't miss is the Anaheim Garden Walk. In addition to all of the stores, you can experience incredible entertainment. The Anaheim Garden Walk is home to the House of Blues Restaurant & Bar. Here, you can indulge on delicious food and drinks while enjoying nightly entertainment. Plus if you're looking for a thrill, you'll want to check out Mission Escape Games. This is a new, interactive escape experience designed for small groups. You and your group will work together to try and escape from a locked room in 60 minutes or less. Since you'll want to test your wits and puzzle solving skills, you'll want to bring friends and family who can find clues and help you escape.
However if you're worried that there isn't much for kids to enjoy, don't fret. Billy Beez is the ultimate indoor play park. With 20,000 square
of slides, tunnels, towers, trampolines and sports courts, your child might not want to leave.
      6. Anaheim Packing House
Built in 1919, this restored packing house has become one of the most popular spots in Anaheim. The Packing District is home to a food hall that lets merchants experience communal dining, while serving as a community gathering space. With a variety of restaurants specializing in dishes like sushi, crepes, tacos, pizza, grilled cheese, banh mi and more, there truly is something here for everyone. Want to eat a delectable and unique dessert? Head over to the Popbar or Mini Monster. At Popbar, you can indulge in handcrafted gelato, yogurt and sorbetto on a stick that is fully customizable with premium dipping and toppings, making it the best popsicle you've ever tried. At Mini Monster, you can try flavorful teas that are just as good to look at as they are to taste. You can even try your tea in a lightbulb topped with a cotton candy cloud! This is a unique treat that you simply can't beat.
Looking to enjoy a night-out with friends? Head over to the The Blind Rabbit. Here, you can enjoy craft drinks and gastropub food in a unique atmosphere. Plus if you can find it, The Blind Rabbit is also home to Anaheim's only neighborhood speakeasy. If you can't already tell, the Anaheim Packing House is a must-see for anyone visiting Anaheim.
   7. Downtown Disney
Even though you might not be visiting the Disneyland Resort, that doesn't mean you can't enjoy an evening out at Downtown Disney. This promenade is home to delectable eateries, fun shops and exciting entertainment. New to Downtown Disney is The VOID. This virtual reality experience is truly the first of its kind. Here, you can step into the Star Wars universe in a multi-sensory experience as undercover stormtroopers. While you're trying to capture Imperial intelligence, you'll be able to experience a "Galaxy Far, Far Away" through sight, sound, touch and smell.
However if you're looking for an experience that everyone in the family will enjoy, make sure you check out Splitsville Luxury Lanes. In addition to bowling, Splitsville is also a full-service restaurant serving delectable fares like cheeseburger sliders, pizza, steak and even sushi. This is a unique experience that you won't want to miss!
    8. SwingIt Trapeze
Ever wanted to join the circus? Now is your chance! At SwingIt Trapeze, you can receive circus and acrobatic classes from the best of the best. In every lesson, you are protected by experienced operators and safety lines, so you can fly, swing and jump without fear. Whether you want to try this alone or In a group, SwingIt Trapeze has customizable packages for everyone
    9. Flightdeck
At Flightdeck, you can experience what it's like to be a real-life fighter pilot. This simulated experience allows you to do aerial maneuvers and air-to-air combat in an authentic military flight simulator. However if they want a more relaxing experience, you can take control of a commercial airline in a Boeing 737 flight simulator. While the minimum age is 11 to experience the flight simulator, we think everyone both young and old will love Flightdeck.
   10. Adventure City
Who says you can't find thrills outside of Disneyland? Located in Anaheim, you'll find a place called Adventure City. This theme park is geared towards families and has activities like rock climbing, an arcade and a petting zoo for everyone to enjoy. Plus, it also includes a variety of rides, including a rollercoaster that won't be too intense for the little ones. The best part? It costs less than $20 for admission. If you're looking for a fun, kitschy and unique way to spend your day in Anaheim, make sure you visit Adventure City.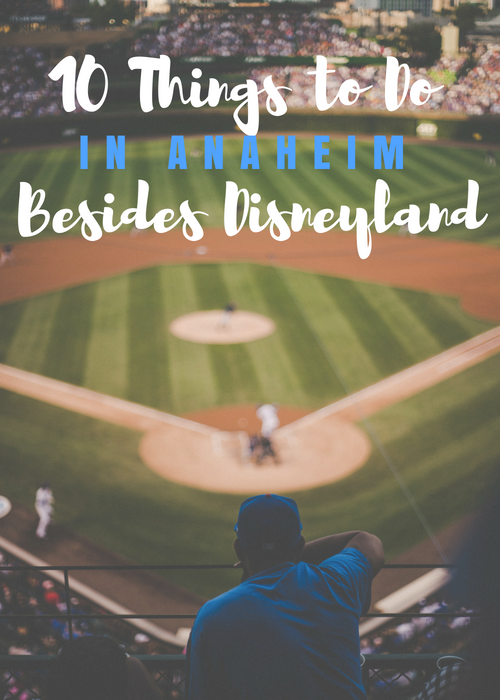 As you can see, the city of Anaheim is home to so many gems for you and your family to experience. These locations are the perfect add-ons to your Disneyland vacation. Whether you're planning a trip to The Happiest Place on Earth or simply want to explore the city, make sure you contact Get Away Today for all of your travel needs. To book your next Anaheim vacation, visit getawaytoday.com or call 855-GET-AWAY to speak to a travel agent directly. Plus, if you use promo code Highlights, you can save an additional $10 off your next Disneyland hotel and tickets package. Let them know that Highlights Along the Way sent you!