100th day of School Baby Yoda and Yoda Coloring Page
School children love to celebrate the milestone of 100 days of school! Baby Yoda is here dressed up as Yoda for his 100th day of school. Here is little Grogu holding up a lucky four leaf clover to celebrate St. Patrick's Day. Click and print this line art drawing of Baby Yoda dressed up as a little old alien. Grab your crayons and enjoy this free coloring page featuring a Star Wars inspired coloring page. Teachers and kids will enjoy this free activity sheet for 100th day of school parties and celebrations in school or at home.
Baby Yoda may not be quite 100 years old, but he loves to play dress up. Everyone's favorite character from the Mandalorian and now Boba Fett is also featured in this fun Baby Yoda Valentine's Day printable.
This is a fun and FREE resource to use for homeschool or in the classroom. Kids of all ages love Grogu, or "Baby Yoda" and will have fun coloring these at a school HUNDRED DAYS OF SCHOOL celebration. Once downloaded from our page for FREE it can be used over and over again. Please enjoy using for multiple classes or even save to use year to year. I appreciate you check out all our educational and 'just for fun' printables there! We also have several free printable coloring pages on this website! We typically feature our coloring pages for free here for a while, so make sure to bookmark our blog to make sure you get to check them out (and even download!) for free first! Our free printable library will continue to grow, please support our page by sharing with others who may enjoy!
100th Day of School Baby Yoda Coloring Page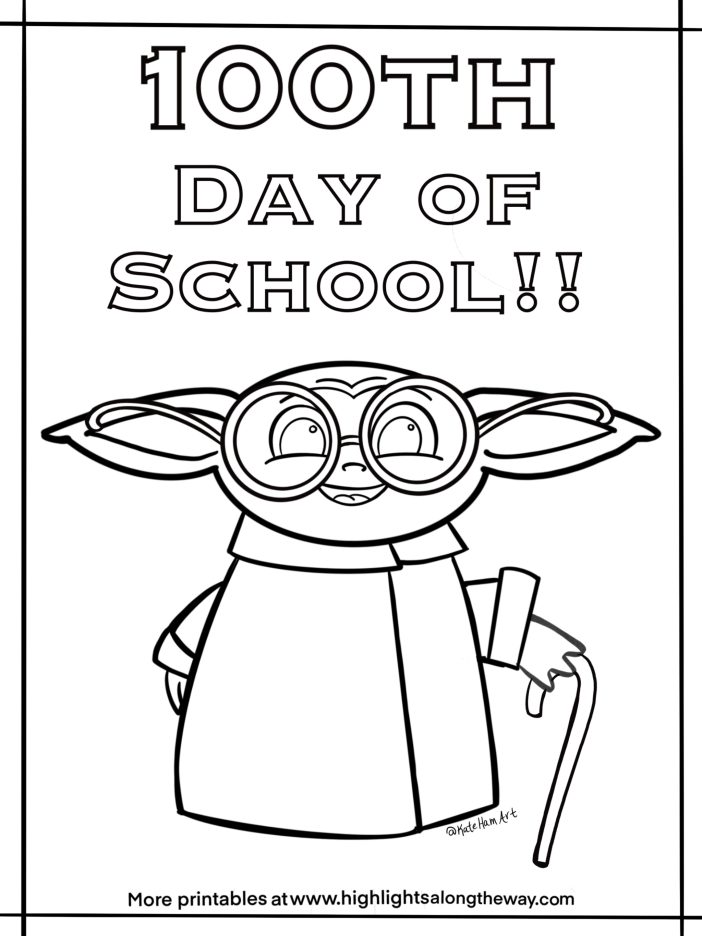 If you enjoy these printable coloring sheets inspired by little baby Yoda, make sure to check out our printable section featuring Go Dog, Go! Coloring sheets Gabby's Dollhouse Coloring Sheets , We Can Be Heroes Coloring Sheets, Sharkboy and Lavagirl Coloring Sheets, American Girl Doll Coloring Sheets , Olaf Coloring Sheets, Coco Coloring Sheets , Trolls Coloring Sheets , and so many more on our site!
What is 100th day of school?
The 100th day of school is an unofficial holiday celebrated mostly by elementary schools all over the United States. The milestone of 100 days of hard work at school is celebrated with activities and dress up. Many students will dress up as if they are 100 years old. The school yard is filled with tiny people dressed as little old ladies and little old men. Teachers also often include an activity to celebrate the number 100. Free and inexpensive printable activity pages themed to 100 day celebrations are a great addition to this fun day for kids.

MORE FREE COLORING SHEETS BELOW!
FREE Nature Themed Printables from WWF – click and print for FREE!
FREE Melissa & Doug Printables – print from home to learn and enjoy!
FREE Taco Bell Printables – so fun and may inspire a trip through the drive thru!
Star Wars themed activity sheets are some of our favorite things to share on our blog. These coloring sheets are free to enjoy by clicking and printing. We will add more Mandalorian inspired coloring sheets and artwork in the future.
If you are a blogger or writer looking for printable coloring sheets for your blog, magazine, or book, please check out my website Kate Ham Art and follow my growing Instagram account @KateHamArt . Do not hesitate to reach out if you would like me to create printables or book illustrations for your next project. If you or your child colors one of our printables, please share it on social media and tag our page. I will always share printables in our instagram stories and I would love to feature you!