McFarland interview with the REAL life inspiration behind the film!
Disclosure: I attended a press event hosted by Walt Disney Studios. All expenses were paid with the expectation to post, but opinions are 100% my own.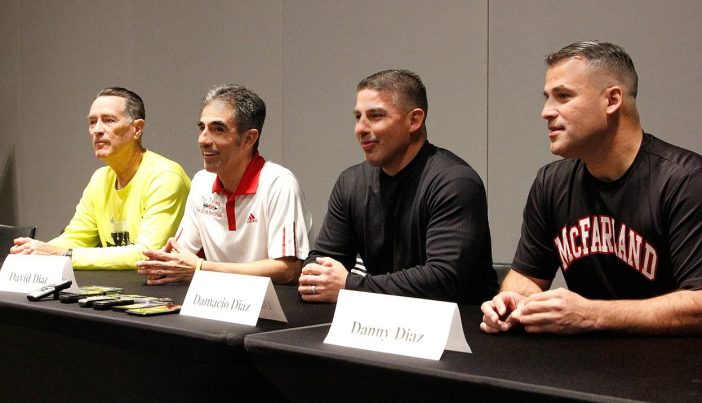 So, as you already know, I am a huge fan of the upcoming film McFarland USA.  I love that it is a true story and I was thrilled to hear our group would be participating in an interview with the real life inspiration of this film.  We sat down with the real Jim White, David Diaz, Damacio Diaz, and Danny Diaz – here is some of what they had to say!
The Diaz brothers said they were very happy with out the film portrayed their family, and those who work as pickers as a whole.
Damacio Diaz said picking and working in fields was a "Way of Life." that he and his brothers, and many children start as early as seven or eight years old.
Danny Diaz shared that "If it weren't for sports, our, our kids would be lost, because it's either, you know, education and sports or the streets."
David Diaz shared that while he isn't the runner he used to be, he still runs competitively.  When the brothers and former teammates are together they sometimes run for old time's sake.
I asked Jim White what he thought about the idea of his life story becoming a Disney movie.  He revealed that McFarland USA was actually in the works for about 15 years before it came to fruition.  He said the script worked it's way through several different hands and he was very thankful it ended up at Disney.  It was very clear he liked the wholesome way Disney traditionally tells a story.  He was happy to know there would not be any "sex, cussing, and cigarettes"  Hey other movie makers out there, there was none of that and it was still awesome!
It was such a privilege to sit down with these men that truly changed the future and hope for their city.  Thank you Jim, Danny, David, and Damacio for being such an inspiration to your city, but now to the world!
If you have not checked it out yet, here is the trailer for McFarland USA…….
I have said it before, I will say it again – go see McFarland USA on opening day (February 20th!) – it will make you warm and fuzzy all over!