Ahsoka Series – Is it appropriate for kids?
Ahsoka premiered exclusively on Disney+ this week and my Star Wars family is pumped! Our kids were huge fans of "Star Wars: The Clone Wars" and could not wait to see more of Ahsoka. Many parents are asking if Ahsoka is appropriate for younger audiences. While Clone Wars is definitely appropriate for kids, this new series is live action; and that often ages up the audience. We are sharing our thoughts on whether Ahsoka is appropriate for kids.
What is Ahsoka?
First, because Ahsoka is a brand new series, we should make a proper introduction. "Ahsoka" is a spin-off series centered around the character Ahsoka Tano, previously introduced in "Star Wars: The Clone Wars" and "Star Wars Rebels." Rosario Dawson, who played Ahsoka in the second season of "The Mandalorian," is reprising her role. The series was expected to explore Ahsoka's journey after the events of "Star Wars Rebels" and her quest to find Ezra Bridger, another key character from "Rebels" who went missing in the series finale. It is also expected to delve deeper into Ahsoka's connection to the Force and her continued role in opposing the dark forces in the galaxy. The series introduces a new pair of villains that may not be Sith's but use the dark side of the force.
Ahsoka takes place about a decade after A New Hope, the original Star Wars movie, before the Empire Strikes Back. Its 10-15 years after Star Wars Rebels, and over 30 years since the events of The Clone Wars. For those interested in becoming nerds, this show is before her appearance in the "The Mandalorian" but in the same timeline.
Is Ahsoka appropriate for kids?
Many parents are concerned that the show has received the TV-14 rating. Programming rated TV-14 in the USA by the TV Parental Guidelines signifies parents are strongly cautioned about the content. It corresponds to the MPA's PG-13 rating for movies. Content may be unsuitable for minors younger than 14 years of age. The series is full of action, battles, and the typical Star Wars violence we have seen. There are plenty of laser guns, lightsaber battles, and casualties because of them.
Who is Ahsoka?
Ahsoka Tano is a character in the Star Wars universe. She is a Togruta, a species of humanoid aliens, and is primarily recognized by the head tails known as montrals and lekku. Ahsoka Tano was a Jedi Padawan apprentice to Anakin Skywalker (before he became Darth Vader). She played a significant role throughout the Clone Wars. Star Wars fans for her strong personality, moral compass, and her unique dual white lightsabers. She eventually leaves the Jedi Order but continues to fight for the light side of the Force and against the Galactic Empire.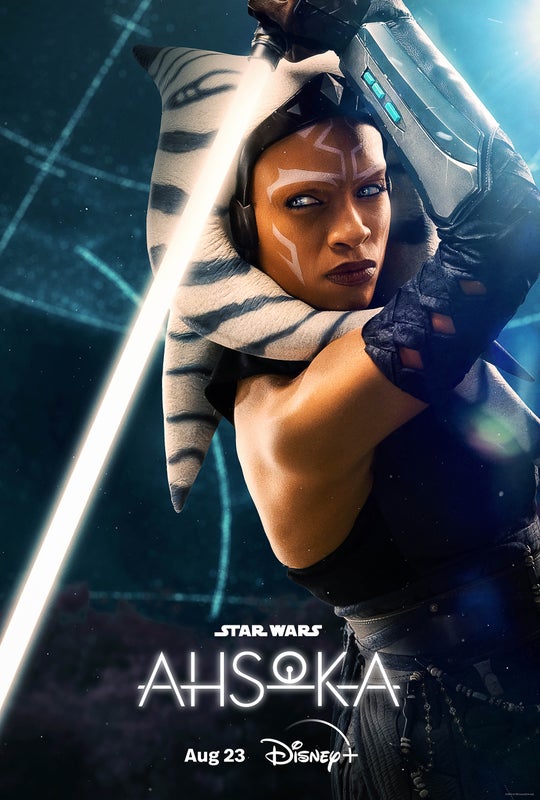 Ahsoka Official Trailer – Disney+
Set after the fall of the Empire, "Star Wars: Ahsoka" follows the former Jedi Knight Ahsoka Tano as she investigates an emerging threat to a vulnerable galaxy.
"Ahsoka" stars Rosario Dawson, Natasha Liu Bordizzo, Mary Elizabeth Winstead, Ray Stevenson, Ivanna Sakhno, Diana Lee Inosanto, David Tennant, Lars Mikkelsen and Eman Esfandi. The episodes are directed by Dave Filoni, Steph Green, Peter Ramsey, Jennifer Getzinger, Geeta Vasant Patel and Rick Famuyiwa. Dave Filoni is the head writer and executive produces along with Jon Favreau, Kathleen Kennedy, Colin Wilson and Carrie Beck. Karen Gilchrist serves as co-executive producer.
Be sure to check out our Star Wars Coloring and activity pages.