Alice In Wonderland Lawn Display
Disclosure: Highlights Along the Way is a participant in the Amazon Services LLC Associates Program, an affiliate advertising program designed to provide a means for sites to earn advertising fees by advertising and linking to amazon.com.
Halloween time is a great time to decorate your front lawn with spooky displays. Our neighborhood has tons of little kids so we wanted a Halloween display that was not too scary. We love Disney and wanted a cute Disney themed Halloween Display. Our family thinks the Alice in Wonderland dark ride in Fantasyland is one of the spookiest rides at Disneyland, but also whimsical and fun. Our Halloween Lawn Display featured scenes from Alice in Wonderland.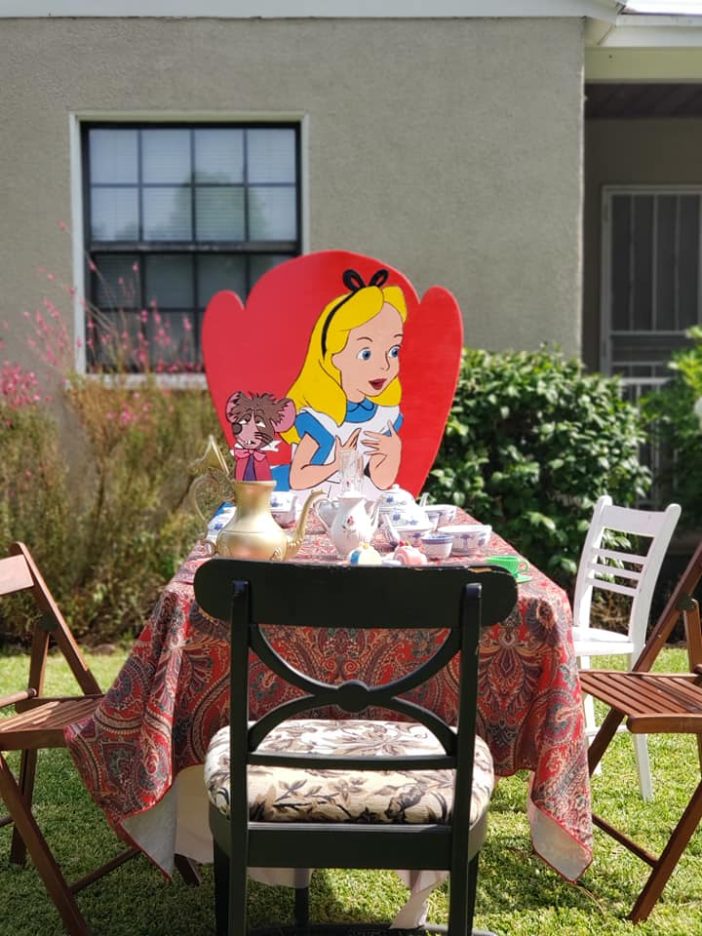 Alice in Wonderland is such a fun theme. Wonderland works for birthday parties for children to adults. An Alice in Wonderland themed Bridal Shower, Baby Shower, or even wedding would be really fun. We think that Alice in Wonderland works well for Halloween. The animated film and the dark ride at Disneyland have creep factor for adults, but it is subtle enough that little kids might find an Alice themed lawn a nice respite from scarier yard display.
Alice in Wonderland Lawn Display Video
Cheshire Cat and Alice in Wonderland at Disneyland Video
Queen of Hearts Free Coloring Page (Click to open and print!)
Mad Hatter Free Coloring Page (Click to open and print!)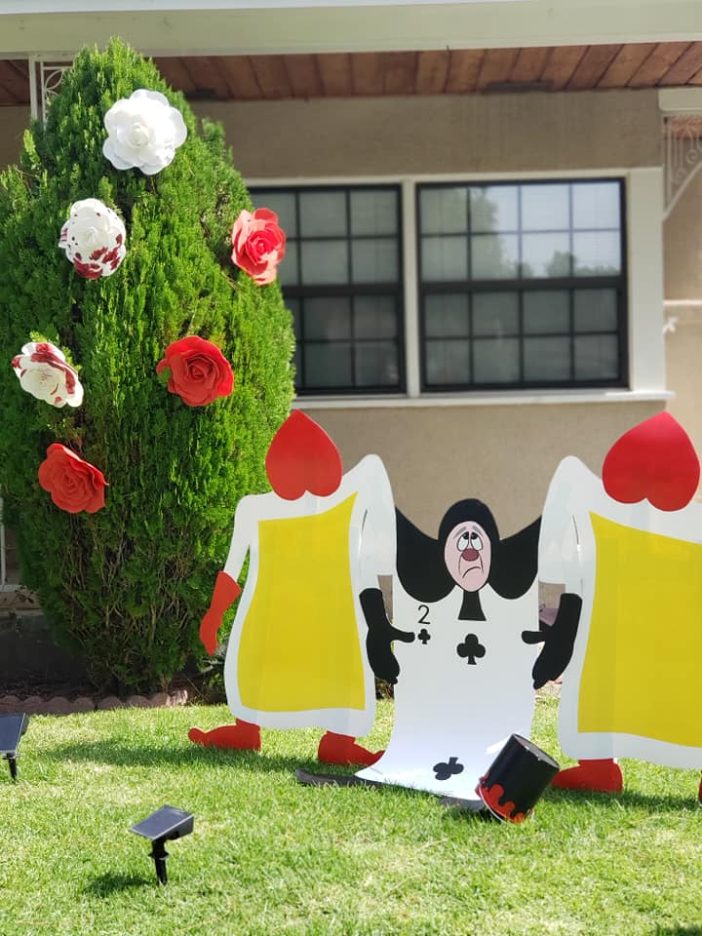 Just like our Whoville lawn display, we made all our display boards ourselves. We projected some of our favorite images, Harry cut. and my oldest and I painted! We also incorporated a few 3-D elements just like our Whoville project. We really think the 3-D elements take the display up a notch.
Just like our Whoville lawn decor, we started with what we had and tried to get several things second hand. We reused paint colors we already had, we purchased the table cloth used, and much of the tea party accessories were donated through a local 'buy nothing' group. If you are planning to create a lawn display, we also suggest trying to source things that are preowned first. This not only keeps the cost down, but it also is far better for the environment.
Alice in Wonderland is a 1951 American animated musical fantasy comedy film produced by Walt Disney Productions and based on the Alice books by Lewis Carroll. The thirteenth release of Disney's animated features, the film premiered in London on July 26, 1951, and in New York City on July 28, 1951. The film features the voices of Kathryn Beaumont as Alice, Sterling Holloway as the Cheshire Cat, Verna Felton as the Queen of Hearts, and Ed Wynn as the Mad Hatter. Walt Disney first attempted unsuccessfully to adapt Alice into an animated feature film during the 1930s, and he revived the idea in the 1940s. The film was originally intended to be a live-action/animated film; however, Disney decided to make it an all-animated feature in 1946.
The film was considered a disappointment on its initial release, leading to Walt Disney showing it on television as one of the first episodes of his TV series Disneyland. It proved to be very successful on television. It was eventually re-released in theaters which proved to be massively successful. The film became even more successful through merchandising and subsequent home video releases.
While the film was critically panned on its initial release, it has since been regarded as one of Disney's greatest animated classics, notably one of the biggest cult classics in the animation medium, as well as the best film adaptation of Alice.
A live-action adaptation of Carroll's works and a live-action sequel of the animated film, Alice in Wonderland, directed by Tim Burton, was released in 2010. A sequel to the film, Alice Through the Looking Glass, directed by James Bobin, was released in 2016.