Alice Through the Looking Glass Premiere
Disclosure: I attended a press trip hosted by Walt Disney Studios. All travel expenses and posts were expected, but this is not a sponsored post. All opinions are always my own.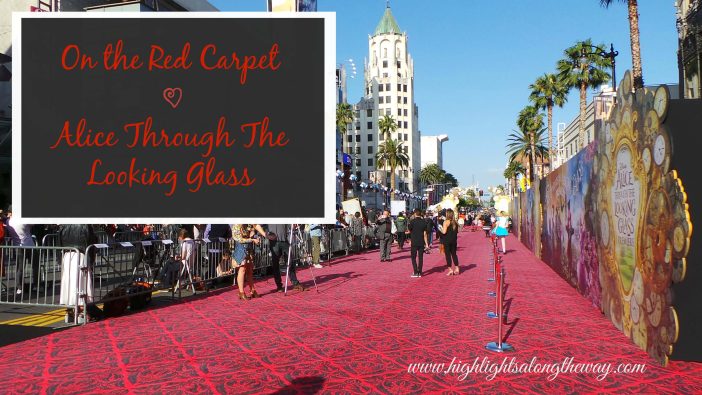 The Alice Through the Looking Glass Premiere was like a dream come true. Nobody does a celebration quite like Disney and to be a part of it from time to time just makes me say "How is this my life?" We watched a live performance by P!nk, walked the red carpet with brilliant filmmakers and actors, and celebrated at the famous Roosevelt Hotel at the official premiere after party!  I will share more about the newest Alice movie soon, but today I just want to share some fun pictures and stories about the Alice Through the Looking Glass Premiere.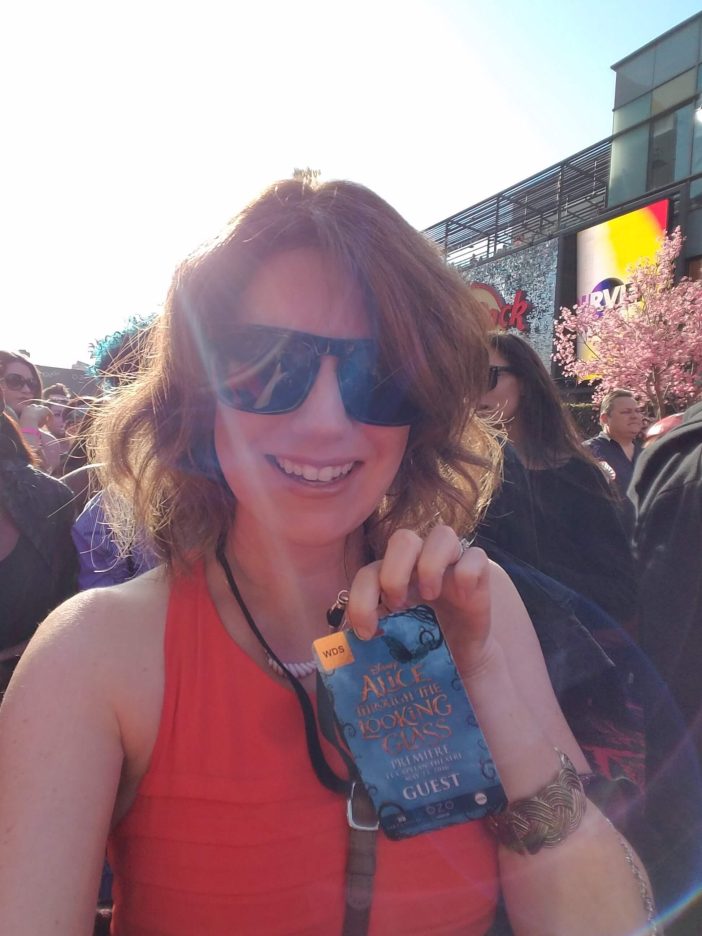 First our group stopped to enjoy a live performance by P!nk who was taping a performance for her appearance on Jimmy Kimmel Live later that evening.  Fans crowded in to watch P!nk perform "Just Like Fire" and "White Rabbit" live.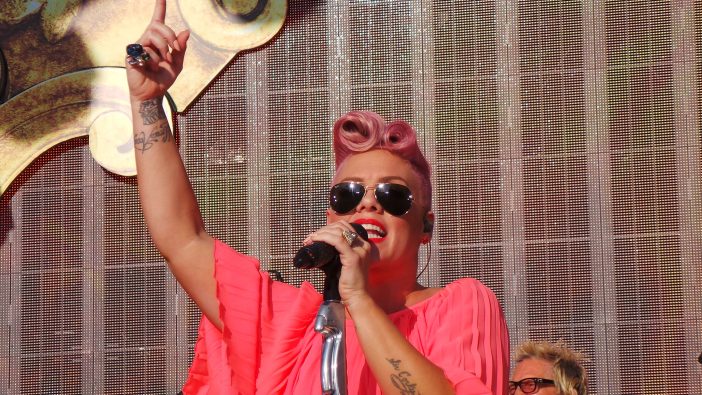 So many fans waited for hours for the opportunity to check out the show.  I have never seen P!nk perform so I was so excited when I heard we would get to see her live.  As any fan might assume – she was incredible!  The performance was quick – only two songs, which she performed twice.  I was so excited about this opportunity I made it my Facebook Live debut – while I can all but guarantee there are hundreds of better quality versions available to you on the internet – I sure hope you will check out my Facebook Live.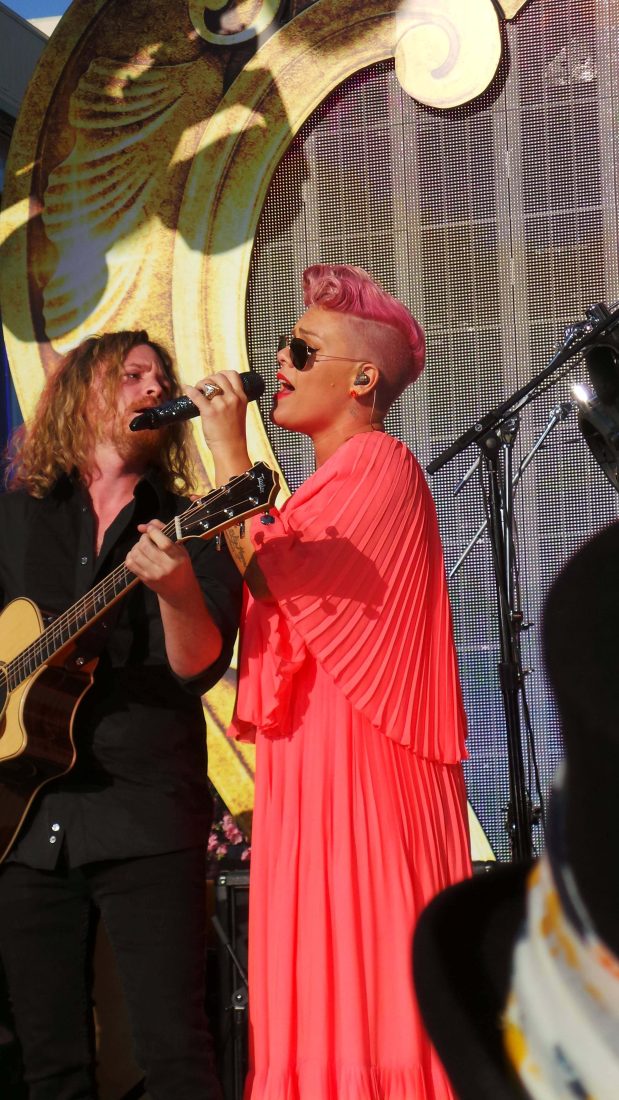 And perhaps a better version than my Facebook Live video haha……
After P!nk's performance we walked the red carpet. It was surreal. I have walked a red carpet for Big Hero 6 and it was quite similar to that experience. Hollywood Blvd was lined with fans several people deep as far as the eye could see.  We walked arms length from actors, producers, directors, musicians, and their guests.  To be a guest of Walt Disney Studios and surrounded by that kind of talent is just so thrilling.  It goes much faster than one might expect.  The red carpet is short and while there are several people being interviewed on the red carpet, we simply took a few photos and walked right in.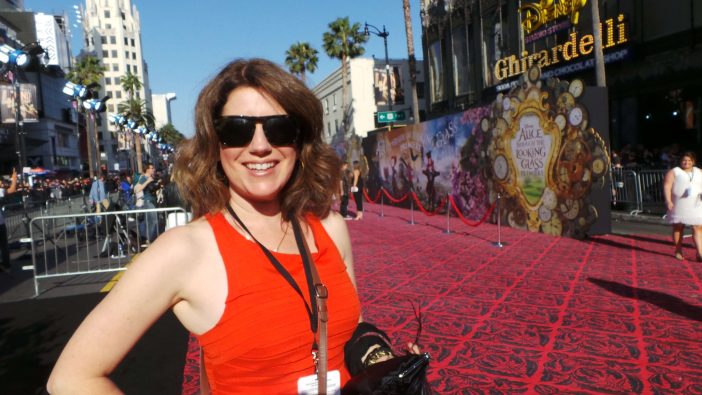 We took our seats in the history El Capitan theater and watched Alice Through The Looking Glass together.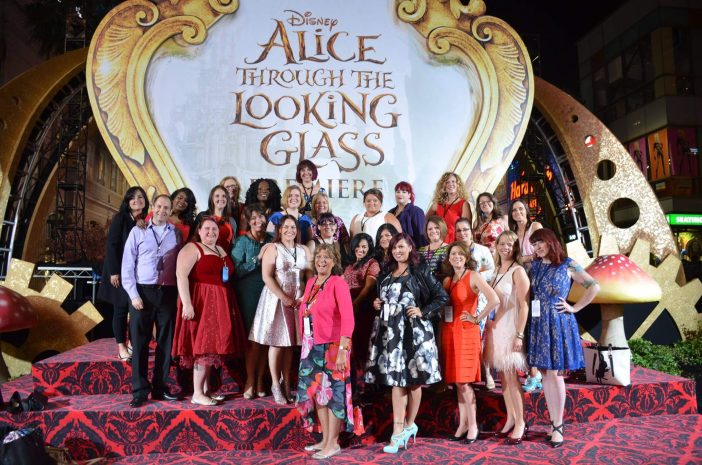 *photo credit Disney*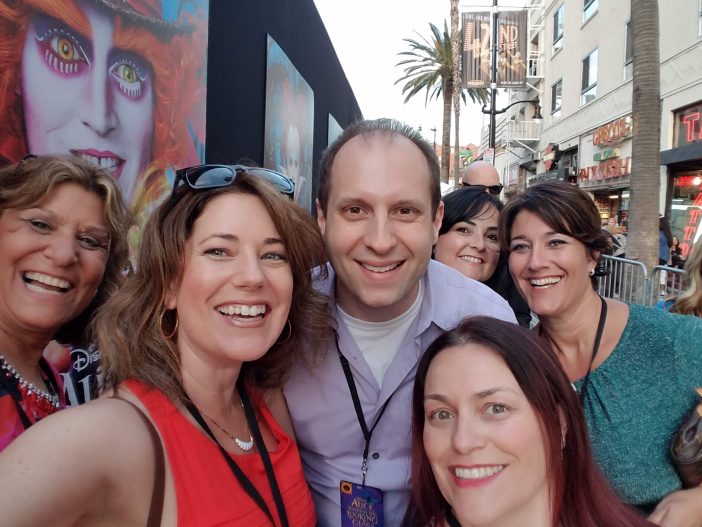 Groupie shot with just a few of my Family Blogging, Disney lovin' tribe! I miss them already!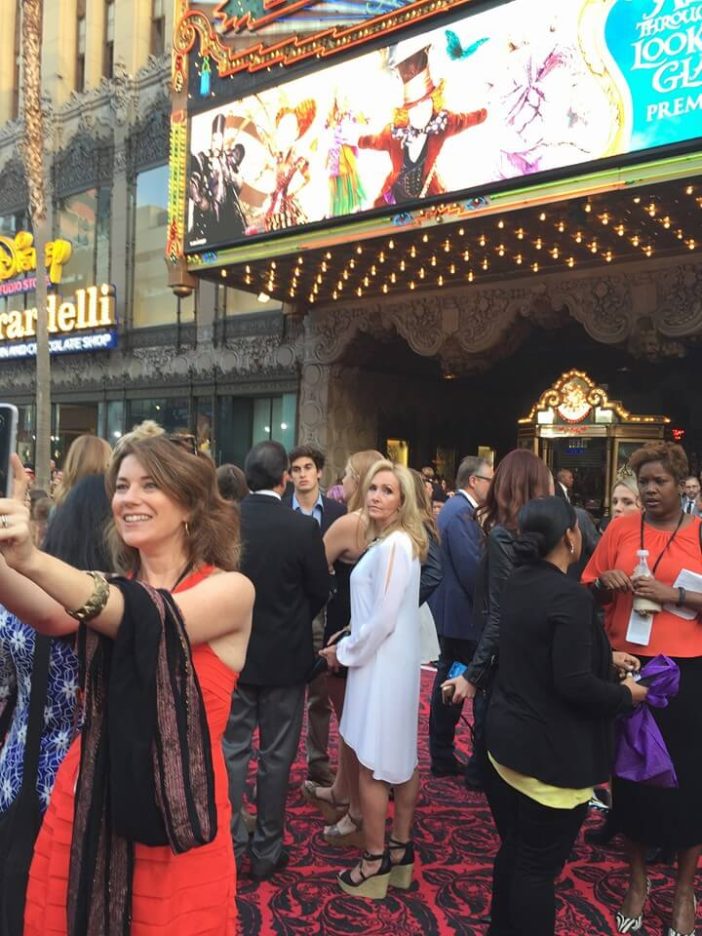 A picture of a blogger taking a selfie on the red carpet – compliments of my beautiful friend Gayle. Ha!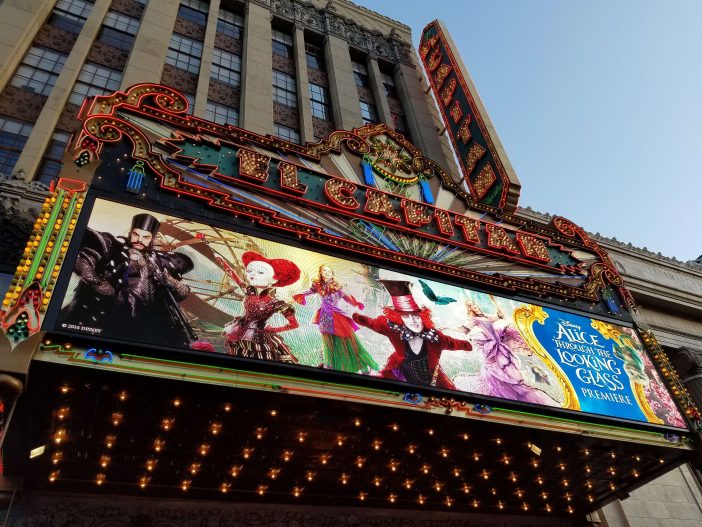 The details at the theater are incredible.  The entire star studded street is incredible, but I think the El Capitan is my favorite.
The El Capitan Theatre is even more gorgeous when it is all lit up at night time.  If you are ever in Hollywood, you have got to check it out at least once.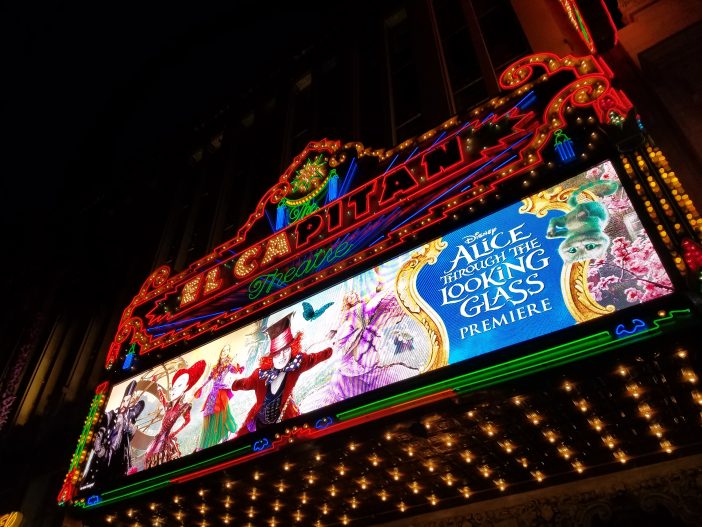 And after the movie screening – we all simply walked down the street to the historic and beautiful Roosevelt Hotel, also on Hollywood Blvd.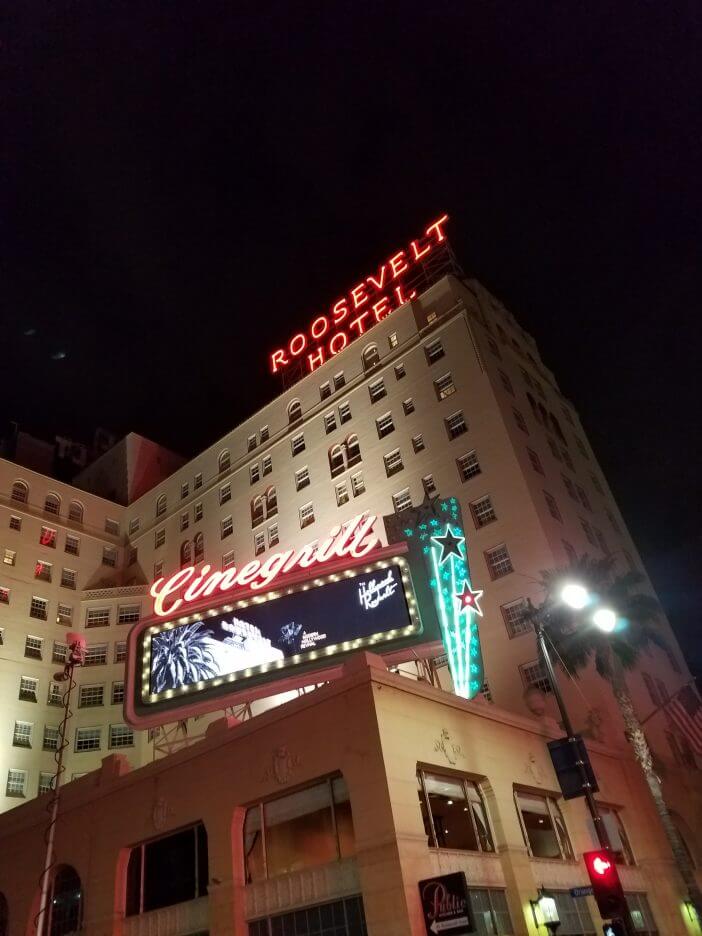 Once inside the celebration really began.  Dinner and drinks, great music, and the guest list was unreal.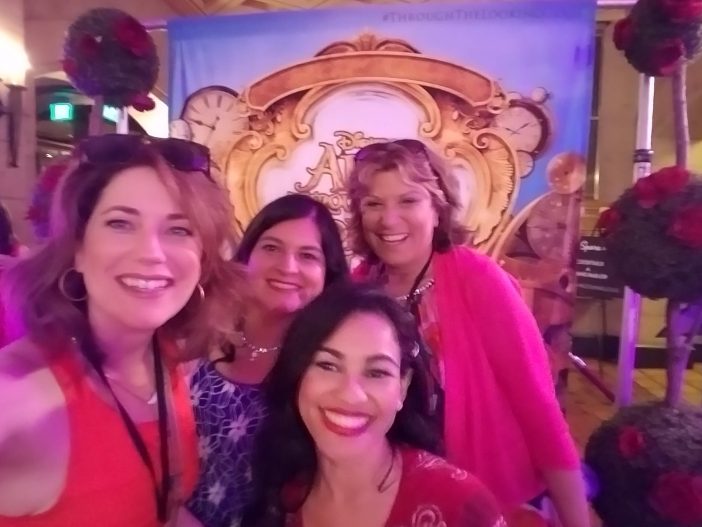 It's blurry, I am sorry!  But you get the idea, it was such a fun night with these ladies!
Glass of wine while getting my nails done?  Yeah, I will sign up for that.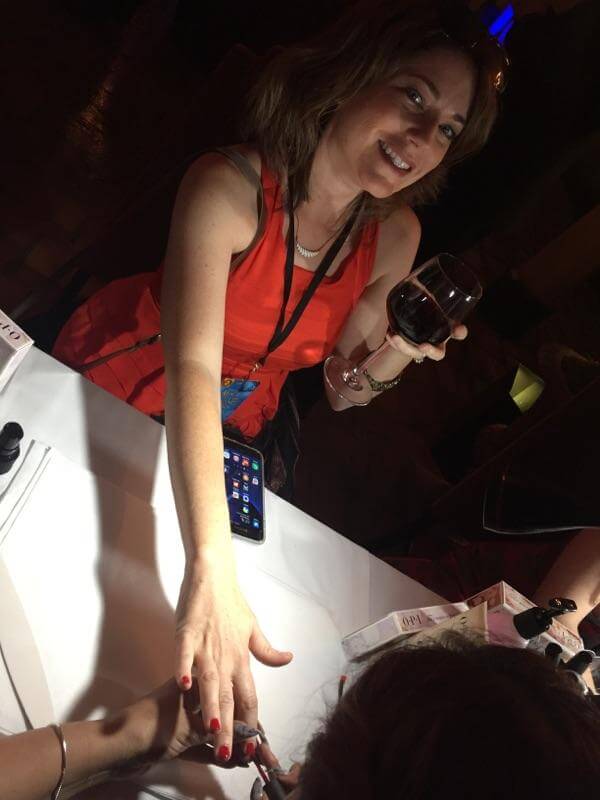 Some may know that OPI and Urban Decay both have lines of make up in celebration of Alice and many guests enjoyed getting manicures and make up touch up!  I was thrilled to win this set to attempt to look as fabulous once I am back home!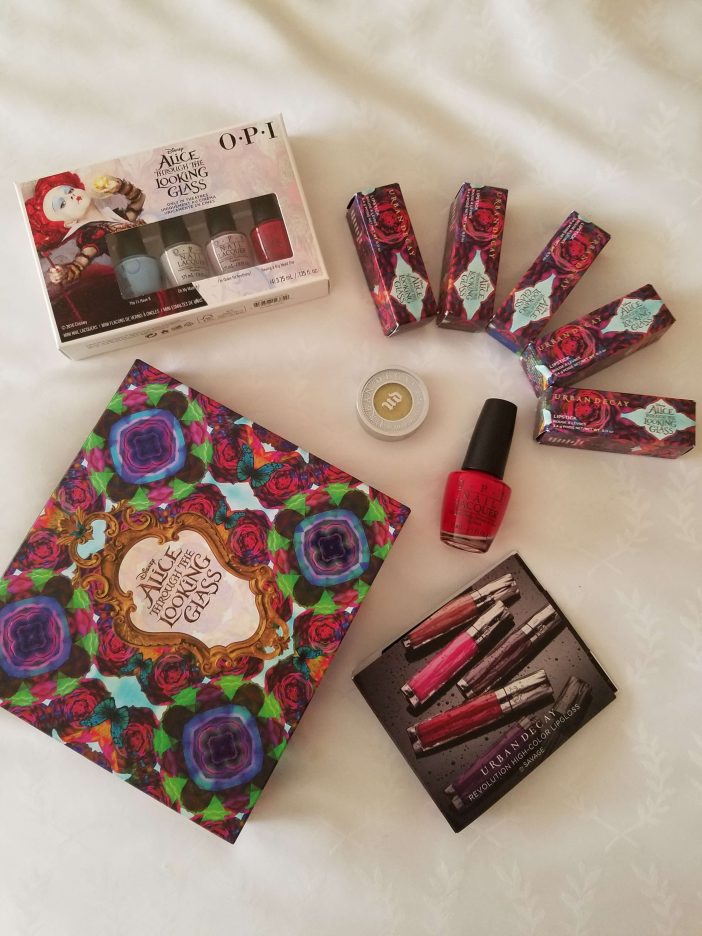 The Alice Through the Looking Glass premiere was incredible and you do not have to wait too long for the movie now!  It opens this Friday, May 27, 2016!  I will share more about the movie soon – but I will say this right now – it is great for the whole family!  Want to check out the Alice trailer? 
  More behind the scenes Alice Through the Looking Glass coming at you this week!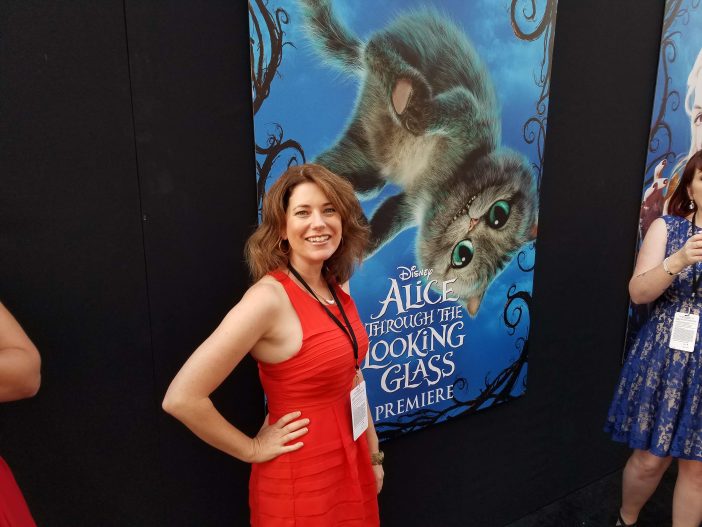 A huge thank you to Disney for letting me be a part of the magic this week at the Alice Through the Looking Glass premiere! It was a dream come true!