Grace Thomas American Girl Doll FREE Printable Coloring Sheet
Disclosure: this site uses affiliate links
American Girl Doll's "Girl of the Year in 2015 was Grace Thomas. While Grace is no longer available for purchase from American Girl, she remains a collectable favorite among kids and adults everywhere. Grace is an adorable girl who fell in love with baking while on a trip to Paris France with her family. Just like all American Girl Dolls, she is a unique beauty. She has a fun Parisian style and a sweet personality. We are thrilled to add a unique printable coloring sheet of Grace to our growing collection of American Girl Doll inspired coloring sheets. Enjoy a free high resolution coloring sheet featuring Grace Thomas enjoying a sweet cupcake.
Grace Thomas American Girl Doll Printable Coloring Page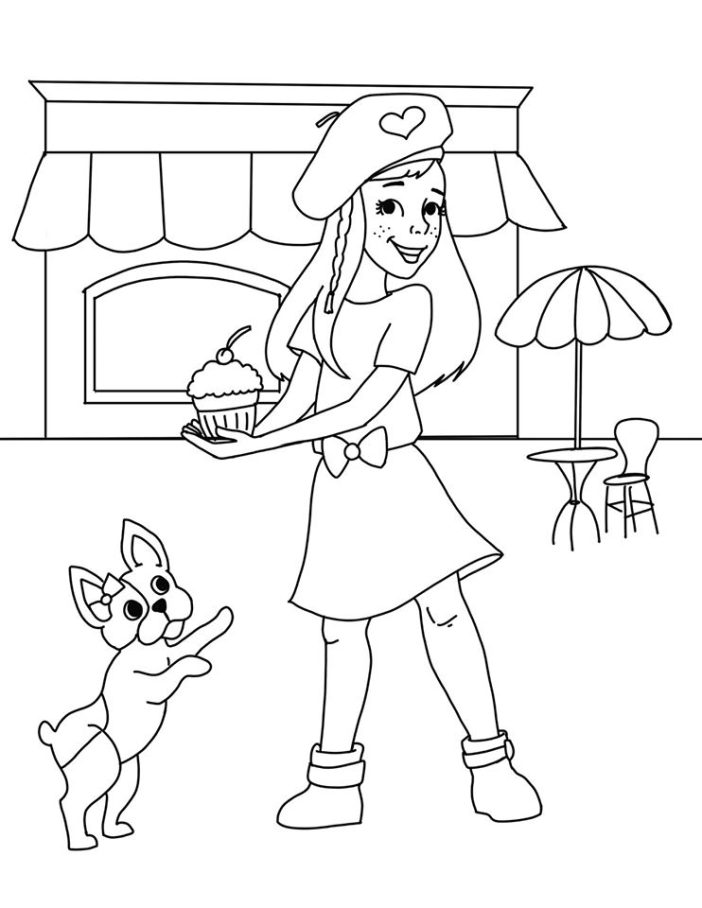 Simply click and print the picture above. You may print from your home computer. Use at home, daycare, or school. If you are having an American Girl doll themed birthday party, please feel free to print out our whole collection of free printable activity sheets inspired by American Girl for free!
"In 2015, after a trip to Paris, Grace Thomas is inspired to start her own baking business. Along the way, she discovers combining everyone's special talents is the best way to succeed."
FREE AMERICAN GIRL DOLL BOOKS HERE
Coloring sheets are great learning tools, but they are also just plain fun. Little ones will love coloring but will also develop their fine motor skills in the process. Adults who love American Girl can also print out this coloring sheet and enjoy reduced stress levels. Some of my earliest memories are me sitting at my kitchen counter with a coloring book and a 64 crayon box of Crayolas, the one with the crayon sharpener in the back! Printable Grace coloring sheets can be used as a fun and free activity at a Grace or Paris themed birthday party. These coloring sheets can be printed out and brought along for the ride on a trip to The American Girl Doll store. Kids can print this out from home and color in classic Parisian Black and Pink or redesign her dress all together. If you are hosting an American Girl Doll themed party, we also have a Joss Kendrick coloring page, as well as astronaut themed coloring sheets inspired by Luciana Vega. We will be adding more American Girl Doll inspired coloring sheets and activity sheets as well so make sure to bookmark our printable page.
If you are a blogger or writer looking for printable coloring sheets for your blog, magazine, or book, please check out my website Kate Ham Art and follow my growing Instagram account @KateHamArt . Do not hesitate to reach out if you would like me to create printables or book illustrations for your next project. If you or your child colors one of our printables, please share it on social media and tag our page. I will always share printables in our instagram stories and I would love to feature you!