All About Nanea! An American Girl Doll GIVEAWAY!
Disclosure: Highlights Along the Way is a participant in the Amazon Services LLC Associates Program, an affiliate advertising program designed to provide a means for sites to earn advertising fees by advertising and linking to amazon.com. Thank you to Mattel for providing Nanea products for us to photograph as well as our prize! This site uses affiliate links.
Just in time for the holidays, we are giving away a beautiful Nanea Mitchell American Girl doll!  If you would like to win an American Girl Doll for someone special, make sure to enter our giveaway below. Nanea Mitchell is a beautiful doll with a rich story-line. Fans of American Girl will love this story about a strong girl from Oahu, Hawaii who grows up during the 1940s.  A big thank you to American Girl for sponsoring this giveaway!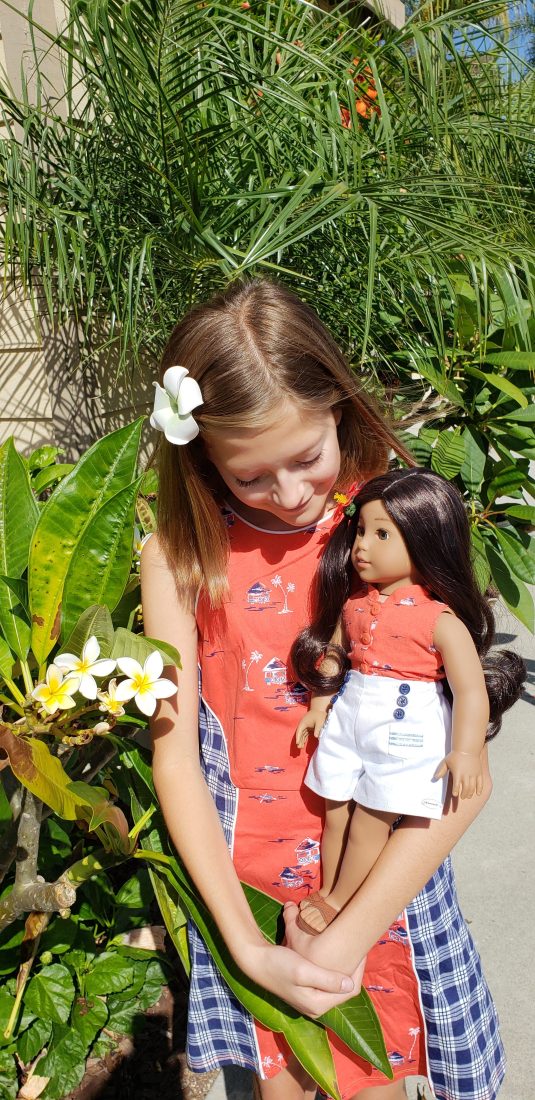 Our family is going on a trip to Oahu next month, and an American Girl Doll always seems to accompany us on trips.  I have said before, I love that my 12 year old is still in love with American Girl.  American Girl Dolls are beautifully made, have cute clothing and accessories, and have awesome story-lines.  My oldest is growing up, but the toys she still enjoys is American girl.  She almost always brings a doll along on road trips.  Because we are going to Oahu, Hawaii, it seemed fitting to bring along the girl that taught them so much about Oahu!
Nanea Mitchell is part of the BeForever series of dolls.  Nanea was added to the BeForever collection in 2017 and was a fast favorite among American Girl fans. BeForever is a series of dolls that are great for kids that love historical fiction.  Nanea's story begins in 1941 and kids can learn about what life was like during the days of Pearl Harbor and World War 2.  While all stories are fictional, American Girl goes to great lengths to make sure they are portraying the time frame and the culture accurately and respectfully.  My kids love the story-lines and they learn a little history at the same time!  There are 11 dolls in the BeForever collection – Addy, Josephina, Kaya, Samantha, Felicity, Rebecca, Melody, Kit, Julie, Mary-Ellen, and of course – Nanea!  We love that our daughter has learned about several important moments in our nation's history through her love of reading and this line of dolls.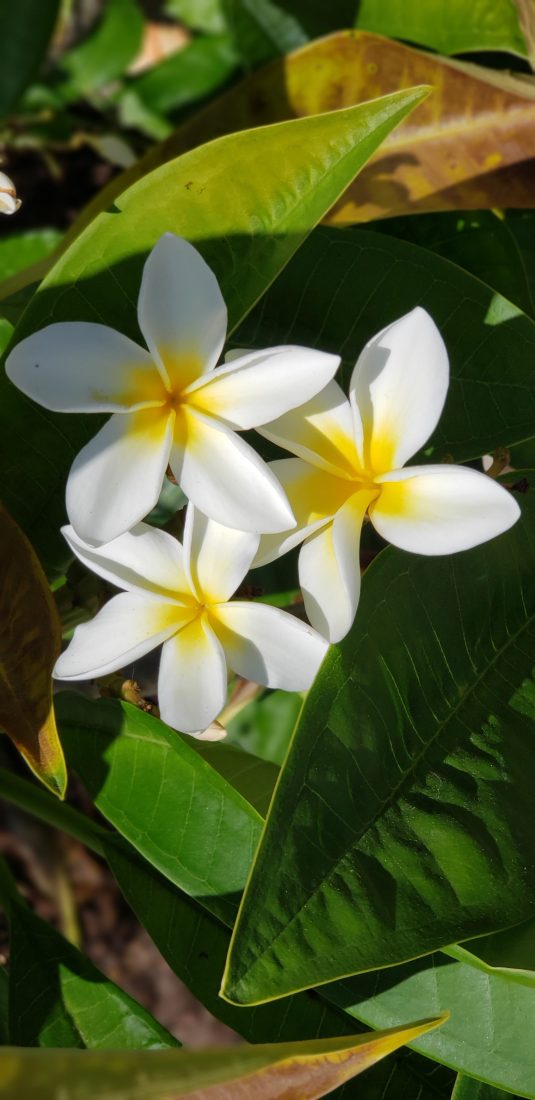 Earlier this year, we made these beautiful DIY Nanea Necklaces just for fun.  These necklaces look just like Nanea's and they are really quite simple to make.  These are a perfect craft for an American Girl Doll themed birthday party or Hawaiian luau themed birthday party! Make sure to pin this post (PS – it is a bonus entry for our giveaway!). My daughter received so many compliments and she will be sure to pack them for our trip to Oahu!
Another reason we love American Girl is because they have so many books to accompany their dolls.  Each doll comes with a rich background and so much reading material. While I have linked American Girl and there are many books to buy there, if you are a kindle user, you will be happy to know there are several American Girl Kindle books available.  While we have a huge collection of American Girl books, we also love to download a few to read digitally too. We were thankful to find four Nanea books J had not yet read to bring with us on our flight to Oahu. We always bring books on flights and we love that this is just another way to celebrate our Hawaiian vacation.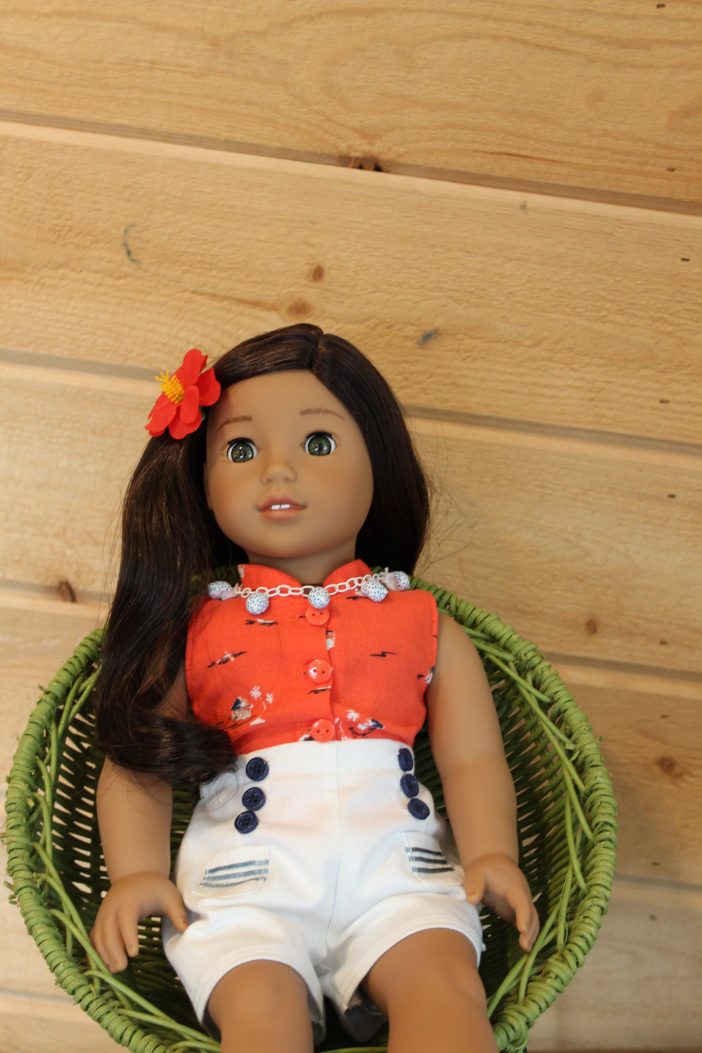 Nanea Mitchell is a Hawaiian girl growing up on the island of Oahu in 1941.  BeForever Dolls always tend to do such a great job of introducing historically significant moments in their stories.  Nanea's story explores what life was like leading up to and after the attack on Pearl Harbor in December of 1941. It explores the United States entry into World War II. Not only does it shed light on a significant time in America's history, but it also celebrates courage, patriotism, and the unique aloha spirit of the Hawaiian people. As they always do, American Girl encourages girls by showing them a story of how even one girl can make a meaningful difference in the face of scariness and change.
Make sure to follow our family on Instagram.  We will be tagging American Girl while our Nanea enjoys a trip around the island of Oahu with our family.  Commenting on our posts there are another way to get a bonus entry in our giveaway! Related – we plan on taking advantage of Go Oahu and get some discounts – we'd love your input if you have been to any of these top destinations in Oahu! What should we do?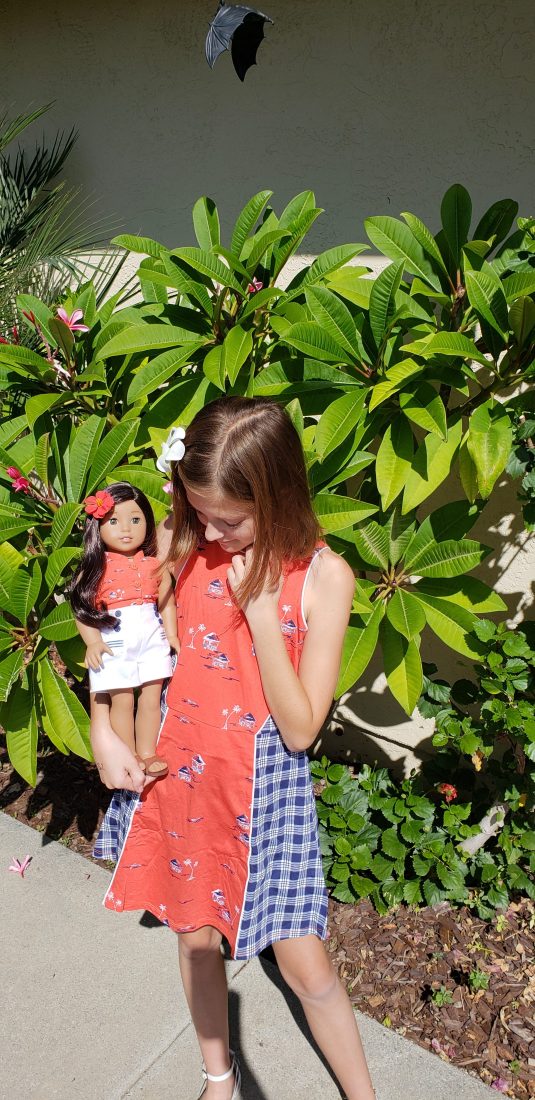 Who wouldn't love to win a Nanea American Girl Doll of the Year for their American Girl fan?  I am so excited that Mattel has been kind enough to offer a doll for us to give away. One lucky Highlights Along the Way subscriber will have Nanea mailed straight to their home just in time for the holidays! As with most of our giveaways, you must be a verified subscriber to Highlights Along the Way. Simply subscribe and leave us a comment letting us know who you would gift Nanea to (it is OK to say yourself!).  That's it! We also have several ways that you can earn more entries by engaging with us on social, but being a subscriber is the only requirement. Void where prohibited. This giveaway is valid only within the United States.  The winner's American Girl Doll will be mailed directly from American Girl Doll and cannot be mailed to PO Boxes, only a physical address.
Enter for your chance to win in the Rafflecopter entry form below. Giveaway starts NOW and will end on 11/23/2018. Winner will be chosen and notified by or before 11/25/2018. Winner will be contacted via email. Winner's name will also be visible in the entry form (First name and last initial). Only the winner will be contacted. Winner MUST respond within 48 hours of winner announcement and provide a mailing address. If the winner does not respond within that time frame, the prize is forfeited and a new winner must be chosen. While we have never had a problem with a giveaway before, Highlights Along The Way cannot be held responsible for lost or damaged prizes.