All about Blaire – American Girl Doll 2019
Disclosure: Sponsored by Mattel.
American Girl has announced their girl of the year for 2019.  Blaire Wilson is the newest Girl of the Year.  Blaire joins some of the most beautiful dolls with rich story lines with her own strong message.  Blaire Wilson has the 'recipe for creating meaningful connections' in 2019. Blaire Wilson lives in New York with her family where they run a bed and breakfast.  Blaire has a love of sustainable farming and hopes to one day be a chef. Just like all American Girl Dolls, she is a unique beauty.  Blaire has bright green eyes and long auburn hair. We are thrilled to kick of 2019 with a giveaway for American Girl's Girl of the Year Doll for one lucky subscriber!
We have drawn our first winner for Blaire Wilson – please check your email or scroll down to see!
Here is a first look at Blaire Wilson.  Isn't she a gem!? We are so thrilled to be giving away a Blaire Wilson American Girl Doll!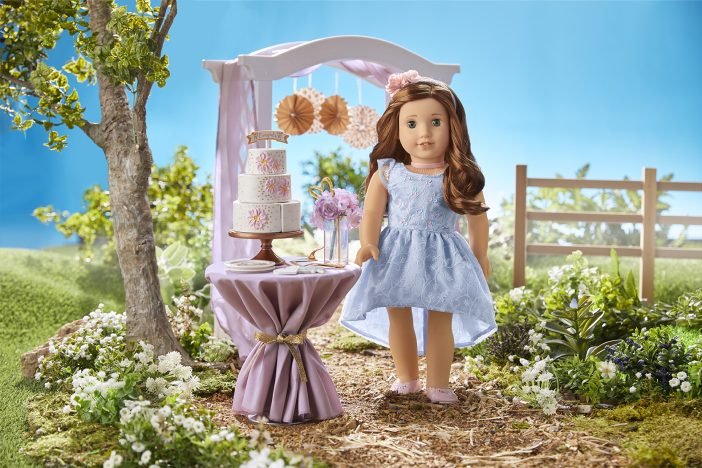 Blaire Wilson loves to bake. One of the things we love about American Girl is the sweet attention to detail in accessories. I love this party set up!
"American Girl's newest Girl of the Year™, Blaire Wilson™! Launching on January 1, Blaire—a young chef-in-training who loves bringing people together—joins American Girl's family of characters and timeless stories designed to help girls think about their own character and who they want to be. A natural people person, Blaire excels at gathering people around the dinner table but needs help finding balance between the digital world and the real world—like many people today. Through Blaire, girls will learn the importance of staying connected to the people they care about and that this means more than clicking and swiping—it means truly being there.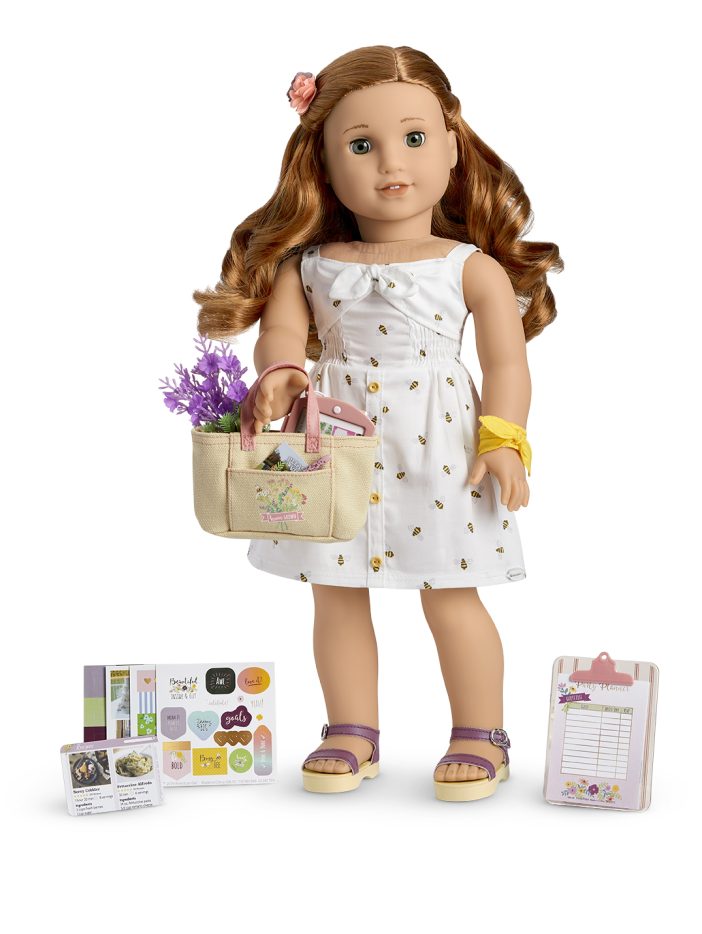 Blaire comes in a simple white sundress with a sweet honeybee print. Blaire Wilson has a beautiful rose hair clip that compliments her sundress perfectly. Her little purple sandals are perfect for a summer day.
We're proud to introduce fans to our 2019 Girl of the Year, Blaire Wilson—an everyday girl who thrives on using her many talents to make meaningful connections with others," says Julia Prohaska, Vice President of Marketing for American Girl. "Building and maintaining supportive relationships with family and friends is central to Blaire's story—a message we think is important to champion among girls today. In an age where families are often striving for quality time together, we hope Blaire inspires everyone to make a New Year's resolution to connect more regularly with the important people in their lives and make their time together this year really count."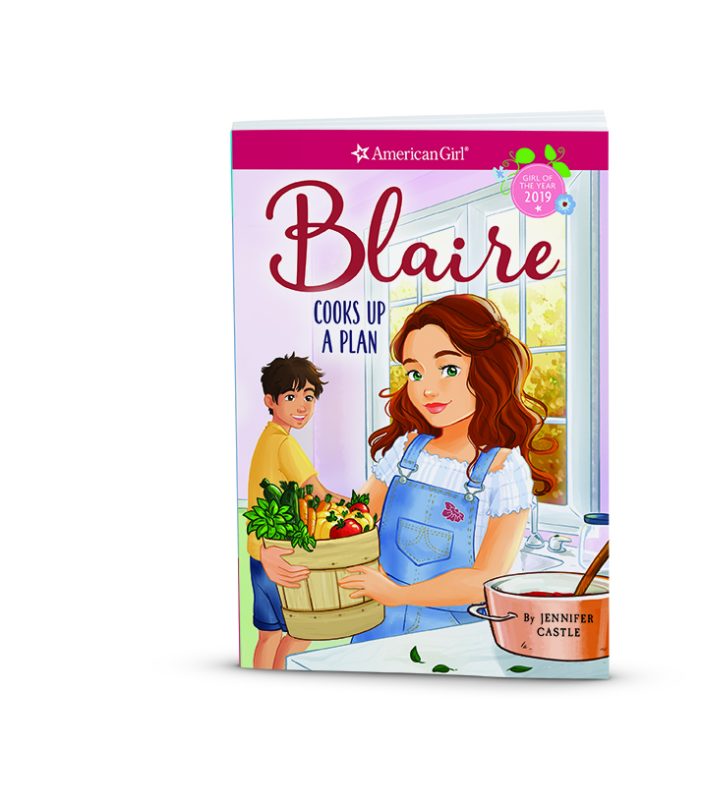 Blaire's story unfolds in a chapter book series written by Jennifer Castle and published by Scholastic. In the two books, available now, Blaire loves to put her cooking and decorating talents to good use on her family's sustainable farm and bed-and-breakfast in upstate New York. When the opportunity to plan the farm's first wedding arises, Blaire jumps in with gusto. However, between overextending herself to create the perfect farm-fancy event and a newly diagnosed food sensitivity that makes her self-conscious, Blaire finds herself more engaged on her devices than at real-life gatherings with others. Ultimately, through the help of her family and friends, Blaire finds a healthy balance and learns the value of being fully present at every occasion.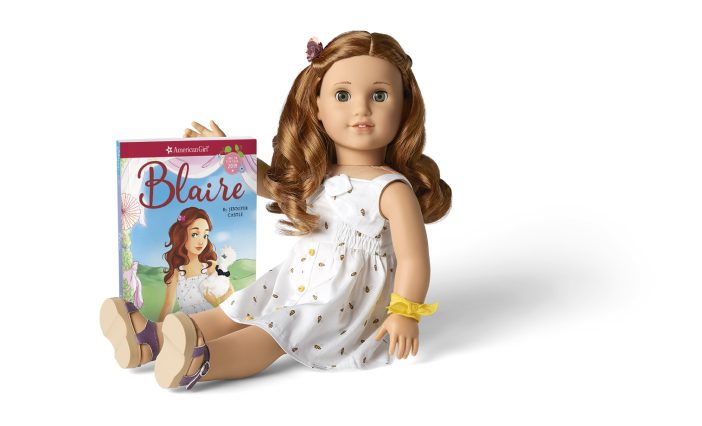 Blaire comes to life for girls via a beautiful 18-inch doll, featuring bright green eyes and curly red hair. Blaire's world features an array of outfits, accessories, and products that reflect her life on Pleasant View Farm, including a sweet lamb and piglet, festive party decor, and Blaire's Family Farm Restaurant, with everything needed to play out a show stopping farm-to-table celebration."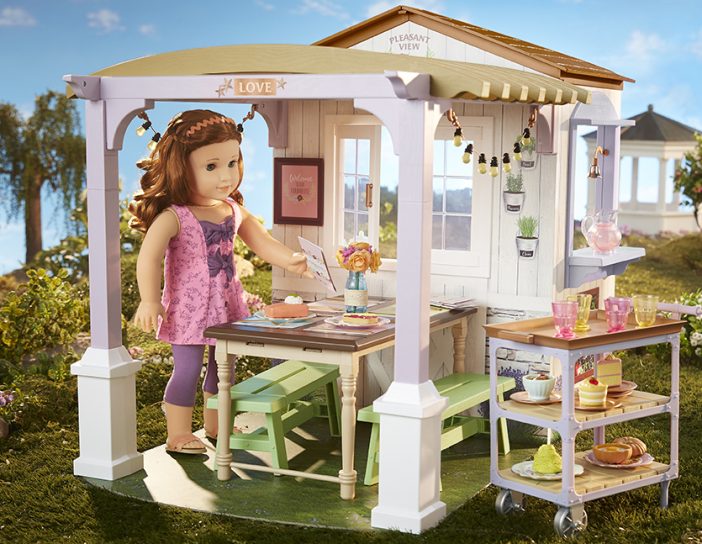 Why do we love Blaire?
Our family is knee deep in this struggle to connect with one another in real life as opposed to technology.
Our family tries to do our part by recycling, growing some of our own food, and even composting.  I hope that Blaire inspires many families to take up composting no matter how small their space is.  We shared how easy it is to start composting last year! You can see that it is easy, it saves money, and it makes us feel like we are making just a few steps towards being gentler to the earth.
Our oldest daughter has taken over lots of cooking and baking in our house.  She especially loves when she can make something with an item we grow ourselves.
One of our daughters has a food allergy and the rest of us have some sensitivities. This might be a small thing, but it is so nice to see that in a book.  I don't recall any story line before where a girl had a food sensitivity.  So many kiddos, my kids included are going to love having this representation.
My oldest is fascinated with red hair.  I believe Anne of Green Gables may have something to do with her love of red haired dolls.  She is so excited that there is an American Girl doll with beautiful Auburn red hair!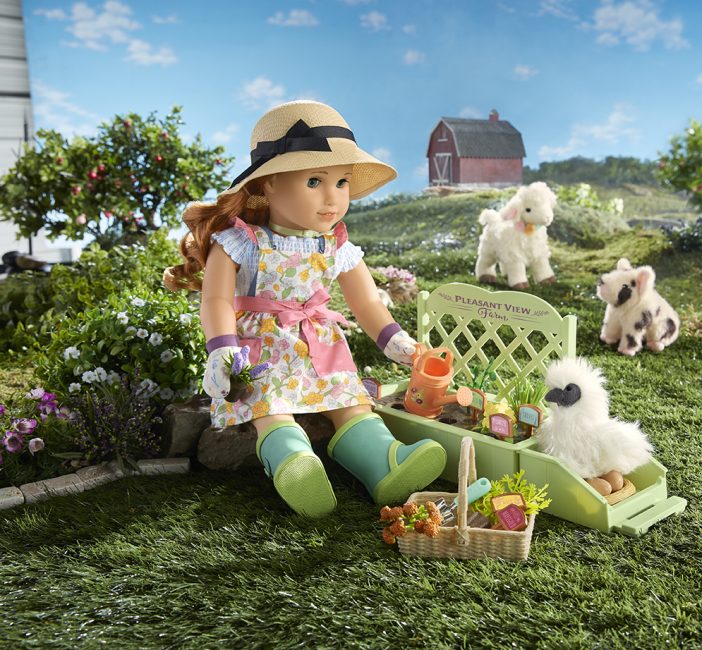 Fans can learn more about Blaire at the following 2019 events and activities.  We have visited the American Girl Doll Store and Cafe twice and we LOVE it! While it is a splurge, you can schedule during an event to get more for your money.
Blaire Online Play: Girls can visit https://play.americangirl.com/play/girl-of-the-year/blaire for book excerpts, games and activities, and Blaire's Life at Pleasant View Farm Vlog posts from her family's sustainable farm, featuring delicious recipes, gardening tips, cooking and craft videos, and more.
Blaire's Family Dinner Series: To promote mealtime togetherness, families are invited to attend a Blaire-inspired dinner series at select American Girl retail restaurants across the country in 2019. Parents can visit com/stores to learn more or make a reservation.
The Blaire collection is available on January 1, 2019, at americangirl.com; at all American Girl retail locations nationwide; and at American Girl specialty boutiques at select Indigo™ and Chapters™ locations in Canada and online at Indigo.ca. The Blaire books can also be purchased through retail and online booksellers. To request a free catalogue, call 1-800-845-0005; to join the company's loyalty program, AG Rewards™, go to americangirl.com/REWARDS.
ABOUT AMERICAN GIRL
American Girl is a premium brand for girls and a wholly-owned subsidiary of Mattel, Inc. (NASDAQ:MAT, www.mattel.com), a leading global children's entertainment company that specializes in the design and production of quality toys and consumer products. Headquartered in Middleton, WI, American Girl offers an inspiring world of dolls, content, and experiences that nourish a girl's spirit and help develop her strength of character. Best-selling lines include Truly Me™, Girl of the Year™, Bitty Baby™, WellieWishers™, and American Girl's classic historical characters. The company sells products through its award-winning catalogue, on americangirl.com, in its proprietary U.S. experiential retail stores, as well as at specialty retailers nationwide. By inspiring girls to be their best, American Girl has earned the loyalty of millions and the praise and trust of parents and educators.
Who wouldn't love to win a brand new Blaire Wilson American Girl Doll of the Year for their American Girl fan?  I am so excited that Mattel has been kind enough to offer a doll for us to give away. One lucky Highlights Along the Way subscriber will have Blaire mailed straight to their home!
UPDATE – ENTRIES ARE CLOSED
Winner drawn on 1/31/2019 at 7:30am was S. Nixon – she was emailed at that time – winner must respond via email within 48 hours or prize is forfeited and another winner must be chosen.  Winner is chosen via a random number generator through Google.
As with most of our giveaways, you must be a verified subscriber to Highlights Along the Way. Simply subscribe and leave us a comment letting us know who you would gift Blaire to (it is OK to say yourself!).  That's it! We also have several ways that you can earn more entries by engaging with us on social, but being a subscriber is the only requirement.
Other ways to earn bonus entries to win an American Girl Doll of the Year. Please leave an additional comment with proof of entry described below,
For entries to count you MUST leave a separate comment with a link to where you commented on the other platform. Easy Peasy!
Void where prohibited. This giveaway is valid only within the United States.  The winner's American Girl Doll will be mailed directly from American Girl Doll and cannot be mailed to PO Boxes, only a physical address.
Enter for your chance to win in the comment section below below. Giveaway starts NOW and will end on 1/30/2019. Winner will be chosen and notified by or before 2/1/2019. Winner will be chosen by a computerized random number generator. Winner will be contacted via email. Winner's name will also be shared on this blog post in bold (First name and last initial). Only the winner will be contacted. Winner MUST respond within 48 hours of winner announcement and provide a mailing address. If the winner does not respond within that time frame, the prize is forfeited and a new winner must be chosen. While we have never had a problem with a giveaway before, Highlights Along The Way cannot be held responsible for lost or damaged prizes.
A big thank you to our friends at Mattel for sponsoring this giveaway!  All photos are by American Girl Doll and are used with permission. Best of luck to all our subscribers!