The Anaheim Hotel – Review & Pictures
Disclosure: The Anaheim Hotel hosted our stay. While our stay was complimentary, our opinions are 100% our own.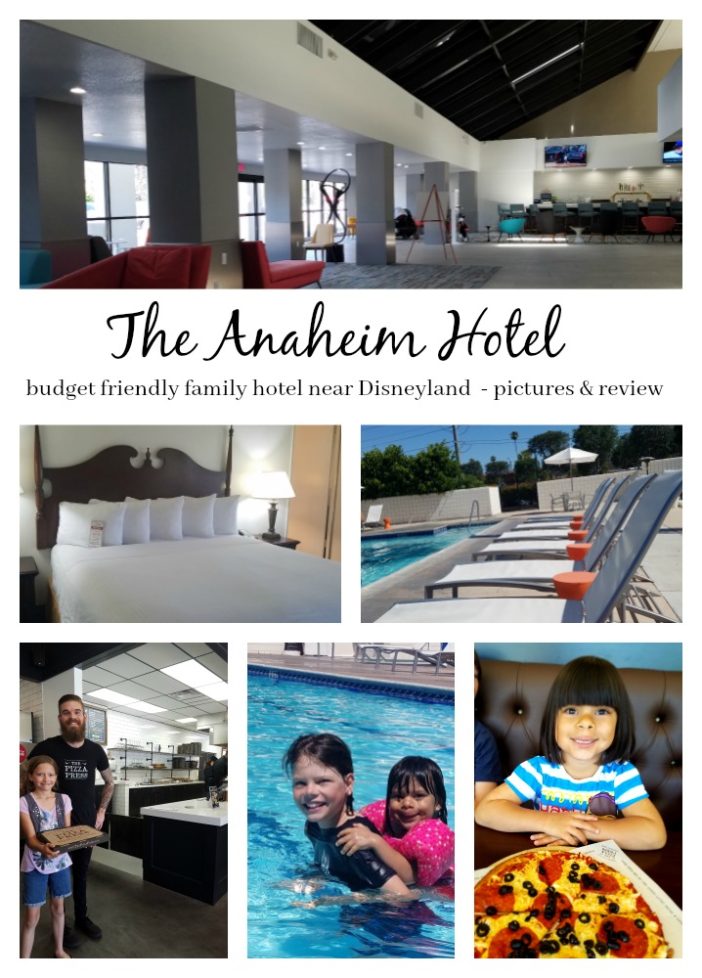 Our family loves to visit Anaheim California.  Orange County California is the home of Disneyland, Knott's Berry Farm, Medieval Times, and so many more fun places!  If you are traveling to Anaheim California and looking for hotels, we are here for you! Today we are sharing a sneak peek at the newly renovated Anaheim Hotel.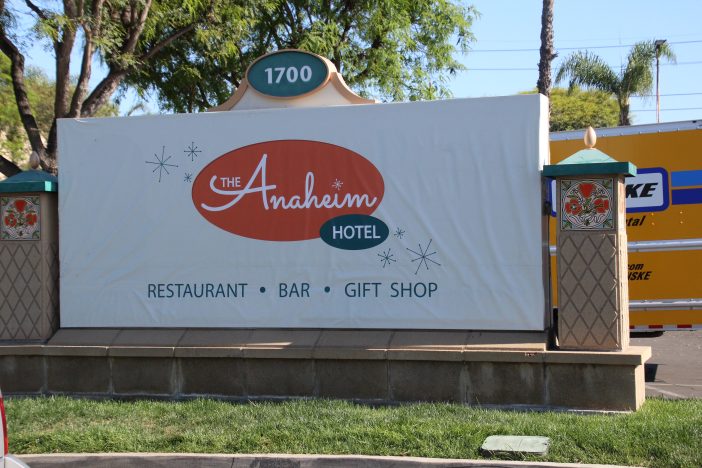 If you are looking for a budget friendly place close to Disneyland, The Anaheim Hotel is just across the street!  It is also conveniently located close to the Anaheim Convention Center and Garden Walk.  There are so many awesome sites in Orange County and The Anaheim Hotel is at the heart of it all.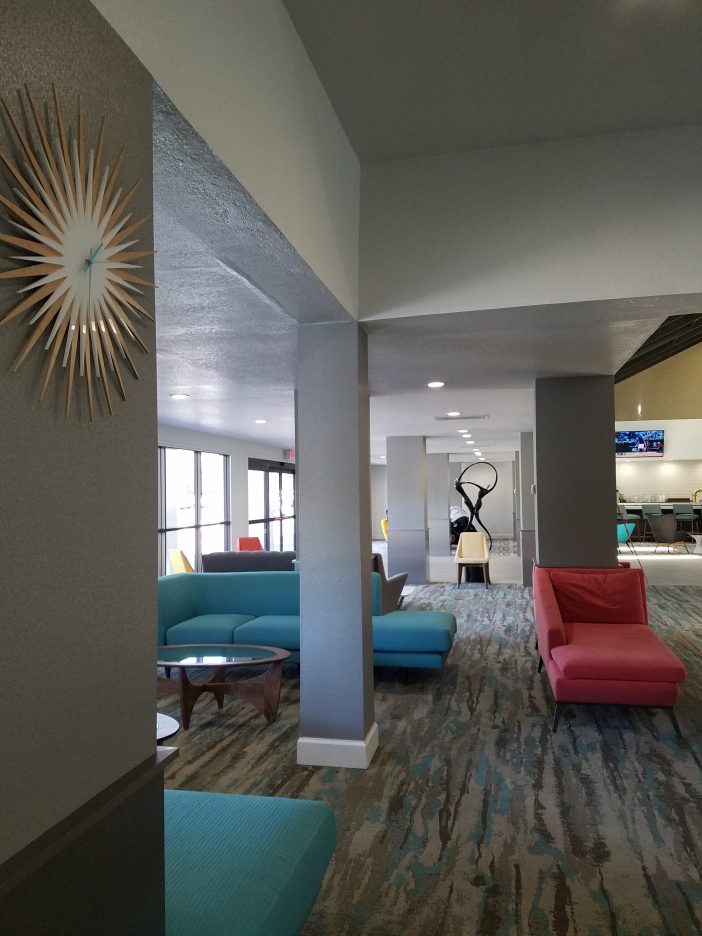 The Anaheim Hotel is in the middle of a full renovation.  While many rooms are completed, the full renovation will be complete in Fall 2017.  The lobby has a fun 1960s vibe that really fits the original structure.  The rest of the hotel is very much like an older condominium complex. Mini suites are so perfect for families looking to save money! Rooms do not have luxurious frills, but are clean, have newer furniture, and even a small kitchenette.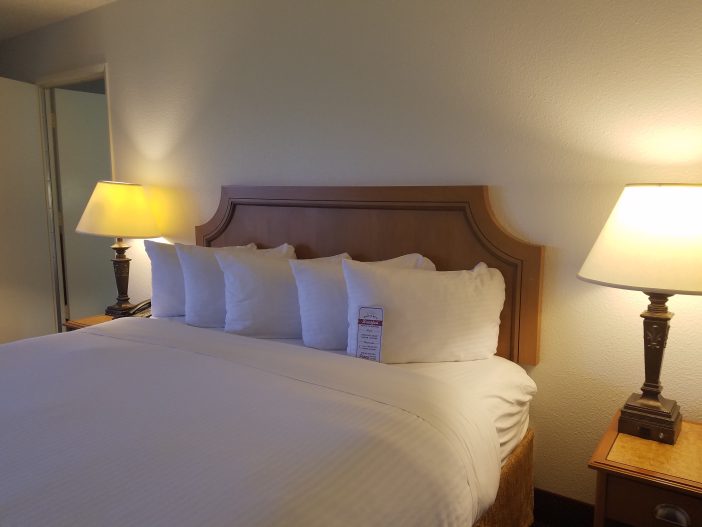 Decor is fairly sparse, but it was crisp and clean. In all honesty, there isn't a lot of 'wow' factor in the rooms, but the updating is great.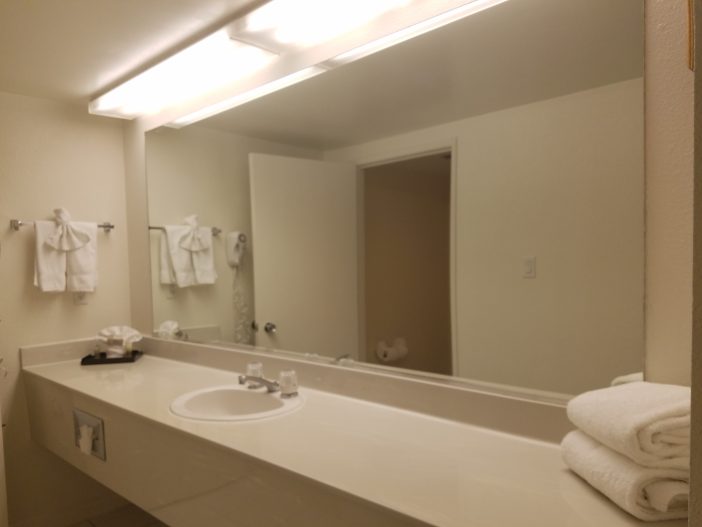 We love when a hotel has an awesome restaurant attached and The Anaheim Hotel takes the cake (or the pie?) with The Pizza Press. The Pizza Press is a franchise restaurant that offers freshly made pizzas and salads with your favorite ingredients. Lots of different sauces, toppings, and even gluten free options.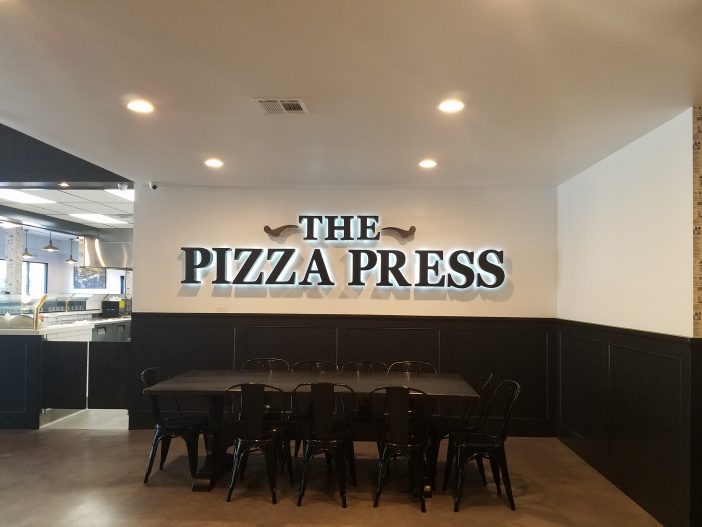 The restaurant is perfectly family friendly with lots of great choices for breakfast, lunch and dinner.  Even if you are not staying at The Anaheim Hotel, you can still stop into The Pizza Press. Conveniently located on Harbor Blvd in Anaheim, walking distance from many area hotels and the Disneyland Resort!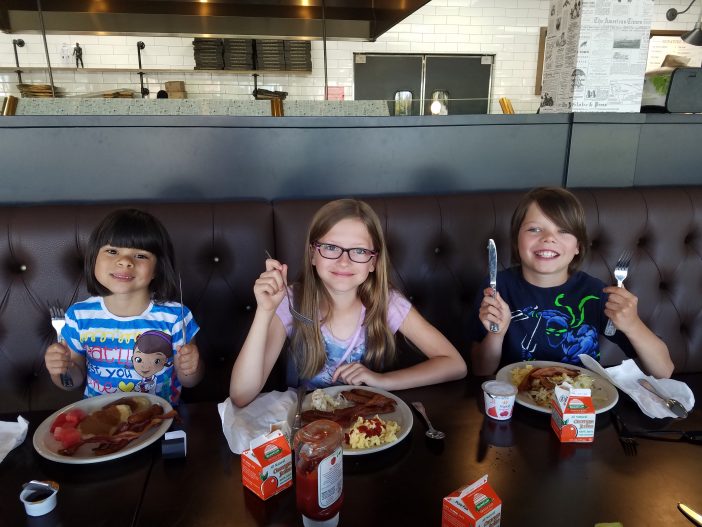 One thing we have to highlight is the breakfast buffet.  We stayed at The Anaheim Hotel on a weekend when Disneyland Park was filled to capacity. I am sure that just about every restaurant was booming that morning.  I am here to share a little secret that I hope you will not keep to yourself. Word has not quite hit the street that The Pizza Press is open for breakfast.  The buffet is about $12 for adults and only $5 for children. (I cannot imagine these 'we just want to get people in the door' prices are gonna last, but even if prices jump we will be back, it is that good!) We enjoyed French toast, biscuits and gravy, eggs, bacon, sausage, pancakes, fruit, yogurt, and an assortment of pastries and cereal.  When we visited at breakfast time we were one of three families in the restaurant.  It apparently does get very busy at lunch and dinner time, but breakfast it is at least for now a little too quiet. It is our new breakfast spot for Disneyland trips.
Now, please enjoy several pictures of our lunch…….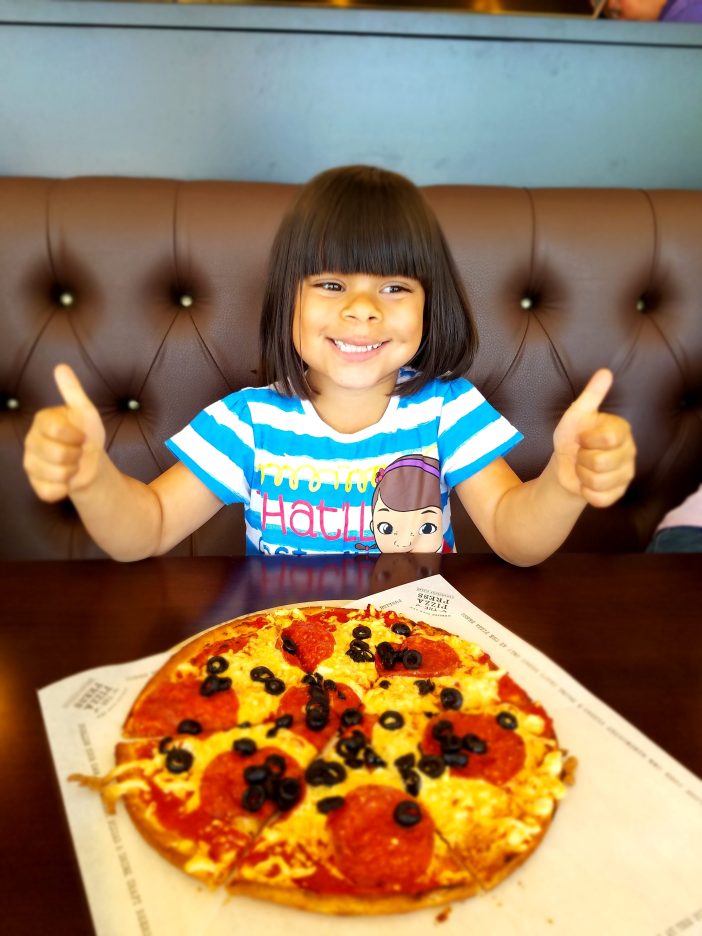 While we are very adventurous eaters, our kids do have some dietary challenges.  We were thrilled to find several gluten free options (including pizza!).  Many know our littlest has severe eczema if she eats dairy so we were thrilled to find they offer dairy free cheese options too.
The wannabe vegan in me was thrilled to order "The Gazette" which is their vegan signature pizza.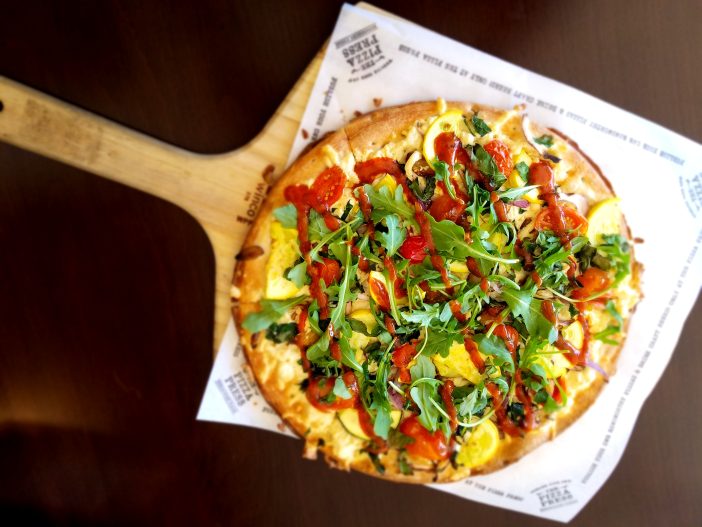 The big kids loved the gluten free pizza with their favorite toppings too. We will for sure be back!
Our favorite thing about The Anaheim Hotel was the Olympic sized pool.  While some of the hotel and grounds could benefit from more updating, the pool is really fantastic!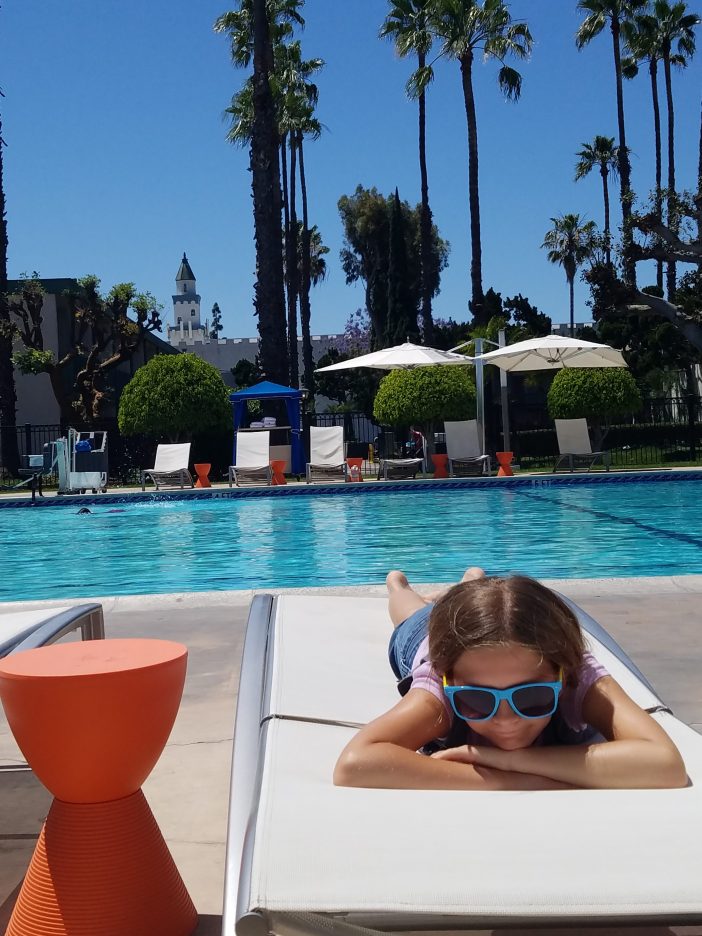 With rates starting at under $100 a night, this is a wonderful place for budget conscience families like ours. Check their site for current specials – 50% off Sundays is one of the best current deals.
Things we loved
The price point is fantastic – a family can often stay for less than $100 a night!
The location! So close to Disneyland, you can easily walk
The Pizza Press – amazing breakfast buffet and also custom pizzas for lunch and dinner
The lobby is super cute. In line with the original architecture of the hotel, they have designed the lobby in a 60s throw back style.
Renovated rooms are clean and cute
Olympic sized pool

Things that weren't our favorite

Much of the hotel is not yet renovated and it still feels like an older apartment complex in some areas. (This may be a different story by Fall 2017). My suggestion is to make sure to ask for a renovated room just in case they are not all complete when you are planning your trip.

Thank you to The Anaheim Hotel for hosting our stay! Would you like us to feature your hotel or resort?  Please contact us here!