Animation Student Gift Guide
Disclosure: Highlights Along the Way is a participant in the Amazon Services LLC Associates Program, an affiliate advertising program designed to provide a means for sites to earn advertising fees by advertising and linking to amazon.com
My husband and I consider ourselves experts when it comes to knowing what an animation student may have on their wish list. Harry and I both studied animation for years. We both worked as caricature artists in theme parks and at fancy parties to pay our way through college, and then out of debt from college. Harry taught animation at The Art Institute of California for more than a decade. Both of us work currently as freelance illustrators; which is sort of an animation adjacent career. Anyway, we know a thing or two about what an animation student may truly treasure as a gift.
If you are looking for inexpensive stocking stuffers for the animator or aspiring artist on your list, we just added an Animation Student stocking stuffer list to our site! Art is one of the most expensive areas of study, and with a recession looming, artists will be so thankful to have supplies they need throughout the year.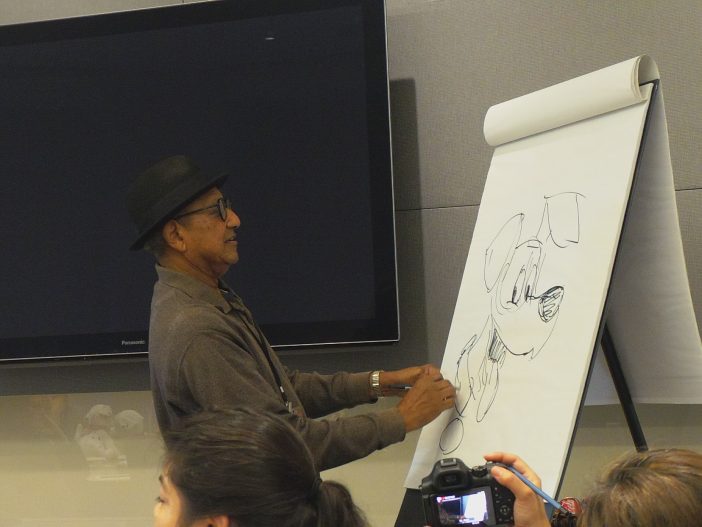 (Legendary Disney Animator – Floyd Norman – please see his movie below as a potential gift idea)
Did you know that Art students spend more on school supplies than nearly every other college student? Art students are second only to Medical students when it comes to supplies they need to purchase. Art students are in constant need of new books and technology, but also consumable products. Artist's needs vary widely by trade and not every art supply is helpful to ever artist. Animation students may be more excited about an inexpensive box of brand new blue prisma colors over a fancy set of watercolors. We are here to help with some ideas for your favorite animation lover!
There are different studies and focuses in animation. It is a good idea to know what is your friend or family member's area of focus. Do they work mostly in 2D animation? 3D animation? Are they working on characters, environments, or special effects? These are good questions to so that you can get the gift that suits them best.
It is a fair assumption that the animation student on your wish list draws all the time, so a sketchbook is a safe bet. If you want to be a little more creative than a sketchbook; there are some other fun ideas below.
Many times well meaning friends and family will give the artist on their list a gift that is not really meant for a serious artist. Not all markers, pencils, or even erasers are the same. While many of these items are not expensive, students burn through supplies quickly! I can assure you that many of our artist friends would love to have one of the items we curated as a gift this year. People who want to work in animation simply love to draw and are often very particular about the products they use. When our illustrator friends were surveyed, these were the things they said they wished were purchased for then when they were students.
If possible, find out what field of animation your subject is studying. Is your friend or family member hoping to work as a background painter, a character designer, a storyboard artist, an animation timer, or one of the many other areas of study. While the artist gift ideas we found will really work for many artists, you can get an even more personalized gift if you know their exact niche.
What is Animation?
Animation is an art in which figures are manipulated to appear as moving images. In traditional animation, images are drawn or painted by hand on paper. These drawings were traced and painted on transparent celluloid sheets to be photographed and exhibited on film. Today, most animations are created with computers.

What are the 5 Forms of Animation
Traditional Animation.
2D Animation.
3D Animation.
Motion Graphics.
Stop Motion.
Animation Student Gift Ideas
Force Drawing Lessons with Mike Mattesi – use the code SHAREFORCEBASICS for an additional 20% off! A consumable gift that will create no clutter. One thing I truly miss about being an artist is that we cannot go to Life Drawing classes or 'drink and draws' in person. Online is not the same as in class instruction, but these classes are affordable and can be done at your own pace. Mike Mattesi is a former Disney artist that has trained and worked with some of the greatest animation artists of our time.
"Art Of" books – The Art of "fill in whatever their favorite animated movie is" books are something any animation fan will treasure and there are so many to choose from.
The Art of Encanto (Below) would be a great book to purchase if you are not sure of their current library. Encanto was just released by Disney so this book is fresh off the presses!
Last year my husband gifted me "The Art of Tarzan" which I have spent so many hours pouring over. Art students LOVE art books. More specifically; animation students cannot have enough 'Art of Animation' books.
"The Animator's Survival Kit" – If the person on your list is newly interested in Animation, this is a great book – if they have been in school or working for a while, it is likely already on their shelves.
This Book about the "9 old men" – You don't know who the 9 old men are? It is OK, your animation fan friend does.
Force Life Drawing Books – this guy is incredible.
Apple Pencil Sleeve – this is the perfect stocking stuffer!
Ergonomic Chair – this kneeling chair has been the BEST investment and my chronic headaches and back aches are improving!
Wacom Tablet Currently on sale!

xxx
This perfect Mug Because animators drink all the coffee.
This perfect Tshirt Because Animators do not sleep (hence the coffee)
Floyd Norman Movie This movie about the legendary animator Floyd Norman can be purchased as a physical copy or digitally. Floyd Norman was the first black animator at Walt Disney Studios. His story and his artwork are really extraordinary.
My Favorite Sketch book Animators and animation students always have a sketchbook with them. They will never have too many.
Prisma Color Pencils – but just the blue ones Animators and other artists go thru these like crazy, right now you can buy 12 for $5 shipped!)
Prisma Color Pencils – but just the red ones These are also inexpensive and something that artists go through like crazy. Pencils are the perfect stocking stuffer.
Pixar Storytelling – Also probably on the shelf of a long time fan or artist, but great for a newbie!
These are just a few of our ideas! If you are an animator, what do you wish was on this list?