Animation Student Stocking Stuffers Ideas
Disclosure: Highlights Along the Way is a participant in the Amazon Services LLC Associates Program, an affiliate advertising program designed to provide a means for sites to earn advertising fees by advertising and linking to amazon.com
Does your animation student need a stocking filled? You have come to the right place for art gift ideas! If you have an animator or animation student on your gift list, these are some great ideas to put in their stocking. As a freelance illustrator who sometimes is lucky enough to work on small animations, I know some wonderful inexpensive items for creatives. Many of these stocking stuffers are small and perfect for the artist in your life! Many items can be purchased last minute at a local art shop or ordered via Amazon.
Our animation student stocking ideas list is filled with small items priced under $15 each. Most of these items can be purchased at local stores, but of course we have an amazon list. Amazon gives us a tiny commission for curating this list. As a family of artists, we thank you for making a purchase as it will definitely be used on art supplies!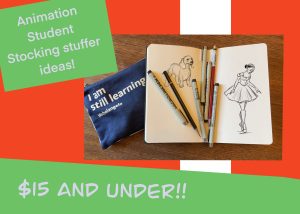 If you are looking for bigger gifts for an animation student in your life, we have another gift guide. Our Animation Student Gift guide will have lots of ideas for the aspiring animator and illustrator in your life.
Did you know that Art students spend more on school supplies than nearly every other college student? Art students are second only to Medical students when it comes to supplies they need to purchase. Art students are in constant need of new books and technology, but also consumable products. Artist's needs vary widely by trade and not every art supply is helpful to ever artist. Animation students may be more excited about an inexpensive box of brand new blue prisma colors over a fancy set of watercolors. We are here to help with some ideas for your favorite animation lover!
There are different studies and focuses in animation. It is a good idea to know what is your friend or family member's area of focus. Do they work mostly in 2D animation? 3D animation? Are they working on characters, environments, or special effects? These are good questions to so that you can get the gift that suits them best.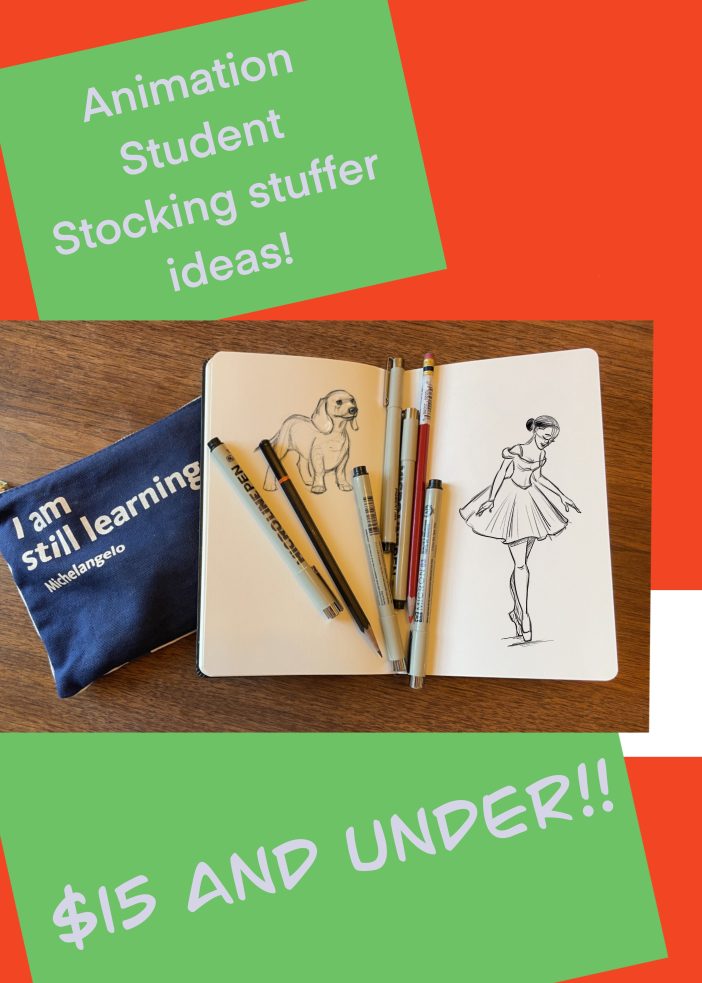 It is a fair assumption that the animation student on your wish list draws all the time, so a pocket-sized sketchbook and pencils are a safe bet. If you want to be a little more creative than a sketchbook; there are some other fun ideas below.
What is Animation?
Animation is an art in which figures are manipulated to appear as moving images. In traditional animation, images are drawn or painted by hand on paper. These drawings were traced and painted on transparent celluloid sheets to be photographed and exhibited on film. Today, most animations are created with computers.
What are the 5 Forms of Animation
Traditional Animation.
2D Animation.
3D Animation.
Motion Graphics.
Stop Motion.
Animation Student Stocking Stuffer Gift Guide

A small Pocket Sized Sketchbook. Serious art students will have a sketcbook in their back pockets or purses to whip out any time they have a little bit of stand around time.
Apple Pencil Case
Many artists work on Ipads, a case for their Apple Pencil is always a great gift!
Grey Scale Markers are a great gift that always need replacing!
Animation students are always in life drawing classes, this pack is always something they need the first day of class!
A poseable figure is a great thing to have if your roommate refuses to pose for you!
Long Point Pencil sharpeners will save countless hours for the serious student!
Blue Pencils are LIFE!
Anime stickers to junk up all their stuff.
Disney stickers to put on water bottles, lap tops, ipad cases, etc.
Pixar stickers to show that they have feelings.
Red pencils are also LIFE!
Electric Erasers for the millions of mistakes they will make while learning.
Starbucks gift card because sleep is for the weak. I also suggest finding a local coffee shop to support!