Apple Farm Inn – Wine Country Hospitality in San Luis Obispo
Disclosure: Hosted for editorial consideration. This site uses affiliate links. All opinions are my own.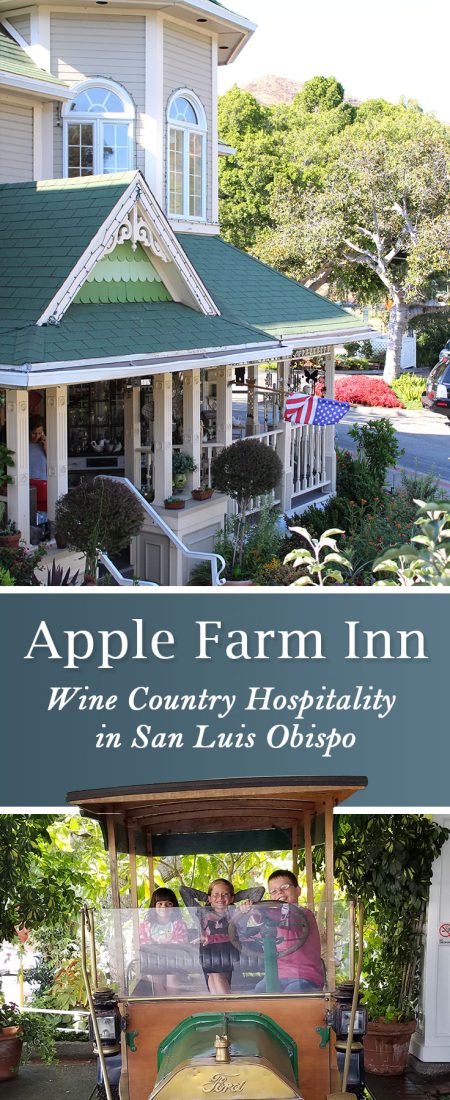 Nestled in San Luis Obispo is quite possibly the most charming establishment on planet Earth. Apple Farm Inn is the sweetest hotel that we will be recommending and visiting for years to come. Mountain views and gorgeous gardens make this luxurious hotel feel welcoming and relaxing.  Rooms, gift shop, and the restaurant are uniquely decorated. Each reminds me of grandma's guest room.  Our family felt at home from the moment we stepped in the lobby.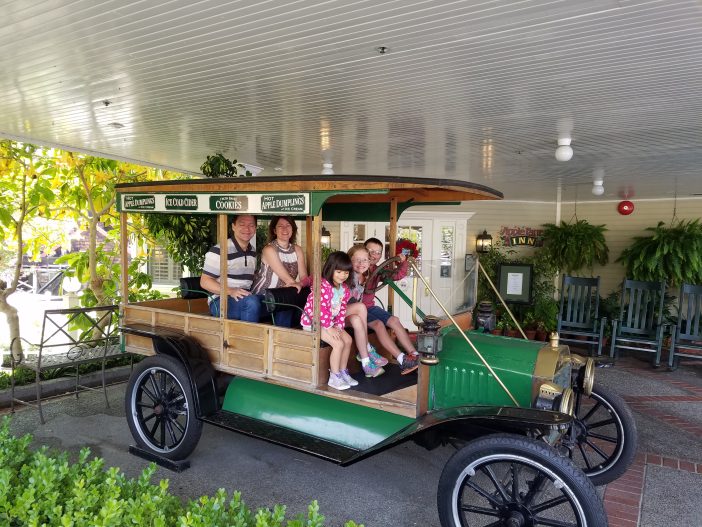 At check in we were greeted warmly.  Kids were offered hot cocoa and adults were offered coffee or a glass of wine.  Have I ever mentioned how much I love hotels that give out cookies at check in? I think I have. Apple Farm Inn is one of those lovely hotels! Stamp of approval!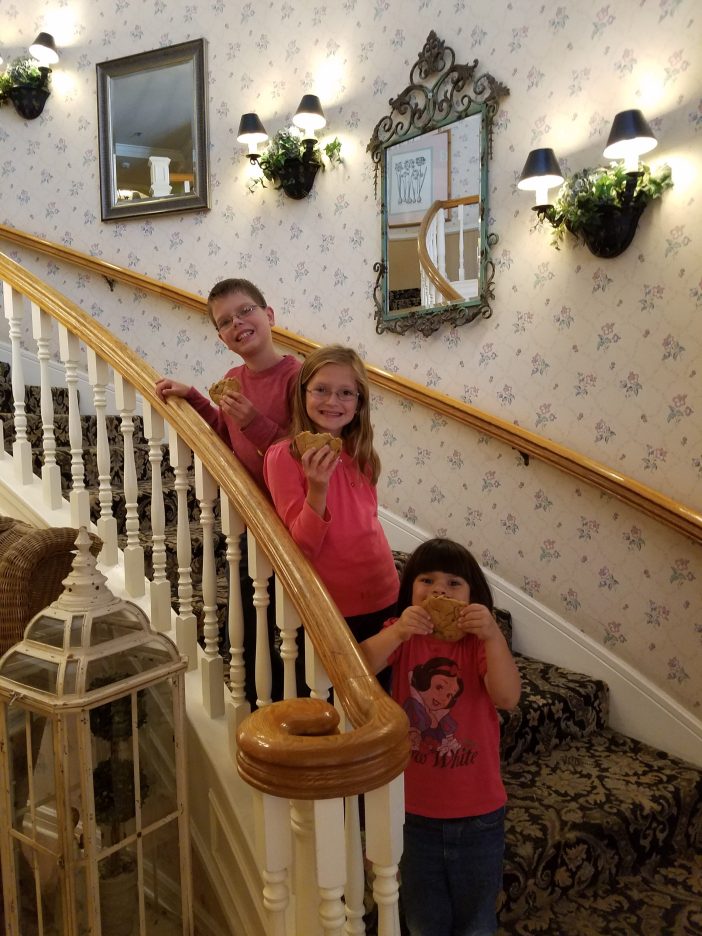 We were also told to make sure to join the complimentary welcome reception on the porch later that afternoon.  Apple cider and wine were served along with snacks while guests mingled. Free snacks on a beautiful patio with gardens in every direction? I'm game.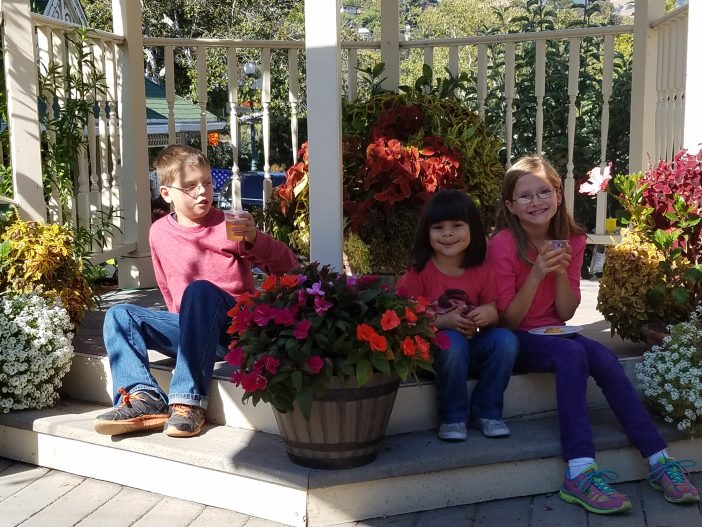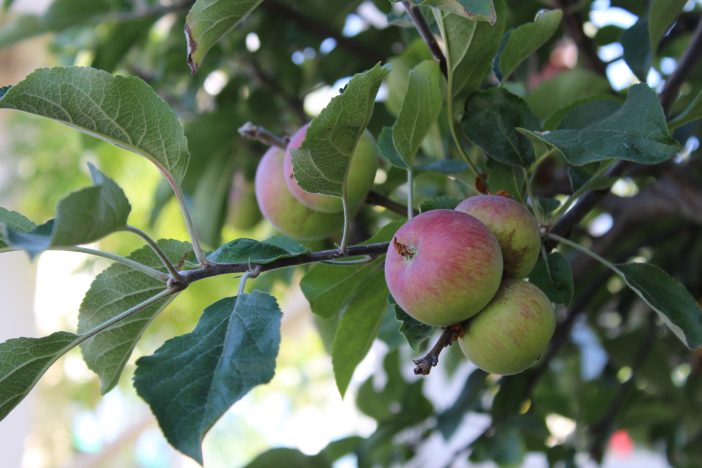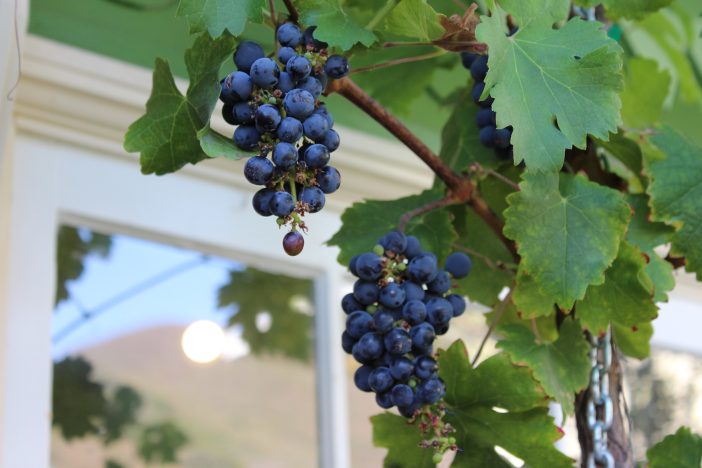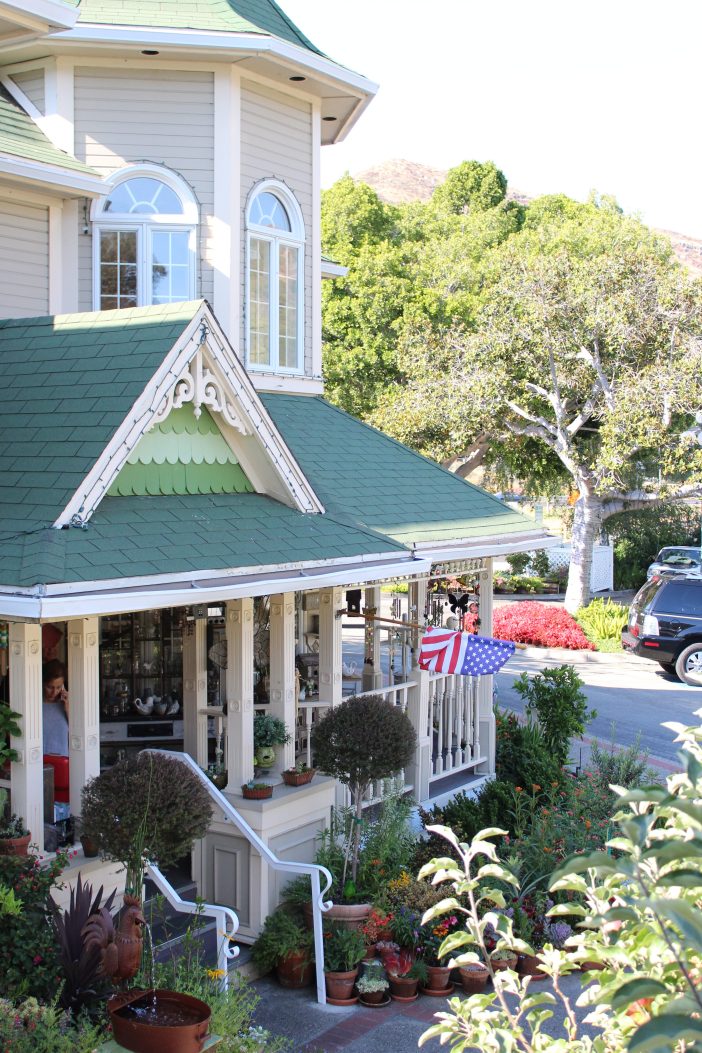 Our family of five stayed comfortably in The Apple Farm Inn. There are also Trellis Court Motel Rooms, and larger Millhouse rooms. Our room in The Apple Farm Inn was on the second floor.  It featured two queen beds, a pull out couch, a huge bathroom, and even a fireplace! I would HIGHLY suggest staying in the Inn itself.  While the other rooms are beautiful, staying in the main house is just so inviting. I was impressed by the size of the room and yet it still felt cozy.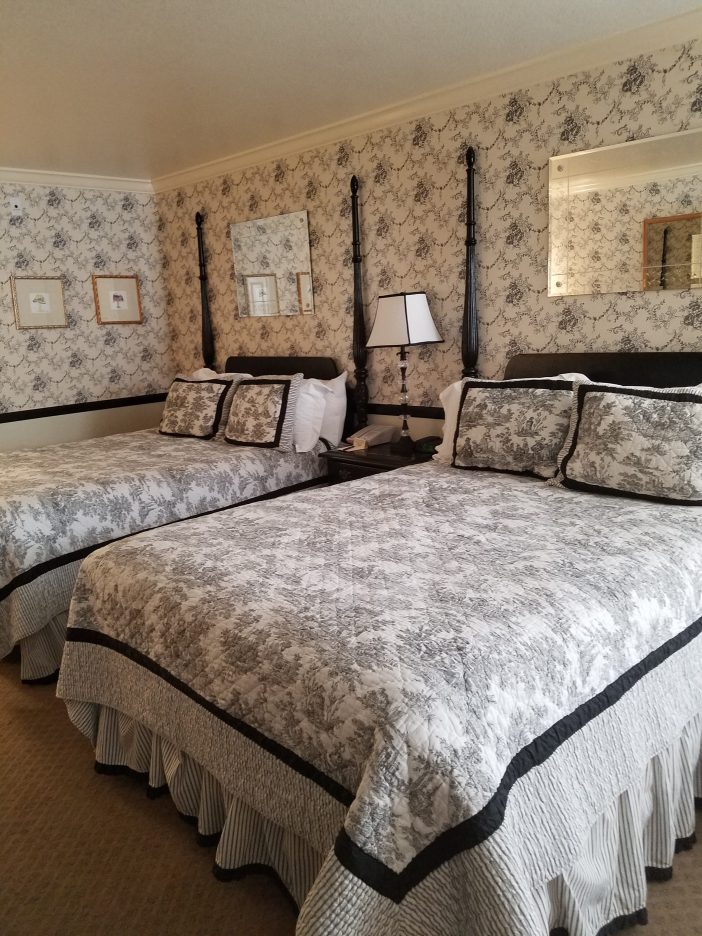 "Did I mention how much I love check – in cookies?" Little Miss C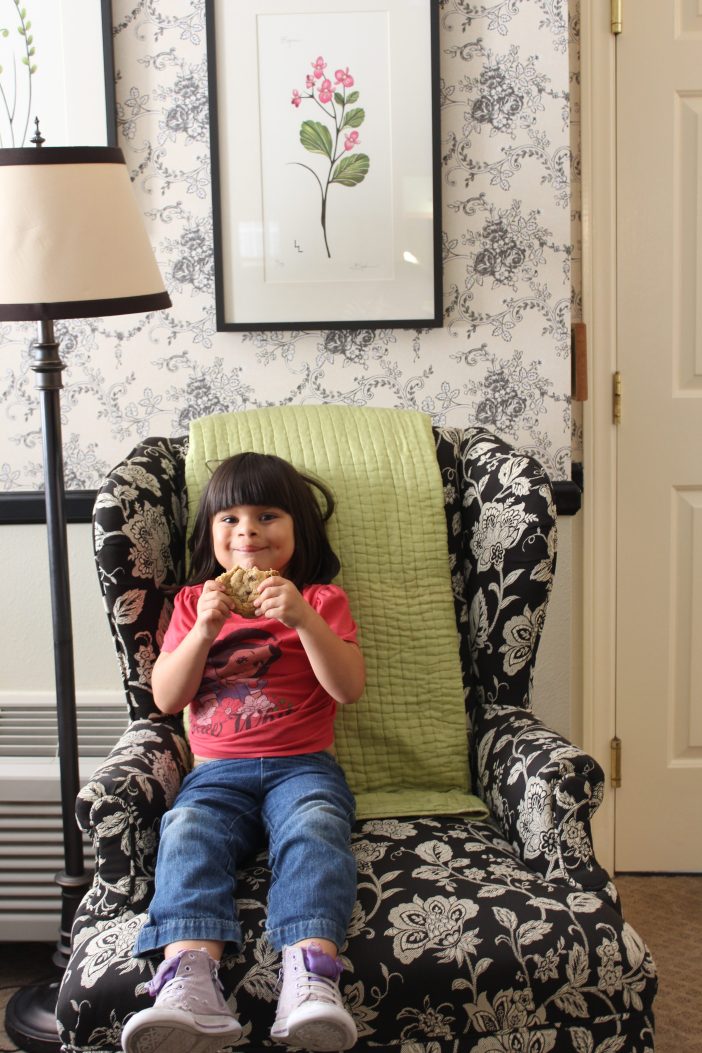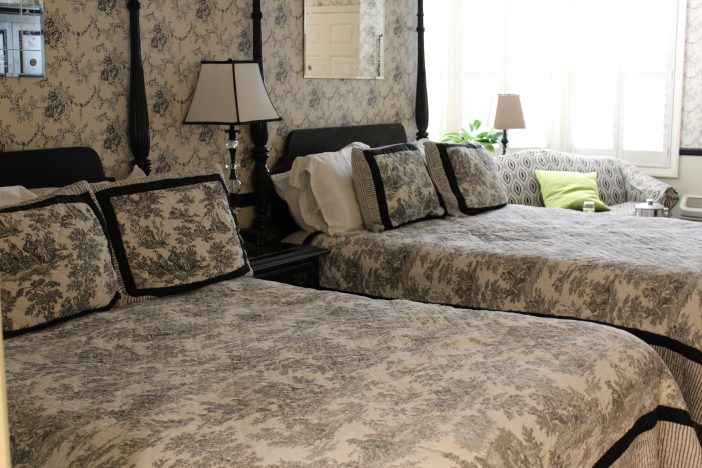 It was a little Toile heavy….. but it worked!
This kids were thrilled to play in the pool.  The day we visited San Luis Obispo was the only day on our entire trip that was warm enough to swim.  The pool was small but lots of fun!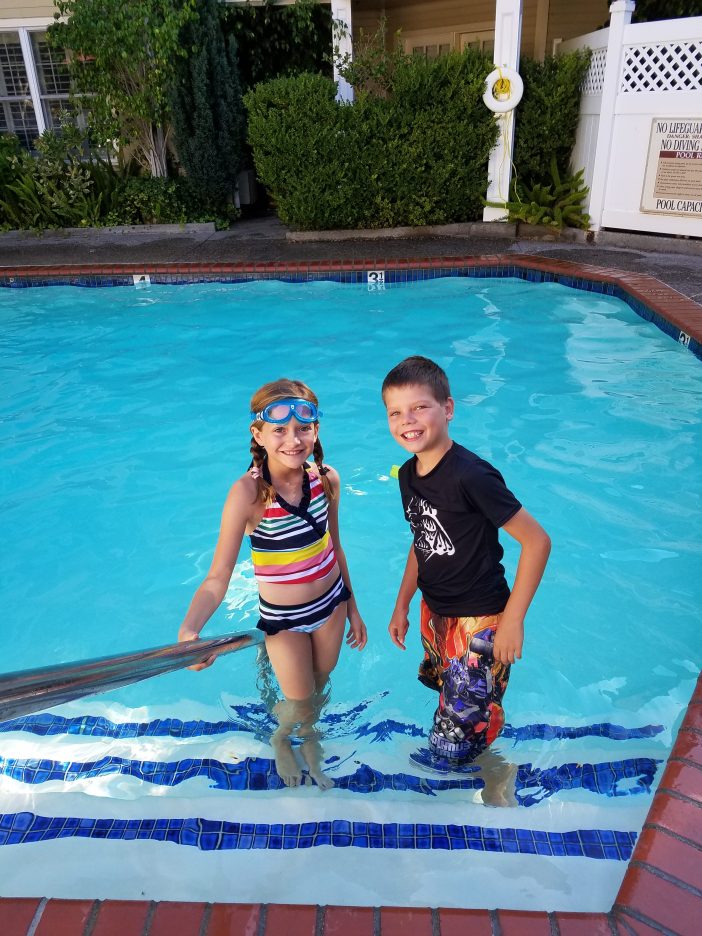 From their website….
"Wine country hospitality, comfortable deluxe lodging, and honest value are the guiding principles behind the Apple Farm Inn, a San Luis Obispo hotel that embodies a true atmosphere of tranquility. Combining the charm of wine country inns with the modern conveniences of a luxury hotel, Apple Farm Inn offers the best in San Luis Obispo lodging.
Our rooms are uniquely appointed with cozy fireplaces and seating nooks. Deluxe accommodations await you in a lush, quiet garden setting. We are conveniently located just off US 101, on the Central Coast of California.From your home base at Apple Farm Inn, explore San Luis Obispo: festivals, farmers markets, Cal Poly San Luis Obispo, a historic mission, superb food, and a creek that runs through town. Minutes away, rolling valleys offer the best in California wine tasting. A short drive north on Highway One brings you to Hearst Castle and the spectacular shoreline of Big Sur.
Everyone here will be delighted to see you, whether you're just looking for a night's lodging, a weekend getaway, or a memorable experience including the romance of country inns, lush gardens, a brimming gift shop, and a step back in time at our authentic millhouse. To enjoy the best of hotels in San Luis Obispo, California, check into the Apple Farm Inn.
You will leave your heart with us and return again and again."
Want to book a room at Apple Farm?  We use Hotels.com for great deals – hurry though! Apple Farm Inn fills up quickly!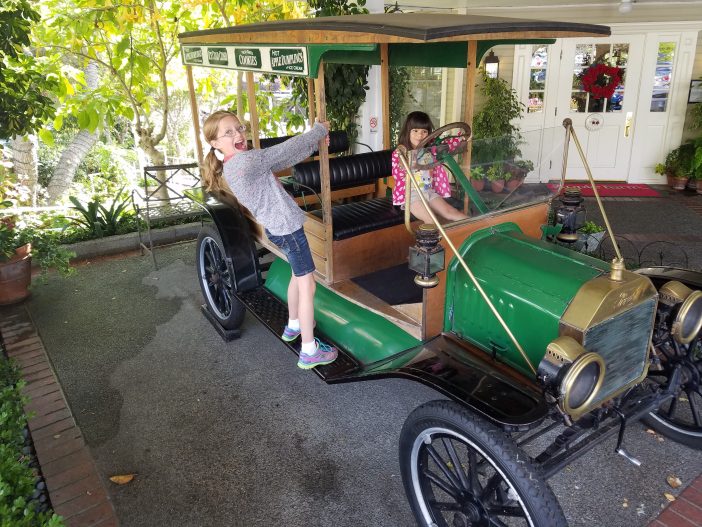 A huge thank you to the folks at Apple Farm Inn for hosting us on our journey.  We cannot wait to visit again!
Want to read about the places we stayed on our Monterey Family Road Trip?
Santa Barbara is home to Mission Santa Barbara and some of the most beautiful beaches ever.
Buellton is a tiny town with the world's best camping options according to me!
Solvang is California's little Denmark and it is as charming as it comes!
Monterey has so many fun things for families to do!
Would you like our family blog to feature your city, hotel, or attraction?  Check out how we can work and play together here!  If it sounds like fun to you, contact us!