Arenas Del Mar : Beachfront & Rainforest Resort in Costa Rica
Disclosure: Our stay was part of our Gift of Happiness Tour and was complimentary. Opinions are 100% my own.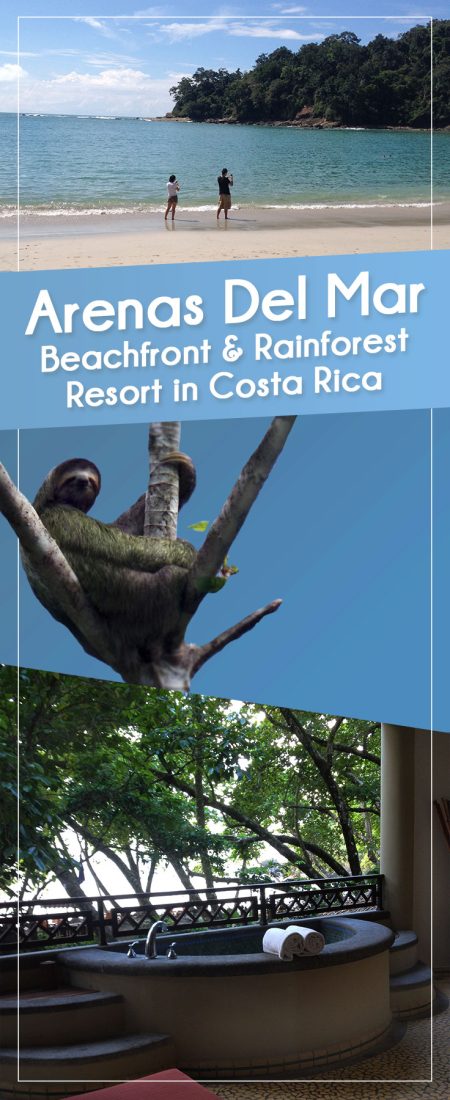 OK – so how many people are already planning a vacation to Costa Rica based on our previous articles?  I cannot wait to visit again with our whole family!  I wanted to feature every hotel that was gracious enough to host us – today's installment is the lovely and inviting Arenas Del Mar located on a private beach AND within a rainforest!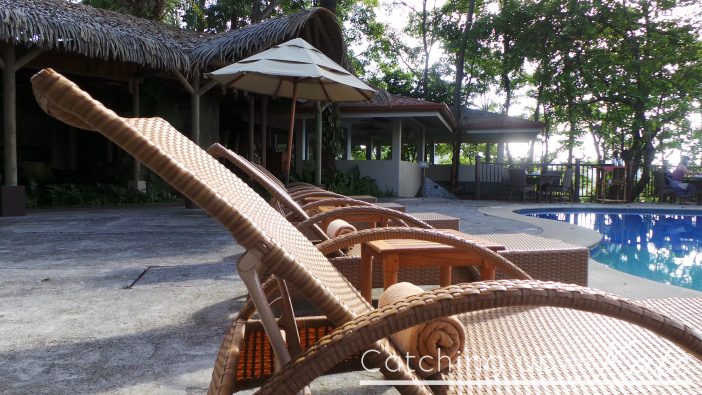 Our Ocean View Premium Suite was luxurious and eco friendly!  It was close enough to walk to the beach and we were lulled to sleep by the sound of the ocean.  The suite was absolutely beautiful with a spacious front room, two bathrooms, and a large master suite.  Our private deck included a tiled hot tub overlooking the ocean! *swoon*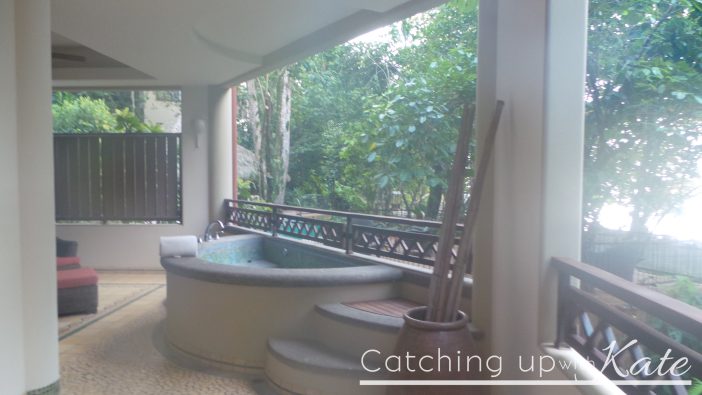 Remember how I said it is on the beach and in the middle of the rainforest – our bell man made sure to inform us that we needed to not simply close the doors, but also lock them because the little monkeys will come in and steal our food (they apparently have even learned how to open the fridge and mini bars – ah!).  We got back after dinner and I really wanted to go in our jacuzzi, but it was already dark and I just couldn't get past the idea of a monkey jumping in with us or sneaking by and going in our front room!  I wish we had one more day! I bet it would have been a beautiful way to watch the sunset!
We sampled delicious food all throughout the country – and Arena Del Mar's two restaurants were absolutely worth highlighting!
One smaller restaurant "Playitas" was poolside and oceanfront – we were very happy with the healthy options!  We both love Ahi Tuna, and this was some of the best we ever had!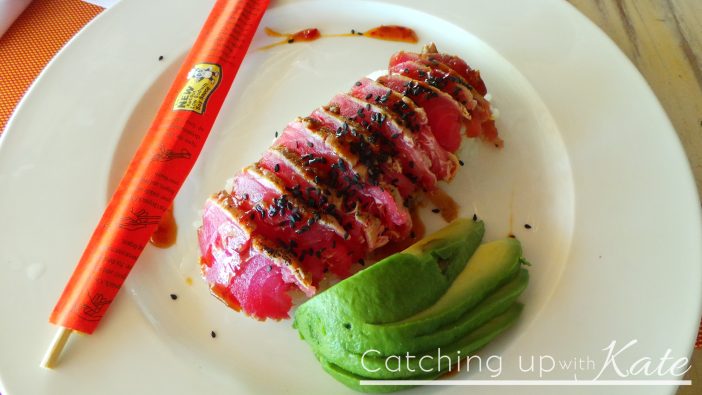 The larger restaurant, "El Mirador" is where we enjoyed breakfast and dinner.  Both restaurants proudly use fresh, local, and often organic ingredients.  Breakfast is complimentary with any stay and I highly recommend taking advantage!
Likely the fanciest deviled eggs I will ever consume……..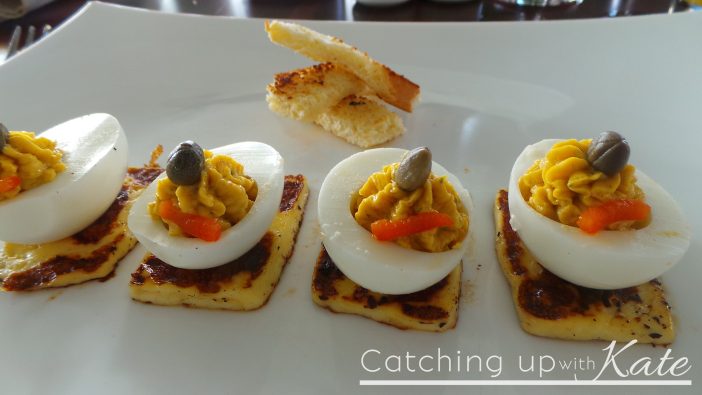 My hubby's breakfast burrito was also delicious!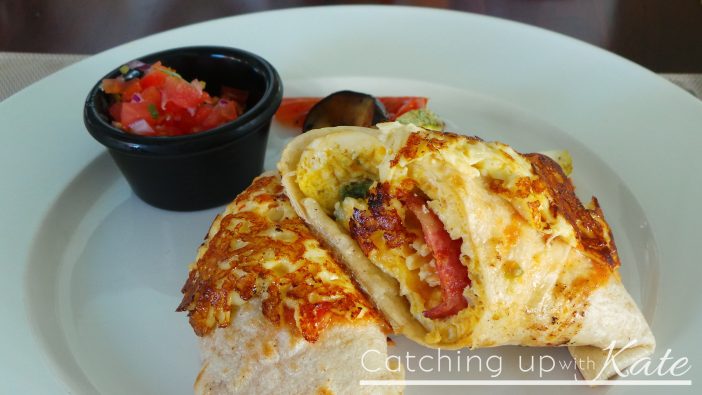 Arenas Del Mar is located within the rainforest and on a private beach, if you stay there – make sure to take a walking tour of Manuel Antonio National Park!  We saw beautiful Costa Rican Wildlife from a safe and respectable distance in their natural environment – it was incredible!  This was probably one of our least expensive excursions and probably our favorite!  We talk about the animals and plants we saw and how we can't wait to take the kids all the time!
This beach was only a very short walk from our hotel and part of the nature preserve – it was so beautiful and the water was very warm!  We swam too, but I am not sharing any bathing suit shots!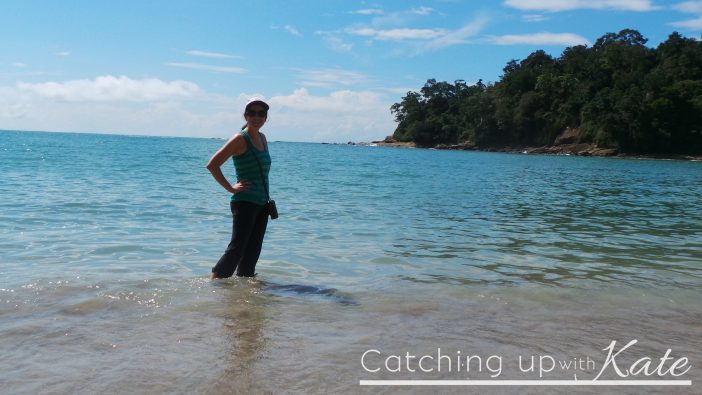 As was the case with all of the hotels we stayed at in Costa Rica – Arenas Del Mar is certified as a Sustainable Luxury Hotel.  If choosing an eco friendly and responsible hotel is important to you when you travel – please check out all the hotels we visited – all are environmentally responsible and respectful.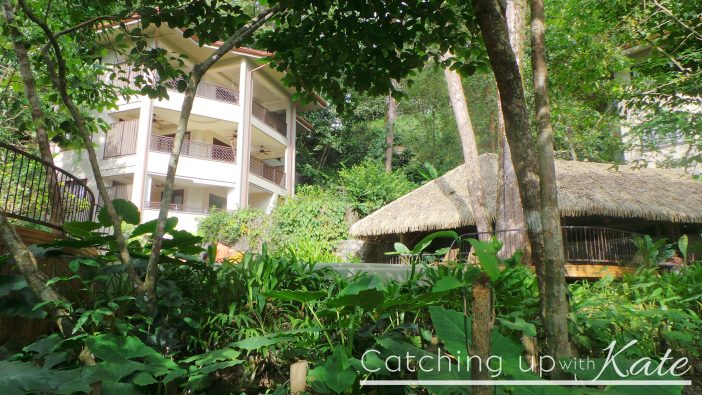 One of our favorite features was the private beach, Harry surfed, we sunbathed, the server from "Playitas" brought us drinks!  It was heavenly!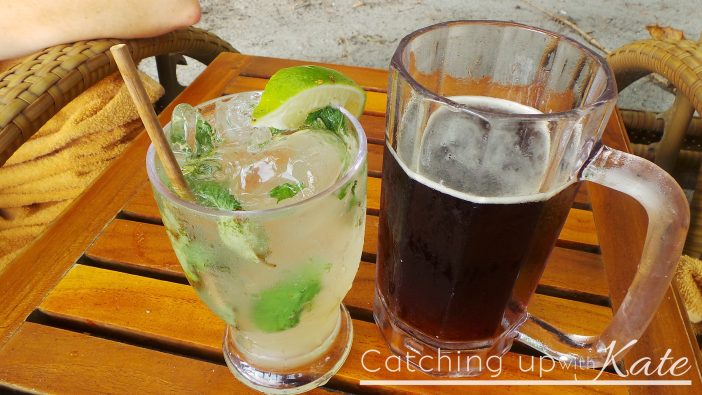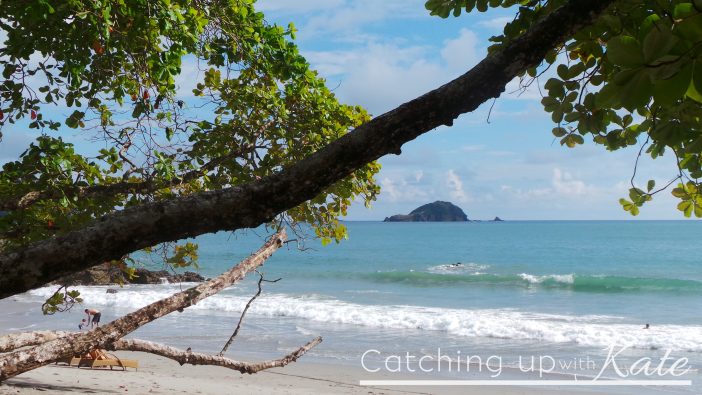 The above and below shots are from seats steps from our suite.  Unbelievably beautiful, pictures do not do it justice.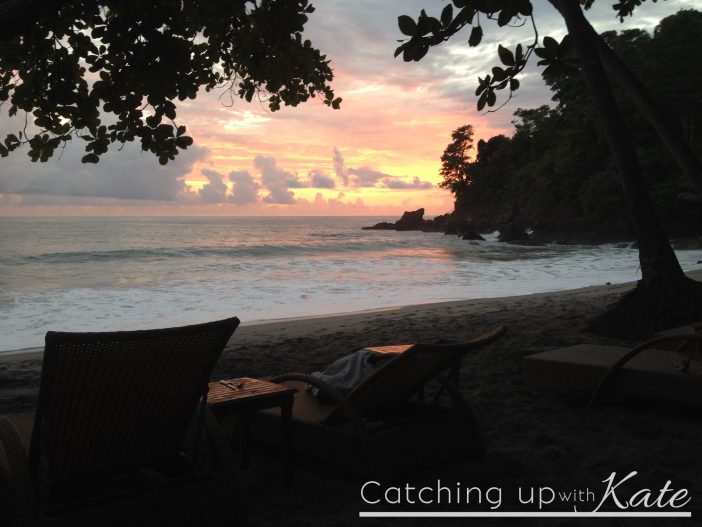 A huge thank you to everyone who made our stay so comfortable at Arenas Del Mar – we hope to see you again some day!
If you are considering a trip to Costa Rica – Check out the Costa Rica Travel Bureau Website
Follow Visit Costa Rica on Twitter
Enjoy pictures and updates on Visit Costa Rica on Facebook
and if you still aren't convinced  – check out the Visit Costa Rica You Tube Channel!