Asha Wish Costume
Disclosure: Highlights Along the Way is a participant in the Amazon Services LLC Associates Program, an affiliate advertising program designed to provide a means for sites to earn advertising fees by advertising and linking to amazon.com. This site uses affiliate links.
Asha is a strong and brave princess. Princess Asha is sure to be a popular princess for Halloween and Disney trips. Here is the first Princess Asha Costume we have found with all the accessories. In true classic Disney cartoon form, Princess Asha has an adorable animal sidekick and we have also included a costume for him. This purple dress is perfect for any child who wants to dress up as Asha. We will add more Wish Costume ideas as more become available.
Whether you are planning a trip to Disneyland for Oogie Boogie Nights or Walt Disney World for Mickey's Not So Scary Halloween party, this costume is perfection! Dressing like a brand new princess, or even a Disney character from a still to be released movie will be so popular amongst Disney fans! Fans may want to dress up for D23 or Cosplay as Asha at Comic Con. Disney conventions will be full of cosplay and costumes, but you could be the first to dress as Asha! We've also added a cute Valentino Costume idea!
Disney Wish Birthday Party Ideas
Disney Wish Birthday Invitations!
Disney Wish Costume Ideas
Princess Asha Costume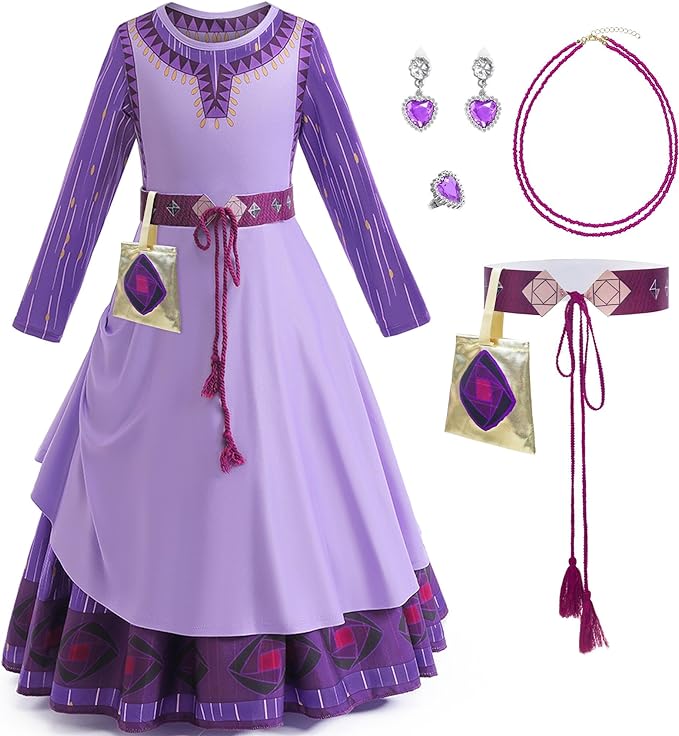 Valentino – Goat in Pajamas Costume
Valentino is sure to be the cutest costume of all! This deluxe Goat Costume can be made into Valentino by simply adding a cute pair of oversized pajamas on top!
Watch the Wish Trailer!
WISH"– Directors Chris Buck and Fawn Veerasunthorn shared details about Disney Animation's 62nd feature, an all-new original musical adventure that centers on one core belief: There is no greater power in the universe than someone with a true wish in their heart. Opening in U.S. theaters on Nov. 22, "Wish" takes place once upon a time in Rosas—a fantastical, fictional island where wishes can literally and magically come true. When Asha, a sharp-witted idealist, learns a hard truth, she makes a wish so powerful that it is answered by a cosmic force—a little ball of boundless energy called Star. Together, Asha and Star confront a most formidable foe—the ruler of Rosas, King Magnifico—to save her community and prove that when the will of one courageous human connects with the magic of the stars, wondrous things can happen.
Where to meet Asha at Disneyland and Walt Disney World?
Asha, who will soon be coming to EPCOT, Disneyland Resort and Disneyland Paris. We will share details when they are available!
WISH is Hand Drawn Animation
Animation nerds rejoice! Wish is the first hand drawn animated feature film in years. I cannot wait for the return of this art form!
Who are the main characters in Wish?
I always think Disney has outdone themselves with strong characters and adorable side kicks, but they have outdone themselves again. Asha is a strong teenage girl who I am very excited to learn more about. Audiences will be thrilled to hear that there is a new Disney heroine of color. I am excited to learn more about her story in this new film. While Asha may be very cool, I am most excited about Valentino. Valentino is her sweet little side kick. Valentino is not only a baby goat, but he wears pajamas. A baby goat in jammies? I cannot deal with this level of cuteness. As we learn more about characters other than Asha and Valentino, I will be sure to share!
WISH is sure to be a hit with kids of all ages. This post will continue to be updated as new information becomes available