Baby Yoda Valentine's Day Cards – Instant Download!
Disclosure: Highlights Along the Way is a participant in the Amazon Services LLC Associates Program, an affiliate advertising program designed to provide a means for sites to earn advertising fees by advertising and linking to amazon.com. This site uses affiliate links.
Families everywhere are loving The Mandalorian, or as we call it in our house; "The Baby Yoda Show". The Mandalorian is exclusively on Disney+ and is a run away hit. Kids and adults alike are loving this series and can't wait for season two. With the popularity of the show, everyone is going to want some quirky Baby Yoda Valentine's Day cards. Below we have made 2 printable Baby Yoda inspired printable Valentine's Day cards. Print out these high resolution Baby Yoda cards instantly from your home computer.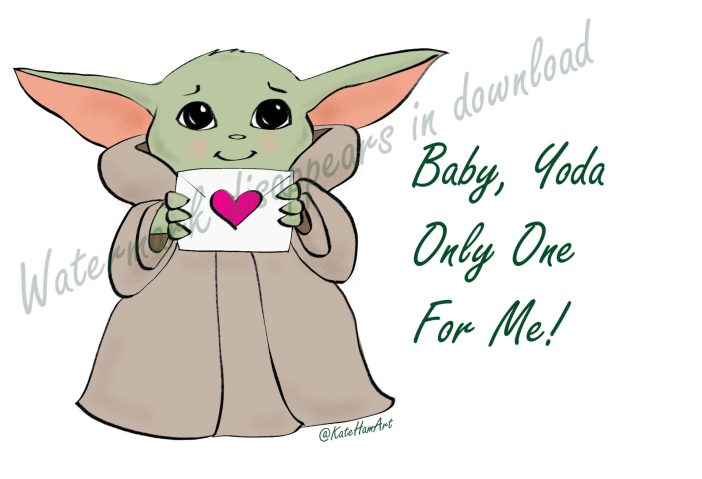 Buy your Baby Yoda Valentines day cards now – $0.99
PURCHASE ON A COMPUTER. DO NOT PURCHASE ON YOUR PHONE. MANY PHONES DO NOT SUPPORT THE DOWNLOAD. THIS IS NOT THE SITE'S ISSUE, BUT A PHONE ISSUE. Please realize this is a 99 cent download and during peek season I may have twenty people a day asking for a refund or to individually send a download. PLEASE BUY ON A COMPUTER, if you make a mistake and buy on your phone, feel free to ask Paypal for a refund. We are no longer sending individual downloads for those who didn't read the instructions.

I still remember the first time I saw Baby Yoda. My husband and son were watching The Mandalorian. Honestly, I wasn't really paying attention. I was watching a tutorial online completely unaware of whatever was going on in the Star Wars universe. And then, at the end of the first show, we saw his cute face. My son yelled out "Oh my gosh, they have a Baby Yoda! Look, Mom!" and the entire room let out a collective "Awe". His cute little green head and giant ears. The fact that Mando carries him around a little Baby Bjorn. The fact that he drinks soupy from a widdle mug and sometimes eats live frogs. Because he is a baby, he sometimes misreads what is going on and accidentally uses the force for the wrong reasons. I could go on and on about the cuteness that is little baby Yoda. These are just a few reasons why we love him. It is safe to say, we are obsessed with the little guy.
"Baby Yoda" Inspired Valentine's Day printables!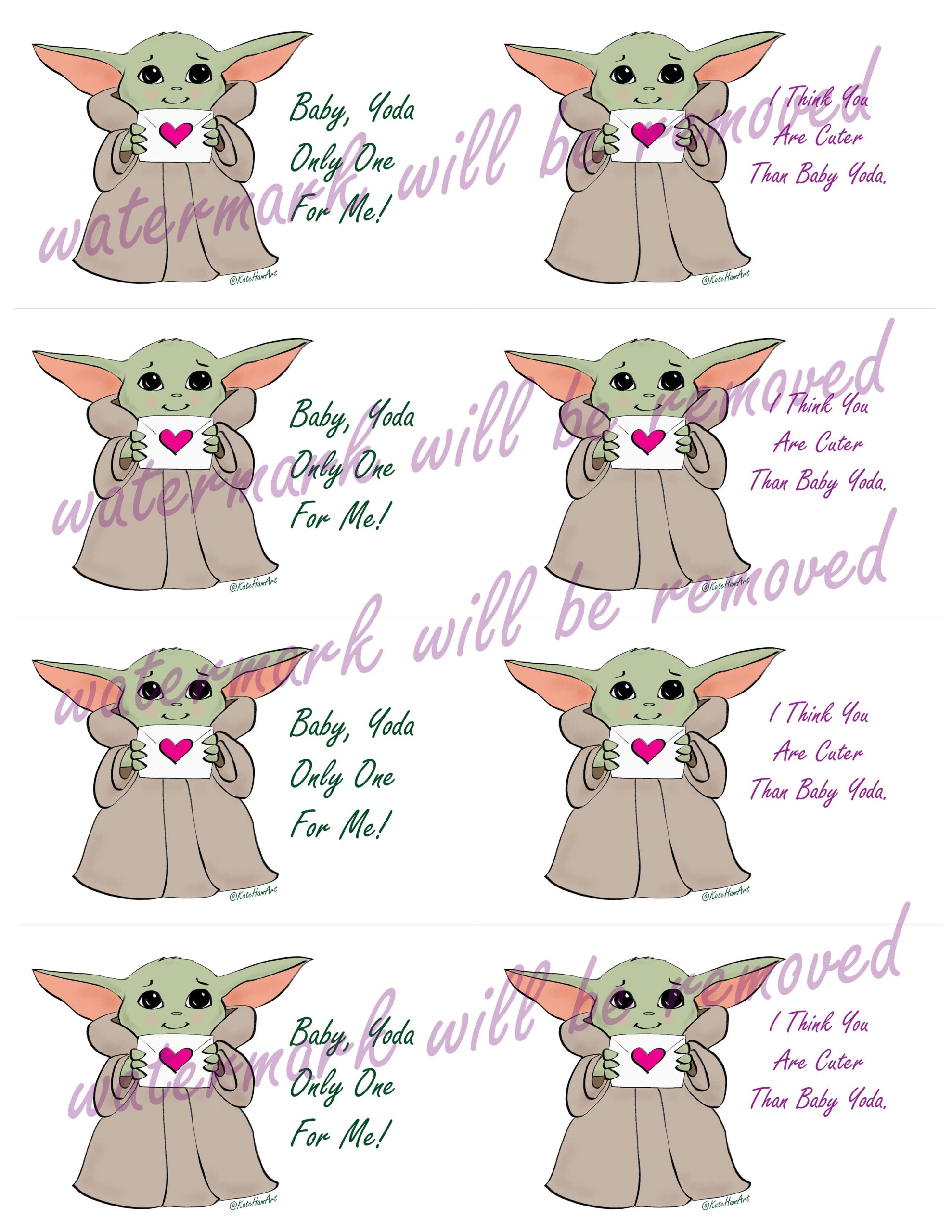 What is The Mandalorian?
"After the stories of Jango and Boba Fett, another warrior emerges in the Star Wars universe. "The Mandalorian" is set after the fall of the Empire and before the emergence of the First Order. We follow the travails of a lone gunfighter in the outer reaches of the galaxy far from the authority of the New Republic"
Millions of families are enjoying season one of the Mandalorian. If you have not checked it out yet, you can find it on Disney +. Make sure to take advantage of the FREE 30 day trial!
Who is Baby Yoda?
Truth be told, we don't exactly know who Baby Yoda is. Technically, his name is "GROGU", but I don't think anyone really calls him that. We don't know exactly where Baby Yoda came from or who his parents are. All we know is that Baby Yoda is the sweet little miracle that we didn't even know we needed until he arrived. Fun fact, Baby Yoda is actually 50 years old, but that is just a technicality. He is a teensie weensie baby, and we all love him to the end of the galaxy and beyond. Baby Yoda gives everyone warm and fuzzy feelings when they see him, so he is the obvious choice for expressing your love on Valentine's Day!
Baby Yoda is seriously the cutest, but he also has some weird eating habits. Baby Yoda lives on a steady diet of soup and frogs. Watching Baby Yoda eat a frog for the first time made all of our jaws drop on the floor. If you have a weird sense of humor like we do, and I am pretty sure you do, you are gonna want to print out a couple Baby Yoda with a frog Valentine's Day Cards. Nothing says "I Love You" like a frog, right?
My son asked me to make Baby Yoda Valentine's Day cards for his class and we had a ton of fun making these cards. We were cracking up and thought it might be fun to post theme here for other Mandalorian fans to take advantage. Please feel free to share with the Star Wars fans in your life!
Attach a Baby Yoda Themed Treat to your Valentine
Light Saber – The best inexpensive, NON Candy treat you can attach to a Valentine's Day Card in my humble opinion is a "Light Saber". Technically this is a glow stick. I personally am not a huge fan of all the candy, so i love this option. You can buy 100 for less than $10. I get these for all three kids, with about 30 kids per class, it is an easy choice.

Gummy Frogs. If we were going to do candy, which we aren't, we would do gummy frogs. These would be especially awesome with the frog themed Baby Yoda Valentine's Day cards.

Baby Yoda Stickers
I love a treat they can enjoy for more than just a second. I think it will be so cute to see Baby Yoda all over kid's water bottles, lunch boxes, and folders for the rest of the school year.
Printable Baby Yoda Valentine's Day Cards
We have included four free printable cards below. If there is interest, we will reformat to print 8 cards with 2 sayings on the same sheet for small classroom sized cards. For now, please feel free to print out full sized Baby Yoda cards for the ones you love! Click and print however many you would like to use. Please note, this is my unique illustration inspired by my favorite Star Wars character of all time. You can check out more of my artwork at @KateHamArt on Instagram or my in progress portfolio website at KateHamArt.com . If you do want to share, pretty please tag me! As a new freelance illustrator, I cannot express enough how much your support and sharing means to me.
Print out sweet bitty baby Yoda holding a Valentine just for you!
Baby, Yoda Only One For Me!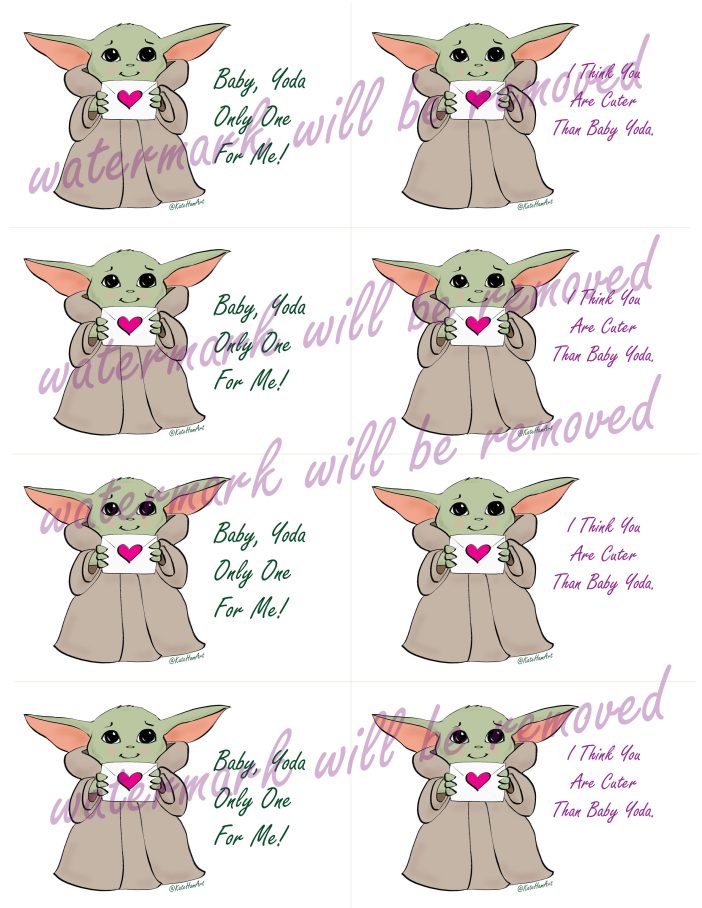 The last card is my favorite. You really be head over heels in love with someone to give them this card. If you receive this card, know you are extra special to the person who gave it to you.
"I Think You Are Cuter Than Baby Yoda"
I think it is pretty safe to say that these will be the cutest cards in the galaxy. We wish you and yours a very Happy Valentine's Day. If you are looking for more "The Child" products, Shop Disney has dozens of adorable Baby Yoda products with your name on it. Find the growing list of Baby Yoda toys, shirts, and collectibles on Shop Disney!
If you are hoping to start watching The Mandalorian, you can read all about Disney+ also on Shop Disney. There is currently a deal where you can enjoy a 30 day free trial. After the free trial it is only $7 a month at the time of this posting.
Are you looking for more free Star Wars Printables? We are here for you!
The Force Awakens Free Printables
We've also shared about the best places for photos in Star Wars Galaxy's Edge if you are planning a trip to a galaxy far, far away anytime soon.