How to "Back to School" Like a Boss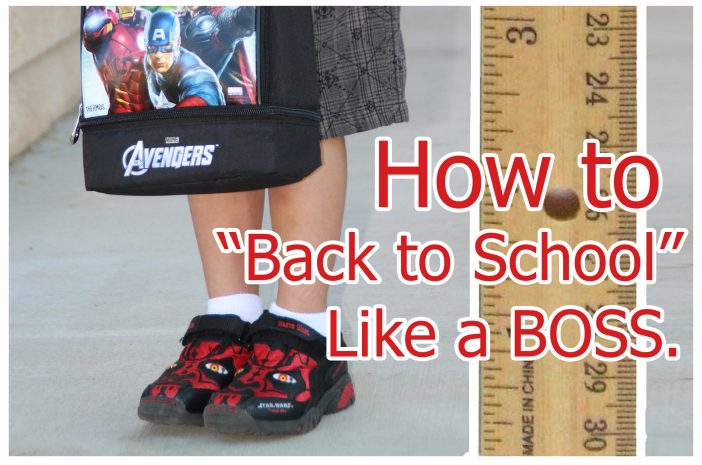 So my kids are are going into 3rd grade, 2nd grade, and preschool. I am no back to school newbie, but this was the first year that we actually feel like we did it right. I want to share a couple things we did this year that made things go smoothly.  Seriously, it was such an easy and budget friendly "Back to School" season for us! Here is how to Back to School like a boss….
I assessed the back packs and decided the environment and my wallet would benefit from talking them into keeping their old back packs.  I didn't want to tell them they had to keep their old back packs, I wanted them to like the idea.  My son picked out a Ninja Turtle back pack at Target the other day – duh.  Here's the thing though…. his back pack last year was Ninja Turtle.  He picked out the SAME themed back pack you guys.  So, that was killing me.  I said "OK Bub, if you want that back pack, I will get it for you; but if you put it back we can wash your Ninja Turtle back pack from last year and I will give you $3." "For Real?!" Bubs "Absolutely." Me.  "Yeah!"  Bubs.  And during that exchange my daughter had dug into the Target cart and grabbed the back pack she was swooning over only moments before and said "I'm putting this back! I want $3 too!" So I went from spending about $40 at Target to spending $6 and my kids are THRILLED.  They are happier using their old back packs than they were with brand new back packs.  If you already bought your back packs this year tuck that little idea into your memory for next year.  You are welcome my wallet and the environment.
I followed Coupon Match Up Websites that will teach you how to get many back to school prices for next to nothing.  Take advantage of the super awesome deals and combine with coupons when you can.  I got a boat load of tape, post its, erasers, and more for FREE!  I also took advantage of price match at a couple stores.  Example – I went to Target because they had the best deal on several back to school items but Walmart and Office Depot both had a couple deals that beat Target.  I was able to get Target to price match just by bringing in sales flyers for the other stores….. and then they let me use coupons and Cartwheel you guys.  It almost felt criminal.  I stocked up!  I didn't have my list from the teacher yet – but my couple years of experience told me a few things we would need.  I bought everything I could get for free, everything I was confident would be on the list, and if things were really inexpensive I got a few extra.  My thoughts are I can easily donate a few extras or even save for Operation Christmas Child boxes.  My daughter's first year in school we had a medically fragile newborn and we had just gotten out of NICU, I didn't shop sales; I went to Target the night before school at like 10pm and dumped everything on the list in my cart in the cart.  The last two years were nearly as bad and I really didn't have an excuse.  This year though you guys, this year I shined.  I probably spent a third of what I typically spent and I have bonus giveaways.
I got Bento-ish boxes at Grocery Outlet.  Again, you are welcome my wallet and the environment.  I'm not going to say we never buy convenience products for back to school (hello, we love us some Gogo Squeez), but we generally try to keep our waste to a minimum.
I made Freezer meals for dinner – that certainly saved us from a few drive thrus – "Yay" says my wallet and jeans.
We made cute cards to tell the teachers how excited we were to meet them!  Everyone is starting off on a good foot!
Daddy made funny posters to make them laugh on the first day even though he couldn't be there.  He also put a sweet note in the fridge just for me. *swoon*
We did a little refresher course in several areas of study in a 'no pressure' environment.  This consisted of 1st and 2nd grade printables in math, grammar, and hand writing.   We also played a couple rounds of flash cards – my big kids are at about the same level in math so they are worthy opponents; they each get a penny per card they get – they love this game!
We took clothes that no longer fit but that were in good condition to an area resale shop.  We used the credit to buy a couple things in their sizes.  I also shopped at garage sales all Summer and they both have a very nice wardrobe full of all kinds of name brands we normally could never afford.  Grandma took them each shopping for a new set of shoes, we also brought them shopping for one brand new outfit and shoes for back to school.  They both have perfectly full closets and are super happy to show off their new duds; but it was a fraction of the cost that a typical trip would be!
All that was left to do when 'Back to School' came around was grab that 1st day of Kindergarten picture – snap a shot of them holding it – you know, like you see all over Pinterest and send them on their way!  Back to School used to be something I dreaded, and something I kinda hated.  Not this year, this year we Back to Schooled like a boss!  I hope your school year is wonderful and I hope you were able to start off on a good foot too!