Barbie Movie Halloween Costumes
Disclosure: Highlights Along the Way is a participant in the Amazon Services LLC Associates Program, an affiliate advertising program designed to provide a means for sites to earn advertising fees by advertising and linking to amazon.com. This site uses affiliate links.
The costumes take center stage in the new Barbie movie, elevating the film's visual spectacle to new heights. The 2023 Barbie Movie is a huge hit! Everyone is going to want to be a Barbie for Halloween. Sure, some may also want to be Ken or Allan; but most will want to be Barbie! Here are several awesome Barbie Movie Halloween costume ideas. Our favorite Barbie is "Weird Barbie", I am sure there will be many "Weird Barbies" trick or treating, we made a perfectly weird costume here! Check out all the Barbie Movie Halloween costume ideas below!
Designed by a team of talented and imaginative costume designers, each outfit reflects Barbie's timeless elegance and trendsetting style. From glamorous evening gowns that exude sophistication to playful and colorful ensembles that capture Barbie's fun-loving spirit, the costumes effortlessly transport audiences into a world of fashion and fantasy. The attention to detail and the incorporation of modern fashion trends blends seamlessly with the character's iconic looks, resulting in a visually captivating experience that celebrates the legacy of Barbie while embracing the spirit of contemporary creativity. The character's looks have been adapted into real life gorgeously, so it's no surprise that Barbie movie Halloween costumes are trending.
Barbie is sure to be one of the most popular trick or treat ideas for little girls and teens. Ken and Barbie costumes from the new film are going to make adorable individual and couple costumes. Barbie will be sure to win several costume contests this year! Barbie is a classic costume, but with the new film; Barbie costumes will be cutting edge! We always suggest checking out thrift stores, but we have also curated an Amazon shopping list. We say "Thanks, Barbie!" to anyone who purchases through our links. We have a small commission from Amazon and our oldest Barbie is using any money made from this costume round up towards her college fund.
The new Barbie movie is a dazzling cinematic experience that breathes new life into the beloved doll's iconic legacy. Directed by a visionary filmmaker, the film weaves a heartwarming and empowering story that resonates with audiences of all ages. Margot Robbie's portrayal of Barbie is a revelation, capturing the essence of the character with charm and authenticity. The movie's imaginative and visually stunning world, brought to life through state-of-the-art animation and breathtaking set designs, transports viewers into a realm of fashion, adventure, and self-discovery. As Barbie embarks on a transformative journey, she learns the power of embracing one's uniqueness and the importance of staying true to oneself. With its engaging narrative, vibrant animation, and inspiring messages, the new Barbie movie is a delightful celebration of friendship, creativity, and the endless possibilities of imagination.
Ken and Barbie Costume Ideas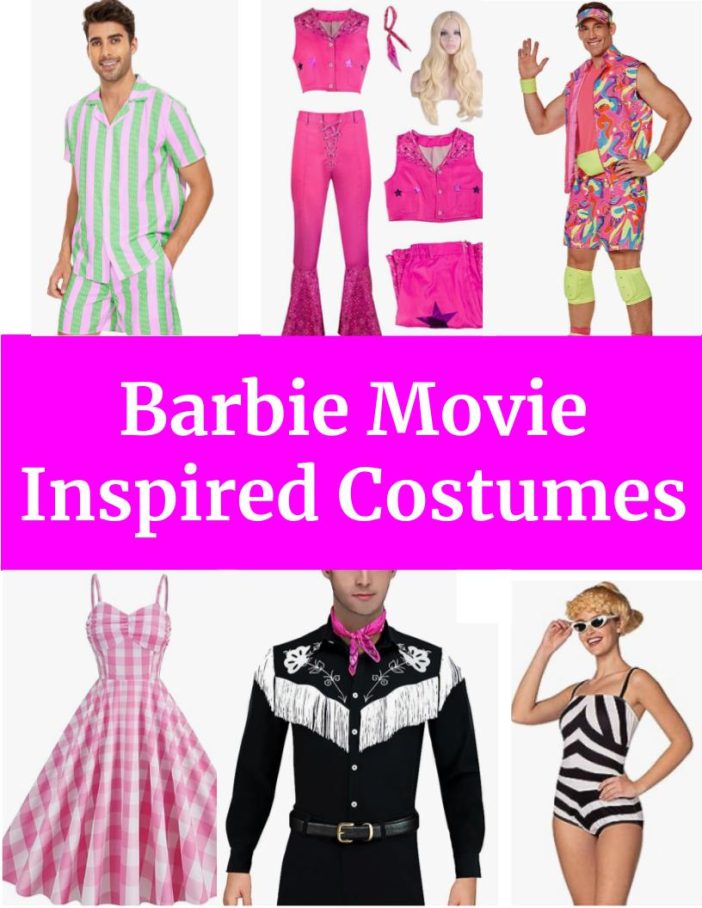 Before you check out the following Barbie Costume ideas, make sure to check out our other costume articles! Non-violent teen costumes, musical theater costumes, adaptive costumes, and more!
Costumes for Barbie:
The original Barbie doll was introduced to the world in 1959 by Mattel, Inc., and quickly became an iconic toy in the fashion doll industry. Designed by Ruth Handler, Barbie was known for her fashionable outfits, blonde hair, and signature ponytail, capturing the imagination of generations of children worldwide. Everyone will instantly know you are Barbie with the classic strapless black and white striped swimsuit. Make sure to add Barbie's signature cat eye glasses and bright red lipstick. Make sure to slide on a pair of black high heeled sandals and you have the perfect costume for a Halloween party on a warm night.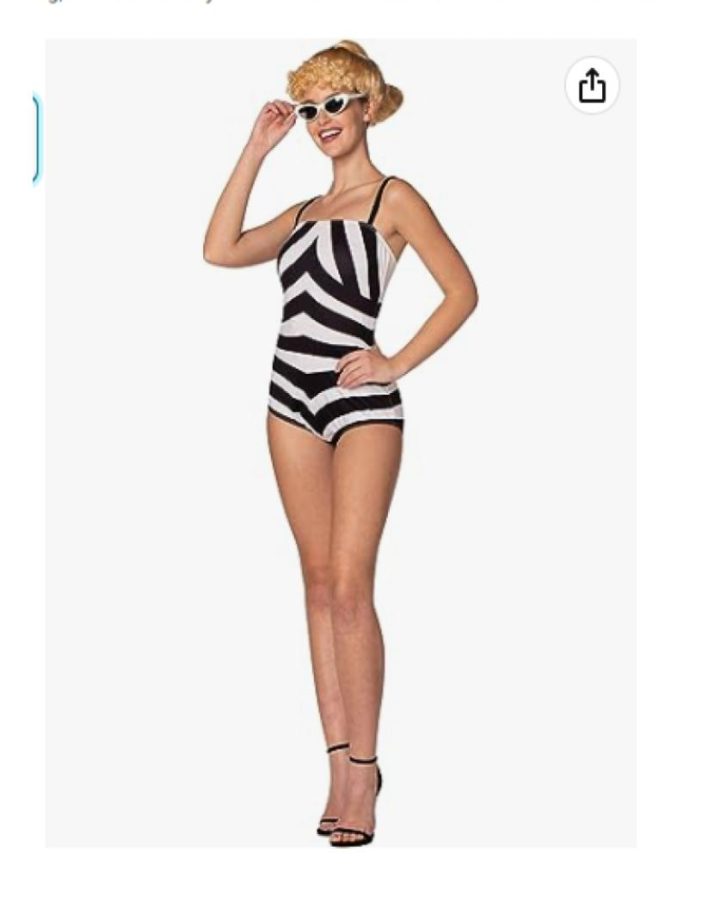 Barbie Movie Stereotypical Pink Dress
This pink plaid dress is featured in many of the movie cover images and is a great contender for your Barbie movie Halloween costumes because it is comfortable and cute and looks great on anyone. Barbie's pink gingham dress with the perfect pink hair bow, necklace, and high heels is the perfect costume!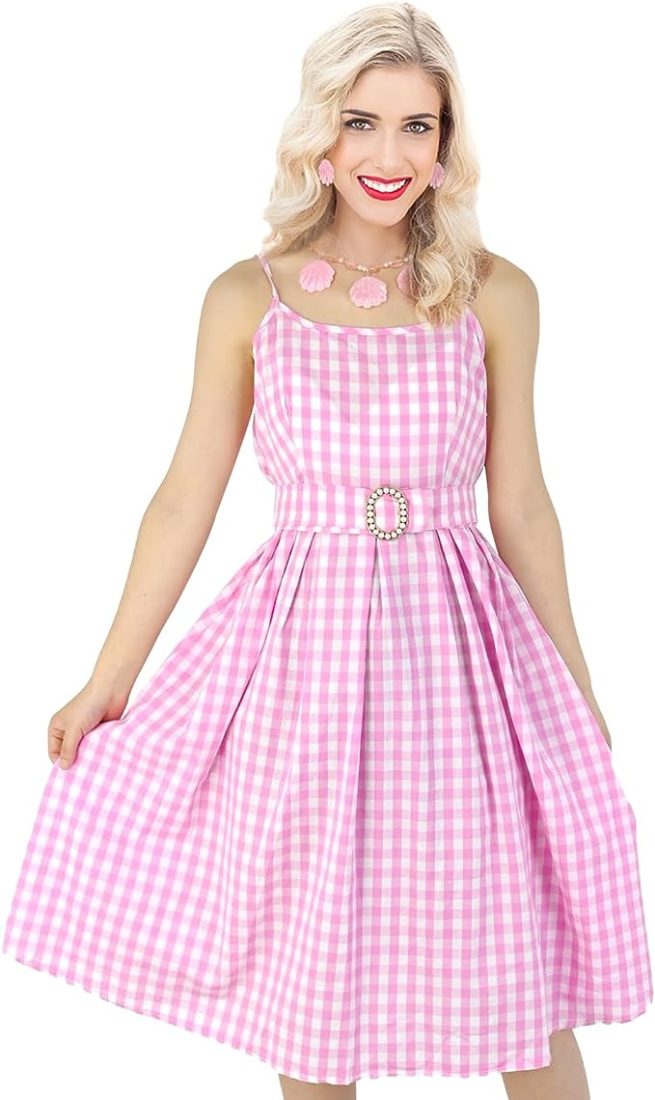 Pink Gingham Plaid Dress – Perfect Barbie Dress!
Margot Robbie's portrayal of Barbie in the new movie showcases her incredible acting range and captures the essence of the iconic doll with charm and authenticity. With her natural charisma and on-screen presence, Robbie brings a fresh and exciting dimension to the beloved character, delighting both fans of Barbie and moviegoers alike.
Stereotypical Barbie Little Girl's Costume
Barbie's hot pink, western outfit is one of the most recognizable costumes from the new Barbie movie. This set includes the top, pants, bandana, and a blond wig to complete the look. You can also get this white cowgirl hat that looks just like the one in the movie. If you want be Cowgirl Barbie, this is such a close match!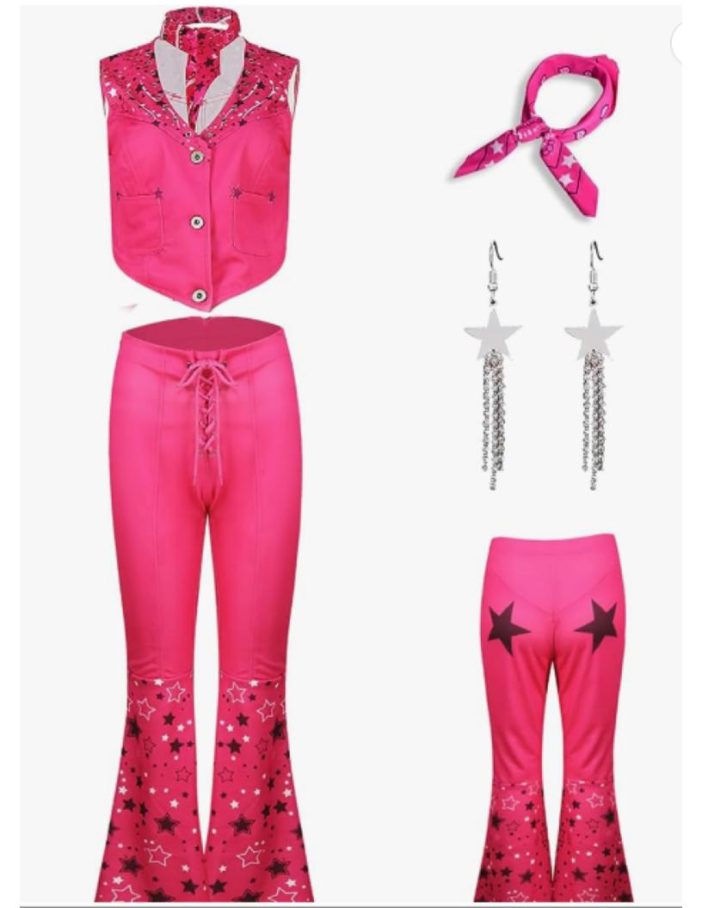 The perfect Barbie Cowgirl costume unfortunately does not come with a hat, but we found the perfect White Cowboy or Cowgirl hat on Amazon. This hat is perfect for Barbie, but will also work for so many other costumes in the future.
Barbie Movie Pink Cowgirl Costume – Kid's sizes!
Malibu Barbie Skating Costume!

Amazon has the Ken version of this costume, but just the leotard for Barbie. Luckily, you can easily put together the costume yourself. I've linked in the leotard, the hat, the hot pink bike shorts, the neon green fanny pack, and some neon green sneakers that you can add hot pink laces too. We recently added the full Barbie skating costume. We love that Amazon continues to add more options. While you could be authentic and wear skates to a party, if school or the location does not allow for skates, we found the perfect shoes and laces to wear instead.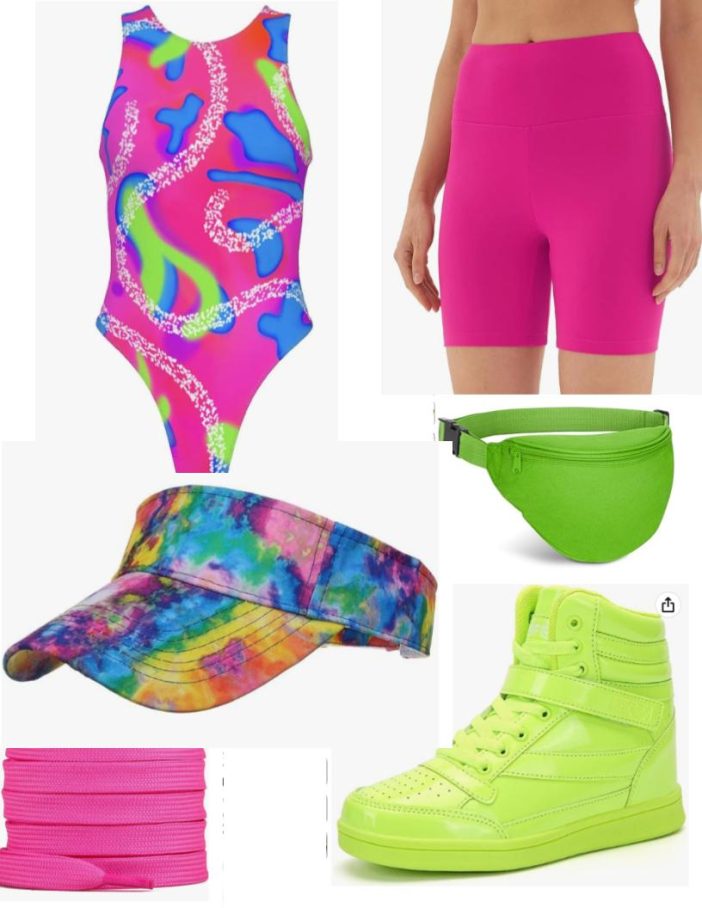 Barbie Movie Costume Roller Skating Accessories – Buy Online!
Costume for Weird Barbie!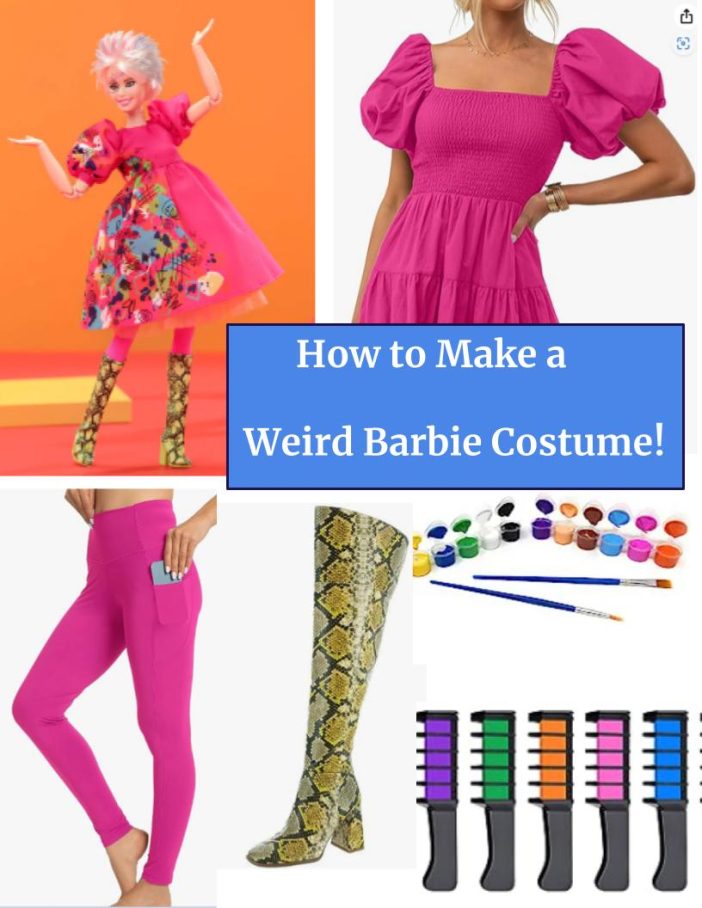 Every single kid had a Weird Barbie. Every one was different, but oddly the same; we made her weird with our failed make up, hair, and fashion styling attempts. Weird Barbie is sure to be a popular costume! You can have the most fun with weird Barbie. Messy make up and hair and a few easy costume pieces will make for an epic choice! Hair Chalk will help make your hair (or a wig) into Weird Barbie. While many of Weird Barbie's clothing items could be found at a thrift store, we have found perfect inexpensive pieces on Amazon! Thank you for choosing to shop our curated links!
For Barbie you will need these Hot Pink Leggings , Knee High Snake Skin Boots and the perfect Weird Barbie Pink Dress (make sure to splatter paint all over it!!)
There is also a Weird Barbie Halloween Costume including a pre painted dress and wig if you are really in a hurry!
Weird Barbie Boots
Weird Barbie Details
Fabric Paint – so many beautiful colors to paint her quirky dress. There will be plenty for the whole custom dress, and likely enough to use on further costumes.
Weird Barbie is a really fun kid's costume too! Grab this perfect kid's sized Weird Barbie Dress. Little girls will love painting this dress and showing off to their classmates! Grab some girl tall boots she can wear as part of her weird costume, and then wear throughout the year!
Ken Costume Ideas



Men, you are Kenough. You don't have to just be Beach, Ken can do cool things too. Western wear Ken, Rollerblading Ken, and of course "Beach Ken" will be popular choices at Halloween parties everywhere!
Ken's Horse Necklace!
Ken Western Costume
You can get just about everything you need for your Ken cowboy costume with this set. It even comes with a pink bandana to match Barbie. Then, just add this hat to complete the look.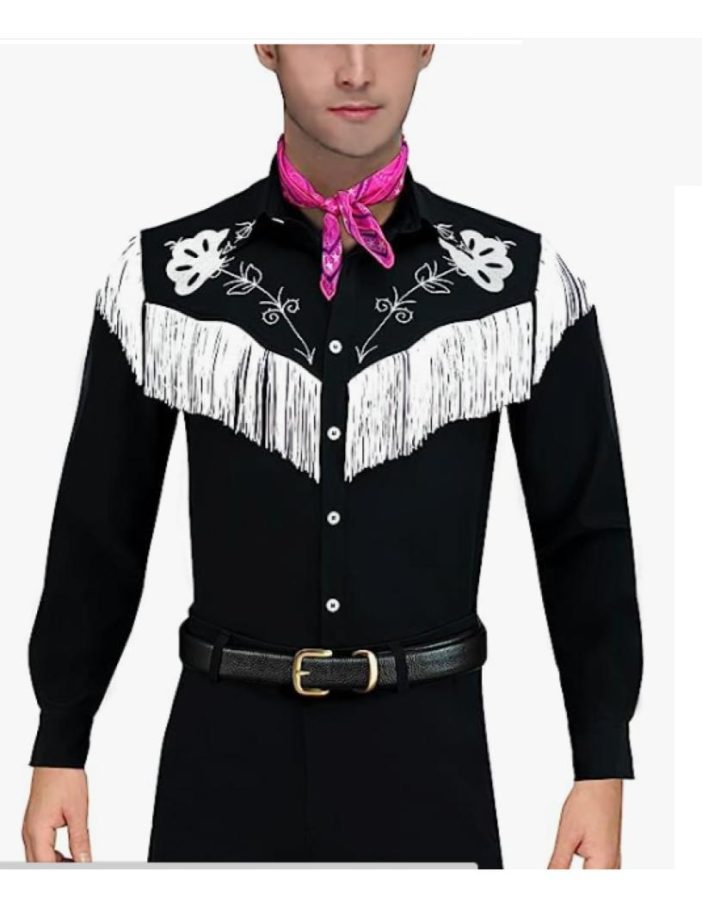 Ken Cowboy Costume – Black, White, and Pink trim
Queue Essentials Western Style Pinch Front Straw Canvas Cowboy Cowgirl Straw Hat (Canvas White, SM) at Amazon Men's Clothing store
Ken Rollerblade Costume
This Ken costume couldn't be easier, this set comes with all the pieces.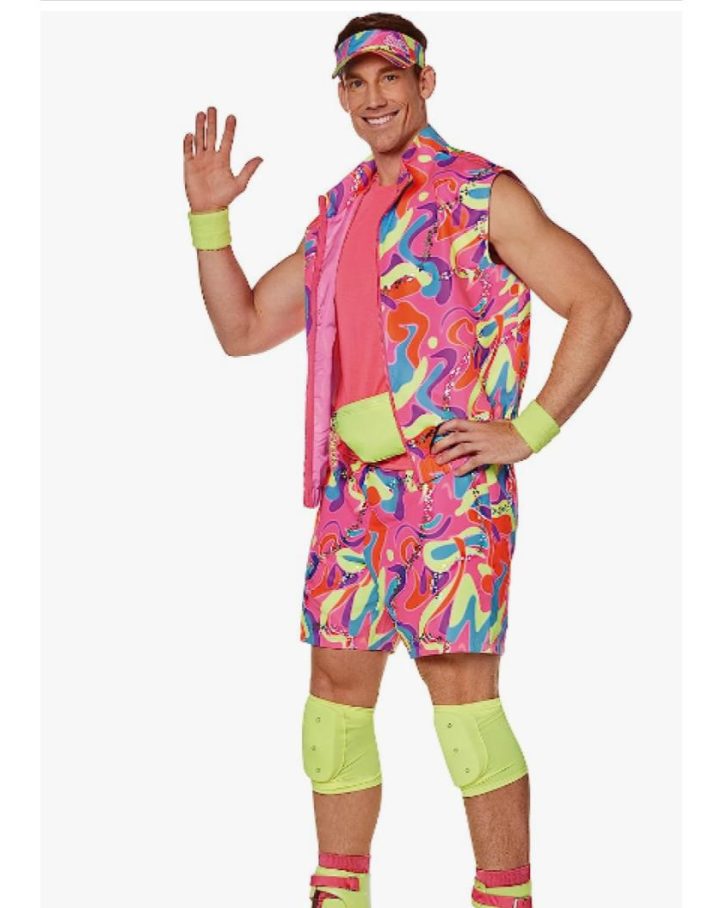 Amazon.com: Spirit Halloween Barbie the Movie Adult Skating Ken Costume | Officially Licensed | Mattel | Couples Halloween Costumes : Clothing, Shoes & Jewelry
Beach Ken Costume:
Here is the link to a shirt and shorts set for Ken's main costume in the new movie. If you want to just be beach, you are Kenough.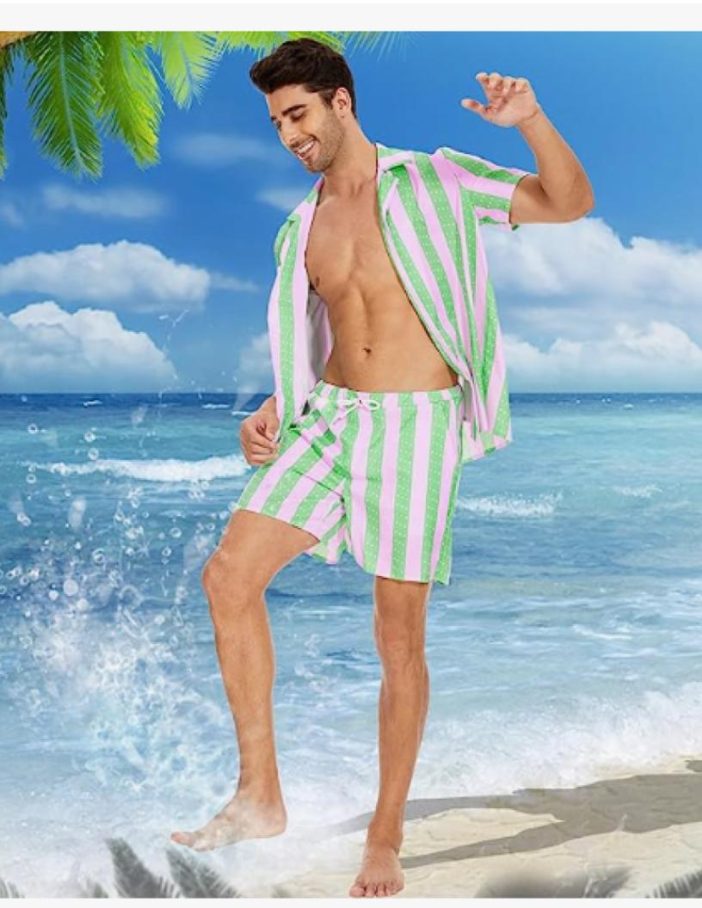 Amazon.com: DHAFKIE Ken Costume Men's Casual Striped Shirt and Short Haw aiian Vacation Outfits Beach Matching Set Ken Halloween Cosplay : Clothing, Shoes & Jewelry
Ken's Fur Coat Costume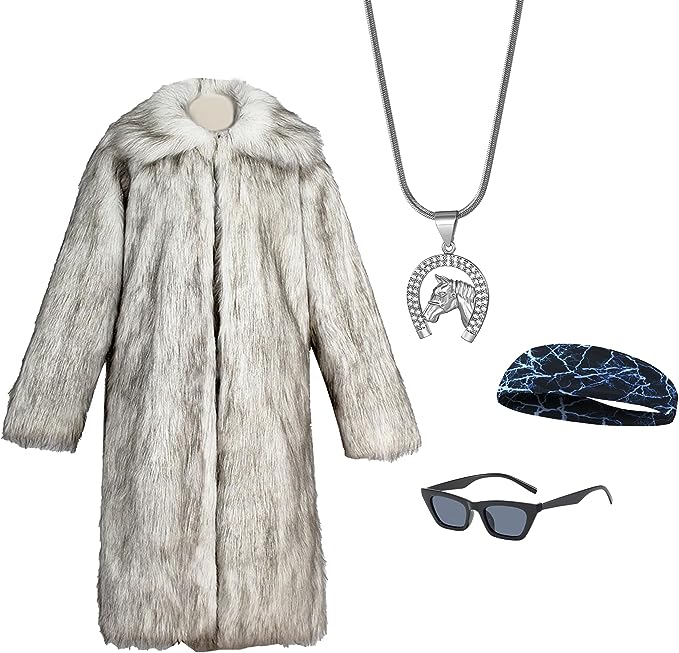 Last but not least, the most popular Ken Costume is sure to be the worst version of Ken. Ken in a long fur coat and ridiculous accessories is going to be so popular, THis Fur Coat Ken Complete costume includes his coat, sunglasses, a horse necklace, and that goofy headband. You are Kenough in this costume but you clearly are overcompensating.
Barbie's legacy is an enduring cultural phenomenon that has left an indelible mark on generations of individuals worldwide. Introduced in 1959 by Mattel, Inc., Barbie quickly became more than just a toy; she became an icon of empowerment, fashion, and aspiration. Over the years, Barbie has evolved to represent various professions, diverse backgrounds, and body types, reflecting changing societal values and promoting inclusivity. She has served as a role model, inspiring countless children to dream big and pursue their passions fearlessly. Despite occasional criticism and controversy, Barbie's legacy remains a testament to her adaptability and ability to resonate with different generations, making her an eternal symbol of imagination, creativity, and the endless possibilities of believing in oneself.
Have fun being Halloween Barbie!