BB8 Cupcakes, Star Wars The Force Awakens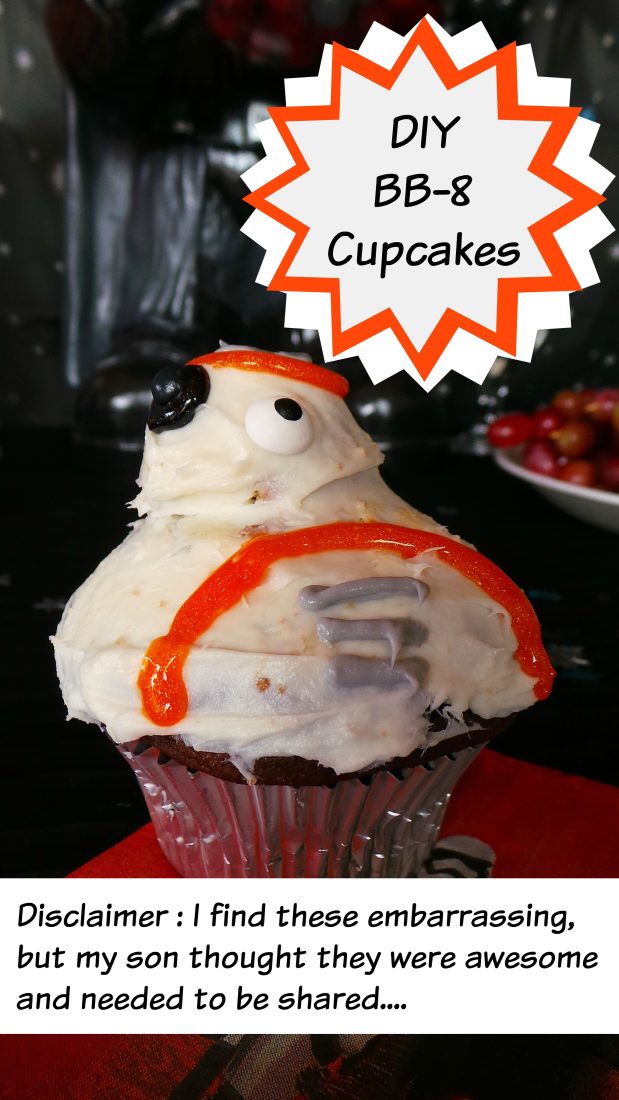 So we made some easy BB8 cupcakes for our son's Star Wars birthday…. sort of.  I suppose I should say we attempted some DIY BB8 cupcakes.  We really tried.  I was personally embarrassed and my husband offered to go out and buy premade cupcakes.   I actually hadn't planned on blogging about our attempt at these because we had decided that they were a disaster.  But then after the party our son saw them in the fridge and said….
"MOM!  Did you make BB8 Cupcakes?  Why didn't we have those?  They are SOOOOOO cute, look at him all like BB-8!"  *He starts pantomiming and making his little noises.*
I pulled it out of the fridge "Seriously, you think it is cute?"
"Yes!  It is so cute, I wish my friends saw them!"….. "Can I eat one?"  He held up the cupcake and was laughing and spinning it around to see BB8 from all sides.  He loved it!
Now, I am well aware he might have just been buttering me up so I would allow him a pre dinner cupcake (it worked).  But I still thought a quick post would maybe be fun to someone planning a Star Wars the Force Awakens Birthday Party.
While I am no cake designer, we thought it was fairly simple to make and someone with more refined skills could take the basics and make it REALLY cute.
So I suppose if I had the chance to do it all over again, I would have served these silly cupcakes, perhaps I would have prepared a little more to make them a bit more refined for his Star Wars The Force Awakens themed birthday party.  While my son ate his cupcake he told me he loved that there was a surprise doughnut inside and he loved the cute BB-8 icing and colors.  I'm sure his friends at the party would have gotten a kick out of the cupcakes too and I kind of regret just getting plain chocolate cupcakes instead because I was embarrassed they weren't good enough – that was silly!  Kids love cupcakes no matter what and if they are themed I think they aren't going to criticize. That being said – I hope you can take these ingredients and process and make something every bit as fun but perhaps a bit more professional looking!
BB8 Cupcakes Ingredients
Cupcake (any flavor) mix
Silver cupcake liners
White frosting (not off white!)
cake decorating gel in black, orange, and silver
cake decorating 'eyes' and black balls (or sixlets would work just fine too)
doughnut holes – I suggest glazed, we used cinnamon because that is what the bakery had…. bad choice
Process
Make cupcakes according to box instructions – wait for them to cool entirely
Frost the entire cupcake with white frosting for the BB8 cupcake body!
Cut doughnut holes in half and frost entirely. (or use white powder doughnut holes.
Put the 1/2 doughnut hole on top of the cupcake cut side down.  This makes BB8's 'head'
Draw simplified design lines for BB8 in silver, black, and orange decorating gel/frosting.  A steady hand goes a long way… or so I am told.  Ours is obviously embarrassingly shaky!
Add a small dollop of black bakery decor gel to the 'head' to attach the 'eyes' (I think that is what those things are…. my Star Wars knowledge is painfully low).
These are fun for Star Wars Birthday Parties or Star Wars the Force Awakens celebrations – this is only our first attempt – I hope to switch out the picture with something a wee bit more advanced in the future!
Happy Birthday to our little man – may the force be with you and these BB8 cupcakes!
PS – Please check out our much cuter (and even easier – easy Star Wars Cupcakes – complete with light sabers!)