Benjamin Bratt plays Ernesto de la Cruz in Disney Pixar's COCO #PixarCOCOEvent
Disclosure: #PixarCOCOevent was hosted by Disney Pixar. Opinions are always my own.
Benjamin Bratt voices Ernesto de la Cruz in the new Disney Pixar animated film Coco and he could not be more perfect for the role. Coco opens on theaters on November 22nd just in time for a family trip to the theaters on Thanksgiving day. This past week while attending the #PixarCocoEvent press junket I had the opportunity to sit down with the talent behind Coco. Today I am sharing the highlights from our interview with Benjamin Bratt.
From the moment he walked into the interview room, he was so charming.  Our group typically claps for talent when they walk into the room and he really appreciated that gesture.  He thanked us for the welcome and was kind enough to ask us how we were all doing. "Oh, we are good Benjamin Bratt, thank you for asking." He said he was doing well because he had just been to "The most remarkable premiere last night."
Benjamin Bratt plays Ernesto de la Cruz who is a main character in Coco.  While some of our interview contained spoilers, I promise I edited all spoilers out.  This is a spoiler free interview!  Please read along to gain insight on the film and this incredible actor! I promise not to give anything away!
Ernesto de la Cruz is not based on one actor or singer in particular.  Benjamin said he studied many videos of iconic Mexican film actors and singers from history.  You may see the influence of Pedro Infante or Jorge Negrete in his performance.  He also studied Vicente Fernandez's music once he began work on the role. He said he needed to make his character 'larger than life'.
Because Coco really provokes the thoughts of how you will be remembered, one interviewer asked Benjamin how he would like to be remembered when he is gone from Earth.
"If I am to be remembered at all I would hope it would be for, for my kindness or my generosity, for the love that lives in my heart for people that I hold near and dear.  And for someone who tried to live his life with integrity.  Nothing too deep.  Oh, and he's pretty fun, too.  He was a fun guy."  Benjamin Bratt
Just like our group, the premiere was the first time Benjamin had seem the completed movie. He had seen pieces of the movie throughout production, but to see it completed was unlike anything else.
"….I think I was most struck by the beauty of the artistry.  It's such a beautiful film to look at.  And then when you add like that technical expertise to the emotional depth of the film and what it delivers at the end, there's no other word for it, and powerful.  It was a really powerful result."
As many of the actors and film makers who worked on Coco would also say, Benjamin was thrilled to have a Pixar movie that highlighted Latino culture. "I'm most excited about with Coco is it's finally an opportunity on a global scale to illuminate the beauty of the Latino culture."
He shared about when he first entered the Pixar Campus to start work on Coco. He said when he entered a room dedicated to Coco and say that every wall was covered in Mexican iconography.  There were Day of the Dead images and some of the characters from the film on the walls. "And it affected me in a way that actually kind of surprised me because it was in that moment that I recognized these beautiful brown faces albeit they're animated figures.  They looked like people I know, the people I come from.  And it underscored the fact that that portrayal hasn't been done yet on this kind of scale. And so, in a way, it reintroduces who we are as a people in our uniqueness but also in our sameness to everyone else in the world whether you're from China or Africa or Europe or anywhere else in the world." We are all more alike than we are different.

Photo Credit Mama Latina Tips
He shared that he did not grow up celebrating Dia de los Muertos.  The holiday is primarily a Mexican custom with indigenous roots. Because he is of Peruvian decent, he did not have much personal experience with the custom. He says even still that he believes it is a beautiful gesture.   "And whether it manifests itself and anything real or not, that's up to the person that's doing it.  But if it makes you feel good and if you believe it makes the person that you're providing those offerings to feel good, that's a beautiful thing."
He was asked about his thoughts on "Seize Your Moment".  This is the catch phrase for Ernesto de la Cruz.  The character makes so many choices based on the philosophy that he must seize his moment and do what he wants.  This question was asked to most of the talent and each answer was so heartfelt and a little different. Benjamin had this to say…
"Seize the moment I interpret as a call to action.  I'm a little more pensive before I make a decision and I think I've gotten more cautious as I've gotten older.  But what I can relate to is, and it's always held particular importance for me, but it is the most important thing in my life right now and that's my family, my immediate family, my relationship with my wife and my two children, my daughter Sophia and my son Matteo. They take precedence over all else, even at work, and that's how I self-identify.  If someone says what are you, I don't even start with man.  I say I'm a husband, I'm a father first.  And with that kind of clarity, you can really take on any challenge that's presented to you.  But as far as seize the moment goes, you know, if you ask me to jump off a 50-foot cliff I might have done that when I was 25….."  He added, "For someone like Miguel, it's the perfect motivator because, you know, he's young and has all this potential and he has a dream that is burning inside him."
When asked what he would like to pass down to his children most he gave the best answer.
"To have compassion, to be empathetic, to recognize that wherever you come from, whatever your gender is, whatever your sexual orientation, whatever your religion is, lead with kindness, lead with empathy and lead with love."
"Lead with Kindness."  Benjamin Bratt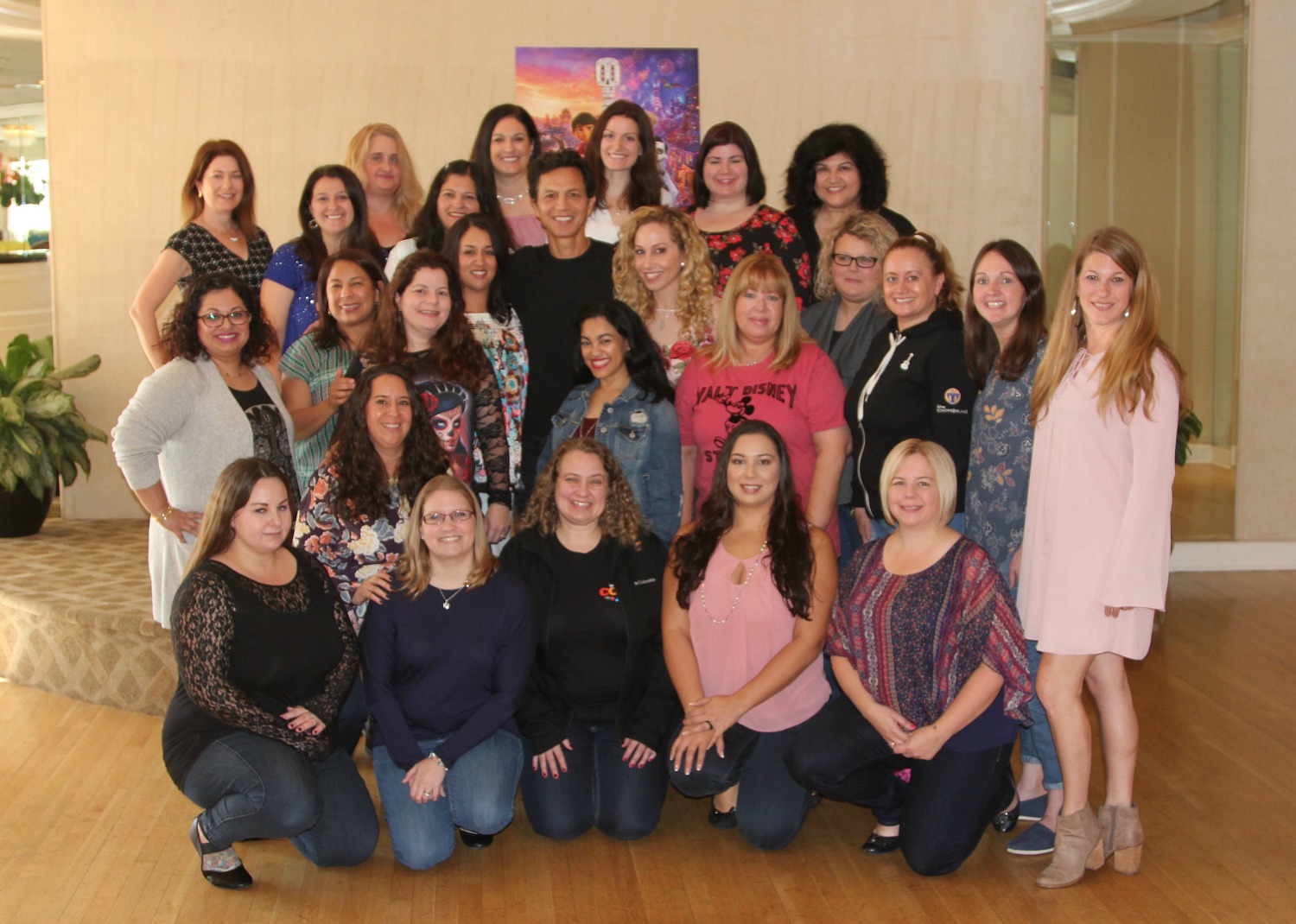 Photo Credit Mama Latina Tips
Thank you to Benjamin Bratt for taking the time share with us. You can hear Benjamin for yourself when Coco opens in theaters in about a week! I will be in the theaters with my whole family! Tickets are on sale NOW for families and friends who want to celebrate the themes of "Coco," including the importance of family, honoring your ancestors and following your dreams. Skip the ticket lines AND support our site by purchasing your tickets from Fandango today! Check out the trailer below!
Follow along on Social Media using the hashtag #PIXARCOCO