Best Gifts for Teen Girls
Disclosure: Highlights Along the Way is a participant in the Amazon Services LLC Associates Program, an affiliate advertising program designed to provide a means for sites to earn advertising fees by advertising and linking to amazon.com. This site uses affiliate links. Photos courtesy of Amazon Services LLC.
Finding the gifts for teen girls is now easier than ever. With the holiday season fast approaching, it's time to start thinking about gifts ideas. Save the Starbucks gift cards for stocking stuffers and surprise her with something special! Here we have a list of some of the best gifts for teen girls for Christmas 2023. From makeup and shoes to more unique things like photo bundles and fantasy book subscriptions, this list has it all.
As girls get older, they get harder and harder to shop for because they have so many distinct interests. However, if you can find the combination of a practical gift and something they actually want, you will get one million mom points. All of the items on this list fit that description, are unique and thoughtful, and are also perfectly on trend. Enjoy our gift guide with gifts for teen girls.
Best Gifts for Teen Girls
Here is our list of the best gifts for teen girls. You can find more details, prices, and where to buy online listed below.
Teen Girl Gift Ideas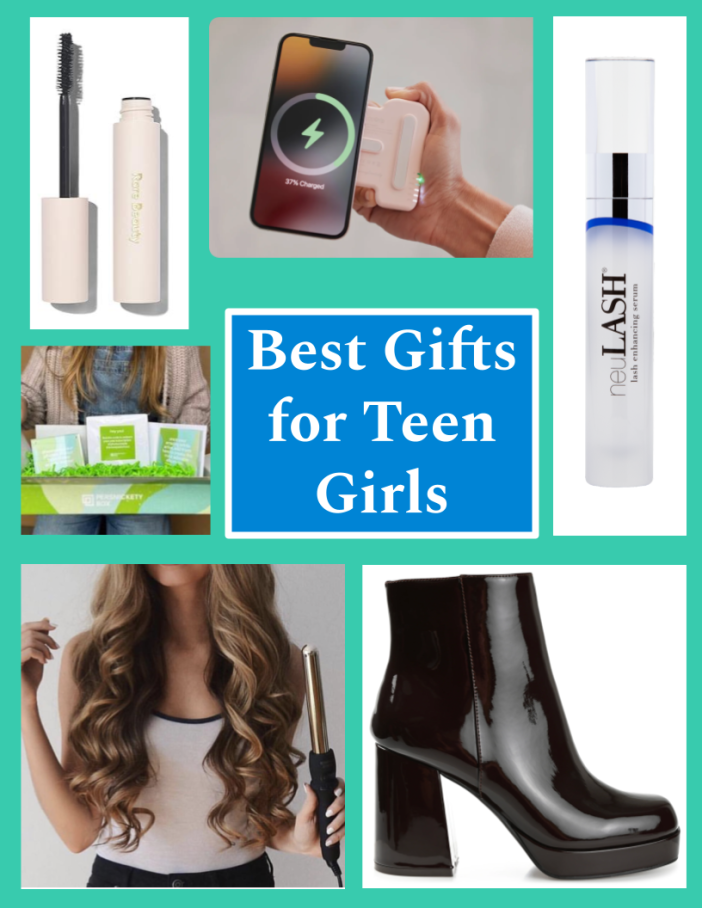 Make sure to also check out our Book Gift Guide for Tweens!
NeuLASH – Lash Enhancing Serum
neuLASH – Lash Enhancing Serum
neuLASH lash enhancing serum is trusted by millions to improve the weak appearance of their lashes in just 30 days. neuLASH® is the only serum for lashes that is formulated with Active Eyelash Technology®, which envelops your lashes in a proprietary blend of amino acids and bioengineered peptides to promote stronger, longer-looking lashes.
Journee Collection – Mollie Booties
Journee Collection – MOLLIE Booties
The in-house design team at Journee Collection carefully details each shoe with your journey in mind, offering comfortable, versatile products in sizes that celebrate body positivity and self-love. True to its name, they've carved a path to provide up-scale styles at attainable prices. Follow them on Instagram @journeecollectionshoes.
Bombay Hair – Curling Wand
Price: $130
Available on Amazon
Bombay Hair is your go-to for hot hair tools, hair extensions, hair clips, hair ties, and combs! Two consecutive years as one of Oprah's favorite things and on Page Six! Bombay Hair 5-in-1 curling wand set is the number one hair tool set! Don't forget about their bestselling hair waver and their gorgeous, seamless new hair extensions that just launched! Plus, quality hair accessories, clips, and ties! Bombay Hair tools make it possible to master salon style from the comfort of your own home.
Rare Beauty Mascara and Blush/Glow Set:
Rare Beauty Mascara
Amazon.com : Rare Beauty by Selena Gomez Perfect Strokes Mascara trial size : Beauty & Personal Care
Price: $20
My daughter uses this mascara and it's her favorite one out of all the ones she's tried. Rare Beauty mascara makes eyelashes look longer and much thicker. It almost looks like false eyelashes or extensions. Highly recommend.
Rare Beauty Blush and Glow Set
Amazon.com : Rare Beauty by Selena Gomez Mini Blush & Glow 4-Piece Set : Beauty & Personal Care
Price: $40.34
With liquid and cream blushes trending, this is the perfect gift for teen girls who like makeup. It features four different shades that you can mix and match for a natural or glamourous look. Plus, by getting these products in a set, it saves a little money, and will also look even fancier when she unwraps it.
Once Upon a Book Club:
Price: Varies depending on the length of the subscription
Once Upon A Book Club delivers adult and young adult packages filled with books and wrapped gifts. Book Clubbers receive a newly released novel and wrapped gifts labeled with page numbers. As they read the featured book, they're prompted only to open the gifts when they reach the specified page number. Boxes are available as a subscription or individual boxes for gifting including the popular Bridgerton collection. It offers a unique reading experience coupled with an awesome community engagement!
We hope you enjoyed our gift ideas for teen girls and found the right fit for you. Make sure to check out our gift guide for teen guys, coming soon! Have a merry Christmas and Happy Hanukkah!