The BEST Alexander Hamilton Costume – and it is less than $30!
Disclosure: Highlights Along the Way is a participant in the Amazon Services LLC Associates Program, an affiliate advertising program designed to provide a means for sites to earn advertising fees by advertising and linking to amazon.com. Share
Hamilton the Musical is all the rage. Boys and girls everywhere are going to want to dress up as the founding father without a father this year for Halloween. A few years ago we were looking to find the perfect Alexander Hamilton costume for our son. Our youngest was having a Hamilton themed birthday party for her sixth birthday, and he was dressing up for pictures! We considered making our own Alexander Hamilton costume, but I found this amazing costume that worked perfectly first! A beautiful dark blue, colonial style jacket in several child sizes at a very reasonable price. This is the perfect costume for any Hamilton the Musical fan! Theatre fans are sure to know who you are dressed up as immediately. Schuyler sisters will be singing the praises of all the inexpensive no sew Hamilton Halloween costume ideas here! Hamilton fans will be impressed by how accurate this budget friendly costume is. Affordable Hamilton costumes are cute and a click away!

FREE HAMILTON COLORING SHEETS HERE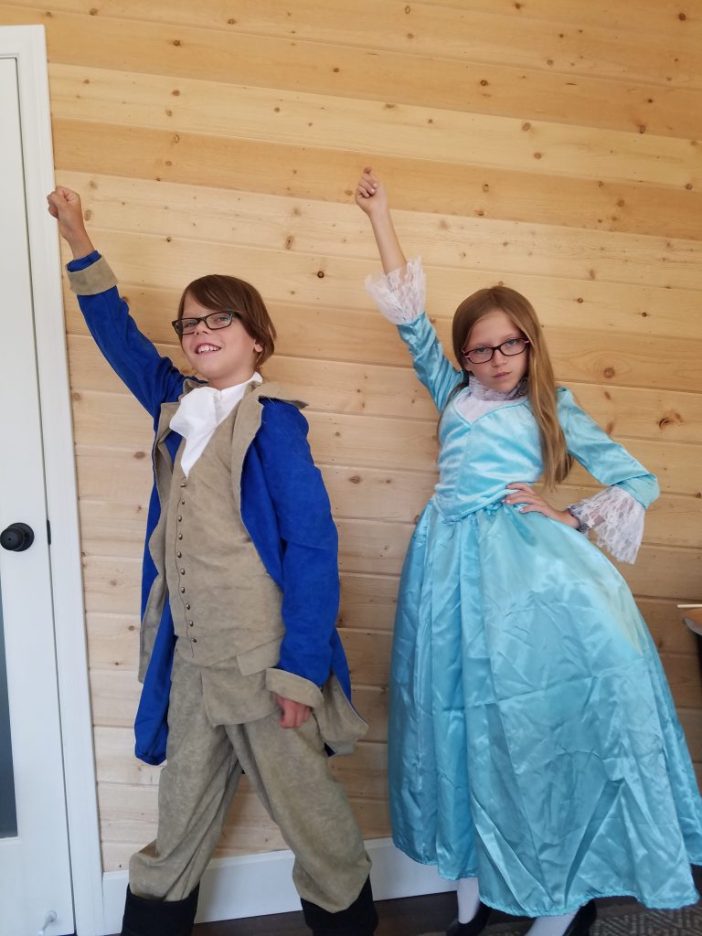 THE BEST Alexander Hamilton Costume.
Our family has fallen hard for Hamilton : An American Musical. I introduced the kids years ago to Hamilton and it is still playing all the time in our house. We fell for Hamilton years before it started playing Disney plus. We looked into Hamilton costumes for Halloween last year and the only thing we could find were beautiful, custom dresses and jackets on Etsy. Imagine my happiness when I stumbled upon this beautiful light blue colonial style dress that looks quite a lot like the Eliza Hamilton dress in the play! Typically I like to make a DIY dress for our girls and share on our site. We simply could not make an Eliza Hamilton dress or modify a dress that was this nice, and certainly not for this price. As I searched, I also found an equally budget friendly traditional colonial costume for boys. The pants, vest, and jacket are perfect. Our son wore long socks, black shoes, and tied his shaggy hair back into a low ponytail. I bet your little Hamilton fan will love it too! The best part of this costume is that you can buy it right now. The costume shared are prime eligible, so you still have time to purchase even just days before Halloween night.
At the time of this posting, this costume is on sale and ships for free!
If you are looking for a beautiful Eliza Hamilton (Eliza Schulyer) costume, you can see how much we loved this equally as affordable Eliza costume here! Our kids wore both of these costumes to multiple parties, trick or treat, and even to a school dress up day. They held up very well and were passed down when they outgrew them. For less than $30 each (SHIPPED), I was very impressed by how they held up. I highly recommend them!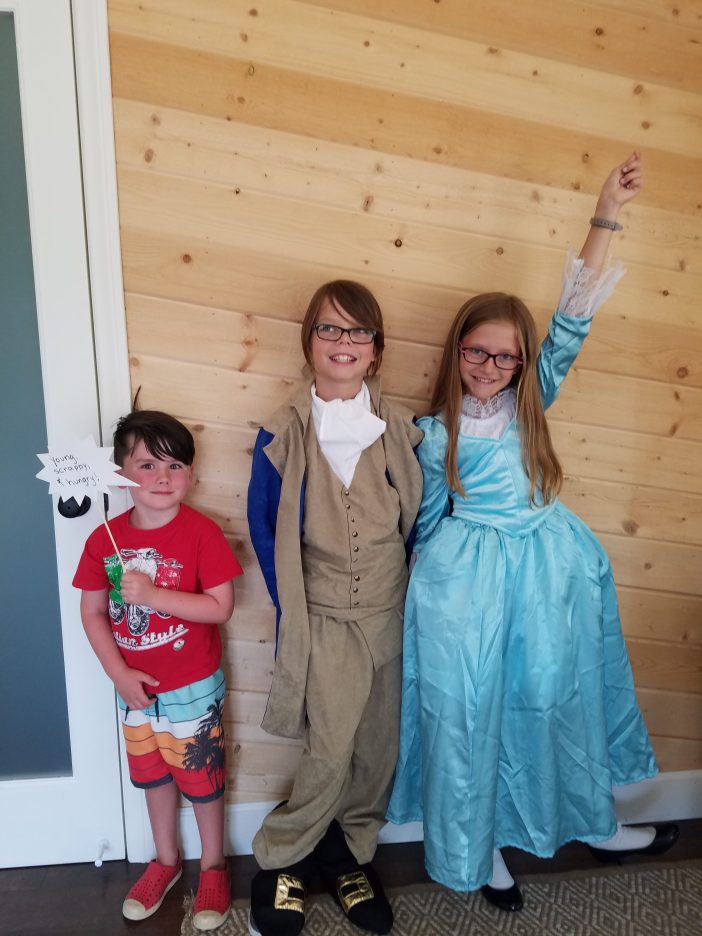 HAMILTON BIRTHDAY PARTY CUPCAKES
Make sure to check out our post about our Hamilton Themed Birthday party where you can click to download Hamilton Broadway Playbill cupcake toppers!