The best Percy Jackson costume
Percy Jackson is the easiest DIY costume ever for Halloween. If you have a kid that is obsessed with Percy Jackson by Rick Riordan, make sure to check out this easy Percy Jackson costume.

A Percy Jackson costume is a perfect last minute costume and does not require sewing. This simple costume is great for kids that don't want an over the top, elaborate costume. Any Percy Jackson fan would approve! This is the best costume out there!
An orange Camp Half-Blood T-shirt is an inexpensive last minute costume that can be worn as regular clothing throughout the year. If you are looking for a cheap costume for your boy, this is it!We made this costume when money was tight in our family. During a recession or when money is scarce, cheap costumes or costumes made from regular pieces are vital. Kids can still have fun and dress up without spending a ton of money. Camp Half-Blood T-shirts can be worn over and over again throughout the year. To finish out your costume, kids just wear a pair of jeans that they likely already have in their wardrobe!
Easy Percy Jackson Costume
Percy Jackson is a great costume choice that is not at all violent. This Percy Jackson costume reads very well without any mask, weapon, or any accessory. Don't miss our list of cool guy Non Violent Costume ideas!
Percy Jackson is also a favorite costume for Read Across America Week, especially for older kids. Percy Jackson requires a specific Orange Tshirt and Jeans. For kids that want to dress up but not be too over the top; Percy Jackson is a great option.
Reading is so awesome! Our big kids LOVE to read. Rick Riordan is one of the main reasons my son reads as much as he does. If you have a teen that loves adventure and fantasy, Rick Riordan has some of the coolest books available. This post is in no way sponsored by Rick Riordan, we just love his work and had to share. If your tween has not yet discovered this series, it is something we highly endorse.
Percy Jackson is the wildly popular book series by Rick Riordan. Our son is a huge fan of these books and it was the only thing he wanted to be for Halloween. If you have a tween or teen that is looking for something adventurous, Percy Jackson is a great one! My son was hooked the first time he read The Lightning Thief and he is always excited when a new book becomes available. Check out the entire collection of Percy Jackson books by Rick Riordan on Amazon, but I always suggest seeing what books are available at your local library. (Pro tip – make a list from the Amazon listing and take it to the library to see what you can get for free!)
We noticed that our son at about 9 or 10 started wanting to have more low key costumes. He wanted to dress up in costumes that were to really over the top. He liked that this costume was very simple, and he even wore the shirt to school after the Trick or Treat season was over. Percy Jackson is also an excellent character to feature on "Dress like your favorite book character" day. This costume will get worn over and over again!
Crafty book lovers could easily grab an orange shirt and paint the famous Percy Jackson "Camp Half Blood" logo on it. Seriously though, don't do that. There are so many shirts with a Percy Jackson theme, but this is our favorite. At less than $20, this Camp Half-Blood Tshirt comes in lots of colors, but we of course chose the perfect shade of orange.
This shirt has great ratings, it shipped very quickly, and we thought the sizing was perfect. When we purchased this shirt it came in quickly with our Amazon prime membership. This shirt was under $20 shipped and is sometimes on sale! The best part about this orange Camp Half-Blood Tshirt is that it is truly a T-shirt, not a cheap costume. Our son wore this T-shirt as a Halloween costume, as a Read Across America Day dress up activity, and throughout the year. We love buying clothing items that can be used as costumes but also something we can wear again and again.

Seriously, that is it! A Camp Half Blood Tshirt plus a pair of blue jeans. The end. If that isn't the perfect Percy Jackson cosplay, I don't know what is. Low key costumes that you can wear again as a fan are the best.
D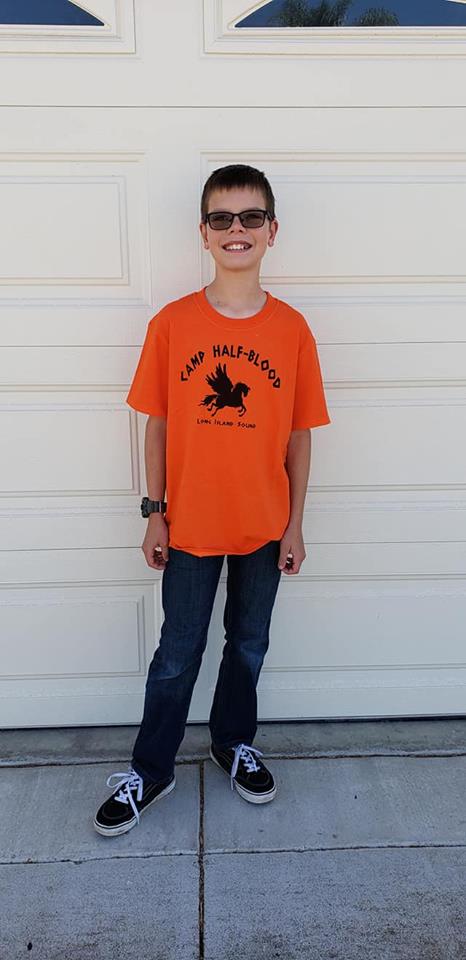 Percy Jackson Camp Halfblood Necklace
Don't forget this necklace to complete the look!
Could you buy stencils or freehand your own shirt? Of course! We just found putting a shirt and jeans together this way was absolutely the easiest Percy Jackson costume we could make. It took hardly any effort at all, and if you are anything like me, you need a really easy costume this year!