Best Photo Spots in Star Wars: Galaxy's Edge
Disclosure: This site uses affiliate links.
We all know Disneyland Resort is a great spot for photos; with colorful backgrounds, iconic Characters and Instagram-worthy food, it's hard not to have a camera in hand at all times! The newest land to open in the Resort is no exception, so today with the help of the travel experts at Get Away Today I'm sharing the best photos spots in Star Wars: Galaxy's Edge. Fun fact, Star Wars : Galaxy's Edge is very similar at both Disneyland and Walt Disney World. Look for these iconic picture spots whether you are in sunny California or sunny Florida! First, grab your FREE Baby Yoda "We are going to Disneyland" Coloring Sheet and do not forget to use our unique code for an additional $10 off your Disneyland package with Disneyland Discount Travel Agents "Get Away Today".

Photo Spots in Star Wars: Galaxy's Edge
Star Wars: Galaxy's Edge is designed to transport you to the planet Batuu, so it provides lots of unique backdrops during your visit. From starships and costumed Cast Members to life-size droids and cargo crates there's a lot to see in Black Spire Outpost! Whether you visit Star Wars: Galaxy's Edge at the Disneyland Resort or Walt Disney World, you'll find almost the exact same photo spots. Let me know your favorite.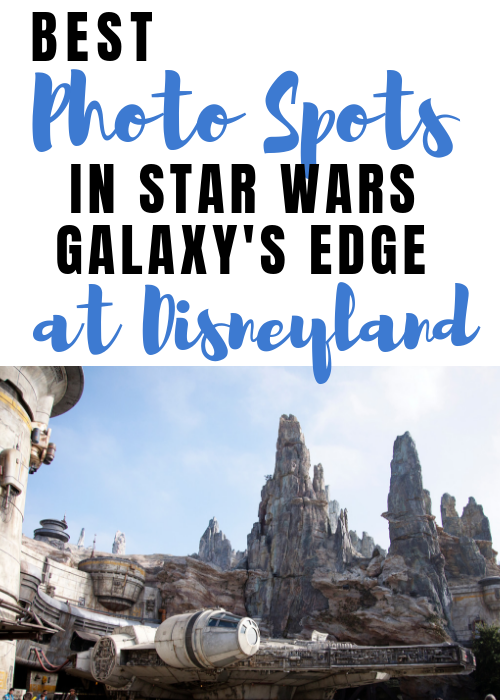 Millennium Falcon – One of the most notable spots in Galaxy's Edge is the Millennium Falcon. Both inside and out you'll find some of the best photos spots on Batuu. The Millennium Falcon provides a detailed, out-of-this-world backdrop for your photos. Inside the queue line and the ship itself the details are just as intricate. Before you officially enter the queue you'll pause in the Dejarik Room, with a booth-like seating area and chess board table.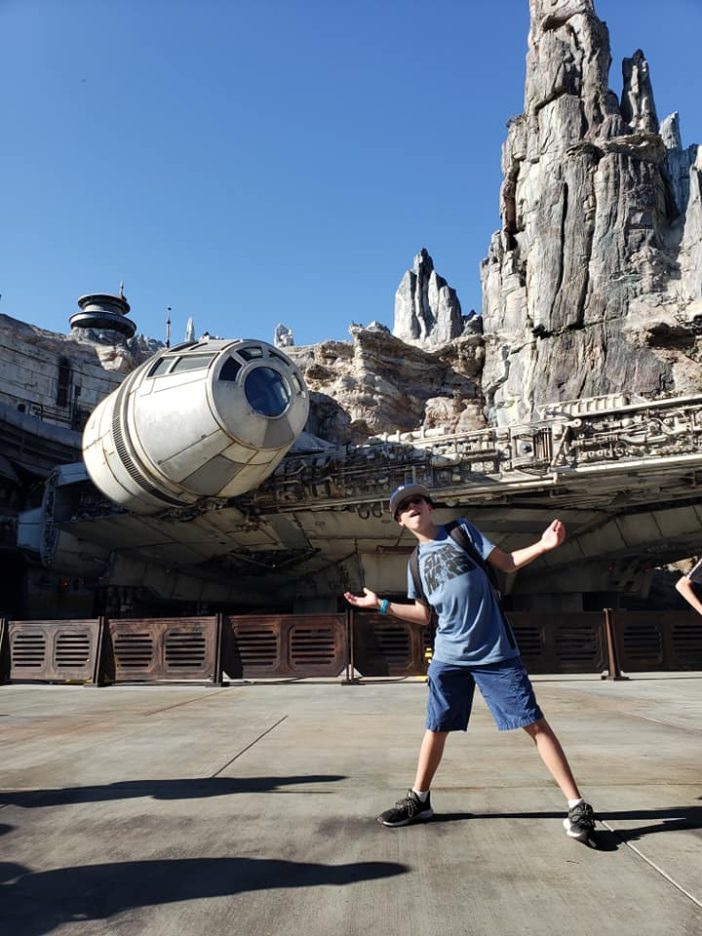 First Order Transport Ship – Located across from the Millennium Falcon is the First Order Transport Ship. This provides another iconic background for your photos, proving you visited the outermost edge of this galaxy.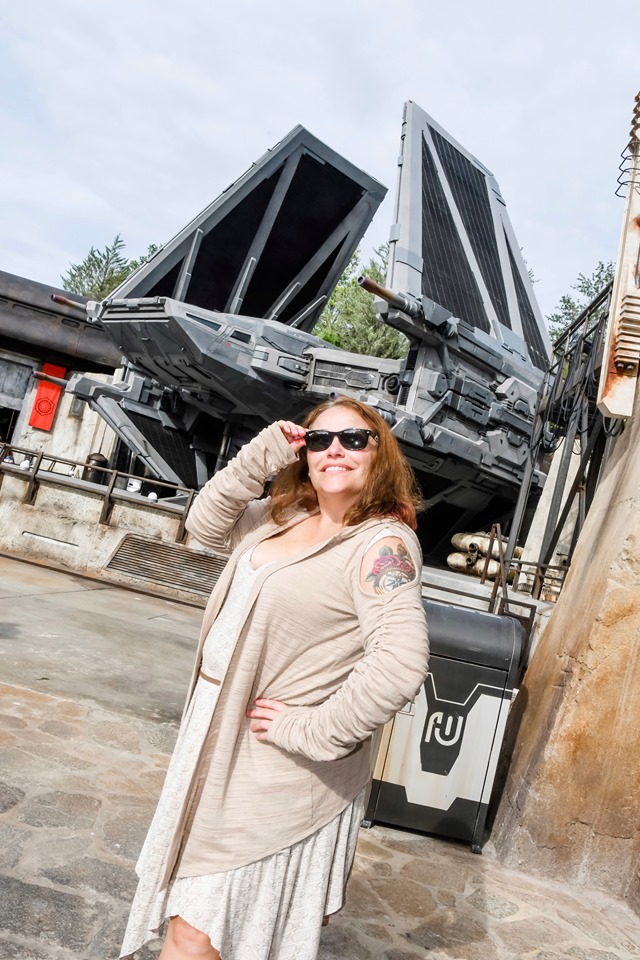 (Photo credit to Jana at Whiskey n Sunshine)
X-Wing Ship – Located on the Resistance side of Black Spire Outpost, opposite the Millennium Falcon, you'll find an X-Wing Ship. It's another one of the best photos spots in Star Wars: Galaxy's Edge.
Droid Depot – Both the storefront area and inside the shop, where guests can assemble their own droid, provide great photo opps. Near the register, a life-size R2-D2 interacts with guests and is more than willing to pose for selfies.
Oga's Cantina – Make a reservation to stop into Oga's Cantina and snap some photos in front of droid DJ R-3X. With alien drinks and ambiance, the Cantina's interior and exterior make for a great photo.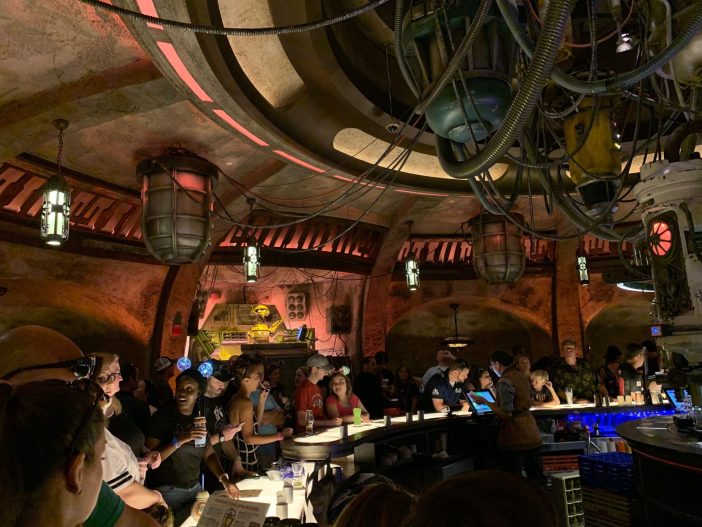 (Photo credit to Jana at Whiskey n Sunshine)
Docking Bay 7 Food and Cargo – This is an elevated dining area in the center of Star Wars: Galaxy's Edge. Draping ropes, lanterns and sunshades criss-cross overhead. You'll find walls with foreign languages, data pads and more to provide some of the best spots for photos in Black Spire Outpost.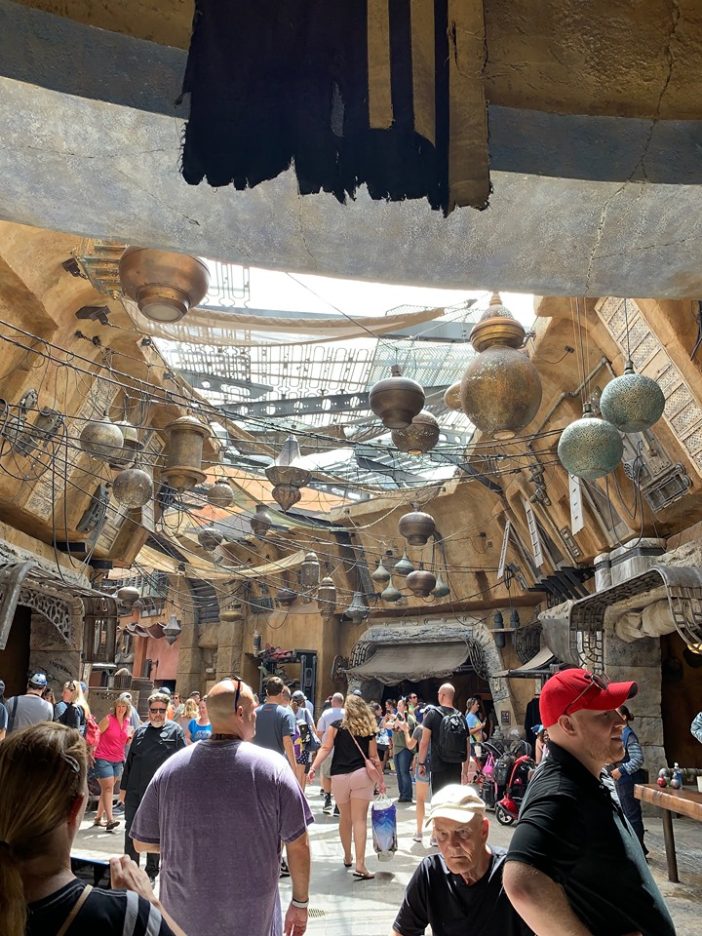 (Photo credit to Jana at Whiskey n Sunshine)
Marketplace – The intricately themed shops in the Marketplace make for some of the best photos. Stop in front of the Creature Stall to snap a pic with the animatronic Loth Cat. Pose next to Star Wars attire at Black Spire Outfitters. With awnings, cargo crates and uniquely dressed Cast Members outside many outposts, you'll find photo spots at every turn in Galaxy's Edge.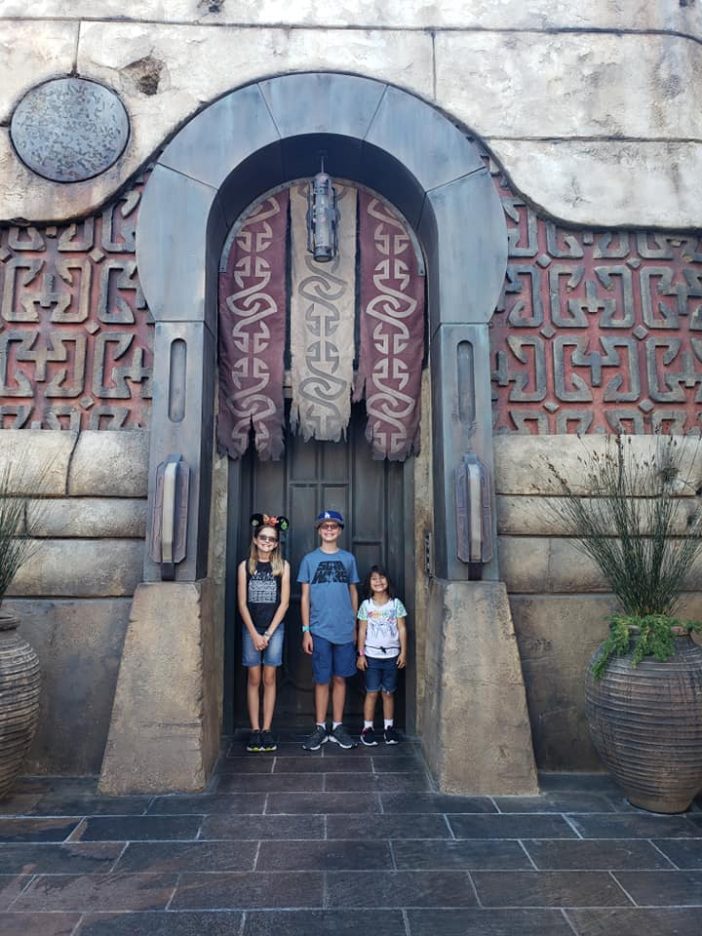 Tips for Taking Photos in Star Wars: Galaxy's Edge
Did you know that via the official Disneyland app you can locate PhotoPass photographers in the Resort? That includes the foreign land of Batuu! And when you purchase MaxPass, you have access to unlimited PhotoPass downloads in the Resort, making it easier than ever to capture and preserve memories from your vacation. MaxPass is $15 per person per day, and only one member of your travel party needs it for the PhotoPass downloads. Even if you don't utilize PhotoPass, the photographers are more than happy to use your own camera or phone to snap a quick picture of you and your family.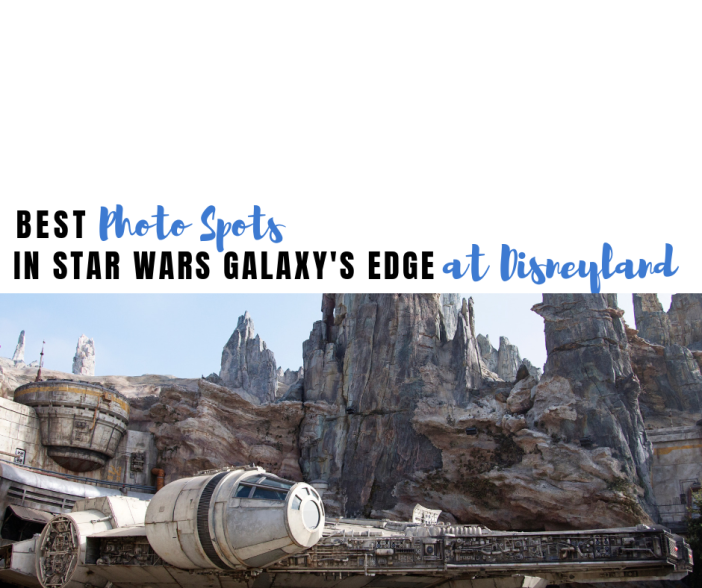 In Star Wars: Galaxy's Edge you may come across Storm Troopers, Chewbacca, Darth Vadar, Kylo Ren and even Rey. Unless they're hurrying off for official First Order or Resistance business, they are willing to stop for photos with guests. Just be careful what you say; First Order presence is heavy in Galaxy's Edge! If you're a member of the Resistance you'll want to keep it under wraps when stopped by Storm Troopers.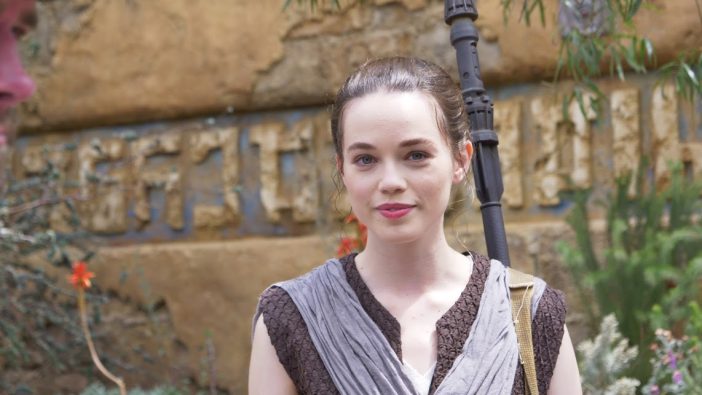 Speaking of the Resistance… if you make a reservation to build a custom lightsaber inside Savi's Workshop, you can bring up to two guests with you. They are welcome to take photos and videos to commemorate the experience.
Book Your Trip to Star Wars: Galaxy's Edge
First, do not plan a trip to Disneyland without first reading all our money saving tips! We always start our travel plans with Get Away Today. Get Away Today is the ONLY Disney travel agency we partner with because we have used their services personally and they are not a 'too good to be true' gimmick. They have great discounted rates that they have negotiated with Disney directly for. These money saving tips are simple, but so many people don't think about them! Check out these 5 top money saving tips and you can save hundreds on your next trip to Disney! It is a secret, but this 'five tips' list turned into more than 10. You can get tips of everything from discount tickets to free souvenirs. Did you know that there is a simple hack to get free coffee and other Starbucks treats at Disney parks? How to get FREE COFFEE and FREE treats at Disneyland is one of our most popular posts. We never go to Disneyland without a couple Starbucks gift cards that we got for FREE with one simple trick! You can also check out our list of Hotels near Disneyland with a FREE Shuttle, Hotels near Disneyland that offer FREE Breakfast, as well as Hotels that offer free parking. Guess what? Several of these offer all three and you can get an additional $10 off using our exclusive discount below!
I hope this helps you figure out the best photos spots in Star Wars: Galaxy's Edge. With the amount of effort put into all the details of this new land, you almost can't go wrong! When you're ready to book your trip, check out all the discount Disneyland vacation options with Get Away Today. Their expert travel agents are ready to help you plan the ultimate trip, whether it's close to home or a galaxy far, far away. You can see all ticket options, hotels near Disneyland and travel tips at www.getawaytoday.com. Or give them a call at 855-GET-AWAY. Let them know Highlights Along the Way sent you, and use code Highlights for an additional $10 in savings on a Southern California vacation package.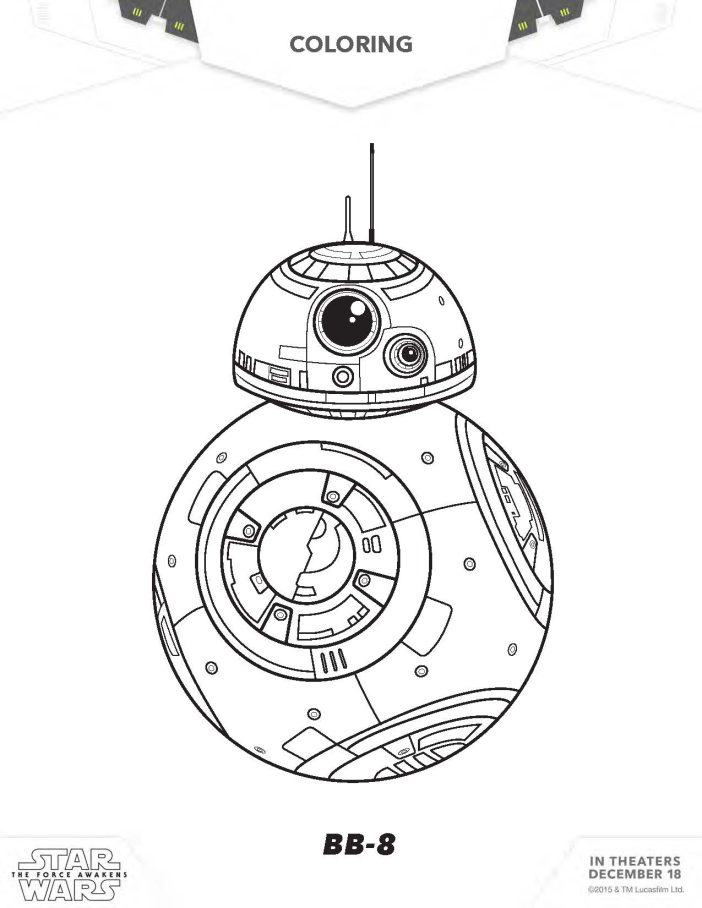 Also, make sure to check out our Free Star Wars Coloring Sheets! These are perfect to keep your Padawan happy as you journey to a galaxy far, far, away! A huge thank you to one of my favorite Disney and Star Wars bloggers, Jana at Whiskey n Sunshine for taking so many amazing photos on her journey to Galaxy's Edge and sharing them with us! Thank you to Get Away Today for letting us know the best spots for photos of your Jedis!