Big Hero 6 Interview Exclusive : Ryan Potter & Daniel Henney
Disclosure: I attended an all expenses paid press trip hosted by Walt Disney Studios. Blog posts were expected, but opinions are 100% my own.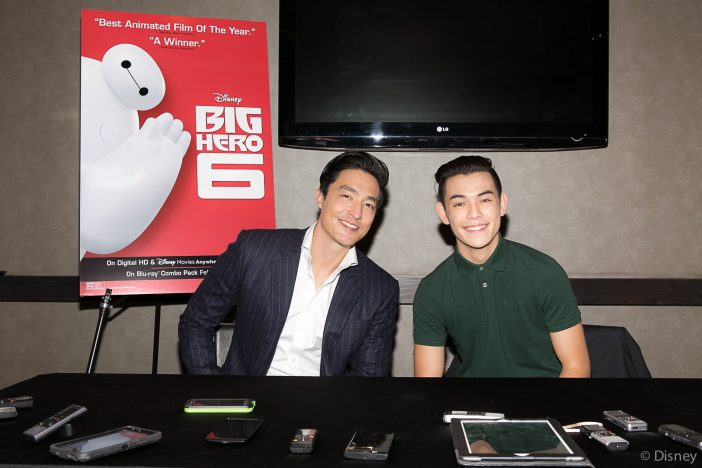 Have you ever wondered what it is like to be a Disney voice?  It is always fun for me to hear those who have been lucky enough to voice a Disney Character share what the process is like and what it is like to be immortalized in such an iconic way.  The other day I got to sit down with Ryan Potter who voices Hiro and Daniel Henney who voices Tadashi in Disney's Big Hero 6.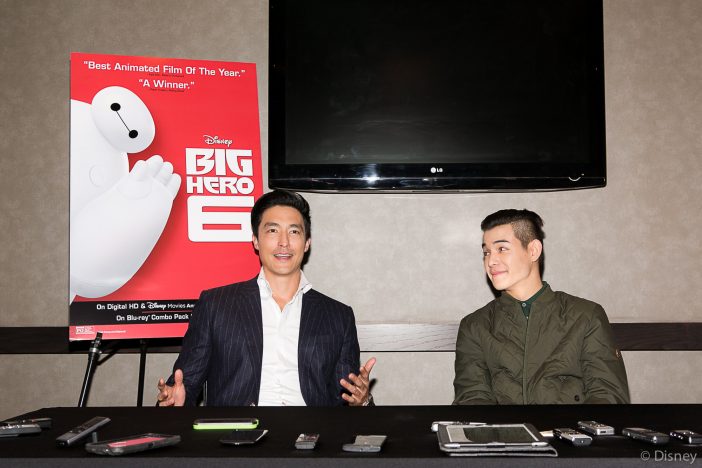 Ryan Potter plays Hiro and says that this was "Wish Fulfillment" – he said it was such a unique role.  Hiro is a superhero, but he is also just a regular guy that is a lot like Ryan himself.  He said Hiro was not a stretch for him as an actor, he was able to pull emotions from his own life and that he and Hiro are really very similar.
Daniel Henney said that the coolest part of being a Disney character was seeing kids in the airport playing with his Tadashi action figure.  He also shared that he felt Tadashi was an 'ideal' man, and that playing him helped him strive to be a better person in his own life.
Fun facts …..
Ryan Potter and Daniel Henney didn't actually meet until the first screening of Big Hero 6!  Even though they had several scenes together they never once recorded together!
Big Hero 6 is the first Multi Ethnic Cast for a Disney animated film.  While there have been several Princesses and characters from diverse backgrounds – Ryan pointed out that this was this was the first that had an ensemble that was multi ethnic – that's cool!
Ryan says he has been known to binge watch anime and is on his way to Cal Arts for college in the Fall.
Keep your eyes open for Daniel in an upcoming TV show!
Slightly off topic – want to see that one time I was a Disney voice?  I got to record the voice of Baymax at Disney Studios a few months back and it was all kinds of awesome!  If you haven't added Big Hero 6 to your family's collection yet I just can't understand why – rush out and get it TODAY!