Black Bean Quinoa Burgers
Disclosure - We were provided with a gift card from Whole Foods Market Del Mar for ingredients and for sharing this recipe. All opinions are our own.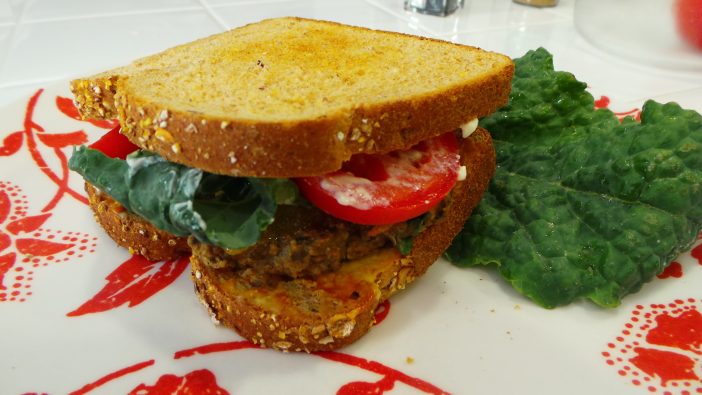 My husband makes the BEST Black Bean Quinoa Burgers and I am super excited that he was kind enough to share the recipe he has perfected over the last year here!
We have always enjoyed veggie burgers, but while we were participating in the Whole Foods on a Budget challenge we tried to make many things ourselves.  We knew the ingredients in bean burgers or veggie burgers were so inexpensive, so it was just a matter of finding a yummy combination.
He has finally found one that is packed with protein, fiber, vitamins, and all kinds of yumminess!  He now makes them about 3 dozen at a time and we freeze them.  This recipe freezes and reheats beautifully.  Our kids LOVE "Daddy's Bean Burgers" – I love that they are so easy to make a big batch of and then they make such a great quick meal!  Our kids have bean burgers at least a couple times a week!  Not only am I excited that they are eating all those healthy ingredients – but it is so easy and so budget friendly!
Please note there are eggs in this recipe so it is not vegan or totally vegetarian – we are not vegan and have found the eggs to be really necessary for the binding of this recipe – that being said I would LOVE for folks who have an alternative to leave it in the comment section – we are always excited to try new recipes and also to share vegan options with our readers!
And with no further delay – here is his process for Black Bean Quinoa Burgers ………….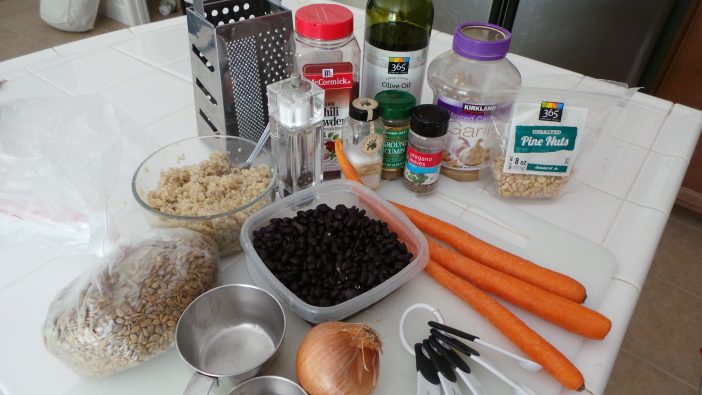 Ingredients…
1 onion diced
1 tablespoon of minced garlic
2 eggs
1 cup of rolled oats (grind into flour in magic Bullet)
1 cup bread crumbs (Toast 4 pieces of bread and set aside for 1 hour)
2 large carrots (grated)
2 cups of mashed black beans
2 cups of quinoa
1/4 cup chopped parsley
1/3 cup of pine nuts
1/3 cup of sunflower seeds
1 tablespoon olive oil
1 tablespoon Soy sauce
2 tablespoons of chili powder
1 tablespoon cumin
1 tablespoon oregano
Salt and pepper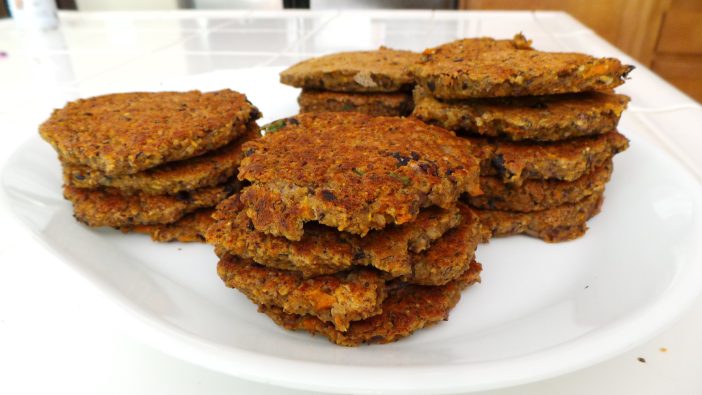 Warm up the griddle.
Prep all the ingredients. Toast bread and chop, grate carrots, mash black beans, chop parsley, grind oats into flour, etc…
Grill the onions in the olive oil
Mix all the ingredients in a large bowl. Mixture will be thick and chunky.
Place the mix into a Vitamix. *note – for this recipe you do not 'need' a Vitamix, but it is what we use for this recipe and it is kinda fantastic.* Add 2 tablespoons of water if mix is too dry. Pulse for 10 seconds. The mixture should be sticky but not runny or too fluid. Add a tablespoon of flour if too runny. Add water if too chunky.
Place golf size (1/3 cup) balls of the mixture on the griddle. Flatten with a wet spatula (so it doesn't stick to the spatula)
Cook on medium high heat until  patty has a dry appearance on top (like making pancakes).
Flip and cook the other side for the same amount of time.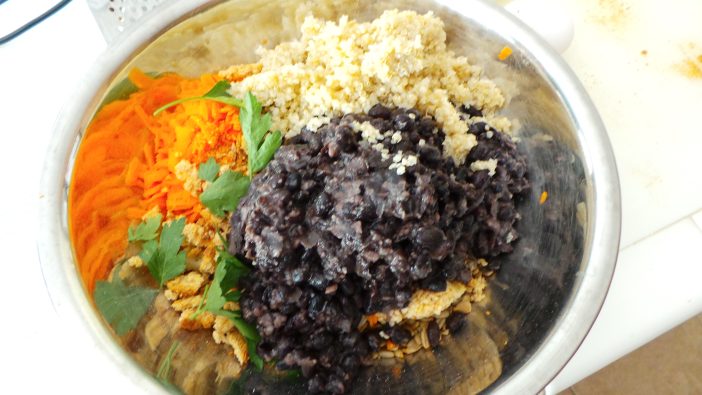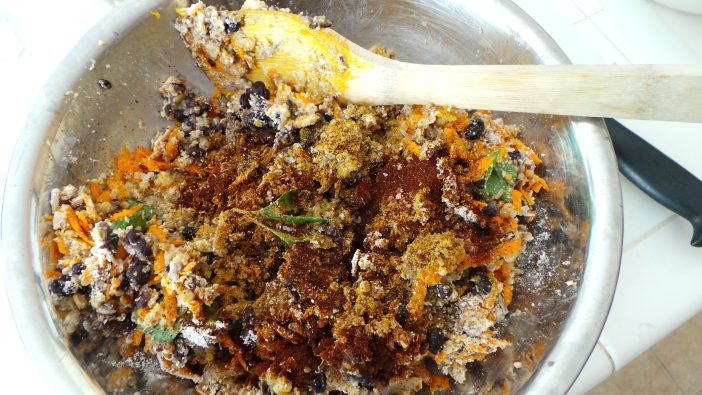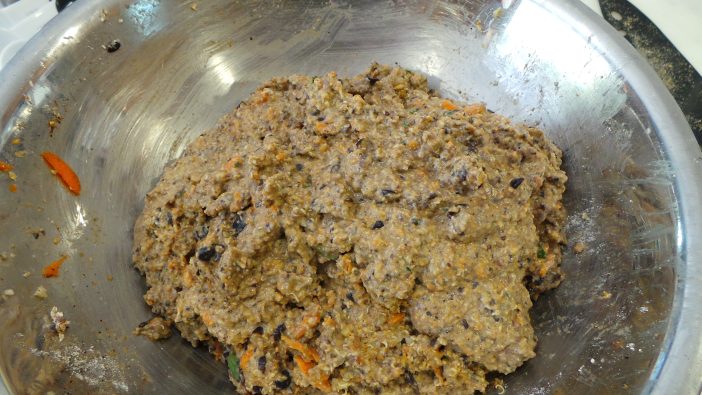 Tips:
If you burgers fall apart, your mix is too dry. Add more water.
If your burgers are gooey in the middle, your mixture is too wet.
Let the patties cool and freeze them. Use wax paper in between each patty.
Reheat them in the microwave for 45 seconds.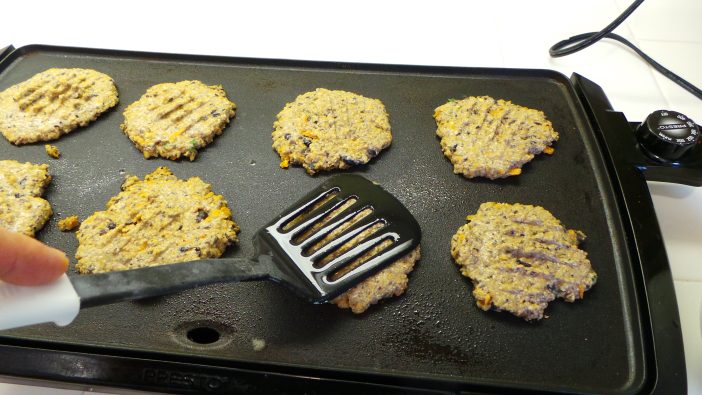 Thanks Love for sharing this Black Bean Quinoa Burgers recipe!  I hope our readers enjoy it as much as we all do!