Black History Month Coloring Sheets
Disclosure: this site uses affiliate links
For Black History Month we have organized our collection of many of our coloring sheets featuring African Americans who have made incredible contributions to our country. This is a list that will continue to grow so we hope you will pin it and save for later. Coloring pages and activity sheets are a great way to help the youngest students in preschool and elementary school learn a broader history.
Click and print free coloring pages featuring President Obama, Robert Smalls, Shirley Chisholm, Colin Kaepernick, Misty Copeland, and more! Click and print coloring activity sheets featuring Civil Rights Activists Rosa Parks, John Lewis, Representative Ilhan Omar, Hakeem Jeffries, and many more.
Teachers are welcome to click and print as many as they would like! Please share this post with other teachers looking for free and inexpensive Black History Month educational resources!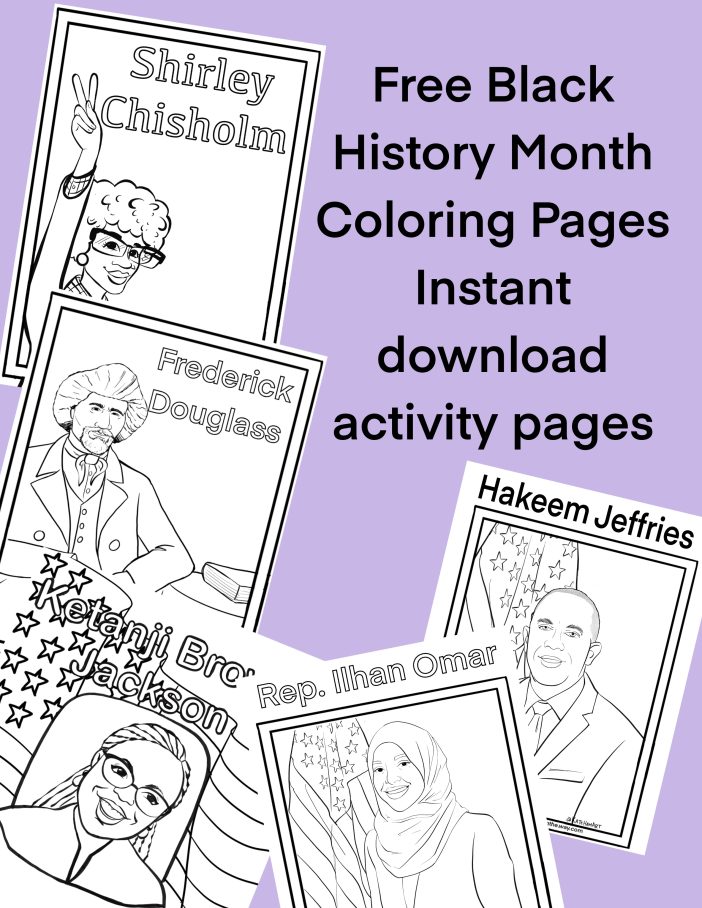 If you enjoy this free educational printable coloring sheet celebrating Black History Month make sure to check out our educational printable section featuring California Missions, and so many more! We also have 'just for fun' coloring sheets featuring Gabby's Dollhouse Coloring Sheets , We Can Be Heroes Coloring Sheets, Sharkboy and Lavagirl Coloring Sheets, American Girl Doll Coloring Sheets , Olaf Coloring Sheets, Coco Coloring Sheets , Trolls Coloring Sheets and so many more on our site!
Teachers are welcome to share a direct link to this webpage to their students (pretty please do not just copy and share. I provide these for free, but traffic to my blog provides my money with a small income while I am virtual schooling my own three kiddos, I so appreciate sharing!). Thank you! All coloring pages on this post are free in 2023! Thank you for using our blog as a resource, we hope it will grow and support more free coloring pages with traffic alone.

We have also added a few paid printable coloring sheets in our Etsy shop to offset the price of keeping our site up and running. Once downloaded you can print as many as you would like. Use for an entire class and year after year.

Black History Free Printable Coloring Sheets
Ruby Bridges Coloring Sheet
Click for an instant download Ruby Bridges Coloring Sheet! This printable worksheet is currently FREE to Highlights Along the Way readers! Thank you for coming to our site!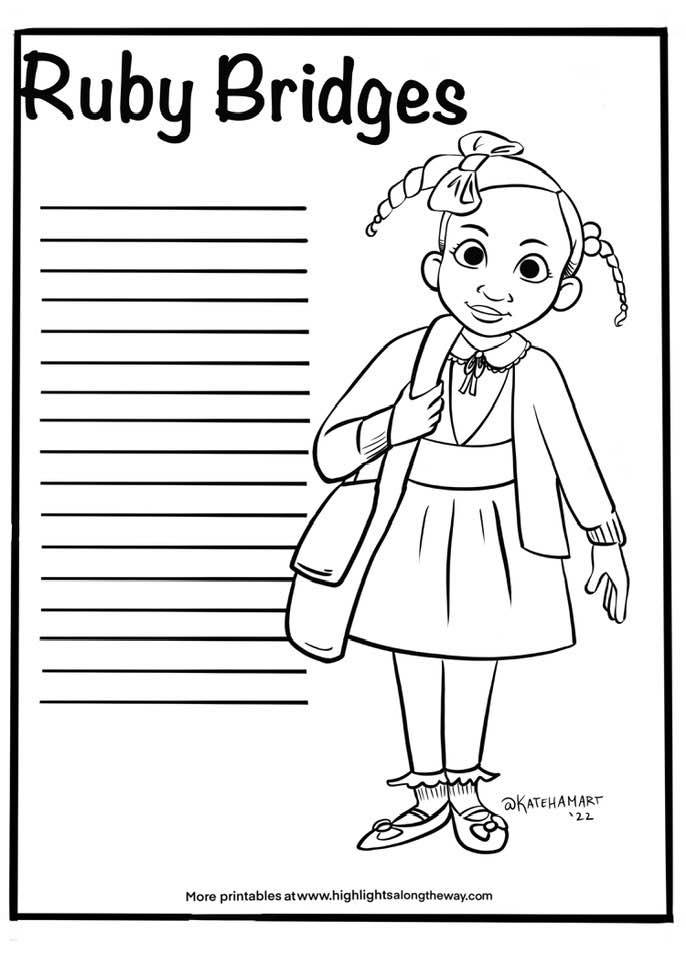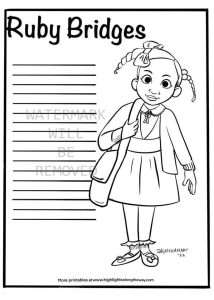 Who is Ruby Bridges?
Ruby Nell Bridges Hall is an American civil rights activist. At the time of this post, she is 67 years old. She went to elementary school at the same time as my parents. She was the first African-American child to desegregate the all-white William Frantz Elementary School in Louisiana during the New Orleans school desegregation crisis on November 14, 1960. It is important that our children know that Slavery and Jim Crow were mere generations ago and there is still work to do. Please feel free to print out the above coloring page to use in teaching kids about the history of the Civil Rights Movement.
Rep Ilhan Omar Coloring Page
Ilhan Abdullahi Omar (born October 4, 1982) is an American politician serving as the U.S. representative for Minnesota's 5th congressional district since 2019. She is a member of the Democratic–Farmer–Labor Party.[6] Before her election to Congress, Omar served in the Minnesota House of Representatives from 2017 to 2019, representing part of Minneapolis. Her congressional district includes all of Minneapolis and some of its first-ring suburbs.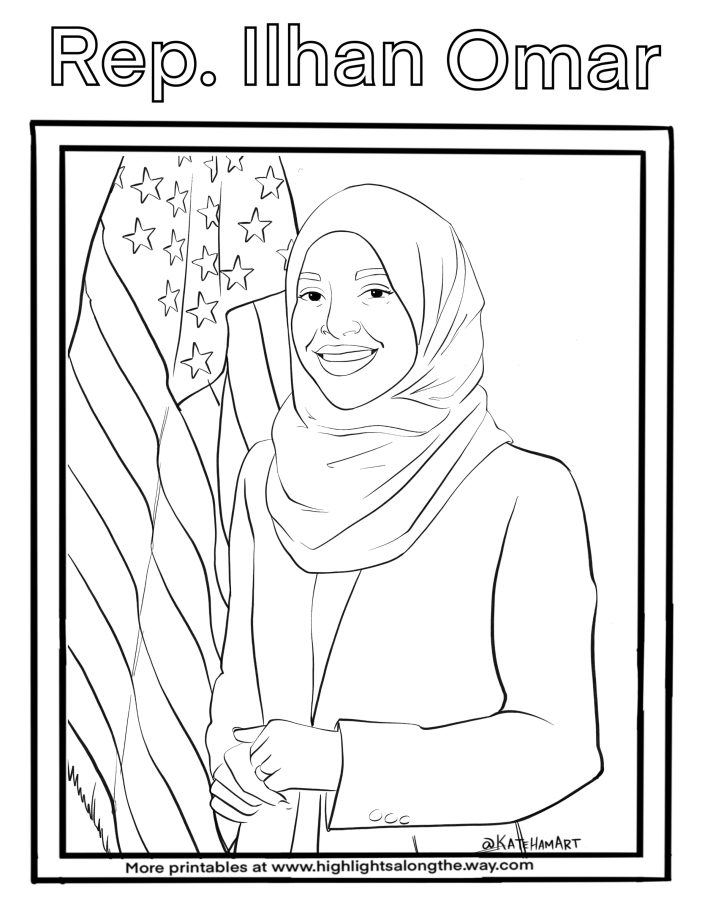 Who is Ilhan Omar?
Ilhan Omar was born in October of 1982. Ilhan Omar immigrated with her family to the United States as a refugee. She is an American politician serving in the US Representative for Minnesota's 5th congressional district since 2019. She is part of the progressive "SQUAD" of female congress women that make fragile conservative white men quake in their shoes.
Hakeem Jeffries Coloring Page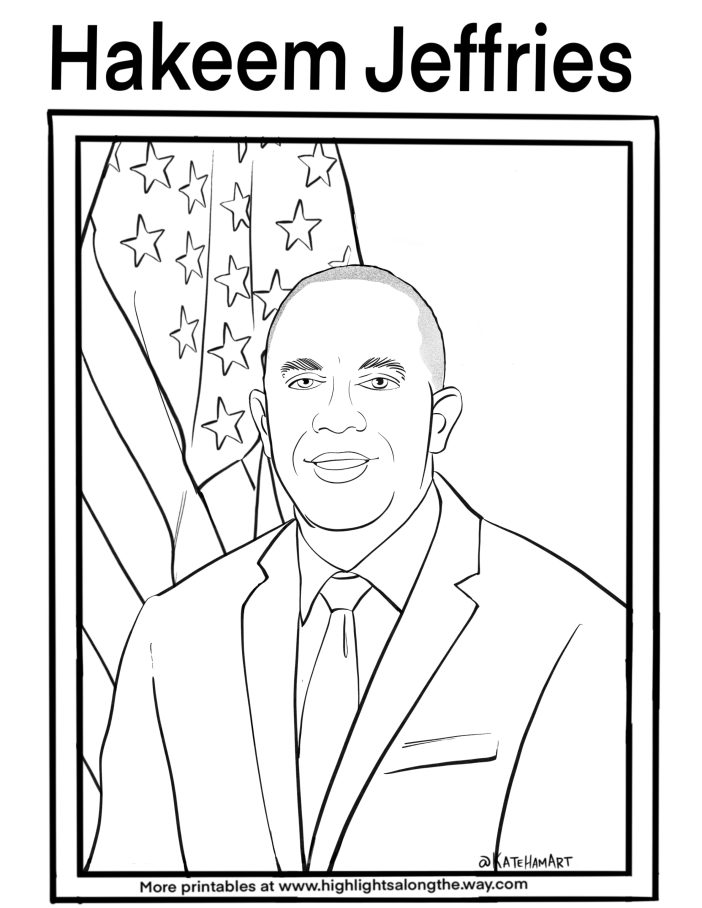 Shirley Chisholm Coloring Page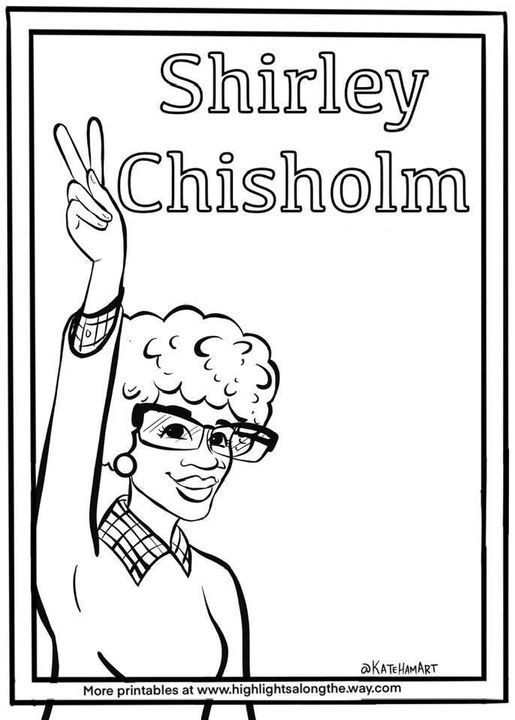 Who is Shirley Chisholm?
A true pioneer in both race and gender, Shirley Chisholm was the first Black woman elected to Congress representing New York's 12th District. In 1972, she was also the first woman to run for the Democratic Party's presidential nomination. During her time in Congress, Chisholm fought for improved education, health and human services and women's rights. Chisholm famously said, "If they don't give you a seat at the table, bring a folding chair." Inspire children with this free printable coloring page of Shirley Chisholm.
Rosa Parks Coloring Page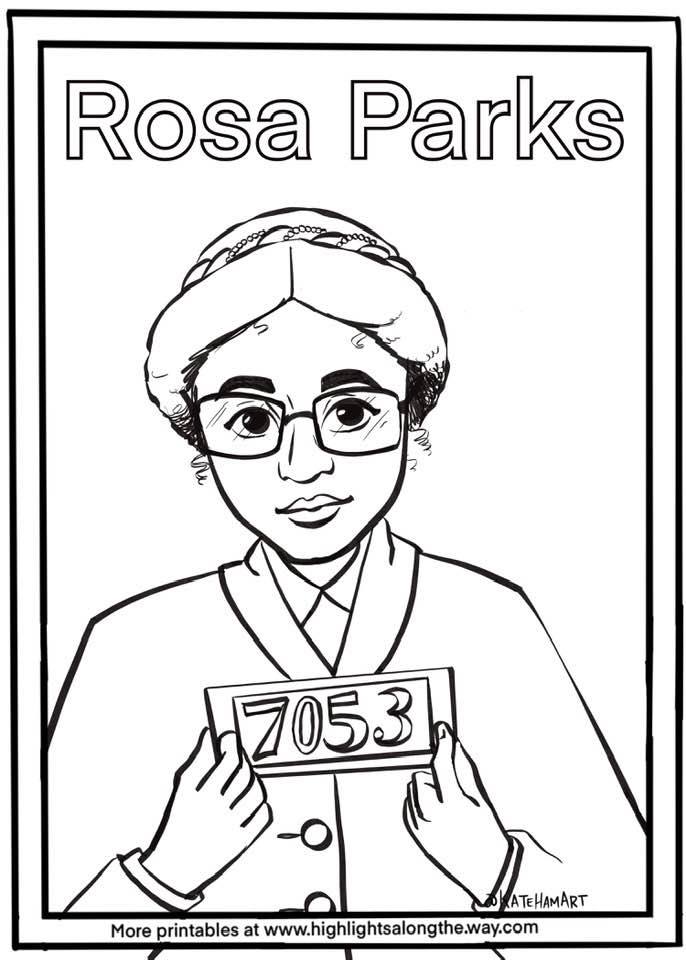 Rosa Parks is a national hero that every person should know about. Please feel free to click and print this free coloring page featuring Rosa Park's mug shot for kids to color while they learn. Rosa Parks (1913—2005) helped initiate the civil rights movement in the United States when she refused to give up her seat to a white man on a Montgomery, Alabama bus in 1955. Rosa Parks did not do this 'in the moment' as many are taught, her actions were carefully planned ahead of time. Rosa Parks was brave and stood up for what she believed in. Her actions inspired the leaders of the local Black community to organize the Montgomery Bus Boycott. Led by a young Rev. Dr. Martin Luther King Jr., the boycott lasted more than a year—during which Parks not coincidentally lost her job—and ended only when the U.S. Supreme Court ruled that bus segregation was unconstitutional. Parks became a nationally recognized symbol of dignity and strength in the struggle to end entrenched racial segregation.
Barack Obama Coloring Page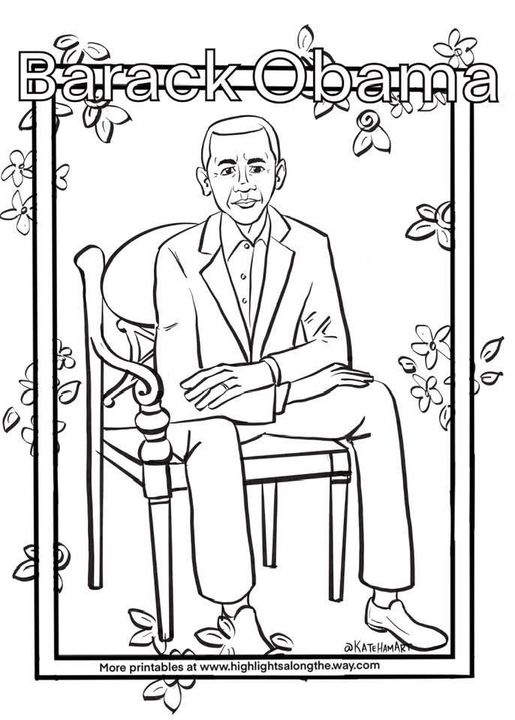 Feel free to print out this coloring page inspired by the Barack Obama Presidential portrait.
Barack Hussein Obama II is an American politician, lawyer, and author who served as the 44th president of the United States from 2009 to 2017. A member of the Democratic Party, Obama was the first African-American president of the United States. The coloring page above is based on the beautiful presidential portrait that the buffoon who followed him famously refused to hang in the White House. I think it would be cool if kids all over colored this picture and mailed it to 45. I'm Petty. Barack Obama will go down in history as one of the best presidents of our time. Barack Obama had no scandals while serving as president. Barack Obama is known for loving his wife and kids well; unlike the buffoon who followed him. Barack Obama wore the hell out of a suit; something else the guy who came after him could never achieve.
Michelle Obama Coloring Page
Click and print for the high resolution printable of this drawing of Michelle Obama. This drawing is inspired by the painting by artist Amy Sherald.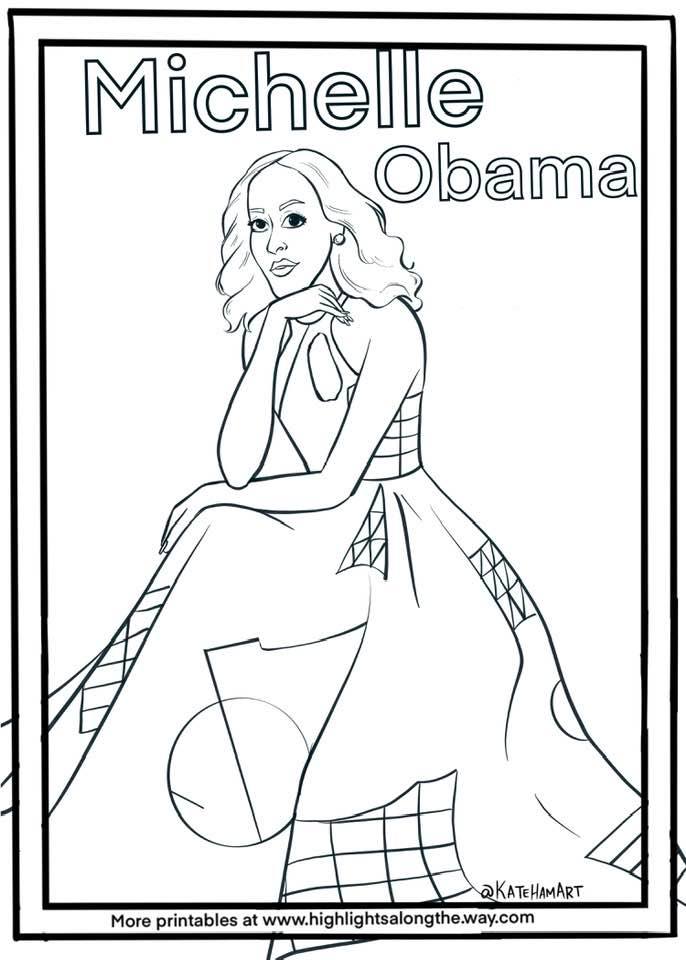 Click and print this coloring page inspired by the beautiful official portrait of Michelle Obama.
Michelle LaVaughn Robinson Obama is an American attorney and author who served as the first lady of the United States from 2009 to 2017. She was the first African-American woman to serve in this position. She famously said "I wake up every morning in a house built by slaves." She is the wife of former President Barack Obama. She is one of the most educated and self assured women to ever hold the position of First Lady; which makes insecure people feel uneasy. She is the mother of Sasha and Malia Obama.
Wilma Rudolph Coloring Page

Meghan, Duchess of Sussex Coloring Page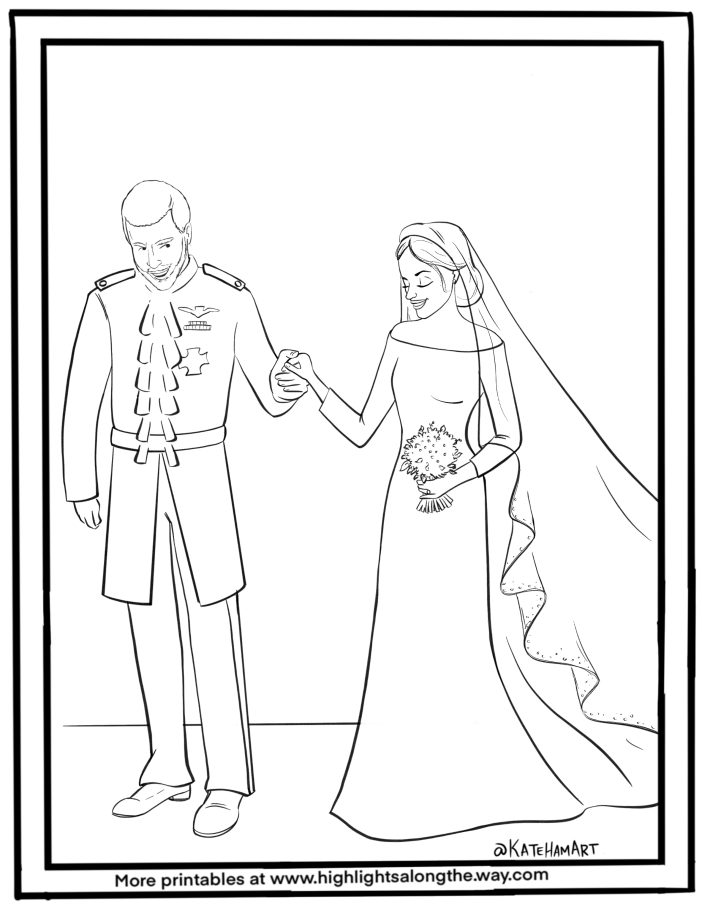 Who is Meghan Markle?
Meghan Markle is an African American woman who married Prince Harry. Meghan is now the Duchess of Sussex and the mother of Prince Archie and Princess Lilibet. Meghan and her well adjusted family live in California because the English press is terrible and Prince Harry already lost one woman he loved to them and he wasn't going to let that happen again.
Levar Burton Coloring Sheet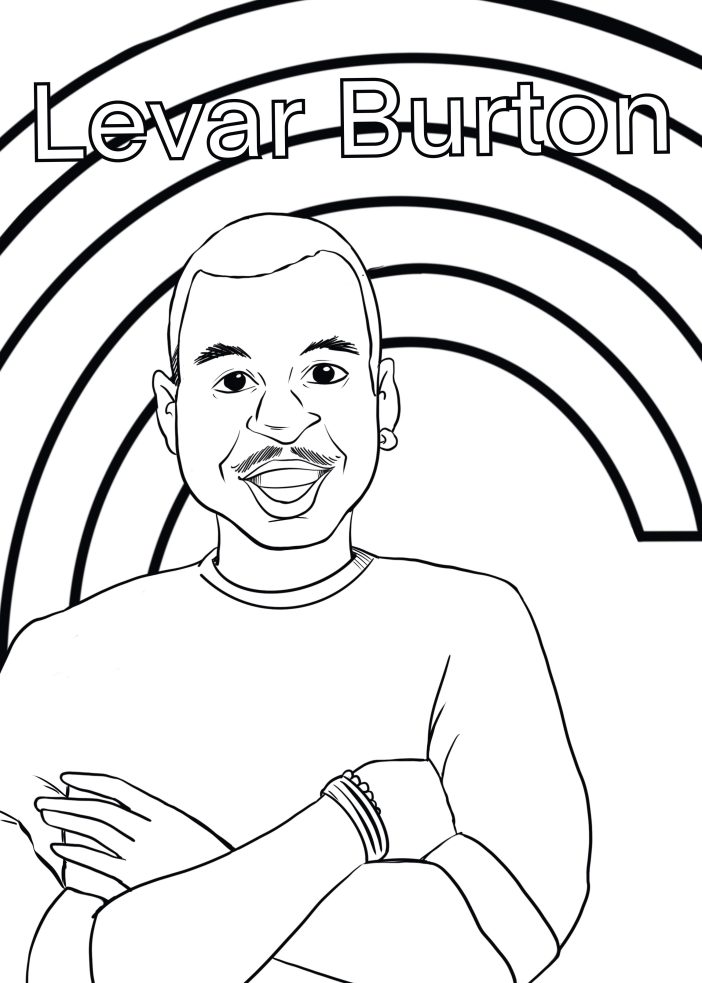 Levar Burton is an African American actor. He is well known for acting on Star Trek and also his work on Reading Rainbow! Click here for an instant download Levar Burton coloring sheet you can print from home or school!
John Lewis Coloring Page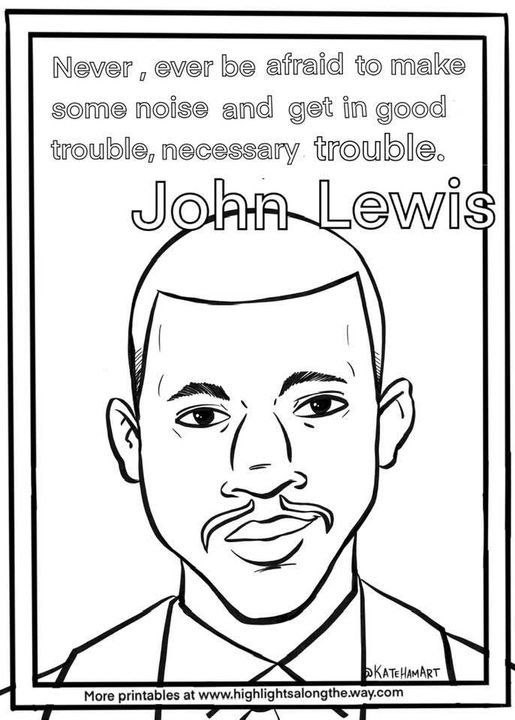 John Lewis taught us all to be brave and that some trouble is 'good and necessary trouble'. John Lewis is a hero to our nation. Click and print the above coloring page inspired by his many mug shots. John Robert Lewis was an American politician and civil rights activist who served in the United States House of Representatives for Georgia's 5th congressional district from 1987 until his death in 2020. He was the chairman of the Student Nonviolent Coordinating Committee from 1963 to 1966.
Robert Smalls Coloring Page
Click to instantly download a full size high resolution ROBERT SMALLS COLORING SHEET without a watermark!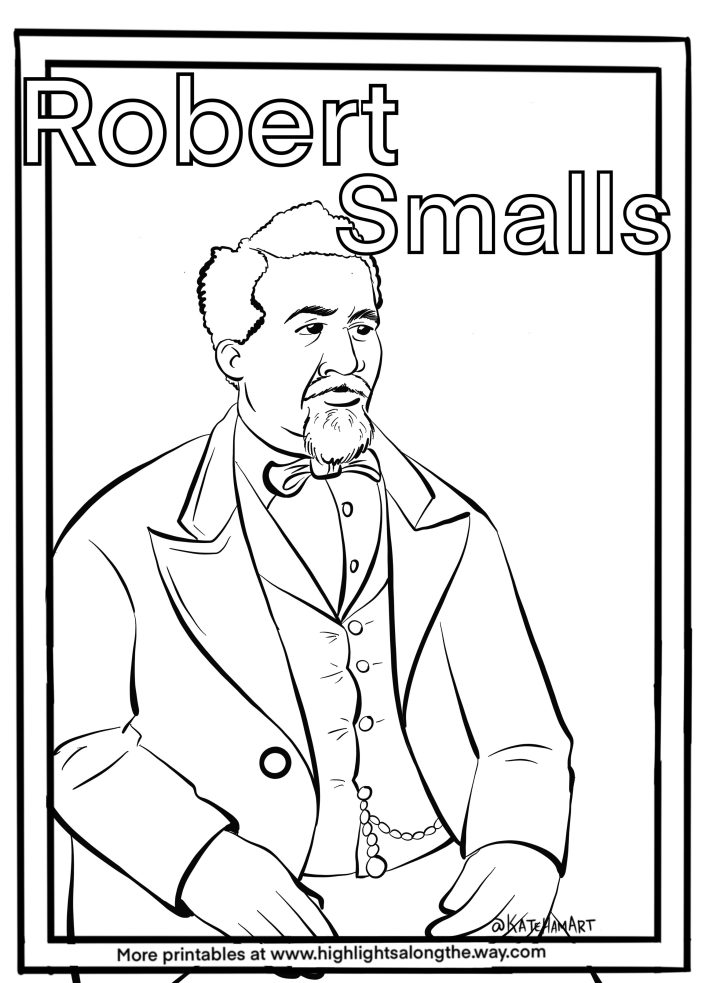 Who is Robert Smalls?
In 1862 during the Civil War, Robert Smalls commandeered a confederate transport boat freeing himself, his crew and their families. Later, Smalls was elected to the South Carolina House of Representatives. Robert Smalls was also instrumental in convincing President Lincoln to let free Blacks serve in the Union Army.
Katherine Johnson Coloring Page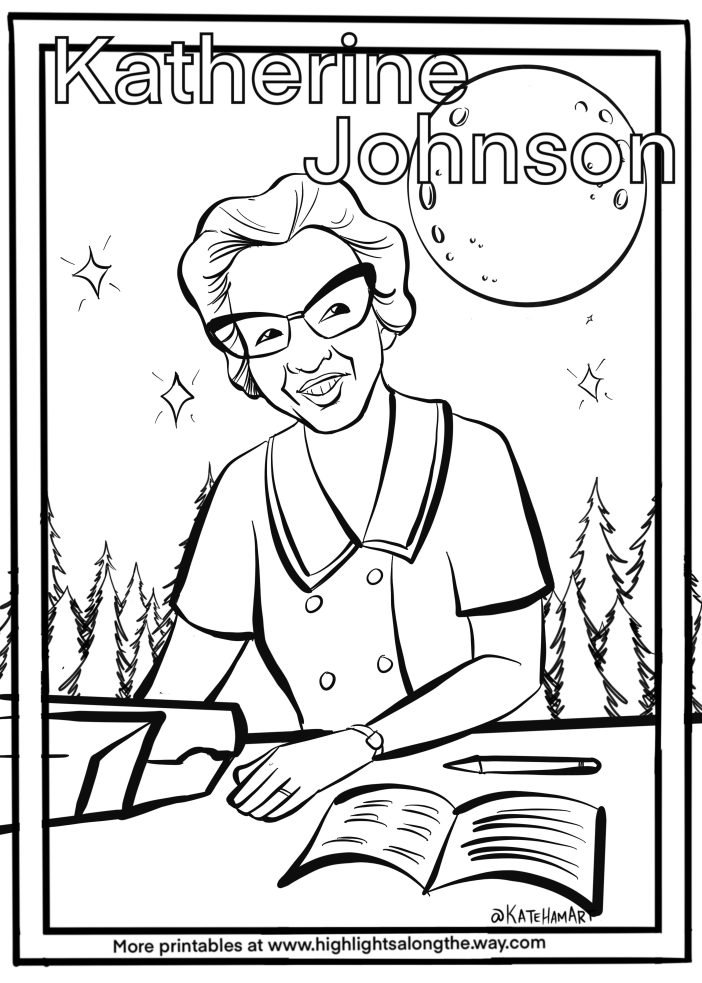 Click to instantly download a full size high resolution Katherine Johnson COLORING SHEET without a watermark! All our coloring pages on this post will be free in 2023!
Colin Kaepernick Coloring Page
Click to get the instant downloadable Full size High Resolution Colin Kaepernick Coloring Page.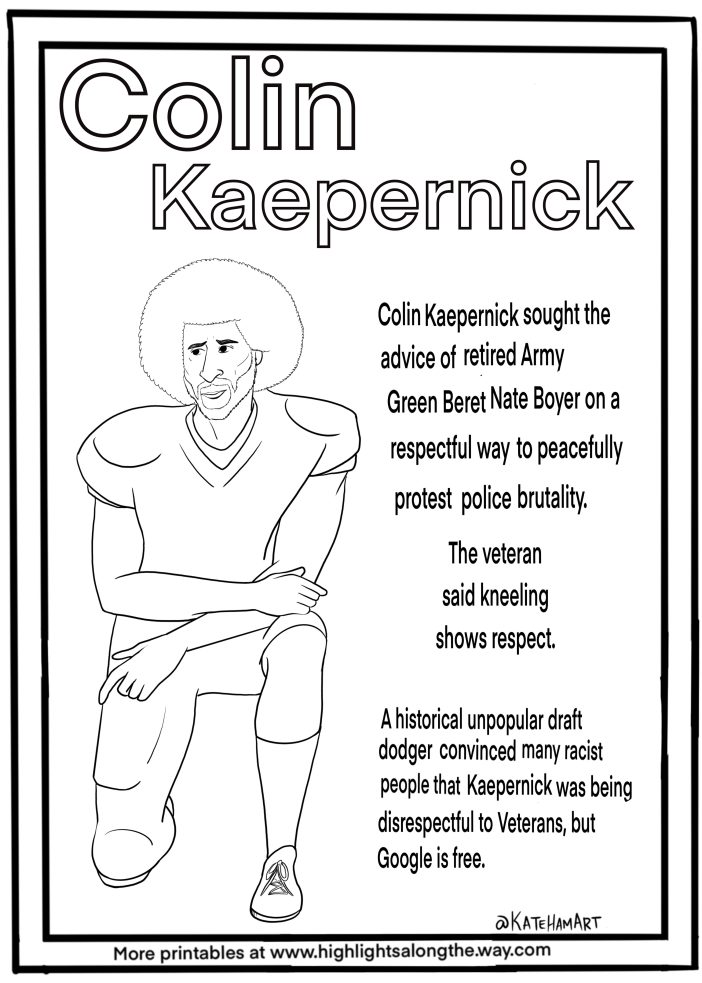 Colin Kaepernick began peacefully protesting in public spaces about the continued problems with policing in his own country towards people of color. Despite him literally just kneeling, many snowflakes could not handle his protest. He is quoted as saying he kneels because it is a respectful gesture. Kaepernick consulted with those in the military before he began kneeling who said kneeling would be more respectful than sitting out. Colin Kaepernick's ability to continue a conversation without violence is a great lesson to children. Feel free to click and print this free coloring page of Colin Kaepernick for Black History month lessons.
Dr. Martin Luther King Jr. Coloring Page Click this link!
Misty Copeland Coloring Page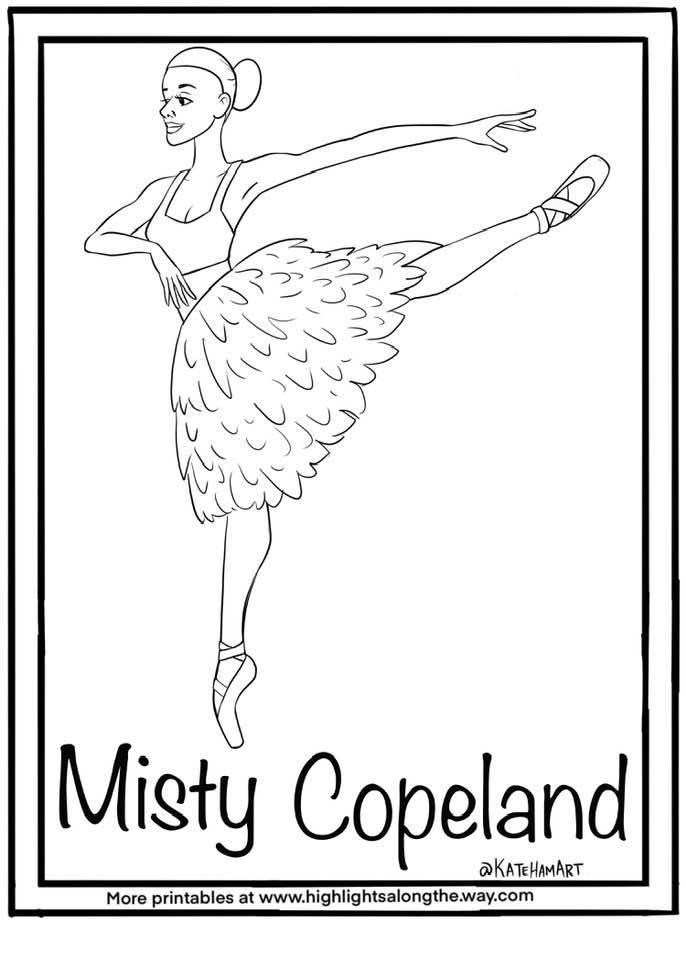 Who is Misty Copeland?
Misty Copeland is an American ballet dancer for American Ballet Theatre. Misty Copeland was the first African American principal dancer for the American Ballet Theatre. Children learning about Black History Month are welcome to click and print this free coloring page of Misty Copeland.
Frederick Douglass Coloring Page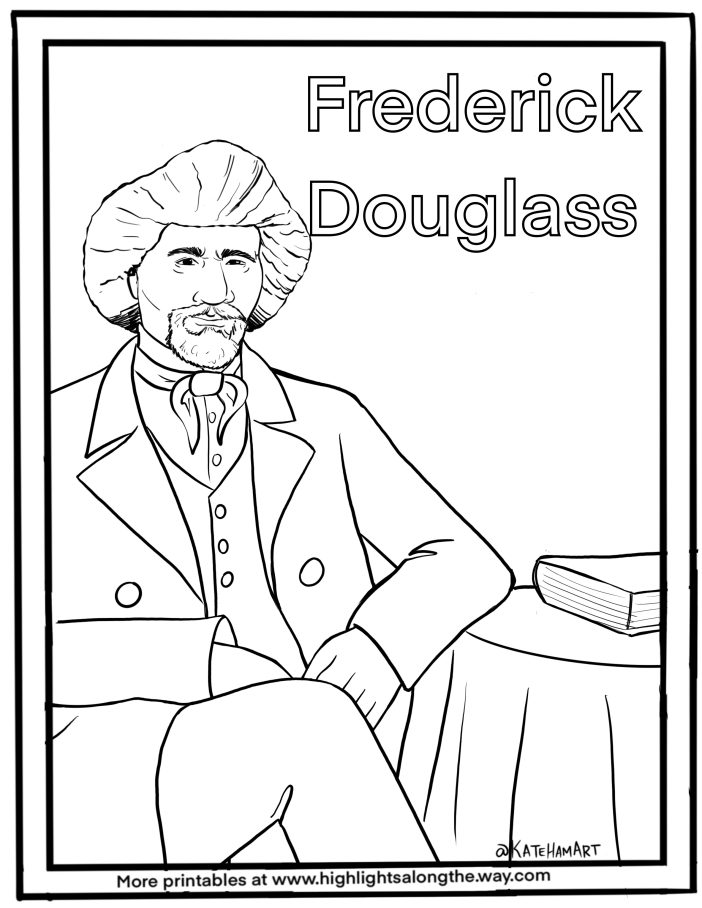 Who was Frederick Douglass?
Frederick Douglass was a formerly enslaved man who became a prominent activist, author and public speaker. Frederick Douglass became an important leader in the abolitionist movement. Frederick Douglass was a pivotal figure in the fight to end slavery in the United States of America. After that conflict and the Emancipation Proclamation of 1862, he continued to push for equality and human rights until his death in 1895. Frederick Douglass was one of the most photographed African American people of his time.
Black History Activity Sheets
Below there are several pages of free printable resources for black history month. Feel free to click the words which are linked to an individual post with the full sized high resolution printable. All of the following printables are a free resource for teachers and homeschooling families. This is just a small resource; we hope that you and your students are able to use these Black History Month activity sheets as a free supplement in your teachings. My hope is this is a contribution to a more inclusive school environment for all children.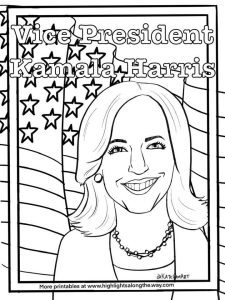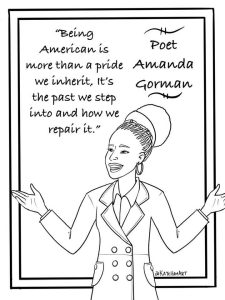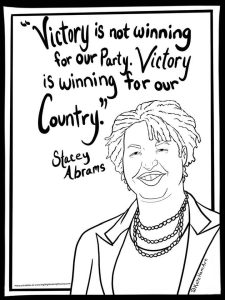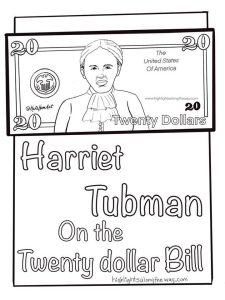 Black History Month Coloring Pages – Coming Soon! Bookmark and return! If you have a suggestion for a historical figure to feature, please leave it in the comment section. We hope this will continue to grow as a valuable resource of inexpensive and free educational tools for teachers and schools.
Coming soon!
Jackie Robinson – Coloring Page COMING SOON1
Henry Ossian Flipper – coloring page COMING SOON!
In 1877 Henry Ossian Flipper became the first African American to graduate from West Point. Upon his completion, Flipper was also the first Black man to be commissioned in the Army (or any branch of the military for that matter).
Black History Month is an annual celebration that takes place in February and is dedicated to honoring the contributions and achievements of Black Americans. It is an important time for students and teachers to learn about the rich history and culture of the Black community and to recognize the ongoing struggle for civil rights and equality. As an elementary school teacher, there are many ways you can incorporate Black History Month into your classroom.
Here are some ideas for celebrating Black History Month in your elementary school classroom:
Read books about Black history and culture: There are many excellent books available for elementary school students that focus on Black history and culture. Consider incorporating some of these into your lesson plans and reading aloud to your students. You can also encourage your students to check out books from the library on their own and bring them in to share with the class.
Learn about important Black figures: Black History Month is a great time to learn about the contributions of important Black figures in history. This could include civil rights leaders like Martin Luther King Jr. and Rosa Parks, scientists like George Washington Carver and Mae Jemison, and artists like Langston Hughes and Maya Angelou. You can incorporate lessons about these figures into your curriculum and encourage your students to learn more about their lives and achievements.
Explore Black art and culture: Black art and culture are an important part of the Black community, and there are many ways to celebrate this in your classroom. You could have your students create their own art inspired by Black artists, listen to music from Black musicians, or learn about traditional Black dance and theater.
Discuss current events: Black History Month is also a good time to talk to your students about current events related to the Black community. This could include discussing issues like police brutality, racial injustice, and the Black Lives Matter movement. It is important to approach these topics with sensitivity and to provide a safe and supportive environment for your students to ask questions and share their thoughts and feelings.
Encourage community involvement: Another way to celebrate Black History Month in your classroom is to encourage your students to get involved in the community. This could involve participating in local events or volunteering with organizations that support the Black community. You can also encourage your students to engage with Black-owned businesses in your community and to learn about the ways in which they contribute to the local economy.
By incorporating these ideas into your lesson plans, you can help your students learn about Black history and culture and promote a sense of understanding and appreciation for the diversity that exists within their own community.