Blogging goals for 2017 – setting goals for a successful New Year of blogging!
Disclosure: This site uses affiliate links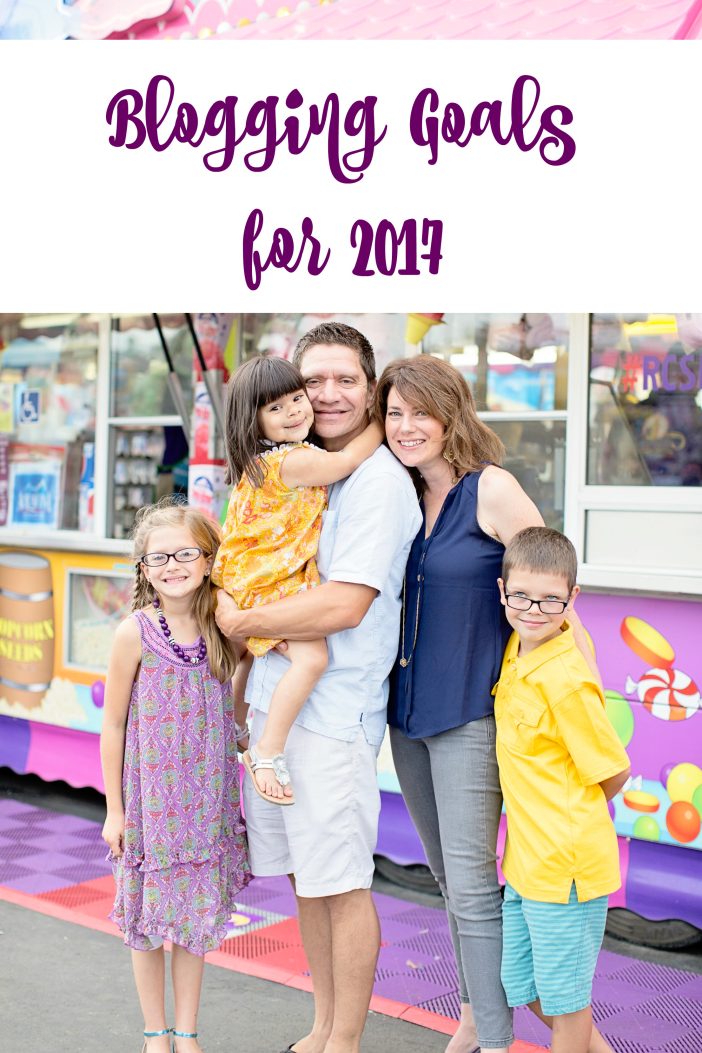 Happy almost 2017!  2016 has been a weird year for sure, but I am hopeful.  As each year draws to an end I am so thankful for the business of blogging. While some may shout that blogging is dead; that has not been my experience.  Each year my blog has grown.  Each year I have more opportunities to partner with brands on content creation and adventures.  Flexibility and boundaries have become easier.  Goal setting has been such a great tool for me as a professional blogger.  As we approach the new year I am excited to share what my goals for 2017 are.  I shared my 2016 blogging goals as well, I was able to achieve several of them. Way to go me!
Below are my goals for the coming year.  I hope to finish out my goals from 2016 and also add the following.  I don't feel the need to be a six figure blogger, but I am beyond thankful for the opportunity to work from home.  Blogging has provided our family and the causes we support with consistent and reliable income and that blessing is not lost on me.
Hire a virtual assistant – while I have had a virtual assistant help a little here and there, I think I need to create a larger budget for this area. While social media is fun for a lot of folks, for me it feels like a chore.  I want to farm a bunch of that out. DONE!
Start using Tailwind. DONE! Signed up!  Wanna join too? Here is my referral link (You get a FREE month after your free trial if you sign up with my link! bonus!)
Attend Dad 2.0 with Harry so we can take both our blogs to another level. Tickets purchased! DONE!
Share more recipes.  The last half of 2016 was so busy I wasn't able to produce nearly as many recipe posts as I would have liked.  My goal is at least one recipe per month, and hopefully a guest blogger each month too!
Shut off the computer by 10pm every night and stay off the computer on Sundays.  I did better at this in 2016 than ever before, I hope to get better at this set up in 2017. FAILED MISERABLY. There is always 2018.
Reach 15,000 on Twitter – I had hoped to hit 10,000 in 2016 which was maybe a little higher than I should have tried to aim for.  I am at close to 9,000 so – almost, but not quite! I know that growing Twitter will help me with several paid opportunities in the future, so hopefully I can grow.
Reach 10,000 on Instagram – this was a goal last year but I didn't even get close.  2017 is the year! DONE!
Reach 5,000 followers on Pinterest. DONE!
Reach 5,000 Facebook Followers.
Interview someone even cooler than I interviewed in 2016. Hmmmm, I interviewed Steven Speilberg and Lin-Manuel Miranda in 2016 so that's probably a no.  That being said, I interviewed Meryl Streep in 2015 and was pretty sure I was cooked then, so who knows. Yes I know that is some shameless name dropping, but it's kinda my favorite random thing I do now.
Go somewhere we have never been before.  We are in talks already! DONE! We went to Yosemite!
Fix that YouTube Channel that I said I was gonna fix last year and hit 1,000 subscribers!
Start sharing more Educational printables on a more regular basis.
Take a Photography class. I haven't taken a photography class since college and I really need an update!
Go on a vacation that is not at all sponsored and that nobody sees a thing about on social media.  Harry and I did that last year, just a two day getaway and it was fantastic!
Make more money! Why is this something I cringe at every time I write it? Everyone deserves a raise.  My social channels, subscribers, and my page views continue to go up. Demand is higher. Expenses are a bit higher.  For all those reasons, my rates for new clients are going up. Last year I made more money than the year before and I plan on doing it again.  That isn't weird right? DONE – surpassed 2016 by October. Everything after was a raise!  This was even with losing my biggest monthly client midway through the year.
If your blogging goals in 2017 are simply to start your blog – have I got a post for you!  Please check out How to Start a Blog, if it is something you have been thinking about – don't put it off. Blogging is not only a fun and creative outlet, it can totally be your own business. Happy 2017 friends!  I am pretty sure it is gonna be weird, but we will get through it!