Bluey Easter Coloring Sheet
Instant download Bluey Easter Coloring Page. Click and print Bluey celebrating Spring and Easter on a fun activity sheet. Free for teachers to share with their students. Color this free activity page at home. Please check out all our fun kid's cartoon coloring pages on our site!
Bluey holding an Easter basket full of colorful eggs high resolution coloring page! We love Bluey and we love Spring and Easter! If this is a popular printable we will make Bluey coloring pages celebrating other fun holidays too. Print out for your favorite Preschooler today, they will be so happy!
Bluey Easter Coloring Page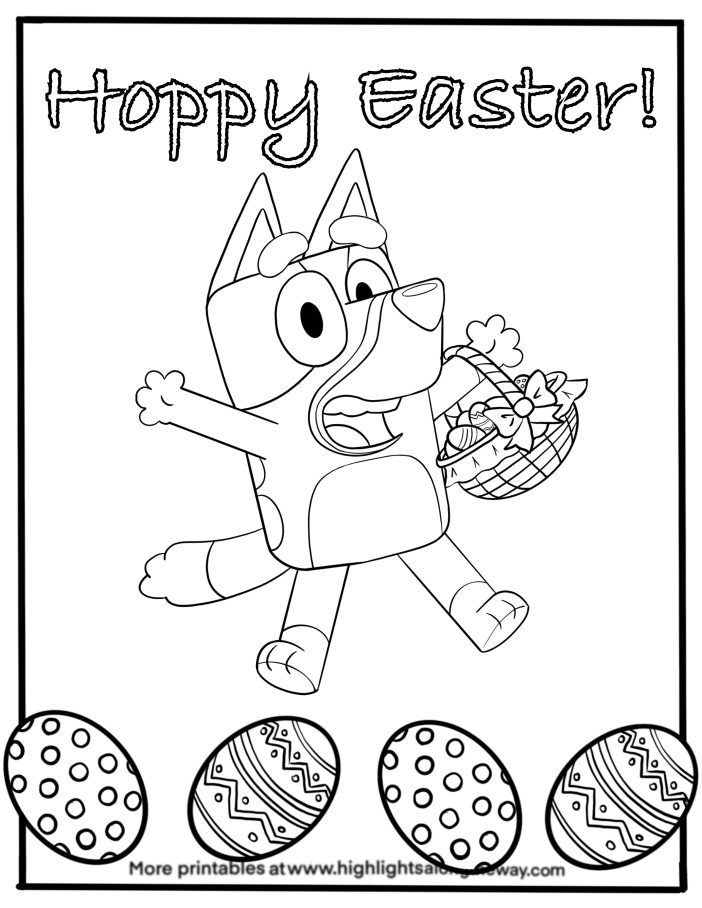 What is Bluey?
Bluey is an Australian animated tv series. The cartoons are geared towards preschoolers, but adults have learned many wonderful lessons from Bluey as well.
Bluey is an anthropomorphic 6 year old Blue Heeler Puppy. Bluey has lots of energy and imagination.
Bluey is popular all over the world for their sweet lessons and fun characters.
Please check out my other instant download printable coloring pages featuring historical figures and some of our favorite characters. These are simply fan art to enjoy!
This is original art drawn my me; Kate Hamernik – I am a coloring book artist and animation student. I create these coloring pages for homeschoolers, teachers, homeschooling families, and just kids who love to color while learning about people who make the world a better place. Thank you for supporting a mom who is back in school trying to chase a dream.