Bluey Gift Guide
Disclosure: Highlights Along the Way is a participant in the Amazon Services LLC Associates Program, an affiliate advertising program designed to provide a means for sites to earn advertising fees by advertising and linking to amazon.com. This site uses affiliate links.
Bluey is one of the most popular shows on Disney+ for kids right now and the character are equally loved. There are tons of different option for Bluey and Bingo gifts for kids and we've curated the best of the best ideas. We hope you enjoy our Bluey gift guide and Bluey gift ideas with Bluey toys, Bluey stuffed animals, Bluey Clothes, Bluey Arts and Crafts Sets, Bluey Bluetooth Headphones, and more!
"Bluey" is an adorable kids' show that stands out for its heartwarming family. The animated series follows the adventures of two lovable puppies named Bluey and Bingo. What makes "Bluey" a kid's favorite is its sense of imaginative playtime and creativity. The show also teaches kids valuable life lessons and helps them learn without them even realizing it.
Bluey Gift Guide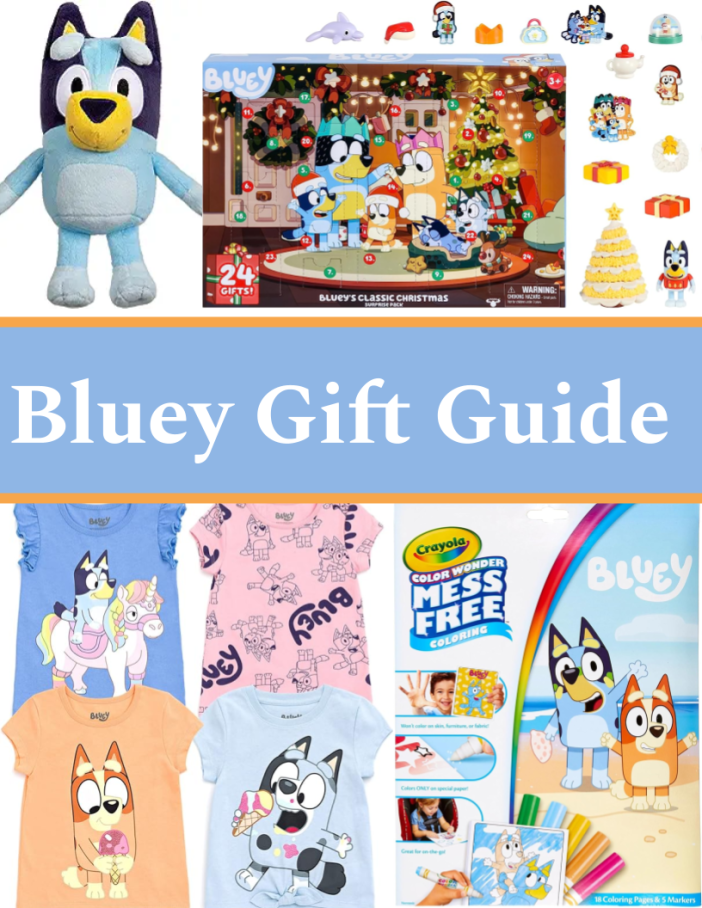 Bluey Toys
First things first, Bluey toys are one of the most desirable options for a Bluey gift. These — bluey toy ideas are all fun, unique, and thoughtful.
Bluey Stuffed Toy Plushie
To start off, there is this adorable Bluey plush that is the perfect size for toddlers to play with and carry around. It looks just like the cartoon!
Amazon.com: Bluey Friends – Bluey 8″ Tall Plush – Soft and Cuddly : Toys & Games
Bluey Ride on Toy
This Bluey car toy is great for toddlers because they can ride on it and even listen to music. Kids will love to scoot around on it.
Amazon.com: Bluey 6V Ride On Car for Toddlers – Interactive Electric Car for Kids with Sound Effects & Music, Riding Toy for Boys & Girls, Includes 6V Rechargeable Battery & Charger, Large : Toys & Games
Bluey Pop-up Play Tent
This pop up and play tent is a super cool and unique toy for kids. Especially on Christmas, most kids think bigger is better, so this is the perfect idea!
Amazon.com: Bluey – Pop 'N' Fun Play Tent – Pops Up in Seconds and Easy Storage, Multicolor : Toys & Games
Bluey Clothes and Costumes
Kids love clothes that feature their favorite characters. If they love Bluey, then they will be super excited to unwrap any of these adorable Bluey clothes!
Bluey T-Shirt Set for Girls
These adorable t-shirts come in a four pack and feature Bluey, Bingo, sparkles, and unicorns! This Bluey t-shirt set is perfect for little girls who love the show.
Amazon.com: Bluey Girls 4 Pack T-Shirts Toddler to Little Kid: Clothing, Shoes & Jewelry
Bluey T-Shirts for Boys
These Bluey t-shirts are great for toddler boys and come in a pack of three. They also feature both Bluey, Bingo, and their parents.
Amazon.com: Bluey Toddler Boys 3 Pack Graphic T-Shirts 4T Blue: Clothing, Shoes & Jewelry
Bluey Toddler Costume
Dress up is an awesome activity for kids. Who says dressing up is only for Halloween? Suprise them this Christmas with a Bluey costume!
Amazon.com: Disguise Bluey Classic Toddler Bluey Costume : Clothing, Shoes & Jewelry
Bluey Crafts and Craft Sets
Another great idea to consider for your Bluey gifts are arts and crafts projects. Kids love these, its almost like you are gifting them an experience and a toy. Many sets contain lots of pieces and beads, but all of these Bluey crafts are simple with easy clean up.
Bluey Make-Your-Own Suncatcher Craft Set
This bluey suncatcher set is easy to use and clean up. Unlike other suncatcher sets, it uses special markers to fill in the suncatchers instead of beads. This makes this set convenient and very toddler-friendly.
Amazon.com: Bluey Window Art Suncatchers Kit for Kids to Paint, Great at-Home Craft Activity or Birthday Party Idea, Toys for Ages 3, 4, 5, 6 : Toys & Games
Bluey Paint-Your-Own Figurine Set
These figurines are adorable and come with paint, brushes and all the supplies to decorate them. They even light up!
Amazon.com: Bluey Paint Your Own Light-Up Figurine, Bingo Night Light, Toys for Kids, Playset, Party Decorations, Game, for Kids Ages 3+ : Toys & Games
Bluey Coloring Pages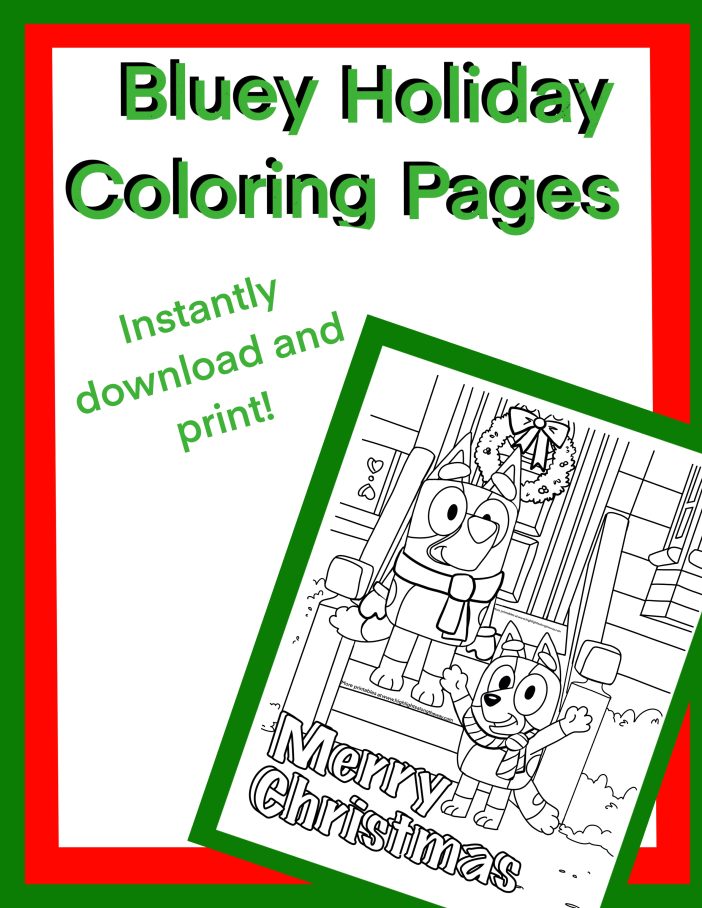 These coloring pages are a great stocking stuffer and Christmas activity for the kids. You can also add a new marker set like these to make it a fun activity.
Bluey Color Wonder Set
If you've got younger kids, or just kids that are a little messy, a better option would be this color wonder set. Or even if mess isn't a concern, color wonder is just so magical and fun for kids and they may love it even more anyway!
Amazon.com: Crayola Bluey Color Wonder Coloring Set, 18 Bluey Coloring Pages, Mess Free Coloring for Toddlers, Holiday Gift, Stocking Stuffers : Crayola: Everything Else
Bluey Gifts for Big Kids!
Before you go, I thought I'd include some gift ideas for older kids. These gift ideas are perfect for Kindergarten and elementary schoolers.
Bluey Advent Calendar
If you're looking for an alternative to traditional chocolate advent calendars, this Bluey Advent calendar toy set is a great option! Every day of the month, the kids will get to unwrap a tiny Bluey present!
Amazon.com: Bluey's Exclusive Advent Calendar Pack. Open the Packaging To Find A Bluey Surprise Each Day For 24 days Including Exclusive Figures! | Amazon Exclusive : Home & Kitchen
Bluey Scooter
This scooter is perfect for helping kids get their energy out after school. It is self-balancing and has a brake, which makes it safer than other scooters. And it's Bluey themed and super cute!
Amazon.com: Bluey Self Balancing Kick Scooter with Light Up Wheels, Extra Wide Deck, 3 Wheel Platform, Foot Activated Brake, 75 lbs Limit, Kids & Toddlers Girls or Boys, for Ages 3 and Up : Toys & Games
Bluey Bluetooth Headphones
These Bluey Bluetooth Headphones are perfect for long car rides and working on homework.
Amazon.com: eKids Bluey Bluetooth Headphones for Kids, Wireless Headphones with Microphone Includes Aux Cord, Volume Reduced Kids Foldable Headphones for School, Home, or Travel
Whether it is for birthday or a holiday gift, your Bluey fan will love any of the gifts on this list!