Bluey St. Patrick's Day Coloring Page
Disclosure: This is just fan art! This site uses affiliate links.
Bluey holding a four leaf clover in front of a rainbow high resolution coloring page! We love Bluey and we love St. Patrick's Day! If this is a popular printable we will make Bluey coloring pages celebrating other fun holidays too. Print out for your favorite Preschooler today, they will be so happy!
Everyone's favorite blue baby is excited about St. Patrick's Day. Here is little Bluey holding up a lucky four leaf clover to celebrate St. Patrick's Day. Click and print this line art drawing of Bluey wishing luck at the end of a rainbow.
St. Patrick's Day is quite fun to celebrate, but do not miss our brand new FREE Bluey Easter Coloring Page as well. All our fan art Bluey coloring pages are free to click and instantly download. Enjoy our growing library of Bluey holiday activity sheets for home and school use. We hope that teachers and fans of Bluey will share our free coloring sheets with others who many also love Bluey. We have thousands of coloring sheets (licensed and fan art) free to use for personal use on our site. Please take a look and help us grow!
Bluey Coloring Page – Instant Download – St. Patrick's Day!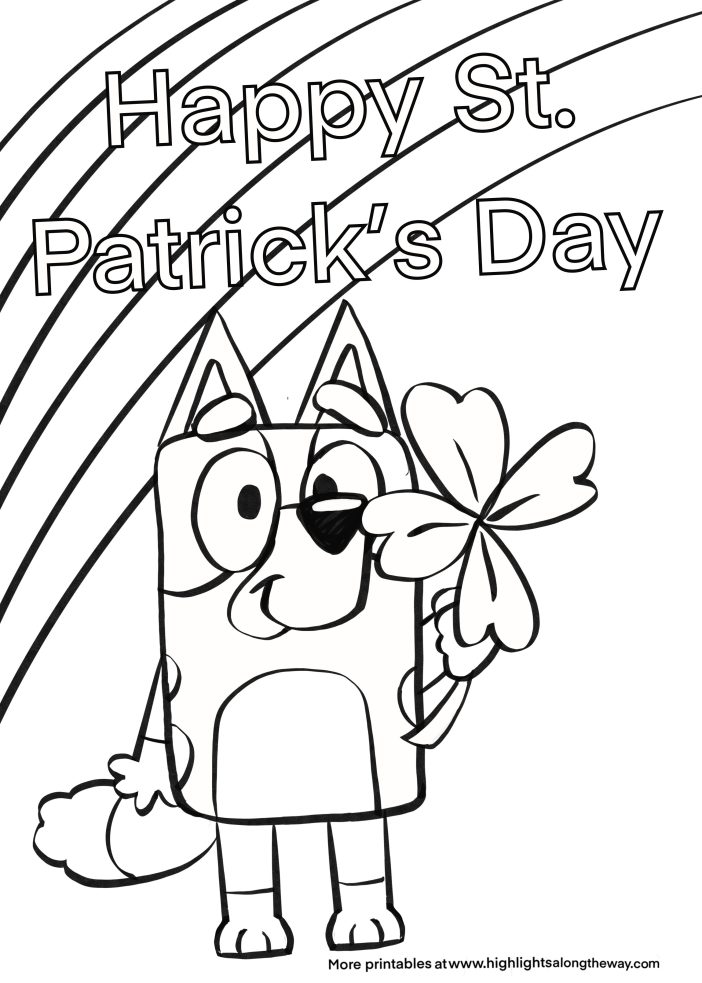 Bluey may not be Irish, but he still knows how to celebrate St. Patrick's Day. Everyone's favorite character cartoon puppy is celebrating the luck of the Irish today. For now, color this Buey St. Patrick's Day printable activity sheet from your own home.
Please check out my other instant download printable coloring pages featuring historical figures and some of our favorite characters. These are simply fan art to enjoy!
This is original art drawn my me; Kate Hamernik – I am a coloring book artist and animation student. I create these coloring pages for homeschoolers, teachers, homeschooling families, and just kids who love to color while learning about people who make the world a better place. Thank you for supporting a mom who is back in school trying to chase a dream.
If you enjoy this free educational printable coloring sheet celebrating Black History MOnth, make sure to check out our educational printable section featuring California Missions, and so many more! We also have 'just for fun' coloring sheets featuring Gabby's Dollhouse Coloring Sheets , We Can Be Heroes Coloring Sheets, Sharkboy and Lavagirl Coloring Sheets, American Girl Doll Coloring Sheets , Olaf Coloring Sheets, Coco Coloring Sheets , Trolls Coloring Sheets and so many more on our site!
Teachers are welcome to share a direct link to this webpage to their students. Pretty please do not just copy and share.
We have also added a few paid printable coloring sheets in our Etsy shop to offset the price of keeping our site up and running. Once downloaded you can print as many as you would like. Use for an entire class and year after year.
MORE FREE COLORING SHEETS BELOW!
FREE Nature Themed Printables from WWF – click and print for FREE!
FREE Melissa & Doug Printables – print from home to learn and enjoy!