Bob's Burger Group Costumes!
Disclosure: Highlights Along the Way is a participant in the Amazon Services LLC Associates Program, an affiliate advertising program designed to provide a means for sites to earn advertising fees by advertising and linking to amazon.com. This site also uses other affiliate links.
Grown ups and teenagers who still love cartoons know the Fox animated show "Bob's Burgers". With five main characters, Bob's Burgers is a great group costume option. Bob, Linda, Tina, Gene, and Louise Belcher are fun costumes for the whole family. The Belcher family is an easy last minute family or group costume. In celebration of the long awaited Bob's Burger's movie; we are sharing our family's Bob's Burgers costume idea!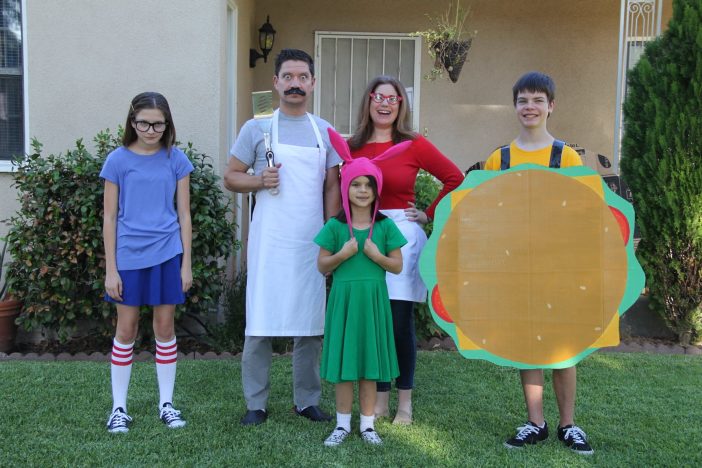 I personally do not like to purchase costumes for one time use. I prefer to use items from our own wardrobe, pieces we find at thrift stores, or as a last resort, something we can purchase on Amazon but also use in the future. Sometimes we can add items thrifted into our wardrobe after Halloween, those we cannot add into our wardrobe we simply return to the thrift store.
Bob's Burgers Movie 2022!
Bob's Burgers is a fun TV series that is sure to gain even more popularity with the Bob's Burgers Movie finally hitting the big screen on May 27th 2022!
Official Trailer – The Bob's Burgers Movie
20th Century Studios has released the trailer, new poster and still images for "The Bob's Burgers Movie," which will open in U.S. theaters on May 27, 2022.
"The Bob's Burgers Movie" is an animated, big-screen, musical comedy-mystery-adventure based on the long-running Emmy®-winning series. The story begins when a ruptured water main creates an enormous sinkhole right in front of Bob's Burgers, blocking the entrance indefinitely and ruining the Belchers' plans for a successful summer. While Bob and Linda struggle to keep the business afloat, the kids try to solve a mystery that could save their family's restaurant. As the dangers mount, these underdogs help each other find hope and fight to get back behind the counter, where they belong.
"The Bob's Burger's Movie" showcases voice talent which includes Kristen Schaal, H. Jon Benjamin, John Roberts, Dan Mintz, Eugene Mirman, Larry Murphy, Zach Galifianakis, Kevin Kline, and David Wain. The film's director is Bernard Derriman and its co-director is Loren Bouchard. The screenplay is by Loren Bouchard & Nora Smith. The producers are Loren Bouchard, Nora Smith and Janelle Momary.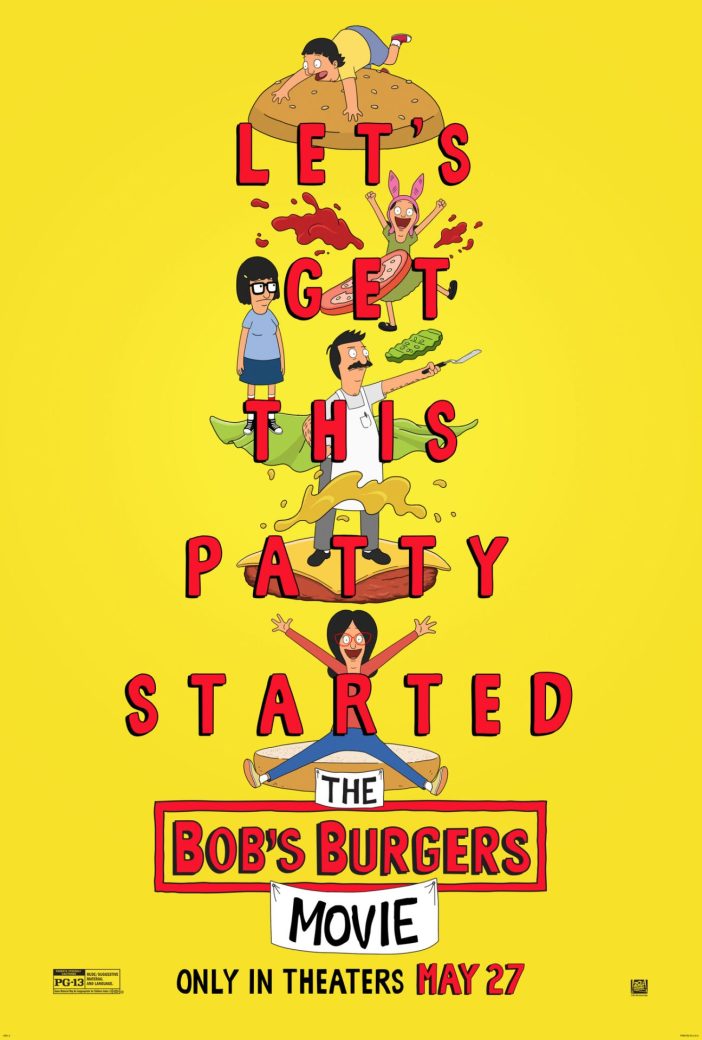 Bob's Burgers Coloring Pages – Click and print BeefSquach, Jimmy Jr, and more!
Bob Belcher Costume
Bob Belcher Costume – Grey Tshirt, Grey Pants, Plain White Apron, Mustache, Black clogs, and an optional spatula. We thrifted the tshirt, pants, and clogs which we will totally use again. We already had a spatula! We got an apron and peel and stick on mustache from Amazon.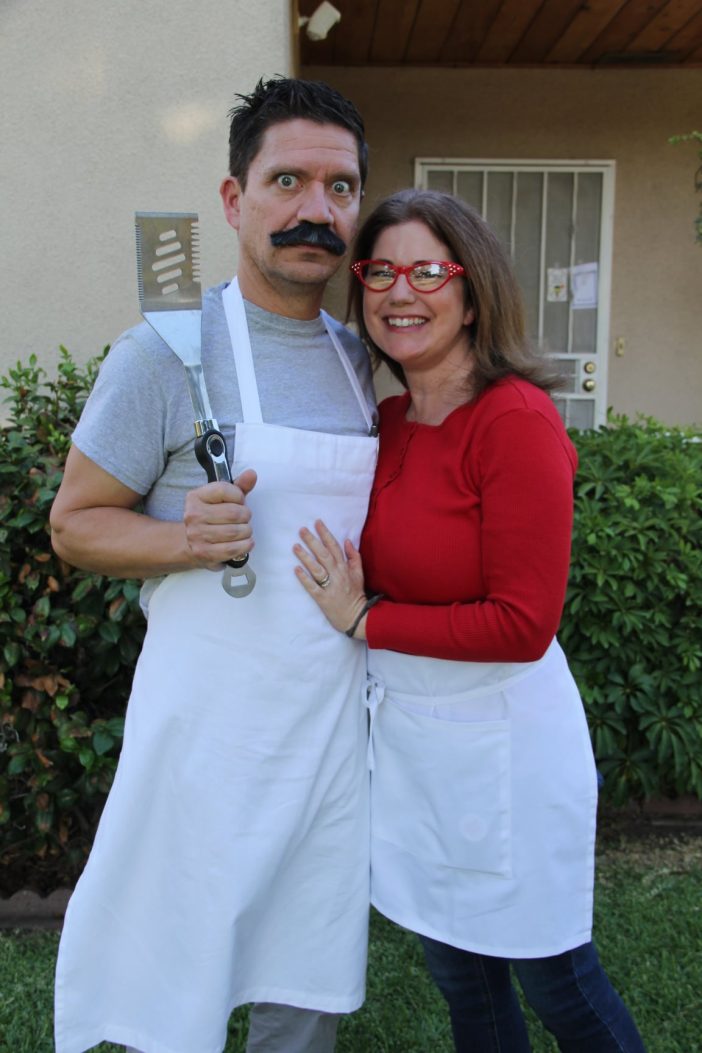 Linda Belcher Costume
Linda Belcher Costume – Red henley tshirt, half apron, skinny jeans, and red pointy glasses. I thrifted the red henley and already had appropriate jeans in my wardrobe. I will probably just return the henley to Goodwill, we consider the couple dollars we spend a rental fee. I did purchase the signature Linda Belcher glasses and a half apron on Amazon.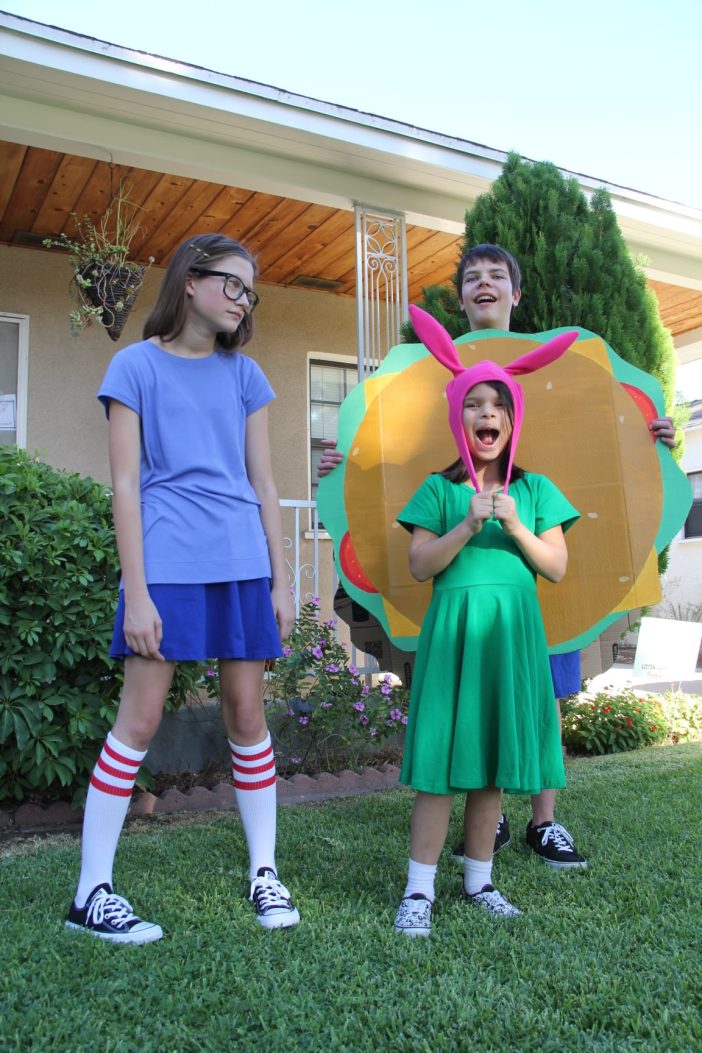 DIY Bob's Burgers Costumes
Tina Belcher Costume – Light blue tshirt, dark blue skirt, tall socks, black chucks, thick rimmed black glasses. We were able to find almost all of Tina's costume pieces at a thrift store. J plans on wearing the nearly brand new chucks for the rest of the year and actually likes the blue tshirt too. Bonus! We did purchase Tina's socks on Amazon.
Gene Belcher Costume – Bright Yellow Shirt, Bright Blue shorts, optional Hamburger Sandwich board. We looked for weeks at thrift stores and never found a plain yellow shirt or bright blue shorts. Alas, we had to purchase them new at a thrift store, but our son is sure to use them as PE clothes as we continue our virtual school journey. J got creative with a moving box and some acrylic paint to make his hamburger sandwich board. While there are far better burger costumes on Amazon, we knew we would never use it again and felt better about using cardboard and craft paint.
Louise Belcher Costume – Green Dress and pink bunny hat. We also needed to purchase both of Louise's pieces online. Roo has pointed out that this comfy green dress will be nice for Christmas and St. Patrick's day. She says she will wear her Louise Bunny Hat on Easter 'or just when I am feeling funny'.
Thank you to my amazing and talented friend Tee from That's It LA for her amazing photographs!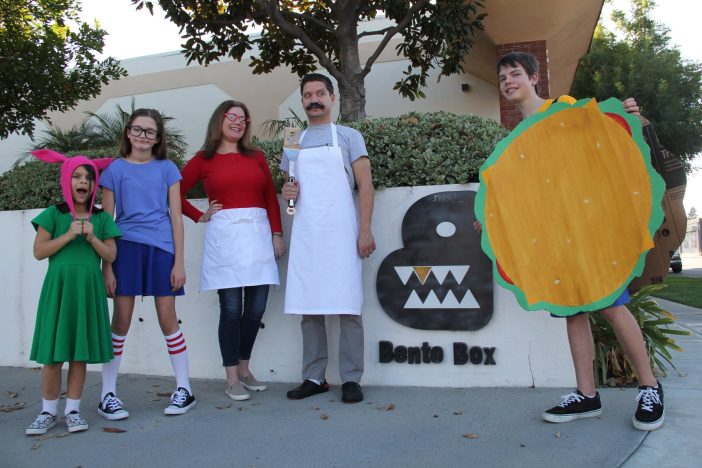 We just moved to a little suburb in Los Angeles and the animation studio that produces "Bob's Burgers" is just up the street. We had to take a little stroll and take our fandom to the next level!
What is Bob's Burgers?
"Bob's Burgers is an American animated sitcom created by Loren Bouchard for the Fox Broadcasting Company. The series centers on the Belcher family—parents Bob and Linda and their three children, Tina, Gene, and Louise—who run a hamburger restaurant. The show was conceived by Bouchard after he developed Home Movies. Bob's Burgers is a production by Bento Box Entertainment and 20th Television.
While reviews for the first season were mixed, feedback for subsequent seasons has been much more positive. The series premiere, "Human Flesh", drew in 9.39 million viewers, making it the highest-rated series premiere of the season and finishing ninth in the ratings for the week it aired.[4][5] Reruns began airing on Cartoon Network's late-night programming block Adult Swim on June 23, 2013, and its sister channel TBS in 2016[6] and began airing in syndication on local stations in September 2015.
A comic book series based on the show, published by Dynamite Entertainment, began in September 2014.[7] A soundtrack album was released on Sub Pop Records on May 12, 2017,[8] with a second volume announced on June 8, 2021.[9]
In 2013, TV Guide ranked Bob's Burgers as one of the 60 Greatest TV Cartoons of All Time.[10] The series has been nominated for several awards, including the Emmy Award for Outstanding Animated Program seven consecutive times, winning in 2014 and 2017.
The show has been renewed for twelfth and thirteenth production cycles.[11] In addition, a feature film was set to be released on July 17, 2020, before it was postponed to May 27, 2022, due to the effects of the COVID-19 pandemic." – Wikipedia