Bonus Features on AVENGERS : Infinity War
Disclosure: Thank you to Disney for the exclusive sneak peek and a copy of Avengers: Infinity Wars. This site uses affiliate links. All opinions are my own.
Today's the day!  AVENGERS : INFINITY WAR is now available on Blu-ray and Disney Movies Anywhere.  Infinity Wars was one of the most buzzed about Marvel films in a long time and we are so excited to have a sneak peek! My Marvel fans love seeing movies on the big screen, but also love to enjoy it again at home. Bonus features are such a fun addition to the movie. AVENGERS : INFINITY WARS has great bonus features that Marvel fan will not want to miss.
Sign up for  Movies Anywhere or log into your account when you purchase your new DVD or Blu-ray to unlock a whole new level to to Avengers. Disney Movies Anywhere not only allows you to enjoy the movie on your own TV, but also on your tablet or phone! We love to use our growing Movies Anywhere collection on road trips!
There are over two hours of bonus features, fans are going to love it!
Introduction by Directors Joe and Anthony Russo
Strange Alchemy – Explore the new team ups and analyze how these creative choices will influence the future of the univers.
The Mad Titan – Delve into the MCU's biggest, baddest, villain and the events he has orchestrated throughout the films.
Beyond the Battle : Wakanda
Beyond the Battle : Titan
Gag reel (this is always my favorite!)
Deleted scenes (this is always my husband's favorite)
Audio Commentary with Joe and Anthony Russo, Christoper Markus, and Stephen McFeely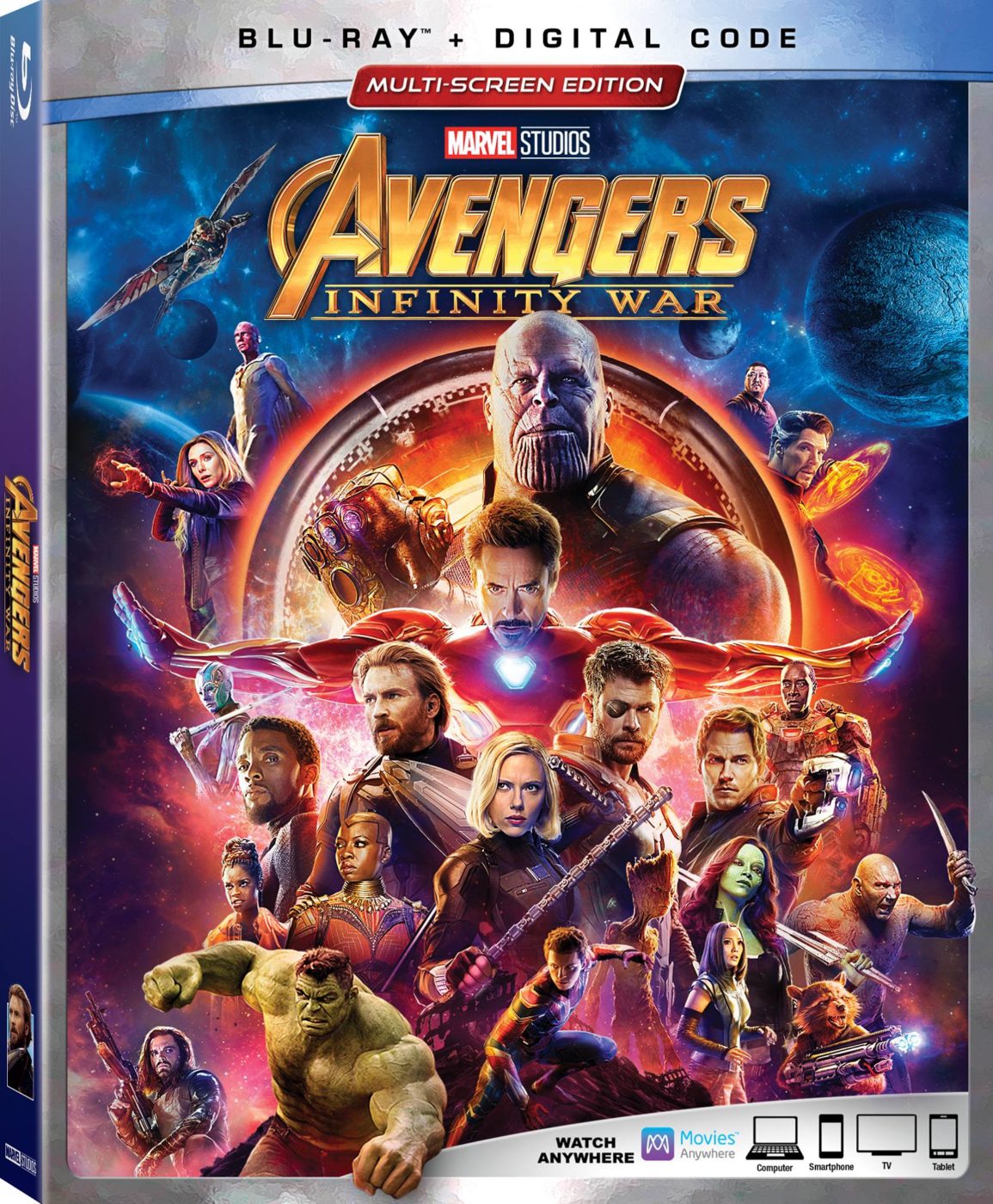 If you saw AVENGERS : INFINITY WAR in theater, you know why this is a must for any Marvel fan to have in their home collection.  If you have not seen it yet, buckle up because it changes everything.  Check out the trailer below…
Avengers Infinity Wars is rated PG-13.  I think that is a fair rating.  If you have not seen it and are not sure of the plot line, there is sci-fi violence throughout. Several characters die and it is quite intense.  On a personal note, I like to point out that Marvel movies tend to have a lot of action and generally some violence, but is not typically gory.  This movie may be emotionally difficult for those who are very attached to characters.  As a parent, we just let our son know a few spoilers ahead of time so he wasn't too caught off guard.
You can purchase your own copy in stores everywhere (who doesn't want to have an excuse to go to Target?!) or on Amazon right now!