Boo from Monster's Inc – Easy DIY costume!
Disclosure: Highlights Along the Way is a participant in the Amazon Services LLC Associates Program, an affiliate advertising program designed to provide a means for sites to earn advertising fees by advertising and linking to amazon.com.
Boo is one of the easiest costumes in the world to make yourself. Even if you have very limited crafting skills, you can easily dress up as one of the cutest animated characters ever to grace the silver screen. Boo is a perfect last minute dress up idea. Boo is a classic and easy to recognize character. Whether you are dressing up your baby, school aged child, or even yourself, this costume is quick and does not involve sewing. Boo is one of everyone's favorite Disney Pixar characters and the costume is just so fun! Follow these easy steps and get these core pieces to make an adorable costume for Trick or treat this Halloween! Check out below out to DIY this simple No Sew Disney costume.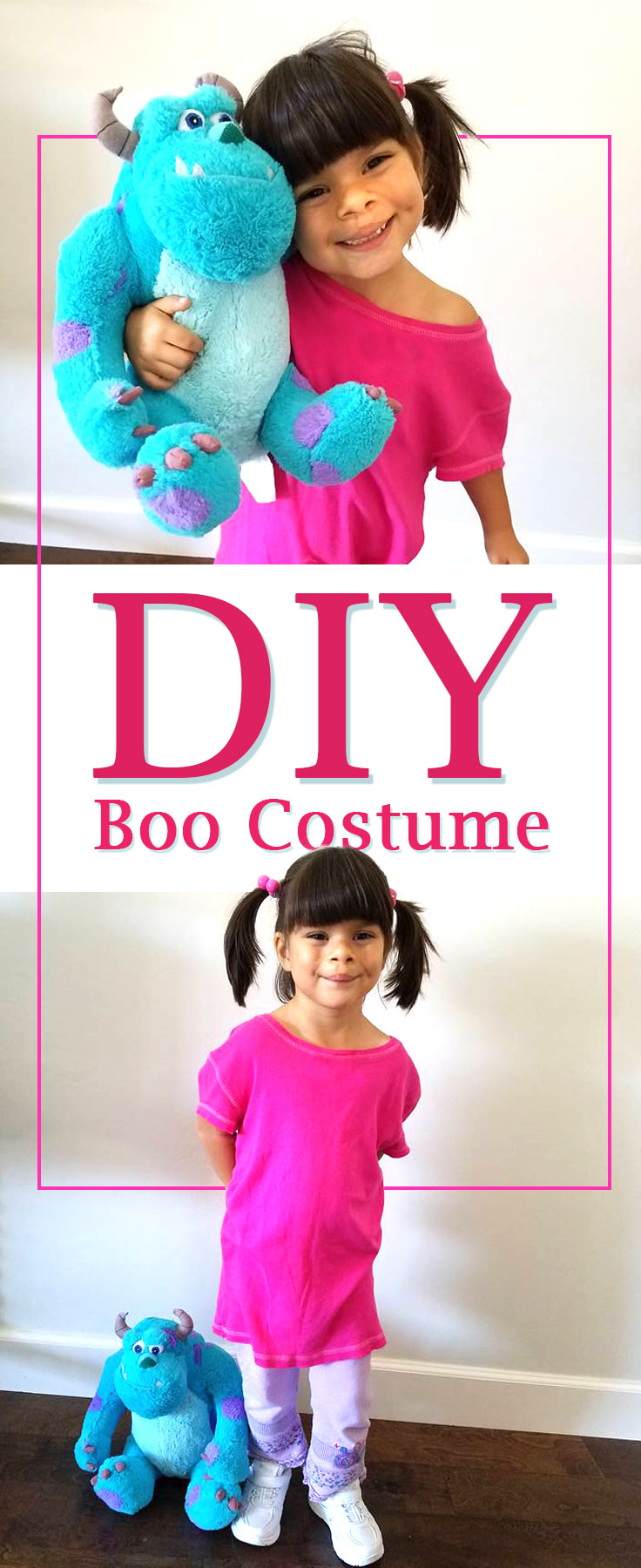 DIY Boo Costume. We have been told since our littlest was in diapers that she would make the perfect "Boo" for Halloween. We really love DIY costumes in our house so Boo has always been on our list. I especially like making costumes that do not involve sewing. Thrifted pieces are even better. This Boo costume is both.
Shopping at thrift stores really keeps our spending down. I have found that when you thrift pieces for our costume it tends to be much better quality that the average costume. In many cases we can wear the pieces we use throughout the next year in our wardrobe.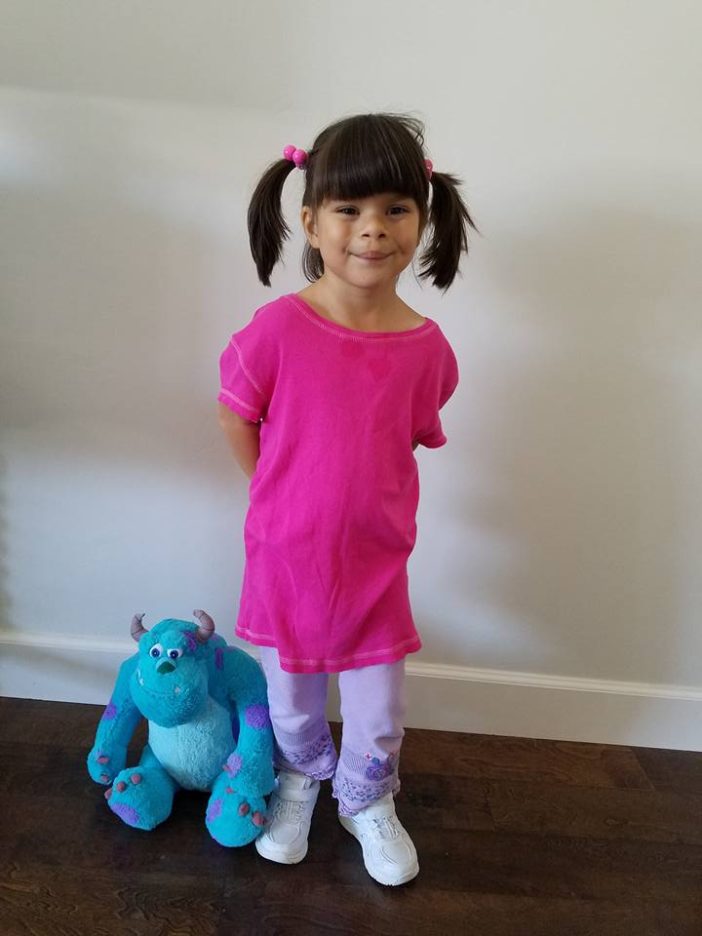 Boo is an easy costume that really works for any girl at any age. A toddler to kindergartner is going to be the best likeness. Also, while anyone can dress up as Boo, having big brown eyes and dark brown hair really starts the look off right. Boo has straight bangs and two little high ponytails. So many little kids have giant 'Boo' eyes that just happen to help the costume work.

"Monsters Incorporated is the largest scare factory in the monster world, and James P. Sullivan (John Goodman) is one of its top scarers. Sullivan is a huge, intimidating monster with blue fur, large purple spots and horns. His scare assistant, best friend and roommate is Mike Wazowski (Billy Crystal), a green, opinionated, feisty little one-eyed monster. Visiting from the human world is Boo (Mary Gibbs), a tiny girl who goes where no human has ever gone before."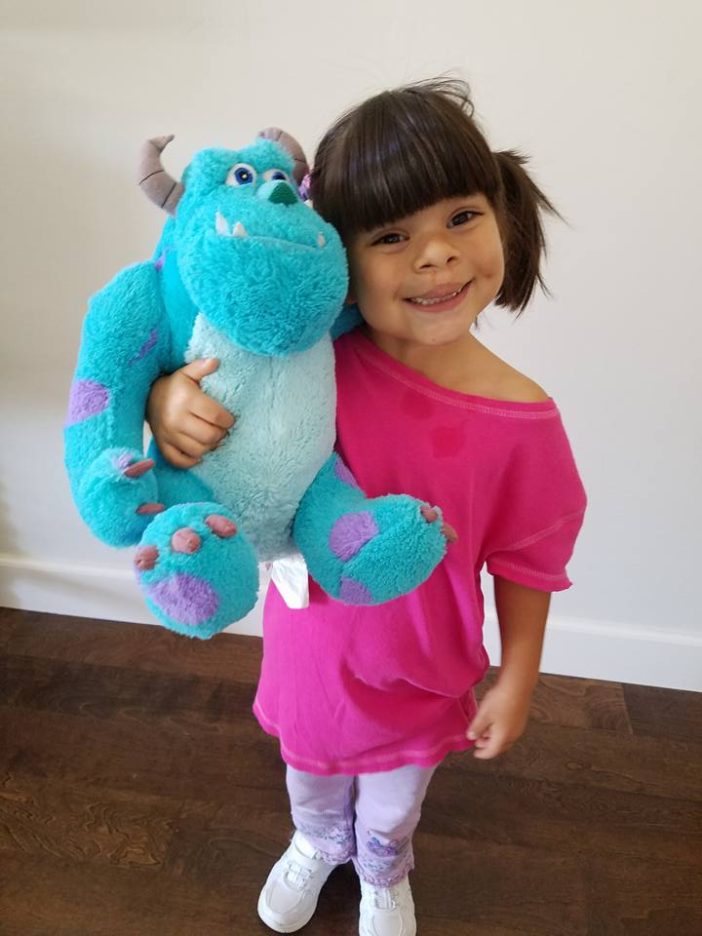 Costume pieces are really so easy for Boo. Grab a bright pink over sized t-shirt. A pair of lavender leggings complete her main outfit. Boo does not wear shoes, but trick or treating in socks is seriously impractical. We chose plain white tennis shoes, she will continue to wear them all season long! Boo wears classic ball pony tail holders in bright pink. We found our top and leggings on a quick trip to Goodwill. Shoes and hair accessories were on sale at Walmart! Our whole costume rang up at under $20 and that includes our new shoes and a pack of hair accessories! There you go, your DIY Boo costume is done.
Here is the searching done for you on Amazon!
Purple leggings – check!
Pink ponytail holders – check!
Plain pink shirt (that you can totally wear again!) – check!
Need one more accessory? Make sure to bring Sully along so there is no question!
A couple years ago we posted about our Lilo costume. Little Miss C was Lilo from Lilo and Stitch. It was so popular the folks from Buzzfeed asked us if they could use it in a Disney costume round up! It was such a simple costume, if you are looking for a Lilo costume you should check it out. Equally as simple are our Dora the Explorer no sew costume and our Honey Lemon costume! We like to keep our costumes simple and no sew if at all possible. Boo is just as simple as the costumes we made in years past!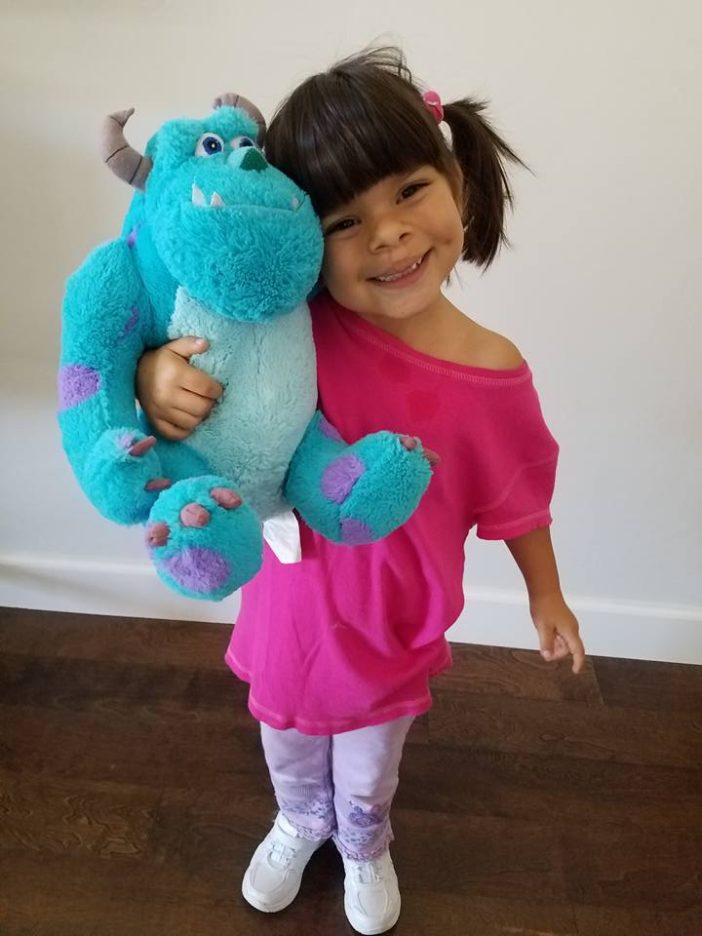 And if your heart is strong and you can handle the cuteness I have one more thing for you. When our little Boo was only two years old we took her to meet Sully at the Disneyland Resort. We accidentally dressed her in purple and pink, but the outfit was flipped. Even still, we loved how she just jumped to "Kitty". She really is Boo at heart!
Has your little one dressed up as Boo before? If not, it is the perfect last minute Halloween costume! Have a fun and safe Halloween friends! Be sure to check out all of our Halloween costumes here and share with your friends!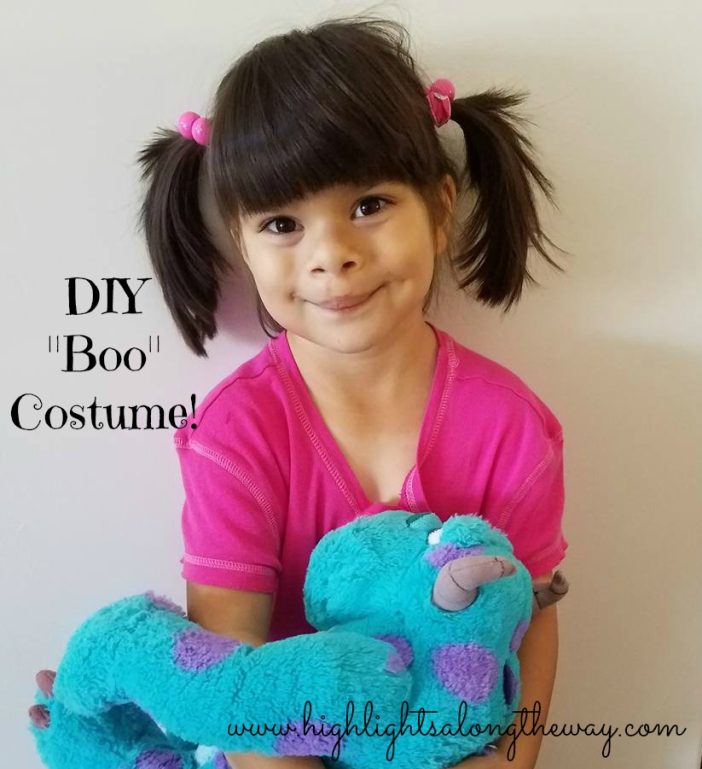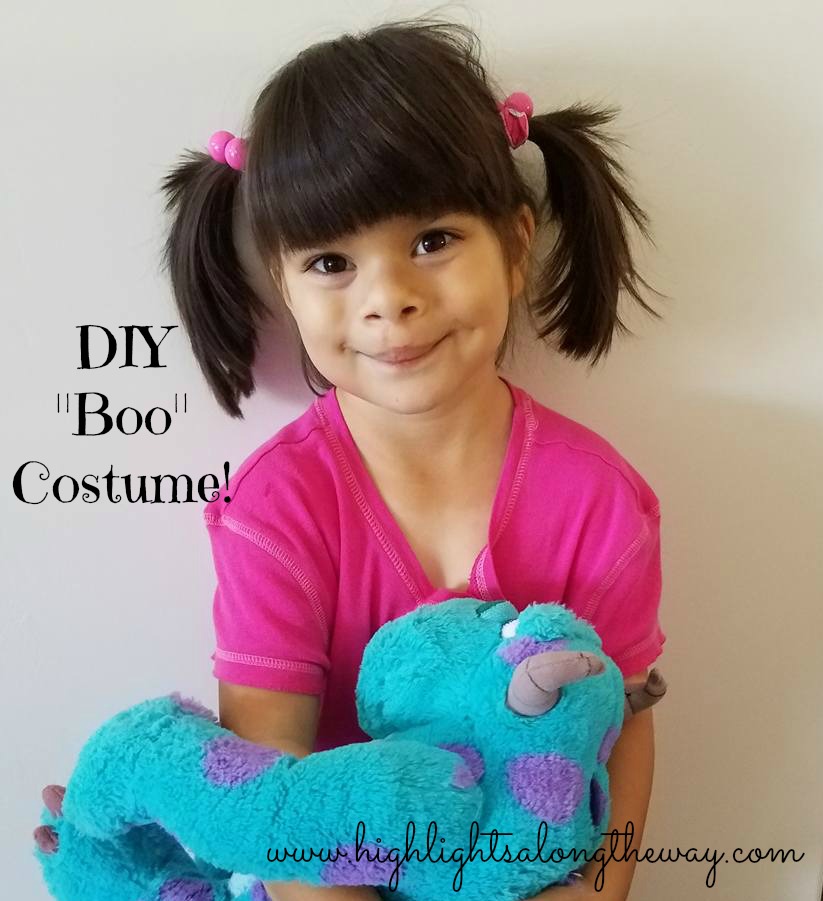 Save
Save