Book Gift Guide for Animation Students
Disclosure: Highlights Along the Way is a participant in the Amazon Services LLC Associates Program, an affiliate advertising program designed to provide a means for sites to earn advertising fees by advertising and linking to amazon.com. This site uses affiliate links.
Animation Students and Animators love books. My husband and I are both animation enthusiasts. Both Harry and I have been animation students. Harry has taught as an animation teacher in the past. We have a massive art and animation book collection as well as a long wish list of books. Below is a long book gift guide for animation students. Some books are classics needed in every animation student's library, and others are unique books your animation student may have not yet discovered. One thing is certain, this book gift guide for animation students has something for everyone!
Books are always a good idea! While artists and art students are always in need of art supplies, books are a valuable tool and thoughtful gift. Books by artists, books sharing behind the scenes of an animated film, and technique books are
We have already shared an animation student gift guide as well as an animation student stocking stuffer guide. If you are looking for a gift for an animator or animator in training; those curated lists are worth checking out. If you are looking specifically for books, we have a growing list here. The lucky person on your gift list may already seem to have everything, but nobody can have enough books. Books a thoughtful and inspiring to visual artists; make sure to bookmark this page and return each year as we promise to update it with our favorite finds!
As our readers know, we keep this site running with affiliate links. We hope that if you are shopping for books, you will check out our curated list and purchase from one of our affiliates. That said, I am a huge proponent of purchasing books used. Always keep your eyes open for art books in used book stores, library sales, and even thrift shops. While we share links to new items, please know we also encourage finding something gently preowned if you have the time and ability to do so.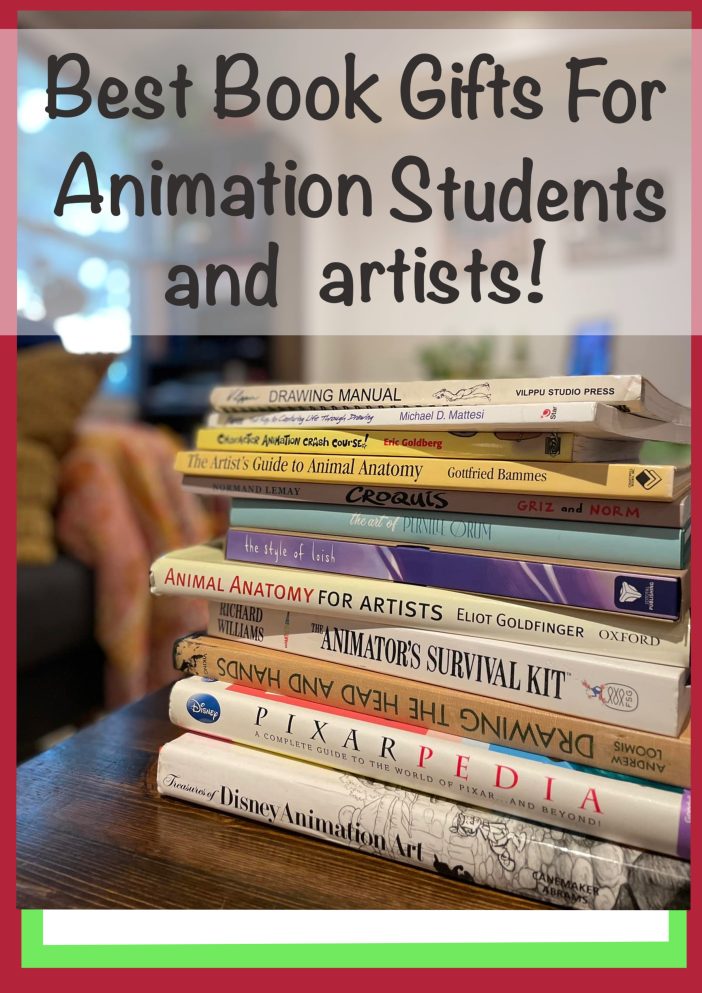 Book Gift Guide For Animation Students
Force Character Design (or anything by Mike Mattesi)
Storyboard Sketchbook – animation students are always creating storyboards. This Storyboard sketchbook is less than $20 and is something that artists will love!
Watercolor sketch books. This two pack watercolor sketchbook set is also under $20. Artists go through lots of paper, they will love this!

The Illusion of Life – every animator and animation lover has to have this book in their collection
The Art of Turning Red – animation lovers cannot get enough of "The Art Of" books.
Vilppu Drawing manual – Vilppu is a living legend.
Books by Andrew Loomis. I LOVE this Andrew Loomis Box Set with multiple books!
Gifts for Kids that are into Animation
The books above will be great gifts for kids that are interested in animation too! If you have a child on your gift list that isn't an adult college student, these are some great ideas for younger kids!
Animation Labs – (for kids!)
Included in this animation lab book –
A concise overview of the animation process

, from conceptualizing, designing, and scripting a film to basic tools, supplies, and adding sound

Traditional animation

: zoetropes, flip books, and cel animation

Downshoot animation

: 2D art surfaces and characters come to life

Straight-ahead animation

: projects for hand-sewn and claymation puppets, sets, and rigging

Pixilation

: the ins and outs of becoming your own stop-motion puppet

Inspiring examples from innovative and influential animators

, such as Kirsten Lepore, Hayley Morris, PES, and Emily Collins
The lessons require no previous experience for either child or adult. Animation Lab for Kids is a perfect way for parents, art teachers, home schoolers, after-school care providers, and community group leaders to guide and inspire creative kids to take their art projects to the next level with stop-motion movie making.
The popular Lab for Kids series features a growing list of books that share hands-on activities and projects on a wide host of topics, including art, astronomy, clay, geology, math, and even how to create your own circus—all authored by established experts in their fields. Each lab contains a complete materials list, clear step-by-step photographs of the process, as well as finished samples. The labs can be used as singular projects or as part of a yearlong curriculum of experiential learning. The activities are open-ended, designed to be explored over and over, often with different results. Geared toward being taught or guided by adults, they are enriching for a range of ages and skill levels. Gain firsthand knowledge on your favorite topic with Lab for Kids.
Have you ever wondered what your LEGO creations would look like on the big screen? The LEGO Animation Book will show you how to bring your models to life with stop-motion animation—no experience required! Follow step-by-step instructions to make your first animation, and then explore the entire filmmaking process, from storyboards to post-production.
Along the way, you'll learn how to:
–Create special effects like explosions and flying minifigures
–Convey action and emotion with your minifigure actors
–Design sets for animation—make three buildings look like an entire city!
–Light, frame, and capture consistent photos
–Add detail and scope to your films by building in different scales
–Build camera dollies and rigs out of LEGO bricks
–Choose cameras, software, and other essential animation tools
Dive into the world of animation and discover a whole new way to play!
Flipbook Kit for Kids
Create Your Own Flip book – Stop motion animation kit to create your own dinosaur book – ideal anime drawing kit gift for not only kids 9-12 but also anime fans and artists with passion in stop motion

All Tools Included – Each kit includes perforated flip book paper sheets, 4 color markers, clips and instruction sheet to make a total of 3 stop motion books. No scissors, glue or tape necessary

No Skills Needed – Two books are pre-drawn and ready for coloring while the other book is blank allowing you to create your own original animation – making it as a comic book drawing kit for kids

Dinosaur Book – The pre-drawn dinosaur books feature triceratops coming to life and a Pteranodon swirling and gliding past a volcano! Then use the blank sheets to make your own book featuring your favorite dinosaur.

Collect Them All – Fliptomania Flip Book Making Kits are available in various themes featuring robots, rockets, robots, butterfly, frog, basketball, soccer, noahs ark, David / Goalith, and art.
Animators and artists love books! You cannot go wrong with any of the books on this list. Consider this animation book list as a starting off point. If your loved one already has these books, they are sure to love another sketchbook or any other 'art of' book you can find!