Books for Black History Month
Disclosure: Highlights Along the Way is a participant in the Amazon Services LLC Associates Program, an affiliate advertising program designed to provide a means for sites to earn advertising fees by advertising and linking to amazon.com. Thank you to American Girl for sponsoring this giveaway.
Each year we try to be more intentional about learning new things about black history during February. February is Black History month, but we have noticed that many of our lessons in our kid's classes are still really watered down. We've been lucky enough to partner with American Girl Doll on a Middle School Reading list for Black History Month. While we have not read all of these books, we have added those we have not to our tween's reading list.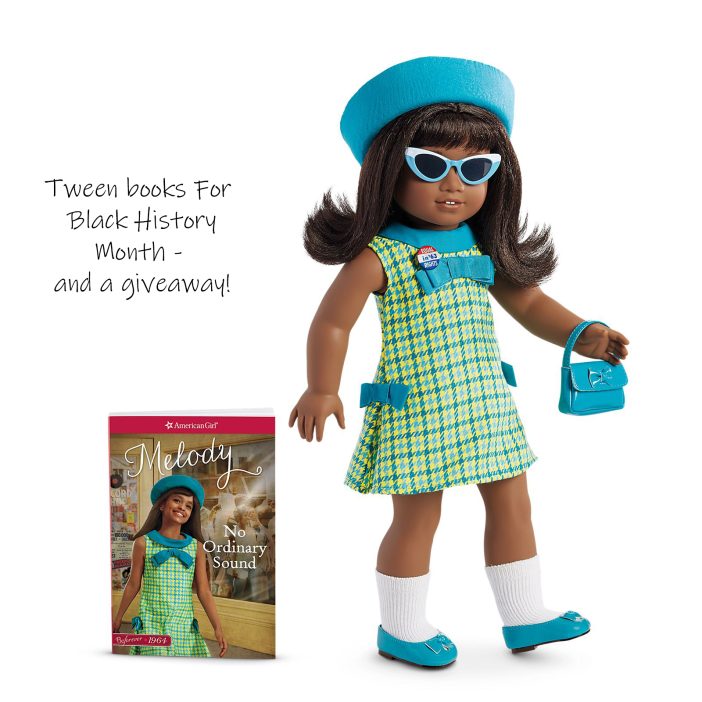 Brown Girl Dreaming
Extraordinary African Americans from Colonial to Contemporary Times
Students on Strike: Jim Crow, Civil Rights, Brown, and Me (National Geographic-memoirs)
Many Thousand Gone: African Americans from Slavery to Freedom
Dear Mrs. Parks: A Dialogue with Today's Youth
To Kill a Mockingbird
Roll of Thunder, Hear My Cry
Hidden Figures: The American Dream and the Untold Story of the Black Women Mathematicians Who Helped Win the Space Race
Four fictional books about Black History by American Girl

No Ordinary Sound – American Girl
Never Stop Singing – American Girl
Music in my Heart – American Girl
The Lady's Slippers – American Girl
Also, if you have a Kindle – please note the awesome deal of the first 3 Melody books for only $8.49 (at the time of this post)

While I have included Amazon and American Girl links, I am a huge fan of the library. We have read 7 of the books above and have a couple others on hold at the Library. I highly suggest taking a trip to the library and borrowing rather than buying, especially if you have avid readers! Should you choose to purchase books, I receive a small commission for any books you buy above (at no additional cost to you). Our kid's poorly funded braces fund thanks you!

Please note, our American Girl Doll Giveaway has ended! Please check back for giveaways in the future. We hope you still enjoy the many awesome books on this list.
As promised, the good folks at American Girl has provided a Melody doll along with one book for one lucky winner! Meet the charming Melody Ellison below and see the instructions to enter.
Who is Melody Ellison? As with all the historical dolls, Melody Ellison has a story set in a significant time of American history. Melody is on the 2nd African American dolls made by American Girl. Melody's story line is during the civil rights movement. One of the things I like about American Girl is that they truly do research and speak with consultants to make sure they honor the heritage of the stories they are trying to tell. While their stories are fiction, American girl wants to tell an authentic story for children to read and understand.
Terri Lee Freeman, the president of the National Civil Rights Museum had this to say : "I commend American Girl for telling the very American story of Melody. The richness of her story truly depicts the complexity of the time. This story will help all young people better understand what occurred as well as provide a window into the culture of African Americans. It will also encourage young people to recognize they are never too young to get involved and make a difference."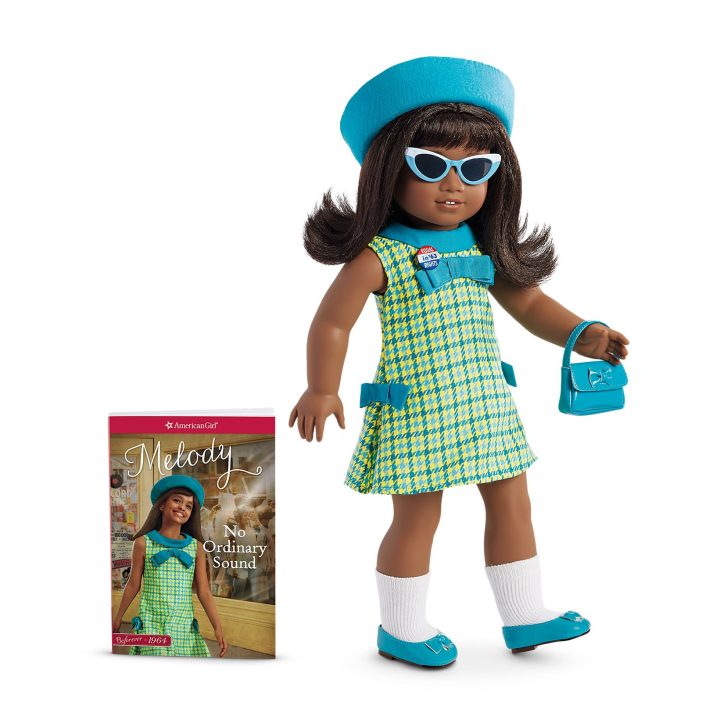 From the American Girl website :
"With all the bravery in her heart, Melody confronts the challenges in her life and teaches girls to do the same, as both a leader and a partner. After a church bombing in Alabama, Melody must summon all her strength to perform a tribute in front of her own congregation. Melody realizes that uniting voices is important for more than just singing, so she marches with others to demand equality and justice throughout the country.When her pastor asks how everyone can do more, Melody leads the charge to fix up a neighborhood playground and plant a garden."
Again, Melody's story is fictional, but it is based in research of actual events from our country's history. While the 1960s were really not that long ago, the idea of segregation and the need for the Civil rights movement is something that my kids have a really hard time wrapping their heads around. Like several other historical characters, American Girl has opened up an opportunity for our kids to learn about the Civil Rights movement. My daughter has already read one of Melody's books and it has opened up questions and conversations that I truly believe will help her understand where our country has come from and what we can do to continue improving as a society.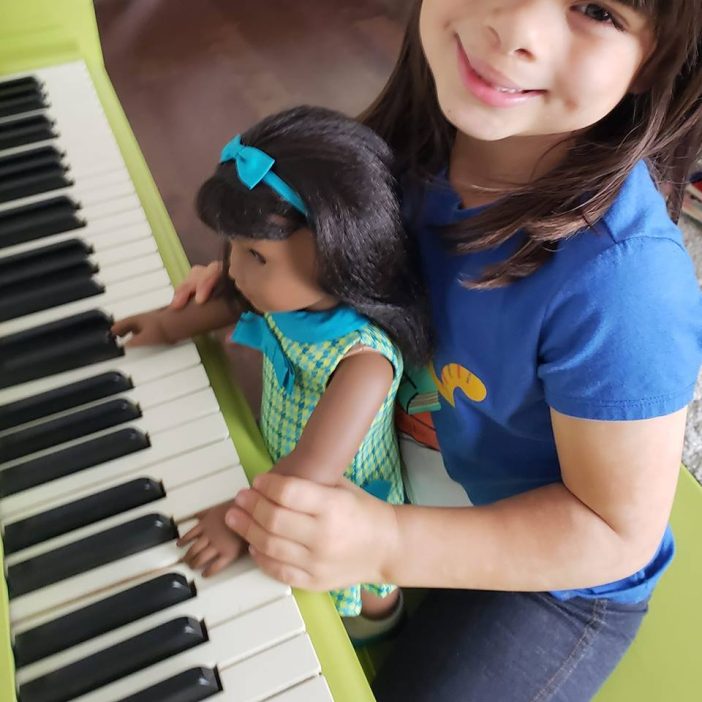 Who wouldn't love to win a Melody Ellison American Girl Doll for their American Girl fan? I am so excited that Mattel has been kind enough to offer a doll for us to give away. One lucky Highlights Along the Way subscriber will have Melody mailed straight to their home!
UPDATE – Giveaway is over! Winner has been emailed – name is Ellen B. – Please check your email and email back within the time specified. If we do not hear back we will sadly have to forfeit the prize and pick another winner to take your place.
As with most of our giveaways, you must be a verified subscriber to Highlights Along the Way. Simply subscribe and leave us a comment letting us know who you would gift Melody to (it is OK to say yourself!). That's it! We also have several ways that you can earn more entries by engaging with us on social, but being a subscriber is the only requirement.
Other ways to earn bonus entries to win Melody. Please leave an additional comment with proof of entry described below,
Again, if you do any of the bonus entries – please make sure to leave a separate comment with a link to your pin/tweet/insta comment, etc – we simply place the number of comments in the computerized number generator and we verify whatever number comment is picked – easy peasy!
For entries to count you MUST leave a separate comment with a link to where you commented on the other platform. Easy Peasy!
Void where prohibited. This giveaway is valid only within the United States. The winner's American Girl Doll will be mailed directly from American Girl Doll and cannot be mailed to PO Boxes, only a physical address.
Enter for your chance to win in the comment section below below. Giveaway starts NOW and will end on 2/25/2019. Winner will be chosen and notified by or before 2/27/2019. Winner will be chosen by a computerized random number generator. Winner will be contacted via email. Winner's name will also be shared on this blog post in bold (First name and last initial). Only the winner will be contacted. Winner MUST respond within 48 hours of winner announcement and provide a mailing address. If the winner does not respond within that time frame, the prize is forfeited and a new winner must be chosen. While we have never had a problem with a giveaway before, Highlights Along The Way cannot be held responsible for lost or damaged prizes.
A big thank you to our friends at Mattel for sponsoring this giveaway! We hope this brought extra attention to a book list that we think will help build awareness and understanding to the kids that are our tomorrow. All photos are by American Girl Doll and are used with permission or by us. Best of luck to all our subscribers!