Books for Kids with Cleft Lips and Palates
Disclosure: Highlights Along the Way is a participant in the Amazon Services LLC Associates Program, an affiliate advertising program designed to provide a means for sites to earn advertising fees by advertising and linking to amazon.com. Thank you to Disney for inviting me to an early screening of Cruella! All opinions are our own
One thing I became aware of as soon as we adopted our daughter was that there were not many books available featuring children with clefts. Up until this day I have never seen a cleft affected child in a commercial or advertisement. While there are many clinical books and parenting books about clefts, there were not many available for children to read. I really wanted books for my older kids who were about to have a sister with a cleft lip and palate. While I did not find many books featuring children with clefts then, there are many available now! Below are a few great books to add to your home library if you have a cleft affected child or if you simply want your children to have an awareness and understanding for when they meet someone with a cleft.
Cleft Books for Kids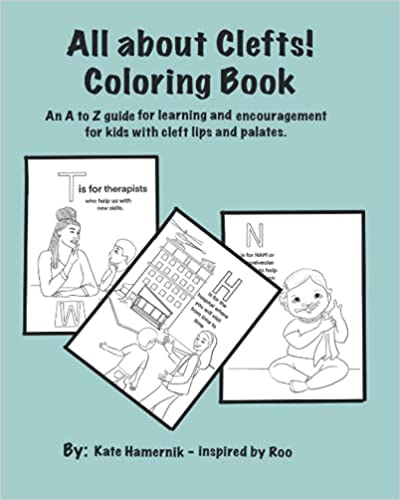 "All About Clefts" – This is an ABC Coloring book. This book featuring many different types of clefts in simple black and white line art. It combines fun and education. It is a mix of vocabulary and encouragement with pages like "B is for bilateral" as well as "K is for kindness. Also, you may recognize the author and illustrator. It is under $6 and ships free with Amazon Prime!
"Jack's New Smile"

Jack's New Smile was written for brothers and sisters of a new baby with cleft lip/palate. Baby Jack's experience with cleft lip and palate is recounted through the eyes of his loving older sister. The book is also intended for children born with a cleft to help them learn about themselves. It is meant to provide some answers to questions children may not know how to ask. We hope that by reading this story, your child will know that having a cleft is not scary or bad. The book can also be used as a starting point for a more detailed talk with older children. $9.99
Beth and Her Cleft
Beth and Her Cleft is an illustrated children's book designed to help children, their siblings, and their families understand all about cleft lip and palate. It is written through the eyes of an older sibling who was first confused about why her baby sister looked and spoke differently. She observes her sisters progression through the necessary surgeries and supportive steps taken to treat Beth's cleft lip and palate. Her families love and support for Beth help her become confident and strong. Beth and Her Cleft is written in rhyming verses and is easy for children to follow. It is written to be humorous and casual. The author, Dr. Bastidas, is a pediatric plastic and craniofacial surgeon based in New York. He wrote this book to help families speak openly about clefts and to comprehend the timeline and events required to treat cleft lip and palate. 100% of the proceeds are used to fund the Saving Faces Foundation (a 501c3 organization dedicated to treating children with visible birth anomalies). You purchasing this book is essentially a donation to our charity and will be used to help other children. $9.99 – Please note while this book is REALLY sweet, they didn't seem to think through placement and many of the pages come together at the cleft and it is difficult to see Beth's cleft.
Cleft Talk for Kids
Cleft Talk for Kids is an informative and interactive book that explains the condition of cleft lip and palate in a child-friendly format. In Cleft Talk for Kids, children and their caregivers meet Kate and Charlie, best friends who were born with clefts. Kate and Charlie explain to young readers why clefts happen and how having a cleft can affect someone on a daily basis. Kate and Charlie also share how similar children with clefts are to their peers despite this physical difference. Five Stars on Amazon! This is the priciest on the list and it is still only $13!
While there are not a ton of books out there to educate and celebrate children with clefts, I do believe these are great options. If you know of another great book to add to the list, please comment below! We would love to add more ideas for families who want books that feature children with clefts.