Building a Lightsaber at Disneyland – is it worth it?
Disclosure: This site uses affiliate links. This post is written by my son who paid for this experience himself. This is not sponsored and he was not obligated to share this experience.
Every Star Wars fan knows what their lightsaber would look like if they were able to design one. At Star Wars Galaxy's Edge in Disneyland Park, wanna be Jedis can make that a reality. Our son recently spent every dime of his birthday and good grade money on the experience that is building a custom lightsaber. At just over $200, many people have asked if building a lightsaber at Disneyland is worth the money. Our son shares why he enjoyed the experience and has a full video of the lightsaber build ceremony.
This article is mostly written by my teenage son, the ultimate Star Wars Fan; who paid for his experience with his own gift and hard earned money. We always suggest purchasing your Disneyland travel with Get Away Today and use our unique discount code HIGHLIGHTS for a bonus $10 off (even off of current deals!).
Is the Lightsaber build experience worth the price?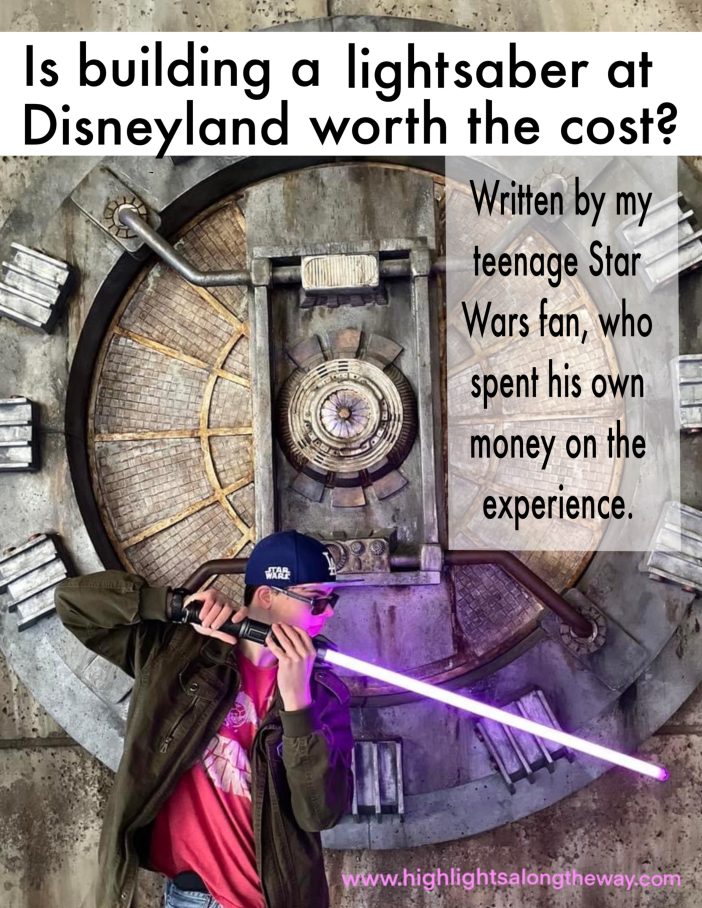 The Disneyland lightsaber build process is an unforgettable experience that transports Star Wars fans to a galaxy far, far away. Building a lightsaber is the perfect way to embrace your inner Star Wars geek. When I first heard about building a lightsaber, I was quite excited. I've always considered myself an avid Star Wars fan. I've seen every movie multiple times, and keep up with all of the Star Wars lore. I knew that I had to build a lightsaber and embrace my inner Jedi. The experience was everything I hoped that it would be, and more.
The Star Wars Build experience included a few surprises. I did not expect that I would get a Star Wars Lightsaber build exclusive Disney Pin for building a lightsaber. I had never heard about this free exclusive pin before, so it was a cool bonus. The pin is included in the cost of the experience. I personally have purchased and traded Star Wars themed pins at Disneyland in the past, so this was a really cool bonus. These exclusive pins cannot be purchased in the park, so I felt it was an excellent added value to my experience.
When participating in the Lightsaber build, guests are taken to an area that is not accessible to regular guests. Being able to visit this particular area of the park is an added bonus for Star Wars fans. This felt very exclusive and added value to the build experience for me. While in the room, there are characters who create an immersive Star Wars experience that truly makes the builder feel like they are in Star Wars.
The experience was also very realistic, and it made you feel like you were in Batuu. From the moment you step into the workshop, you're greeted by the sights and sounds of the Star Wars universe. The build process itself is a truly unique experience that involves customizing every aspect of your lightsaber to your liking.
The BEST deal on tickets to Disneyland (and an exclusive Discount Code) – check out this site BEFORE booking your trip and your lightsaber build!
Lightsaber Choices at Disneyland
First, you get to choose one of four hilt themes that each have their own set of unique pieces. The Peace and Justice theme, for instance, features elegant and refined pieces that are perfect for Jedi knights. On the other hand, the Power and Control theme has a more menacing and aggressive look, making it the perfect choice for Sith Lords. The Elemental Nature theme features rugged and organic pieces, while the Protection and Defense theme has a more tactical and sturdy design.
Choosing your Lightsaber

Once you've selected your hilt theme, you then get to choose your Kyber Crystal. The Kyber Crystal is the heart of your lightsaber, and it determines both the color and sound effects of your weapon. You can choose from blue, green, purple, or red crystals, each with its unique properties and characteristics. You may only choose one out of the four.
After you've selected your hilt and crystal, you're guided to the assembly station where you'll be shown how to assemble your lightsaber by a member of the Resistance. The interactive and immersive nature of this experience is what makes it truly unforgettable. You get to feel like you're part of the Star Wars universe as you assemble your very own lightsaber, piece by piece.
Once you are finished, they attach a 31' inch blade to your lightsaber, and your build is complete. Along with the others in your group, you raise your blade and become a true Jedi or Sith. Before you walk out, the cast members will give you a case for your lightsaber. Lightsabers are not allowed to be used in the park, or they will be confiscated. However, if you're posing for pictures, you are allowed to have it out.
How long is the Lightsaber building experience at Disneyland?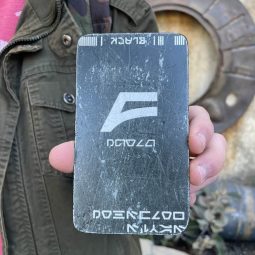 While many places I read said that the experience was about 30 minutes, my experience was over an hour. I considered the point of purchase, queuing up with other fans, receiving my exclusive Star Wars build pin, and the presentation all part of the experience. The details of the experience start to finish were really wonderful. The build itself was about 30 minutes but the process leading up was also very entertaining. I was very happy to find that my experience building did not feel rushed and was longer than I anticipated based on reports I read online. I would imagine this varies from person to person.
Where do you go to build a Lightsaber at Disneyland?
Lightsabers are built at Savi's Workshop in Star Wars – Galaxy's Edge. There is also a location at Walt Disney World.
How do I sign up to build a lightsaber?
One mistake many guests make is they show up to Galaxy's Edge without a plan in place to build their lightsaber. Reservations at Savi's Workshop − Handbuilt Lightsabers are highly recommended. A child, or adult may want to participate in the experience, but if you do not plan ahead, you may be left out. Reserving a space is the best way to guarantee you will not miss out on the experience. Some same day reservations can be made, but because this is a very popular experience, it could be sold out on busy days. Planning ahead and being ready to start is the best way to build a lightsaber. If you are like me, you may also want to know what your lightsaber choices are before you walk in.
What is the actual cost of a Lightsaber Building Experience at Disneyland?
At the time this article was written (2023), the cost to build a Lightsaber at Disneyland starts at about $220. Lightsabers at Disneyland can range in price at Disneyland pretty dramatically. A child appropriate toy can be purchased for as little as $20, but to build a custom lightsaber will cost more. The Lightsaber I chose cost $240, but there were many upgrades that could have made a cost of over $300. Included in my purchase was my lightsaber, an exclusive pin, a very simple carrying case, and the experience of building itself.
The Lightsaber I purchased was $240. I used a birthday gift card, Christmas money from my Aunts, Christmas money from my grandparents, and some money I saved from work. Participating in this otherwise off limits experience in Star Wars, Galaxy's Edge was a one time experience and I believe it was worth the splurge of my gift money. While $240 may seem like a lot for a souvenir, the value of a Disneyland lightsaber goes beyond just the physical object. Disneyland lightsabers are more than just a toy – they are an experience. The experience of building your lightsaber is one that you will remember for years to come. It allows you to fully immerse yourself in the Star Wars universe and feel like you are part of Star Wars. It's not just a souvenir – it's a piece of the Star Wars universe that you can take home with you.
How old do you need to be to build a lightsaber at Savi's Workshop?
The Disneyland website says this is an experience recommended for ages five and up. I purchased this experience at 16 years old and saw that there were several small children, teens my age, as well as full grown adults. This is truly an experience for almost all ages. I do believe that a child under 5 might not be quite old enough. I believe five and up is a great age to experience this attraction.
I enjoyed the lightsaber-building experience, and I would recommend it to any fan of Star Wars. However, if you're not a Star Wars fan, it may not be as cool to you, rather than a fan. This is because, throughout the experience, they make references to Star Wars movies, characters, and lore. It can be confusing for people who are not Star Wars Fans. However, if you are going just for the lightsaber, not the experience, it is still worth it. Something to note is that the lightsaber you build is a custom, not a replica. Replicas can be purchased at Dok-Ondar's Den of Antiquities. These replicas are the lightsabers that the characters wield in the movies. However, you cannot change the color or sound of these lightsabers. That is why building a lightsaber is a much better option.
What is the best accessory to purchase as an add to a lightsaber?
A commonly asked question is if you can purchase extra parts, or accessories for your lightsaber. The answer is both yes and no. When building a lightsaber, you will have extra pieces that you do not use in the building process. You are not allowed to keep these. However, you can purchase an extra pommel cap that has a belt hook on it. You are allowed to purchase both this one and keep the other pommel cap. Other than that, there are no exchangeable parts for the lightsaber. Kyber Crystals are the exception, and you can purchase multiple other colors. Kyber Crystals are $12.99 each. An interesting thing to note is that there is a very slim chance that if you buy a red Kyber Crystal, you will receive a black Kyber Crystal. Kyber Crystals not only work in the lightsaber but also in holocrons. Holocrons allow you to speak to the great wielders of each color. For example, if a green Kyber Crystal is inserted into a holocron, Master Yoda will speak to you. Each holocron costs 50 dollars. If by chance, you find a black holocron, you will get the voice of Sith Lord Snoke. By building your lightsaber, you are opening up a world of possibilities for your build. It is worth it to invest in an extra Kyber Crystal if you are really into Star Wars.
Overall, the Disneyland lightsaber build process is a must-try experience for any Star Wars fan. It's an opportunity to become fully immersed in the world of Jedi knights, Sith Lords, and lightsaber duels. The attention to detail and the level of customization available make it a truly unique and personalized experience. So if you're a Star Wars fan looking for a one-of-a-kind experience, building your lightsaber at Disneyland is an adventure you won't want to miss!