Butterfly Jungle at the San Diego Zoo Safari Park!
Disclosure: we were invited to a media preview of Butterfly Jungle to share with our audience. This is not a sponsored post and opinions are always our own. This site uses affiliate links.
Butterfly Jungle is our favorite time to visit the San Diego Zoo Safari Park. Every Spring guests from around the world visit the Safari Park located in North County San Diego to see hundreds of beautiful butterflies for this special event. Butterfly Jungle is free with your park admission. Butterfly Jungle at the San Diego Zoo Safari Park is going to look a little different in 2020. Covid 19 could not keep us from enjoying butterflies, but it is a bit different. Check out pictures from our past trips to visit the gorgeous butterflies and flowers below.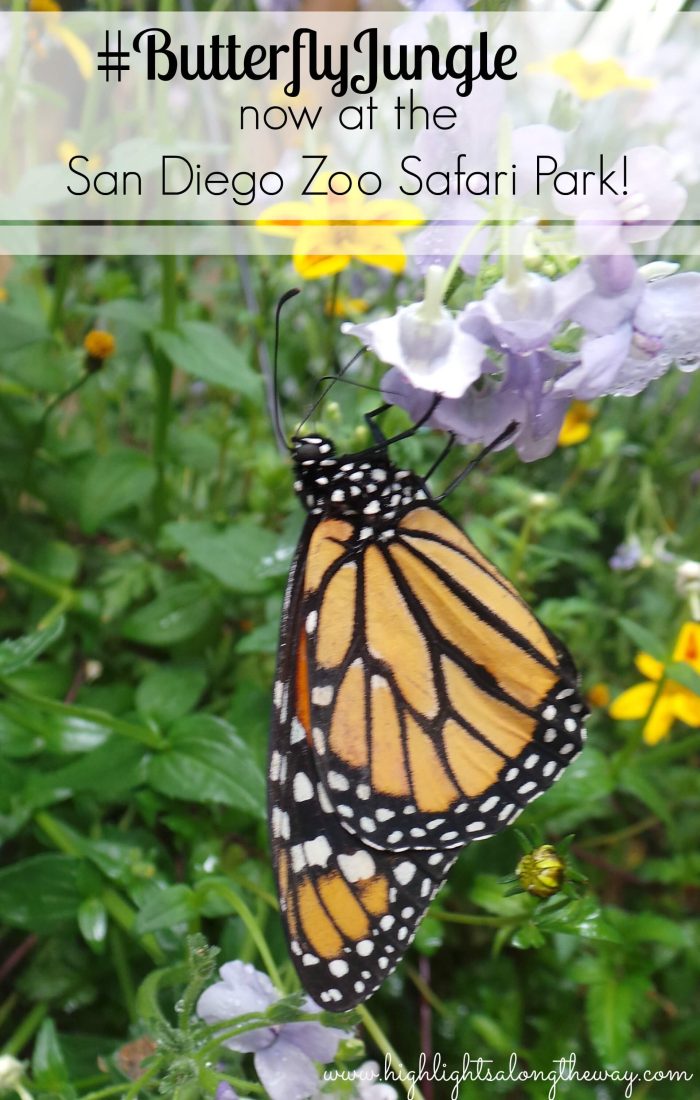 San Diego Zoo Global just launched a new online Butterfly Cam. Butterfly Jungle fans can now enjoy livestream footage from inside the San Diego Zoo's Hidden Jungle greenhouse, where around 30 species of butterflies (like zebra longwings, giant swallowtails and blue morphos) flit and feed. These butterflies actually came to the Safari Park in the pupae stage from sustainable butterfly farms in Central, South, and North America to help promote conservation of the rain forest habitats where the farms are located. Online viewers can see some of the thousands of colorful, eye-catching butterflies as they flutter lightly through the warm air to find nectar-filled flowers, or catch of glimpse of up to 22 exotic bird species—including the critically endangered Bali myna and blue-crowned laughingthrush that reside inside the aviary, among the lush greenery.
This DIY butterfly garden project for your yard or balcony to help feed butterflies from the comfort of your home is a great family activity inspired by the San Diego Zoo.
While this year is a little different than year's past, we can all still enjoy the beautiful butterflies while we shelter in place. Thank you to the folks at the San Diego Zoo for making sure we all get to see the butterflies while safely social distancing.
Butterfly Jungle at the San Diego Zoo Safari Park in Years Past
Butterfly Jungle is back at the San Diego Zoo Safari Park! Butterfly Jungle opened March 23rd and will only be at the San Diego Zoo Safari Park through May 12th. Our family loves the San Diego Zoo Safari Park and this is truly our favorite time of year! Butterfly Jungle gives visitors the opportunity to see hundreds of butterflies up close and personal. Our kids delayed homeschool a bit on Friday morning for the preview of Butterfly Jungle. While we were there the kids learned so much by being up close and personal with dozens of species of butterflies. It was thrilling for them to be in a place where butterflies would literally land right on them. It is always fun and I dare say a bit magical for us to visit the butterflies at Butterfly Jungle. Butterfly Jungle is extremely popular and only lasts a short time. The Butterfly Jungle exhibit is included with your park admission or annual membership pass at the San Diego Zoo Safari Park.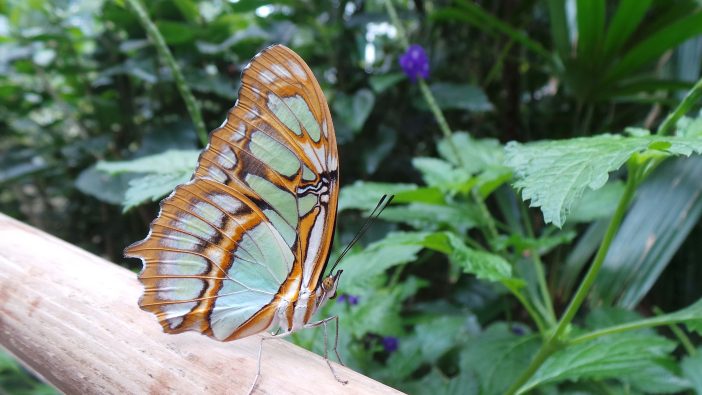 Butterfly Jungle is free with your annual pass or your one day park admission. The lines can get long. Priority tickets can be purchased to avoid the line. You can also purchase Butterfly treats to help encourage a butterfly or two to land on you. We have been several years and only once did we purchase a treat for the butterflies. Every single year we have several land on us. The key to have a butterfly land on you is simply to be still and patient.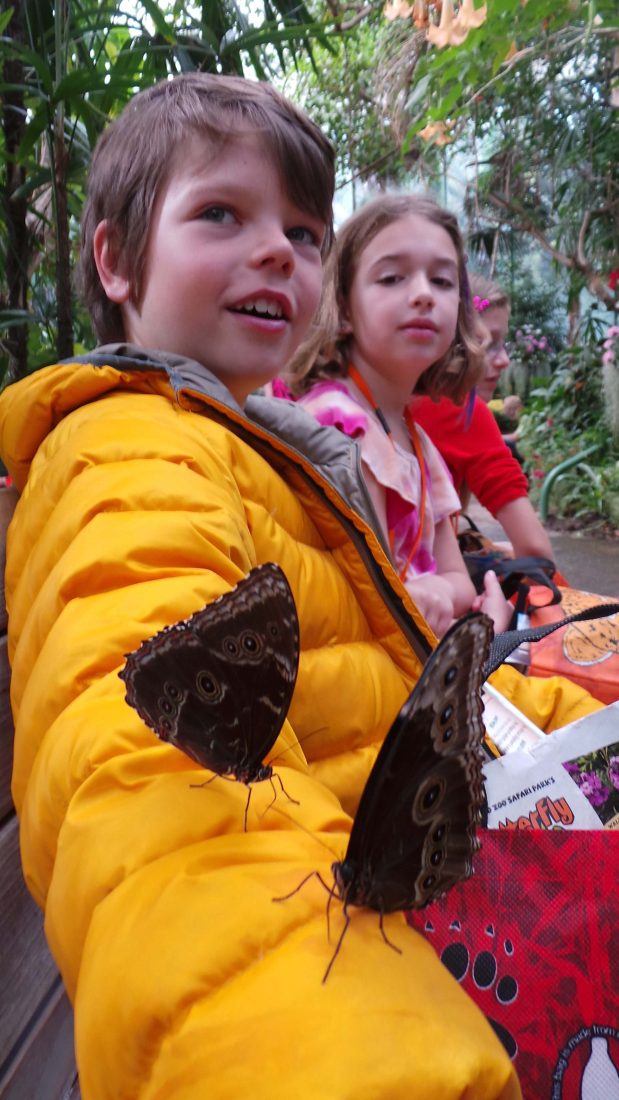 Hot tips if you are planning on visiting the butterflies!
Wear bright colors – butterflies are attracted to bright colors – we have always had great luck with yellow
Wear a pretty hair clip in your hair – they are suckers for flowers (even the fake ones!)
Stand in the light – they seem to like not only bright colors but also bright colors in the light
Stand still and it is more likely a little butterfly will land on you than if you are moving about
Please watch where you step – There are SO many butterflies at Butterfly Jungle they sometimes land on the ground
Do not pick up the butterflies – if you are patient they will come to you eventually – but you can hurt them by picking them up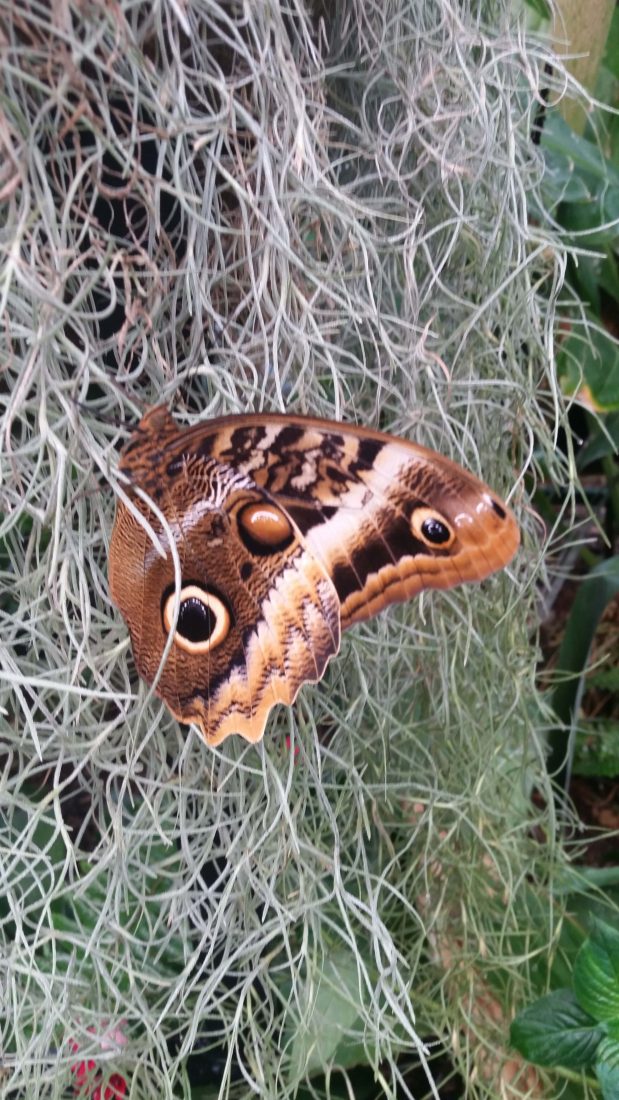 Our family loves the San Diego Zoo Safari Park – so much so that it is the park we are purchasing year passes to this year (we only purchase annual passes to one park per year – if any at all – this year it is the Zoo and Safari Park!). We know the San Diego Zoo and Safari Park do so much in the way of conservation and we know they love and respect the animals in their care. If you are planning a trip to San Diego I highly suggest taking a day to see the lovely San Diego Zoo Safari Park! If you are going before April 10th make sure to get there early to see all the amazing wildlife and nature exhibits, but especially the butterflies!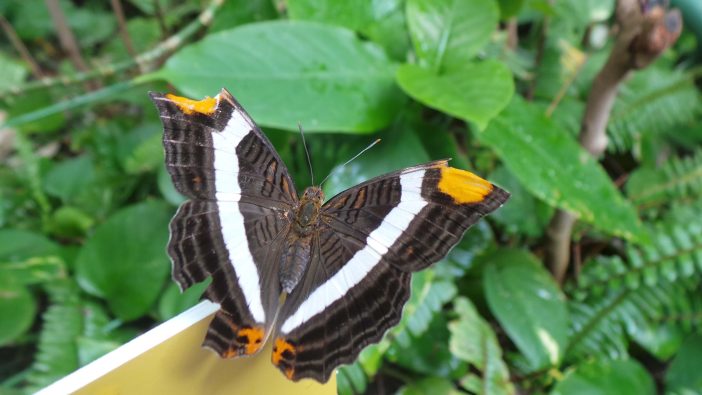 The lines can get long at Butterfly Jungle and the San Diego Zoo Safari Park has a great option to save you time. Inquire at Lorikeet Landing about reserving a viewing time for a fee (go early – they sell out almost every day and fairly early).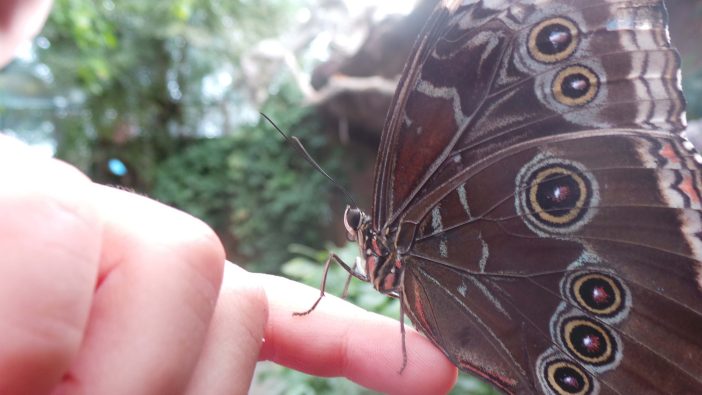 When you visit, make sure to use the hashtag #ButterflyJungle on Instagram for your chance to win an awesome San Diego Zoo Safari Park experience for four. Discount tickets for the San Diego Zoo Safari Park are sometimes available from our partner, Groupon! Currently, Groupon tickets to the SD Zoo Safari Park are not discounted, but it still will save you time. The ticket booth can be a long wait, when you buy online you get to go straight to the turn style!
Butterfly Jungle is presented in partnership with Wheelhouse Credit Union.
"Butterfly Jungle features thousands of colorful butterflies floating and fluttering throughout the Butterfly Jungle aviary, where guests can also see many species of birds, lush greenery and flowers.
More than 20 butterfly species will be highlighted this year, from Central, South and North America—including the zebra longwing, orange-barred tiger, Grecian shoemaker, giant swallowtail and blue morpho. Guests are encouraged to wear bright colors to attract the butterflies as they walk among exotic beauties of all colors, shapes and sizes, take photos and learn more about these winged wonders."