Cabazon Dinosaurs – Coloring Pages California Road Trip!
Disclosure: This is not a sponsored post. We paid for our tickets without any discount and our opinions are our own. This site uses affiliate links.
The Cabazon Dinosaurs are a road side oddity in California. The Dinosaurs are a perfect pit stop on a California Road trip if you are near Palm Springs, California. Please enjoy our pictures from our California Road trip to the Cabazon Dinosaurs as well as some printable coloring pages! Read below about how you can visit the Cabazon Dinosaurs for free, and what you can expect if you do choose to buy a ticket for the full Cabazon Dinosaur experience. We think the Cabazon Dinosaurs would be a the highlight of a California Road trip
for families with Pre-schoolers and Elementary aged kids. Our tween and teens still had a lot of fun and enjoyed the photo opportunities. Enjoy the photos of the Cabazon dinosaurs and feel free to print out the free coloring activity sheets!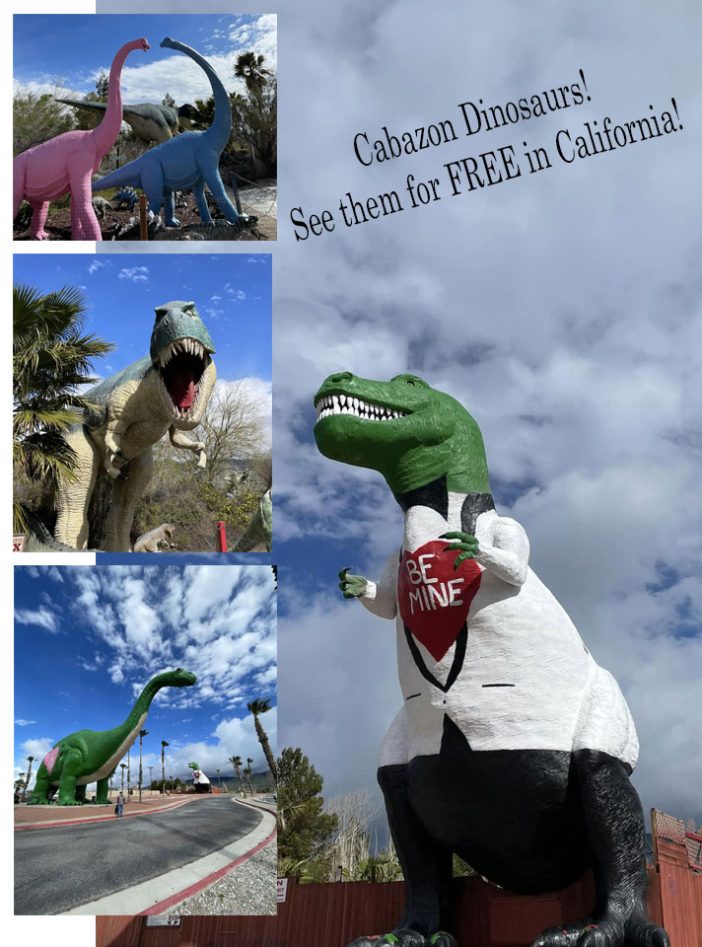 Cabazon Dinosaurs are a great pit stop on a California Road trip.We visited on our way to Joshua Tree National Park. People love to visit the Cabazon Dinosaurs when they are on their way to Palm Springs or The Grand Canyon. The Cabazon Dinosaurs are about 2 hours from Disneyland and a little over an hour from Hollywood, California. Your dino fan will love to visit! The Cabazon Dinosaurs are featured in several movies including "Pee Wees Big Adventure" and even in Disney Pixar's Inside Out.
Cabazon Dinosaurs Photos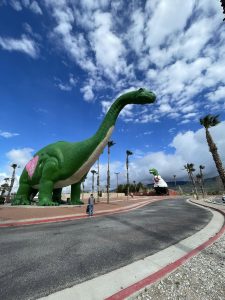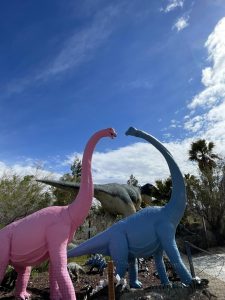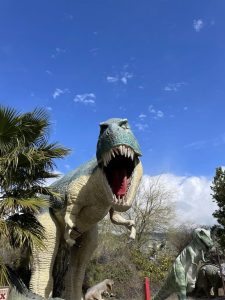 I remember visiting this random road trip stop as a child in the 1980s. I believe for a few dollars we were able to actually walk inside the brontosaurus, but I am not quite sure. I sure wish I had access to those pictures, maybe someday. If I remember correctly, the dinosaurs were not painted quite as brightly as they are now. Apparently the dinosaurs are painted often to reflect the season. I think this adds whimsy to this already weird road trip pit stop.
Cabazon Dinosaurs Coloring Page – Instant Download!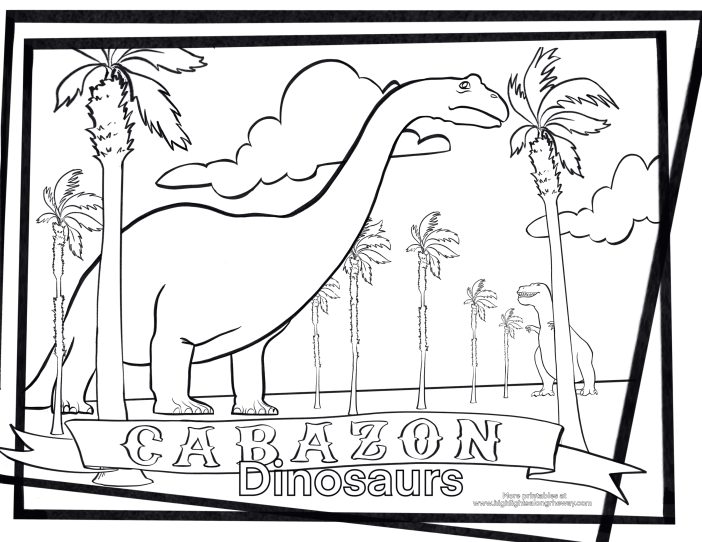 Cabazon Dinosaur Instant Print Coloring Sheet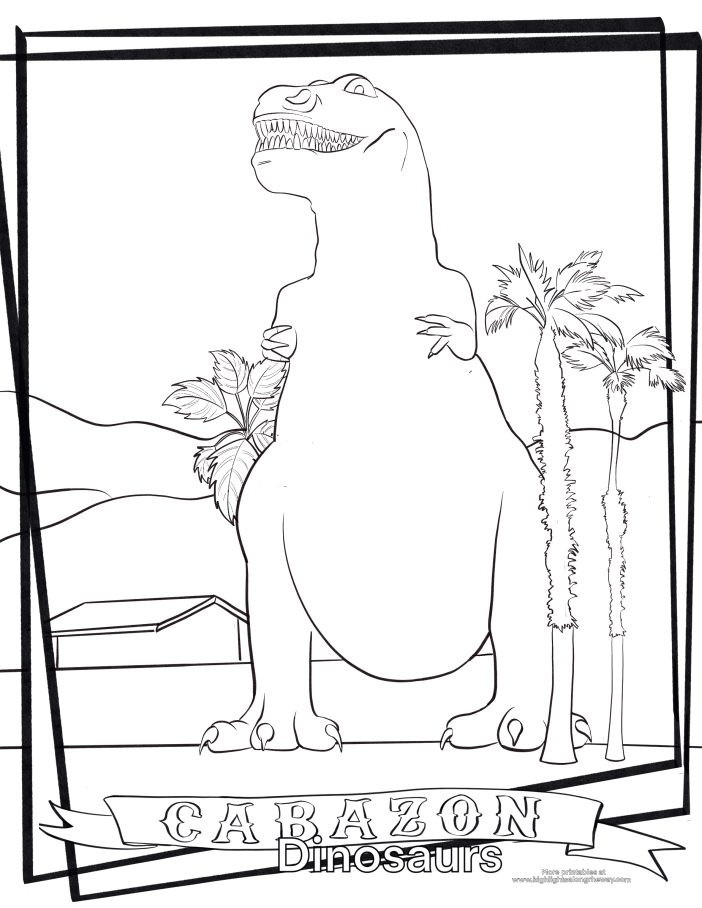 What are the Cabazon Dinosaurs?
The Cabazon Dinosaurs have been a roadside attraction since the 1970s. Families have been been able to visit and walk about the dinosaurs while on a trip that passes by Palm Springs, CA. The Cabazon Dinosaurs were made famous in movies like Pee Wee Herman's Big Adventure and The Wizard. Now the dinosaurs are an Instagram sensation!
The Cabazon Dinsaurs began as just a couple dinosaurs out in the middle of nowhere. Guests can now visit the original dinos – Mr. Rex and Dinny, but also more than 10 other dinosaurs.
Can you see the Cabazon Dinosaurs for FREE?
Yes! You can see the Cabazon Dinosaurs without paying an admission. The most iconic dinosaurs are visible from the freeway. Parking is free at the Cabazon Dinosaurs and you can walk around and even get up close to the Cabazon Dinosaurs. You do not need to pay to see or take photos with the Cabazon Dinosaurs. If you and your family would like to tour inside the dinosaurs, there are a couple options. Touring Dinny (the Brontosaurus) is FREE! Dinny is a large gift shop and you can climb the stairs and walk inside one of the famous Cabazon Dinos for FREE! If you would like to go inside the park and roar out of the T-Rex, you will need a ticket.
Guests do need to purchase a ticket to see the entire display and interactive fun. General Admission is $15, kids are $12. The Cabazon Dinosaurs are open daily and tickets are sold until about 4pm.

Is the admission the the Cabazon Dinosaurs worth the cost?
Our family of 5 paid $72 and in all honestly we would not do it again. It was fine, but I can think of better things to do with $15. We might have felt differently if our kids were older. Our kids are between 11 and 16. If our kids were between 3 – 10 it would have been a bit cheaper AND it would have been more fun for them. We needed to stretch our legs and we were curious, so this was fine, but we would not do it again.
I wish we had toured the Cabazon Dinosaurs when our kids were littler. This is a perfect place to stretch your legs, but there clearly has not been that much sophistication put into this attraction. There are lots of dinosaurs with facts on a cool trail. There are plenty of photo opps, but nothing like the two main dinosaurs that you can see from the road or parking lot.
There is an indoor 'museum' that is mostly more animatronics and a gift shop.
One thing that is advertised as part of the admission price is a 'dino dig', but we visited about an hour after opening and there was literally nothing to 'discover' in what was essentially a giant dusty sand box (not nice sand, just like dirt) without any digging tools. Our kids dug with their bare hands for a minute or two and decided it wasn't worth it. We did see a guest with younger kids go and ask employees later if there was anything to dig up. To their credit, an employee brought out a box of things to dig up… and just dumped the contents in the sandbox. He did not try to hide the treasures. This was just our observation and maybe it isn't like this everyday, but if my kids were excited about a 'dino dig' like they have done at other places they would have been disappointed.
The restroom is also behind the admission gate, and for some; this alone may be worth the ticket. The restroom was nothing fancy, but it was clean and well appreciated after our long drive.