California Road Trip Coloring Pages
Enjoy instantly downloading coloring pages to celebrate California! A growing list of curated California Road Trip Coloring Pages. Teachers, Homeschoolers, Road Schoolers, and just Family vacationers may click and print from their own home. Balboa Park coloring pages, Disneyland Coloring Pages, Santa Monica Coloring Pages, California Mission Coloring Pages, and so many more. California is a beautiful place to visit and learn about; please enjoy these free and inexpensive resources when you are learning about and visiting California!
Make sure to bookmark this page as this list of California coloring pages will grow. Teachers and educators, I want to hear from you! What locations in California would you like to see in our list of printable California educational resources?
More Educational Round Up Coloring Pages for You!
Women's History Month Coloring Pages
Black History Month Coloring Pages
Read Across America Coloring Pages
California Coloring Pages – Instant Downloads
Click the link for a full size high resolution coloring page of Balboa Park in San Diego CA!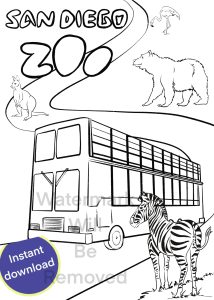 LEGOLAND California Coloring Page – COMING SOON!
Click for full sized coloring page of Baby Yoda at Disneyland!
Santa Monica Pier Coloring Page
Click for a full size high resolution printable coloring page of Santa Monica Pier Coloring Page.
Hollywood California Coloring Page

Click for a full size high resolution printable coloring page of Hollywood California Coloring Page.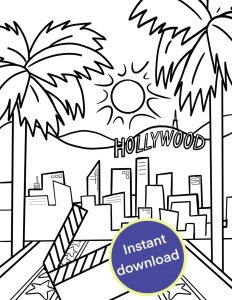 Mission Santa Barbara Coloring Page
Solvang Coloring Page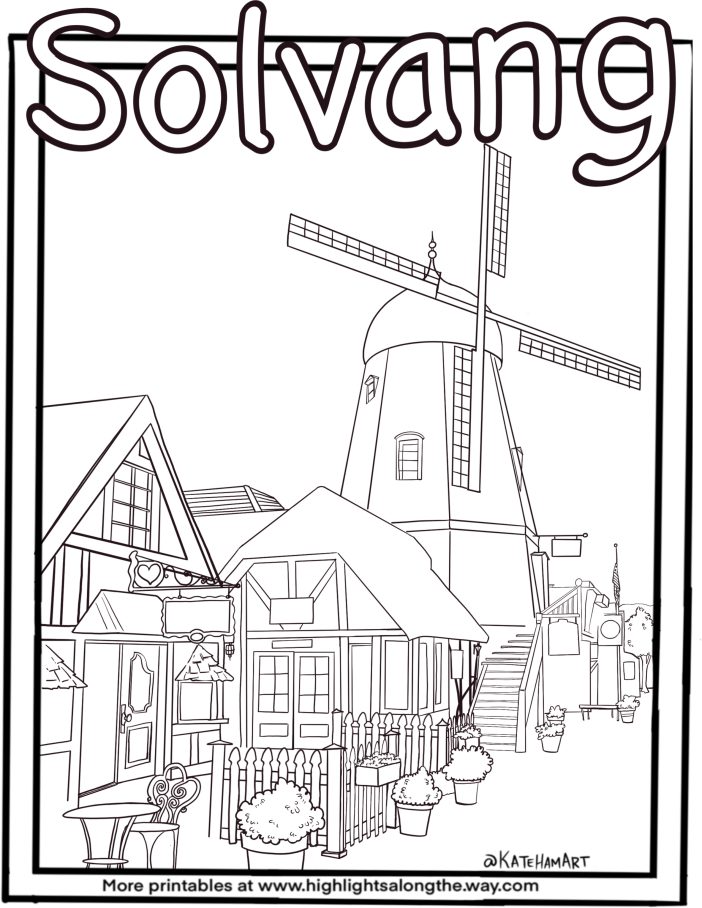 San Francisco Coloring Page – Click here for a full page San Francisco coloring page – high resolution without sticker / watermark.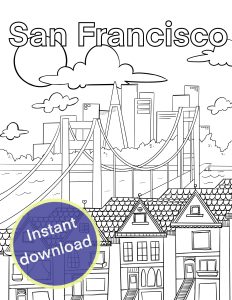 Monterey Bay Aquarium Coloring Page
California Coloring Activity Sheets – COMING SOON!
Cabazon Dinosaurs Coloring Page – FREE PRINTABLE – coming soon!
Joshua Tree National Park Coloring Page – FREE PRINTABLE – COMING SOON!
Yosemite National Park Coloring Sheet – FREE PRINTABLE – Coming Soon!
How to print these coloring pages. Some of these California Road Trip coloring pages are free, others are just a dollar or two. Most are available through my Etsy and Teachers Pay Teachers page. Those you choose to purchase will be available instantly! Etsy or TPT will send you a downloadable link instantly! If you do not see your link, contact the provider and they will get back to you shortly. I always suggest first checking your spam or junk folder as sometimes our printable coloring sheets end up there.
The History of California according to Wikipedia…
The history of California can be divided into: the Native American period (about 10,000 years ago until 1542), the European exploration period (1542–1769), the Spanish colonial period (1769–1821), the Mexican period (1821–1848), and United States statehood (September 9, 1850–present). California was one of the most culturally and linguistically diverse areas in pre-Columbian North America. After contact with Spanish explorers, most of the Native Americans died out from European diseases and genocide campaigns.[1]
After the Portolá expedition of 1769–70, Spanish missionaries began setting up 21 California missions on or near the coast of Alta (Upper) California, beginning with the Mission San Diego de Alcala near the location of the modern day city of San Diego, California. During the same period, Spanish military forces built several forts (presidios) and three small towns (pueblos). Two of the pueblos would eventually grow into the cities of Los Angeles and San Jose. After Mexican Independence was won in 1821, California fell under the jurisdiction of the First Mexican Empire. Fearing the influence of the Roman Catholic church over their newly independent nation, the Mexican government closed all of the missions and nationalized the church's property. They left behind a small "Californio" (white Hispanic) population of several thousand families, with a few small military garrisons. After the Mexican–American War of 1846–48, Mexico was forced to relinquish any claim to California to the United States.
The California Gold Rush of 1848–1855 attracted hundreds of thousands of ambitious young people from around the world. Only a few men struck it rich, and many returned home disappointed. Most appreciated the other economic opportunities in California, especially in agriculture, and brought their families to join them. California became the 31st US state in the Compromise of 1850 and played a small role in the American Civil War. Chinese immigrants increasingly came under attack from nativists; they were forced out of industry and agriculture and into Chinatowns in the larger cities. As gold petered out, California increasingly became a highly productive agricultural society. The coming of the railroads in 1869 linked its rich economy with the rest of the nation, and attracted a steady stream of migrants. In the late 19th century, Southern California, especially Los Angeles, started to grow rapidly.