Cars Coloring pages – Disney Pixar
Disclosure: this site uses affiliate links
Lightning McQueen got a great new paint job for Cars 3. Enjoy these Cars 3 coloring sheets! Print out these adorable licensed Disney Pixar Cars 3 printables. Printable High Resolution coloring pages of Lightning McQueen, Cruz, Jackson Storm and more. We love to share FREE Cars and Planes Activity Sheets. Thank you for Disney Pixar for sharing these with our audience.
New from Cars – "Cars on the Road"!
What is Cars On The Road?

The series follows Lightning McQueen (voice of Owen Wilson) and his best friend Mater (voice of Larry the Cable Guy) as they head east from Radiator Springs on a cross-country road trip to meet up with Mater's sister. Along the way, every stop is its own adventure, with outrageous roadside attractions and colorful new characters. "Cars on the Road" is produced by Marc Sondheimer.

Where can I watch Cars on the Road?
Cars on the Road will be exclusively on Disney Plus. You cannot find Cars on the Road in theaters or on Disney Channel.
If you enjoy these free printable coloring sheets inspired by Lightning McQueen, Cruz, and Jackson Storm, make sure to check out our printable section featuring Go Dog, Go! Coloring sheets Gabby's Dollhouse Coloring Sheets , We Can Be Heroes Coloring Sheets, Sharkboy and Lavagirl Coloring Sheets, American Girl Doll Coloring Sheets , Olaf Coloring Sheets, Coco Coloring Sheets , Trolls Coloring Sheets , and so many more on our site!
More COLORING SHEETS
Baby Yoda – Earth Day, Halloween, May the 4th Be With You, and more!
Make sure to pin and bookmark these coloring sheets. Please feel free to use at school or from your home computer. Simply click and size as you like. Thank you to Disney for sending these fun activities to share with our audience!
Lightning McQueen Coloring Sheet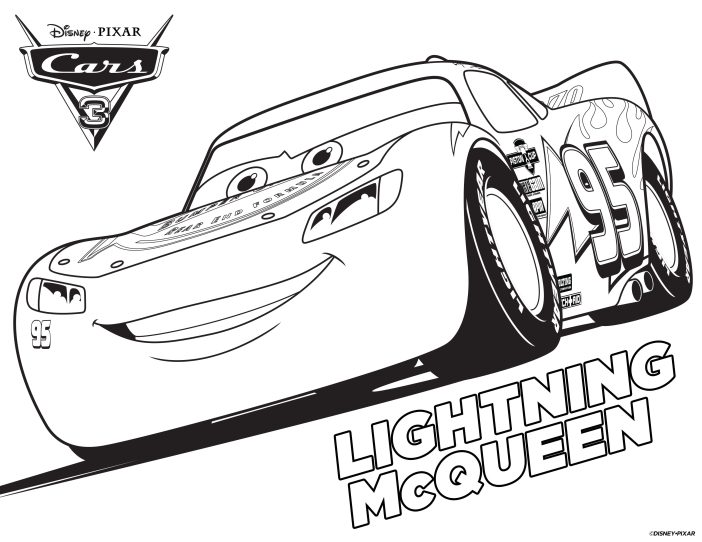 Jackson Storm isn't our favorite, but he is a cool looking race car. If your kiddo is a fan, we hope he or she loves the very first Jackson Storm coloring sheet!
Jackson Storm Coloring Sheet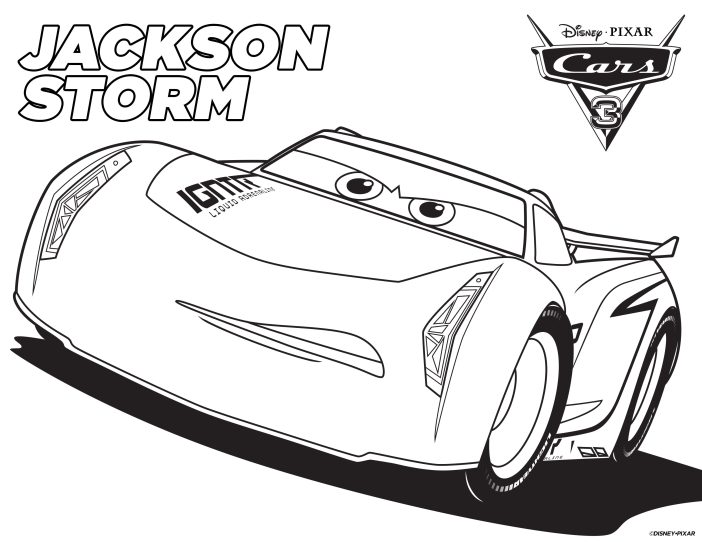 Cruz Ramirez is the surprise plot twist that everyone cheers! We love this strong female character that was full of self doubt but became amazing! My daughters and my son are all big fans of this new star. Everyone wanted this Cruz coloring sheet to color first.
Cruz Ramirez Coloring Sheet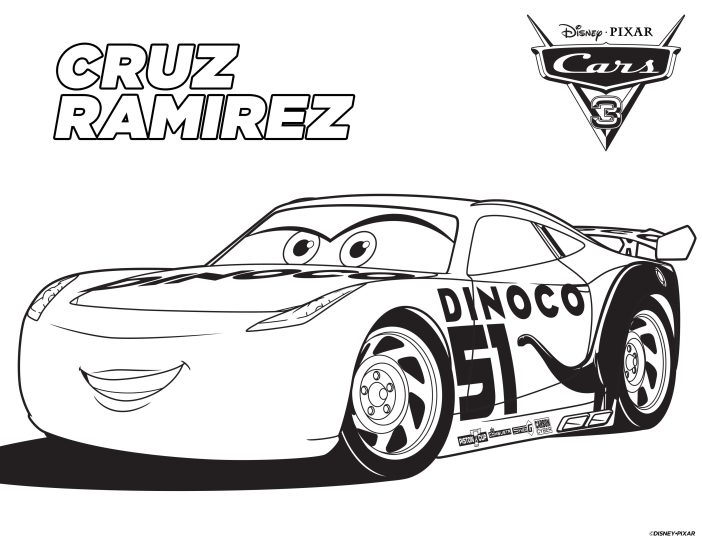 Do you want to learn to draw like a Disney Artist? Coloring is fine, but you can learn to draw the characters from Disney artists online during quarantine! Enjoy these FREE Disney Drawing Classes in your own home as you shelter in place.
Cars 3 raced into the box office at number one opening weekend. Fans were thrilled to see Lighting McQueen is still racing his heart out. Pixar has a way of touching hearts and telling universal stories with unlikely characters. I dare say Cars 3 is the best in the trilogy. This movie is timely, encouraging, and has a message for children as well as adults. We absolutely loved the film and we are always excited to enjoy fun printables at home. Today we are sharing some FREE licensed Cars 3 coloring pages.
We love that there are three different coloring sheets! There is a brand new Lightning McQueen coloring sheet, but also two with brand new characters. Cruz Ramirez and Jackson Storm coloring sheets are available below too! Simply click and print from your own home computer. Not only do we have these Cars 3 coloring pages, but we have really fun Cars 3 Activity Sheets as well!
With Summer in full swing I have heard several friends say that Cars 3 was SOLD OUT when they got to the theater! Make sure to grab your Cars 3 tickets on Fandango first!
You can read our full review on Cars 3 as well as get a sneak peek at the Disney Pixar short "LOU" on our latest Cars 3 blog post. Just in case you haven't seen the trailer, I have included it below. I dare you to not have your heart captured in the first few seconds.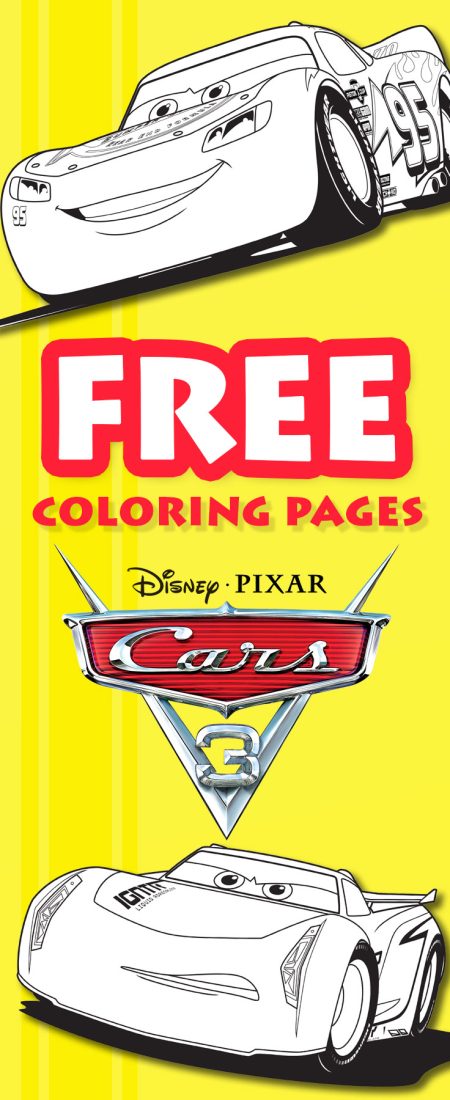 I was thrilled to see Cars 3 as part of the Cars 3 press junket a few months before it opened in theaters. If you would like to read articles about what went into this awesome new film you are in for a treat! Here is an Interview with the Director and Producers of Cars 3. Peek into what some of the artists and filmmakers of Cars 3 had to say. And lastly, if you want to check out the Pixar Campus, it is pretty awesome. Full disclosure, there is no chance your place of work is anywhere near as cool and I cannot be held responsible for you feeling badly.
A huge thank you to Disney Pixar for inviting me to visit Pixar Studios and hear all about Cars 3, and thank you for sending these fun printable coloring sheets!
ABOUT DISNEY+
Disney+ is the dedicated streaming home for movies and shows from Disney, Pixar, Marvel, Star Wars, and National Geographic, along with The Simpsons and much more. In select international markets, it also includes the new general entertainment content brand, Star. The flagship direct-to-consumer streaming service from The Walt Disney Company, Disney+ is part of the Disney Media & Entertainment Distribution segment. The service offers commercial-free streaming alongside an ever-growing collection of exclusive originals, including feature-length films, documentaries, live-action and animated series, and short-form content. With unprecedented access to Disney's long history of incredible film and television entertainment, Disney+ is also the exclusive streaming home for the newest releases from The Walt Disney Studios. Disney+ is available as a standalone streaming service or as part of The Disney Bundle that gives subscribers access to Disney+, Hulu, and ESPN+. For more, visit disneyplus.com, or find the Disney+ app on most mobile and connected TV devices.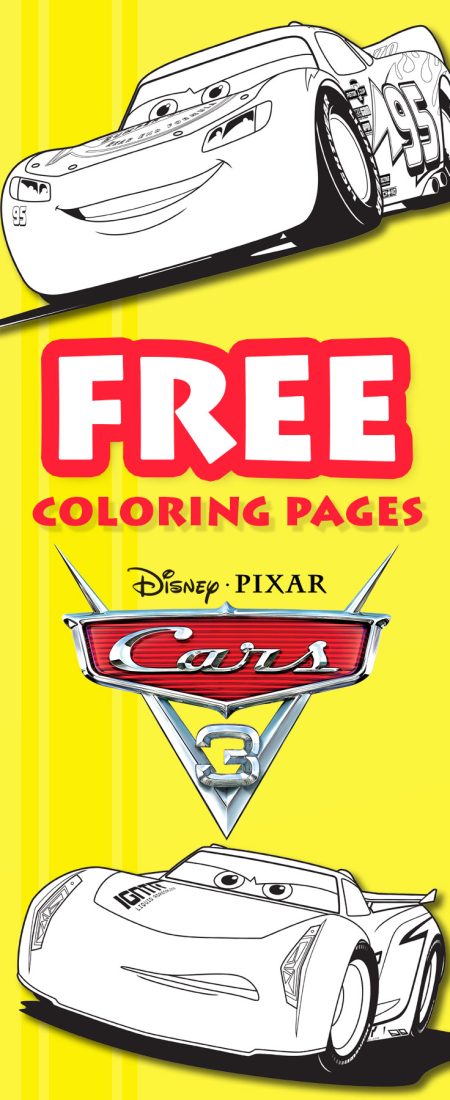 Save