Cheap Gifts for Teens
Disclosure: Highlights Along the Way is a participant in the Amazon Services LLC Associates Program, an affiliate advertising program designed to provide a means for sites to earn advertising fees by advertising and linking to amazon.com. This site uses affiliate links.
The holiday season does not have to stress us out. When the economy is bad we may feel guilty about not giving our teens the expensive gifts they are being marketed, but we don't have to! Our teens are typically able to understand when money is tight, but this doesn't mean that they should expect an empty tree. Here is a list of cheap gifts for teens that don't suck. While these may not be expensive, name brand boots, they are still something that will make lots of teens smile.
When finances do not lend themselves to an expensive Christmas haul, it is OK! Kids, and especially teens can learn that living beyond our means is not a good thing to do. Teaching our kids that we can still show love and give gifts, while remaining in a budget is an important lesson. While kid's first thoughts may be for expensive electronics and designer clothing, kids will feel seen when you find some of their favorite less expensive items as well.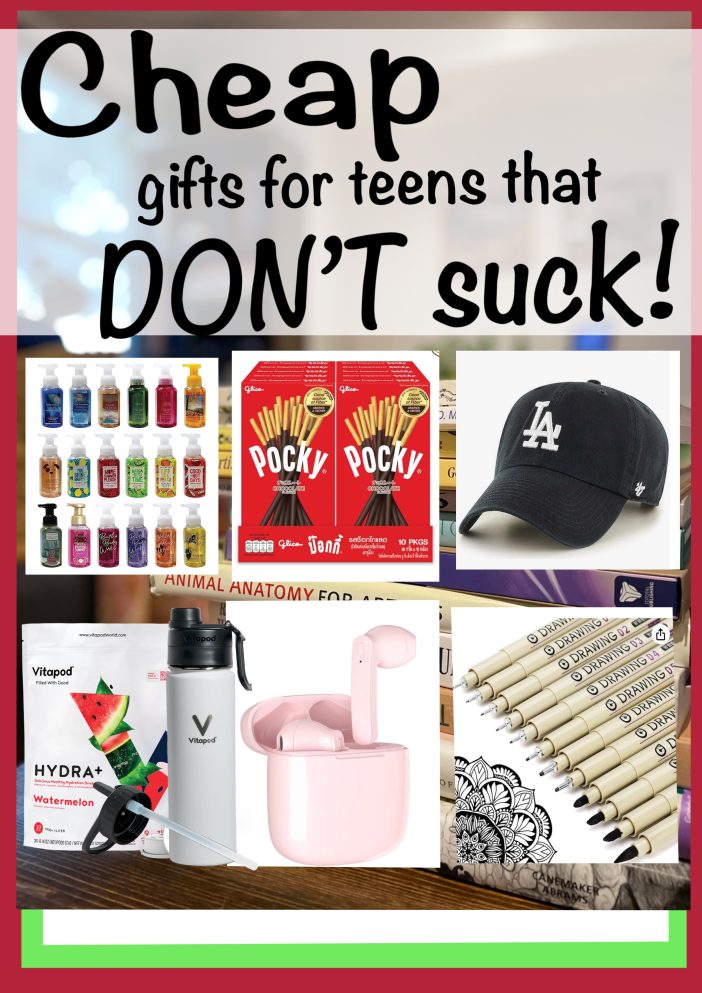 10 CHEAP Gifts for Teens that DON'T Suck!
Cheap Tech Gifts!
Inexpensive Tech Gear makes a great Teen Gift! While our first thought may be expensive headphones or tablets, there are many techy gadgets that teens will love. Here are a few of our favorite cheap tech gifts for teens.
Universal Phone Holder
Tech neck is a huge problem for all of us. This universal phone holder would have been great for our last family trip. Great for Planes or Trains
Waterproof Bluetooth Speaker
Kids can listen to their favorite music in the shower with this waterproof bluetooth speaker. This speaker is normally the very budget-friendly price of around $30, but if you are reading this on Black Friday or Cyber Monday, you might be thrilled to find it for under $20!
Wireless Earbuds with Charging Case
Wireless Earbuds do NOT need to be name brand to work perfectly. Watch this brand right here as we have purchased them for less than $25 when on sale, and the most we have ever paid was still under $40. Wireless Earbuds are something our teens use almost every day, and getting a new pair during the holidays is always a welcome gift.
Make up – Cheap Gifts for Teens
Make up is one of those things that some teens may consider both an every day or a luxury item. Small make up items make wonderful stocking stuffers, and larger pallets can be a beautiful item for under the tree. While some make up is extremely expensive, there are some dupes that we cannot gate keep that should make your fashionista very happy!
If your teen wears make up, it may be considered an 'every day' item, but replacing items with fresh new product always feels great. My daughter and I both really like this mascara. I always pop this in her stocking because mascara should be swapped out regularly, but also it is only $5! A quality lip stick in your teen's favorite color is another nice inexpensive gift for stockings or even under the tree. I suggest searching your teen's favorite brand of make up and 'dupes' and you may find a lovely and less expensive brand that is nearly identical (sometimes they are made in the same factory!).
If your teen loves make up, it is likely they would love new make up brushes. This 22 piece brush set is less than $10 shipped!
Skin Care and Hair Care are great CHEAP gifts for teens

Quality skin and hair care such as single use masks, under eye serum, or a favorite hair gel can be a nice gift.
Books – The ORIGINAL Cheap Gifts for Teens
If your kid is a reader, a book is almost always an under $20 gift idea. Our kids have several authors that they love so it is easy to find a book for them. Keep in mind that graphic novels, comic books, art books, and more fall under this category. If you teen likes magazines, buying the latest issue of their favorite magazine is also a fun thing to flip through.
Audible Subscription (FREE TRIAL)
If your teen struggles with reading (like I do), but wants to get books into their brains, an Audible subscription is a fairly reasonable monthly fee. I have at times paused my subscription very easily and even chosen an every other month option when I was extremely busy. I personally love to listen to audio books while I draw, while I am on public transportation, or even while waiting in the school pick up line. I think this might be a perfect gift for a teen. Don't miss the free trial in the link above (remember to cancel if it isn't their jam).
This is a perfect time to normalize gifting 2nd hand gifts. Books make the perfect 2nd hand gift. We have found that exchanging books on a local "Buy Nothing Group" is a perfect way to give someone the gift their child has asked for or giving our child a book someone has passed down. We also love to pop into local used book stores or check out Facebook marketplace. While a fresh new book is a great gift, so is a second hand book. I believe most teens would agree! Our teen would rather have three gently pre read books than one fresh new book any day!
Drawing Supplies – Inexpensive Gifts for teens!

Is the teen on your list an artist? You are in luck! Individual art supplies can be quite inexpensive. Artists tend to have their favorite tools, so make sure to find out what they like. New markers, pens, or a sketchbook can be a real treat! This is my favorite sketchbook. I also go through these Micron Dupes very quickly. My husband really enjoys these Copic Dupes. Looking for more gifts for artsy types? We have a fun gift guide for artists on another page that can be really helpful for your shopping needs.
Favorite Lotion scents
Teens often have a favorite lotion scent and they can never have enough. When polled, our daughter's friends overwhelmingly said Warm Vanilla Sugar from Bath and Body Works, so this seems to be a safe bet. Whether you buy online or take a trip to the mall, a bottle of their favorite scent can often be just around $10!
Throw Blanket – Teen Gift Idea

A throw blanket that features a special interest can be very inexpensive now. We have purchased our son a Lord of the Rings throw blanket, our oldest daughter a baby pink lux throw blanket, and our youngest has a cool Dog themed Throw blanket. Throw blankets of just about any theme or decor style can be found almost always for under $30.
Baseball Cap
My teens can never have enough baseball caps. Our kids love to wear caps that show off the things they like. Baseball caps can feature favorite sports teams, theme parks, or even snarky sayings. Ball caps can often be right around $20, maybe even less!
Water Bottles
I don't think I ever owned a reusable water bottle as a kid, but now our kids have several each. Kids tend to lose, break, or just get tired of water bottles. There are tons of really cool themed water bottles available on Amazon.
Special (but cheap!) Food gifts
Liquid Death Waters
Gift your teen with a case of their favorite beverage. Our son loves to pick up "Liquid Death" Waters. I am sure the only reason he chooses this over any other water is because it looks a little edgy. Kids are silly, and he was THRILLED to see a case of this nonsense under the tree! When we buy on Amazon they work out to about $1.50 – $2 each, you can also simply pick up a couple at the store. Our kids also like Izzies, Jarred Frapuccinos, or shelf stable protein shakes.
Flavor Packets
Our kids LOVE these little drink flavor packets, but I rarely buy them at the store. These are silly and inexpensive, and cause a lot more joy than their $3 price tag. These are a great little gift in the tree or in a stocking.
Case of Ramen
Instant Ramen isn't good for us, which is why I never buy it on a regular shopping trip. That said, kids love that crap. Last year I bought a case of Ramen for like $7 and the kids were like "CAN WE HAVE ONE RIGHT NOW?!" It went over very well. It will be under the tree every Christmas for sure.
Case of Pocky
Pocky is the best. We typically put a Pocky (or two) in stockings, but this year I think an entire case of Pocky will be under the tree. Pocky is a sweet treat that is not very expensive. We have a case of 10 Pocky's here for under $20 shipped. Buying cases of things for one or even a couple kids is really cost effective.
FREE Gifts for Teens
While this may take a little extra work, sometimes a very tight budget does not mean you can't give someone a gift. I am not ashamed to say we have always gone to our local BUY NOTHING group on Facebook to fill stockings or put things under the tree, we've also given items away on that page. Buy Nothing is where we got our daughter's requested 'Blue Lamp' as well as brand new sketchbooks for our kids. All three of our kids are avid readers and we have exchanged many books on Buy Nothing. We gifted our oldest a brand new winter coat that someone was gifting in her size. I have seen folks request everything from books to kitchen aid mixers; it never hurts to ask!
A final thought on gift giving when times are tough. Teens, especially now get a bad rap for being selfish. We all have selfish moments, but your teens don't want to cause you financial stress. Letting your teens know that you love them deeply but have to be a bit creative with less expensive gifts will be OK. We hope you will share other cheap gifts that don't suck in the comment section.