Cinderella Review & "Perfect Fit" Sweepstakes!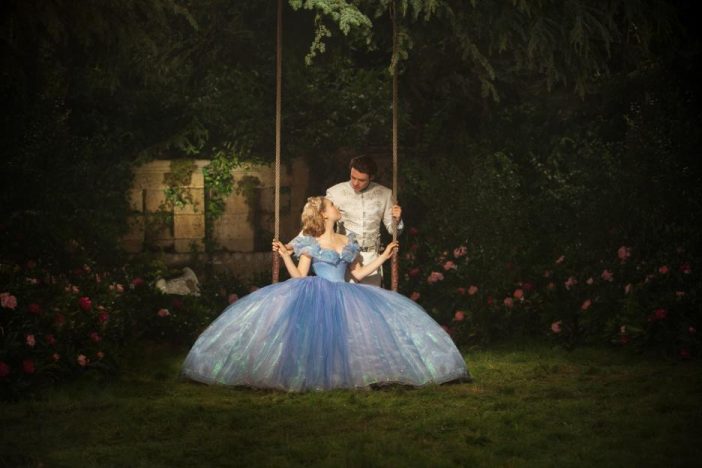 I am a huge fan of the look of the new live action updates of Disney animated classics.  The colors are so vibrant and every scene looks like a painting.  Cinderella lived up to the franchise – it is like a dream.
A live-action feature inspired by the classic fairy tale, "Cinderella" brings to life the timeless images from Disney's 1950 animated masterpiece as fully-realized characters in a visually-dazzling spectacle for a whole new generation.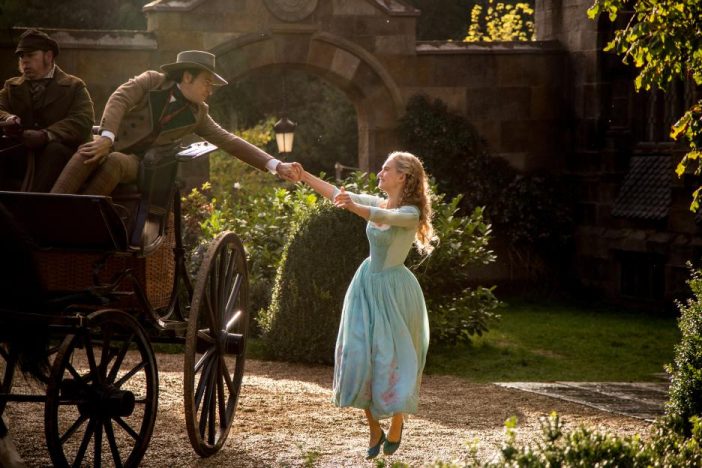 The costumes are unique and absolutely beautiful! I especially loved the Step Sister's ball gowns.  They were ridiculous, over the top, oh so fancy, and just perfect for two spoiled girls.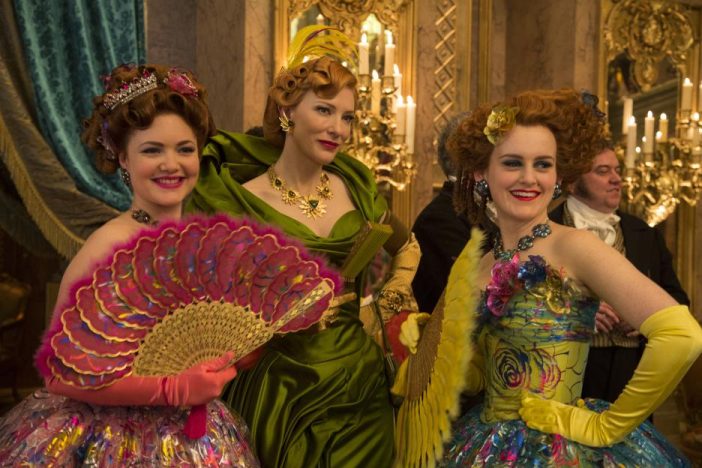 My daughter obviously was in love with Cinderella's dress.  It was a beautifully updated version of the animated dress but with a twist.  Pretty little butterflies and fiber optic sparkles made it extra gorgeous.  I dare say "Cinderella" will replace "Elsa" this Halloween – mark my words.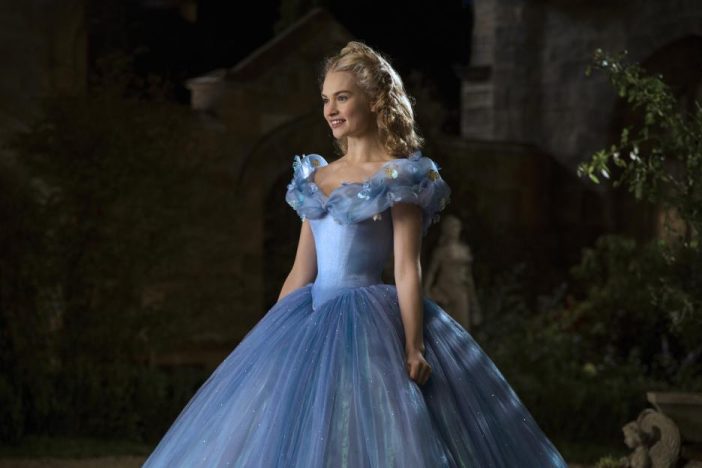 As for the story, I love this version of Cinderella!  It was every bit as innocent as the original Disney animated classic but with some updating that was just wonderful.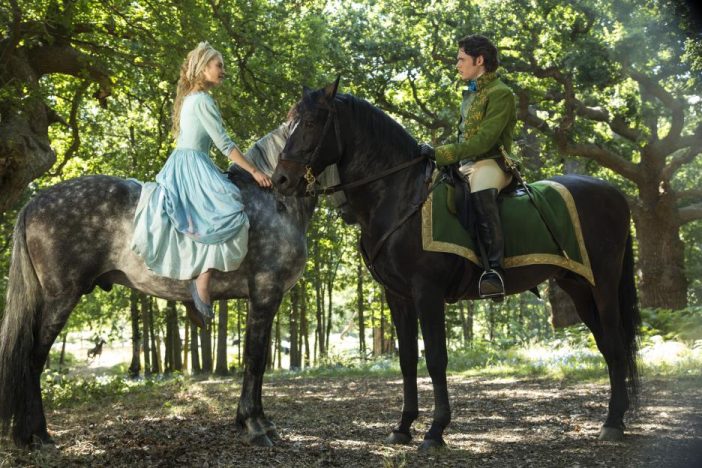 One update I really loved is the Prince; or "Kit" as he introduces himself actually has a personality.  He is also humble and deeply respects his father as well as this beautiful young lady he met.  He is a Prince, but he refers to himself as an "apprentice learning his trade".  Kit is the man we all hope our daughters will fall in love with.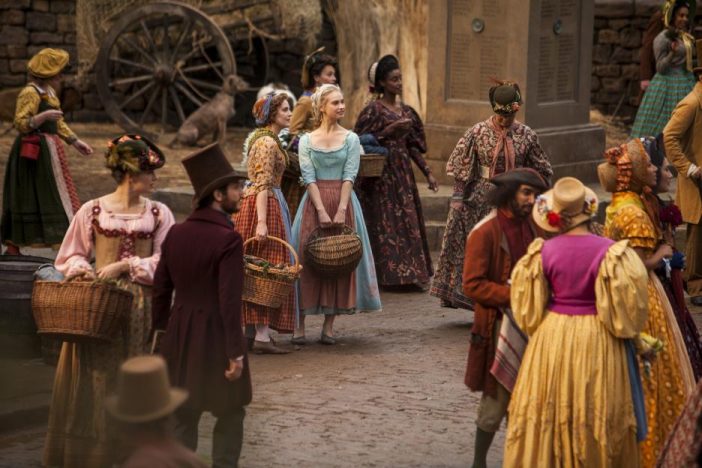 Cinderella is taught from a young age that courage and kindness are of utmost importance; no matter the circumstances.  She is kind to her step sisters and her step mother, she finds good everywhere. But she also stands up for what is right, she insists that just because something has always been one way doesn't mean it is right.  She offers forgiveness when society would have been perfectly OK with her holding a grudge.  Again, a trait we wish for our children.
As most readers know there is a lot we won't let our kids watch just yet.  Cinderella has my Prudish Mama Kate stamp of approval.  I love this movie for me and I also completely approve it for kids.  It's just beautiful from beginning to end.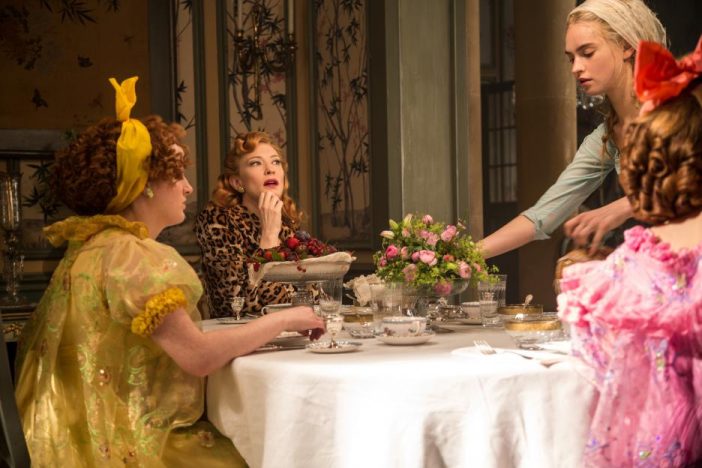 *Spoilers worth mentioning* For those that may want to know, Cinderella's Mother and the King both die and you see them very sick.  Cinderella's Father falls ill on the road and also passes away.  Both of my kids and I misted up, but it was not violent.  Cinderella's step mother is mean, but not violent.  There are a few kisses and absolutely nothing I deemed sexually inappropriate (and I deem a lot sexually inappropriate).  As I play it back in my mind I am not quite sure why it has a PG rating.
Cinderella is a beautiful movie for the whole family!  Cinderella opens TODAY March 13th!  Oh!  And if you are feeling lucky you should enter the Perfect Fit Sweepstakes!  I entered so I mean, I am probably gonna win – but I thought I should pass it along to you too.