Clifford the Big Red Dog Interview!
Clifford the Big Red Dog is now available on Digital! Enjoy with the whole family from your couch. Please check out the exclusive interview of Clifford the Big Red Dog by our new entertainment reporter J! She was so excited to interview one of her life long favorite characters. Check out what Clifford had to say below.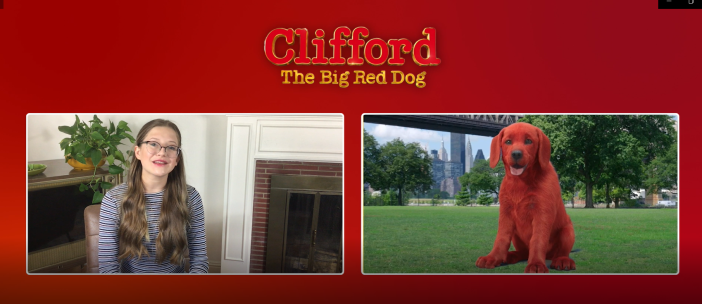 The classic story of Clifford the Big Red Dog comes to life in this film. Your little one will be captivated.
Clifford the Big Red Dog Interview!
CLIFFORD THE BIG RED DOG Synopsis
When Emily discovers her little red puppy named Clifford has grown ten feet overnight, she turns to her eccentric Uncle Casey for help. But when a mad scientist tries to capture the larger-than-life playful pup, it takes the entire neighborhood to hide Clifford as they race across the city. Get ready for the incredible, laugh-out-loud comedy adventure that is BIG fun for the entire family.
Called "a movie families need right now" (Matt Cohen, "Entertainment Tonight"), CLIFFORD THE BIG RED DOG is the perfect movie for the whole family to cozy up at home and watch during the holidays. Plus, fans can have twice the fun with a two-movie collection featuring PAW PATROL: THE MOVIE and CLIFFORD THE BIG RED DOG exclusively on Digital together for one pup-tastic price.

The Digital* release of CLIFFORD THE BIG RED DOG features supersized and fun-filled bonus content, including a behind-the-scenes tour with the cast, a closer look at the puppeteers who helped bring Clifford to life, an exploration of Clifford's beginning with creator Norman Bridwell, hilarious tips for caring for a giant dog, and deleted scenes not seen in theaters!
Bonus Content!
Part of the Pack— Get a behind-the-scenes look at Clifford's big movie with interviews from cast and crew.
Acting is for the Dogs—There's more to Clifford than meets the eye: meet the puppeteers who brought the giant red pup to life!
The Magic of Bridwell – See where Clifford's big adventure began from creator Norman Bridwell's early drawings for the beloved Scholastic book series to Clifford's worldwide fame.
Tips & Tricks for Taking Care of a 10-Foot Dog – Get hilarious tips on how to take care of a giant dog!
Deleted Scenes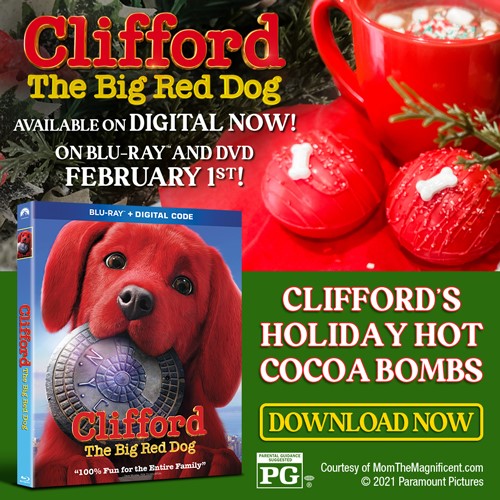 Clifford the Big Red Dog Hot Cocoa Bombs Recipe!
Cozy up for the holidays with these delicious hot cocoa bombs inspired by everyone's favorite supersized pup! CLIFFORD THE BIG RED DOG is available now on Digital and on Blu-ray and DVD February 1st! https://bit.ly/CliffordHotCocoa