The Coco Premiere and my review of the movie!
Disclosure: Pixar COCO Event was hosted by Disney Pixar. This site uses affiliate links.
Coco was an instant hit with Disney Pixar fans.  The animated feature tells a story of Dia de los Muertos in a way only Pixar artists can tell. Here are pictures from the red carpet of the world premiere in Hollywood.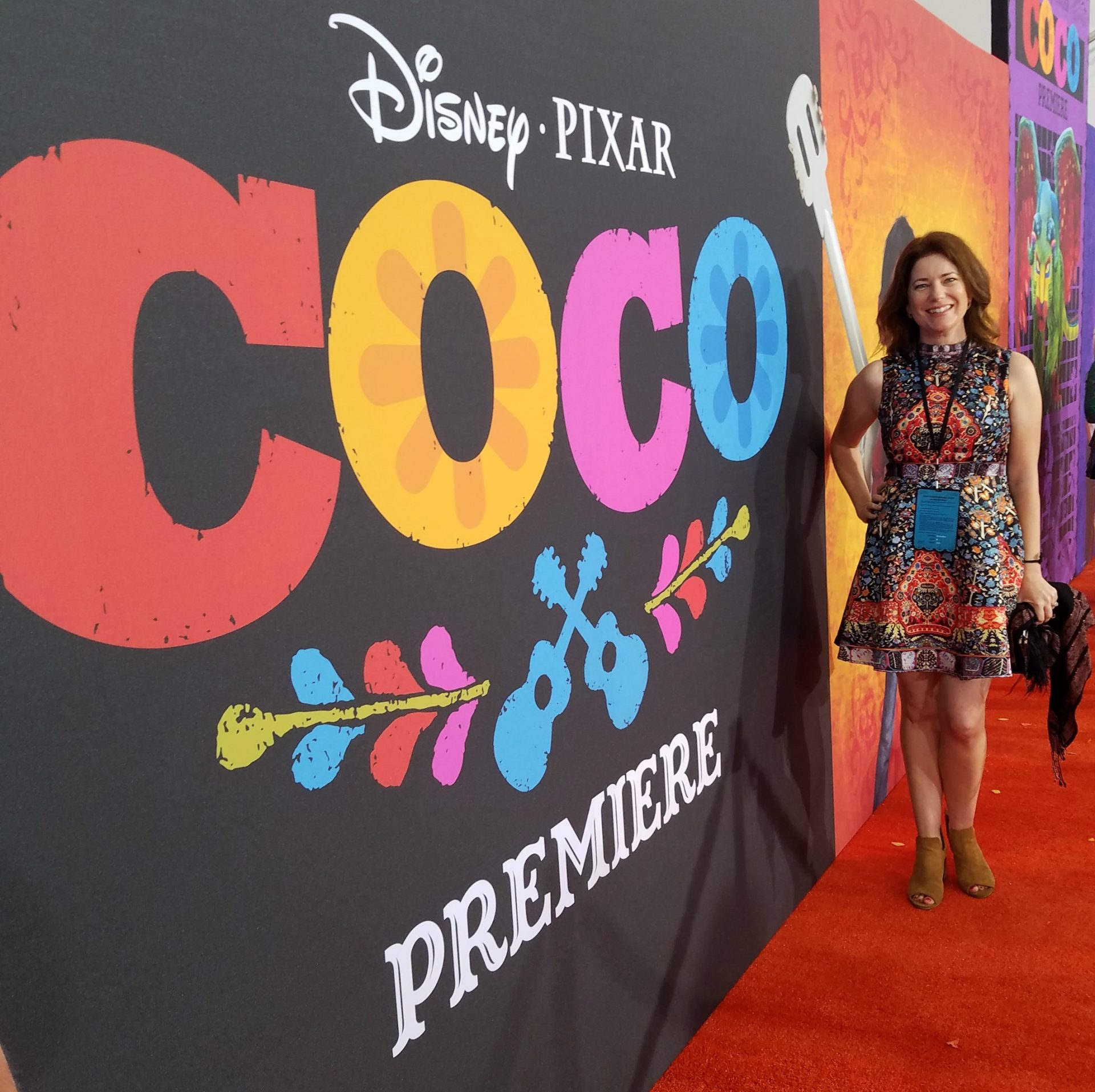 If you have been following along on my Instagram, Facebook, and Twitter you may have noticed the #PixarCoCoEvent hashtag dominating my feed.  I was beyond thrilled to be invited to the Coco blogger junket, this was my 11th junket with Disney Pixar and I am always amazed, encouraged, and inspired by what goes into these films. Today I am sharing the highlights of the red carpet and also my impression of the movie Coco. I will also share whether I think Coco is too scary for kids and if I am taking my kids.  I promise this post contains no spoilers.
The red carpet premiere is always such an incredible event. The energy is always celebratory, but the red carpet (or Marigold carpet) for Coco was extra special.  Because the movie is so family oriented, the reception was especially warm and inviting.  Traditional Mexican dancing, music, food, and crafts were everywhere.  Kids and adults all had a wonderful time in the party tent prior to the screening at the legendary El Capitan Theatre in Hollywood!
The cast is made of of Hollywood royalty and newcomers.  They all turned out for the special night!
You guys….. Idina Menzel.  I was star struck when I saw her in person. She was there to celebrate Olaf's Frozen Adventure, which I am excited to share more about soon!
Also, can we talk about my dress? (Commercial Time) I love this dress so much.  A friend introduced me to StyleWe and I am pretty sure my life is changed forever.  Really cute stuff!  It was delivered quickly and they even offer free returns and exchanges. OK, back to the event….
Get ready for Coco to capture your heart……
Coco is a beautiful movie that is sure to be an instant classic. Coco is a story about a little boy who loves music, despite his family's ban on all music. Miguel's love of music and need for acceptance brings him on a journey to the "Land of the Dead" on Dia de los Muertos.  During this journey he meets ancestors, unlocks mysteries, and gains the validation he craves. Whether Dia de los Muertos is a tradition you celebrate or not, the themes in this movie are universal and encouraging.  I dare say it is my favorite Pixar movie to date.
Coco is rated PG and I believe that is a fair rating.  With younger kids, we are often asked about whether we will let our kids see a new movie.  If you are wondering if Coco is scary for kids, I am happy to share my thoughts.  In my opinion, Coco is perfectly family friendly.  If children are scared of skeletons, it might be worth checking out the clip below and other artwork with your child before to gauge how they feel.  Much of the film takes place in the "Land of the Dead" where adorably dressed skeletons are the main characters. Coco does have a couple scenes where characters drink alcohol, but it makes sense for the scene and it is never in excess. Without giving away spoilers, there are scenes with death.  While the deaths are sad and in one case, shocking, they are not violent or gory in any way.  My eleven year olds and my six year old will be in theaters on Thanksgiving day!
I cannot wait to share this movie with my family! My kids are so excited and are passing the time waiting with the Coco coloring pages below…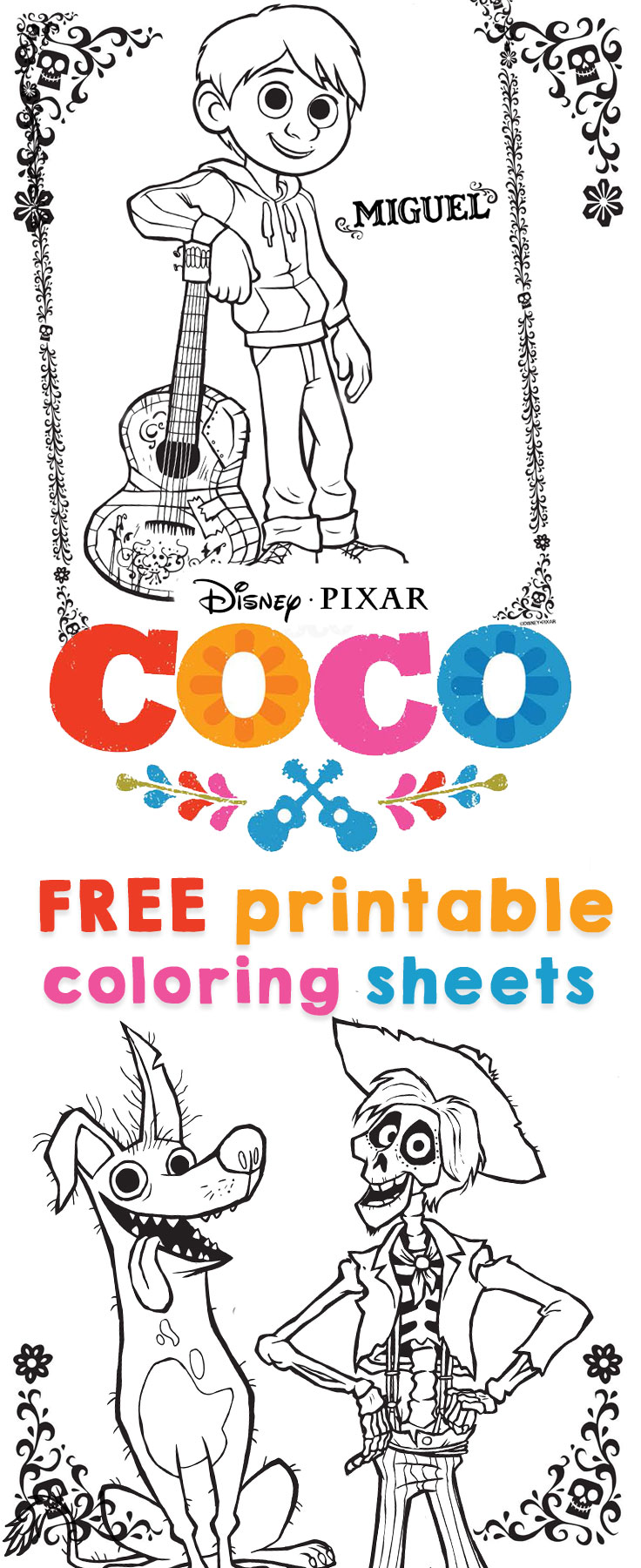 Disney Pixar COCO printables here!
Haven't heard of Coco yet? You can watch the official trailer below.
Follow along on Social Media using the hashtag #PIXARCOCO
Tickets are on sale NOW for families and friends who want to celebrate the themes of "Coco," including the importance of family, honoring your ancestors and following your dreams. Skip the ticket lines AND support our site by purchasing your tickets from Fandango today! Disney Pixar's COCO opens in theaters on November 22, 2017. I will be in the theaters with my whole family!