Cook Pumpkin in a Crock Pot
Do you have a left over, uncarved pumpkin still sitting on your porch? Are you looking for something to do with that perfect pumpkin you never got around to carving? Pumpkin is a super food that is perfect in cozy fall recipes! We love to take our left over pumpkins and pop them in the crock pot! The slow cooker or Instant Pot turn that pumpkin into delicious and nutritious puree in one simple step. We use the pumpkin puree in everything from soups to sauces to desserts. Don't let that perfect squash go to waste!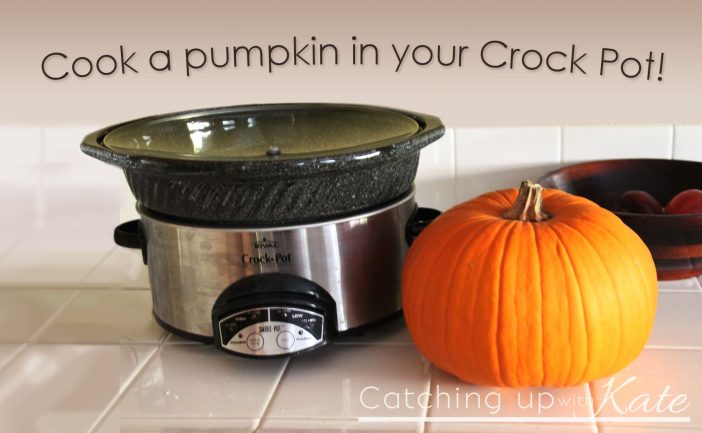 Pumpkin in a crock pot recipe. I am in love with two things – pumpkin and my crock pot. They are amazing individually but you cook pumpkin IN a Crock Pot (or any slow cooker) – that is when magic happens. We love to cook pumpkin in a crock pot! Check out this easy way to cook pumpkin! Easy pumpkin recipe. Crock pot recipes.
I am kinda lazy so I don't want to cut and peel a pumpkin. That is a hassle. The idea of peeling and dicing is crazy. It just takes too long and I am pretty sure my crummy knife set, a hard pumpkin, and my sloppy skills are a recipe for losing a finger.
A couple years ago I wrote about making Pumpkin Butter in my slow cooker and I thought it was high time I shared about that here too. Pumpkin Butter is awesome and you should check out that recipe too (Basically you add sugar, that is it) – but today I am just going to be sharing how to cook a plain pumpkin in the crock pot. Cooking a pumpkin in a crock pot is an awesome way to get perfect pumpkin puree – you can use in soups, muffins, breads, cookies, brownies – it saves in the fridge for about a week (for me) and it freezes beautifully!
This is so easy you guys. I almost feel silly sharing these crazy easy tips – but I have had several people say in conversations "I never even thought about using a crock pot!" so I thought it was high time I put it out there for those who don't already do this.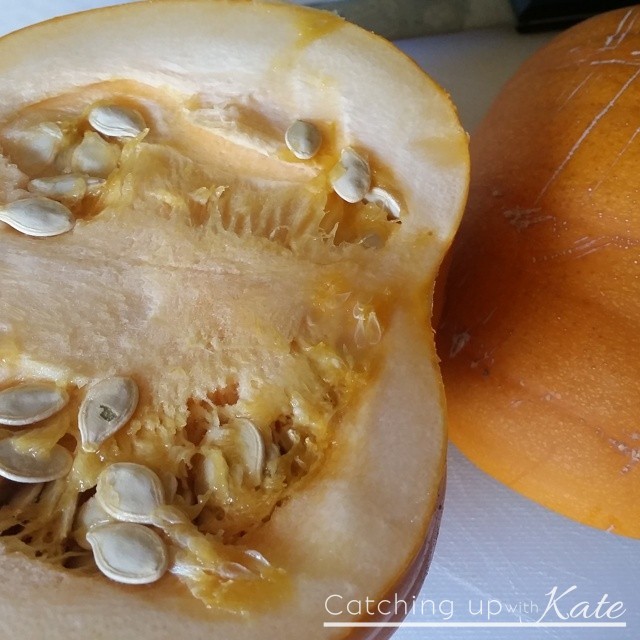 Pumpkin in a crock pot recipe.
Basically chop to the top off your pumpkin and cut in half. Scoop the seeds and pulp out (save the seeds for roasting!) and then plop it in the crock pot. If you have a really big pumpkin, cut it into as many pieces as necessary to jam it all into the crock pot with the lid closed. If you have a REALLY big pumpkin you may have to do this in two sessions. Put any pumpkin slices you cannot fit in the crock pot into the fridge until you have a free crock pot. When it is a smaller pumpkin this is literally one slice down the middle and plopped into the crock pot – turn it on and walk away. If you need to cut it down a bit it is still not too much work.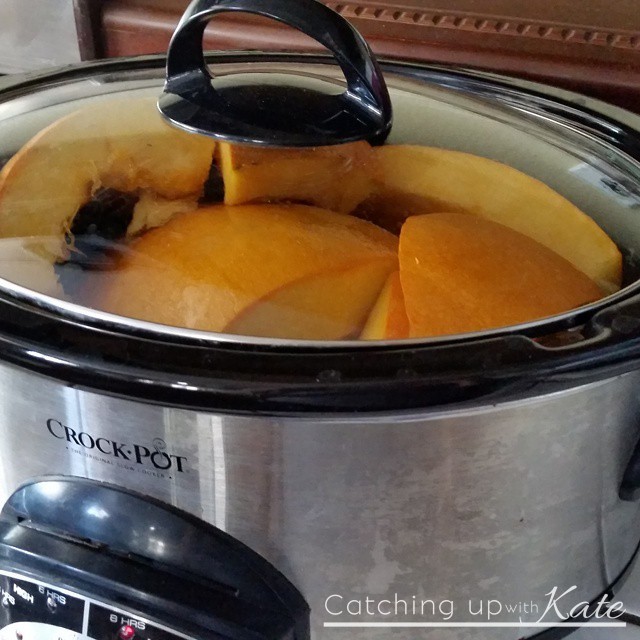 DON'T peel your pumpkin – as stated before that is a crazy time consuming idea. While it cooks in the crock pot it will get nice and soft and it will be easy peasy to peel after!
Cooking time varies a bit based on the size of both your pumpkin and your crock pot / slow cooker. We have a medium sized crock pot and I tend to pack as much pumpkin in as possible – usually about 5 big wedges. Add in about 1/2 a cup of water (I honestly do not measure). Put the lid on it and set for 6 hours on low and walk away. I tend to check on things at about 4 hours and it is usually done. I prefer to cook on low as I feel when I have cooked on high it doesn't cook as nicely even though it cooks faster.
Check your pumpkin at about 4 hours to see if it is completely cooked to the skin. If so, turn off your crock pot and let everything cool just a bit (NOT entirely). If it needs more time just check back every hour or so.
Once you have decided your pumpkin has finished cooking in your crock pot and you have allowed it to cool for a bit you want to take it out to skin. Do not wait until the pumpkin is completely cooled or it will be harder to skin. Wait until it is warm but something you can handle. I simply cut the skin off with a butter knife, so easy!
The cooked pumpkin will be soft – you can mash with a fork or use a Vitamix like I do (it takes about 11 seconds!)
I transfer any of the puree I won't use in the next two days into zip closure freezer bags and lay them flat on top of one another in the freezer. I have heard that canning pumpkin is not a good idea (and I have tried canning fruit in the past and that just isn't my favorite). When I want to use my crock potted pumpkin puree I just plop the bag on top of a plate in the fridge to defrost overnight.
We had one pumpkin plant that gave us four big pumpkins early in Summer. We plopped them all in the crock pot one by one and we have been baking, making pumpkin lattes, smoothies, and soups for two months and we still have pumpkin puree in the freezer! If you are growing pumpkins and usually cook them another way; give the crock pot (or slow cooker) a try instead! Keep in mind this works for other squash too – we crock pot our butternut squash too! Seriously SO easy! Also keep this in mind if you end up with an extra non carved pumpkin on your counter after Halloween. So many people use pumpkins in Fall decor and then toss them out. There is free food inside that pretty decor you guys! Give it a good washing, cut it up and plop into your slow cooker – you can thank me later!
Check out all our pumpkin recipes here and please share them with your friends.
Save