Country Shabby Chic Room : DIY Decor
Disclosure: Behr provided our family with a gift card for paint and supplies. Everything else was on us. All opinions are 100% my own.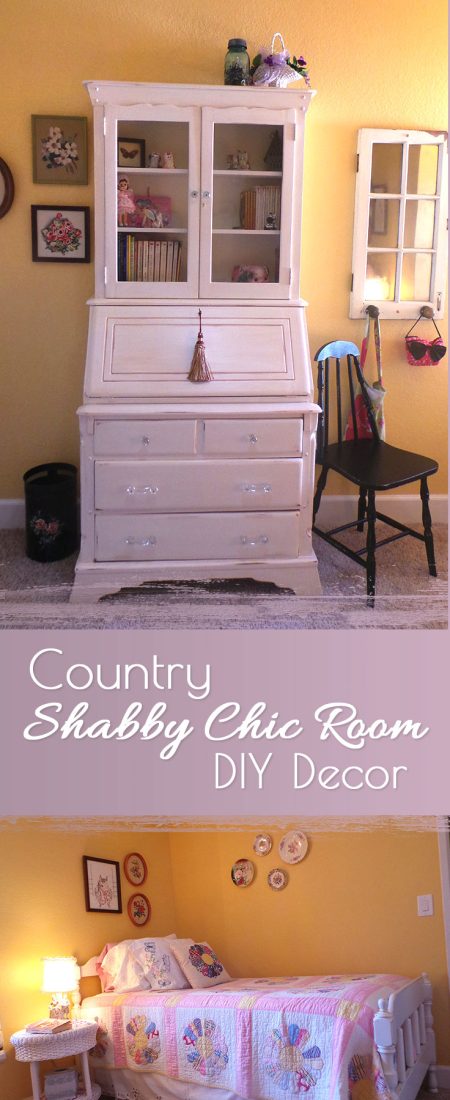 My mom says the love of antiques must skip a generation.  It isn't that I don't love antiques, I guess I just don't love them quite as much as my mom and J do.  When J heard she was finally getting her own room again (after 2 1/2 years of sharing with her brother) she made her grandma's day by saying she wanted to have a Country themed room with a real quilt.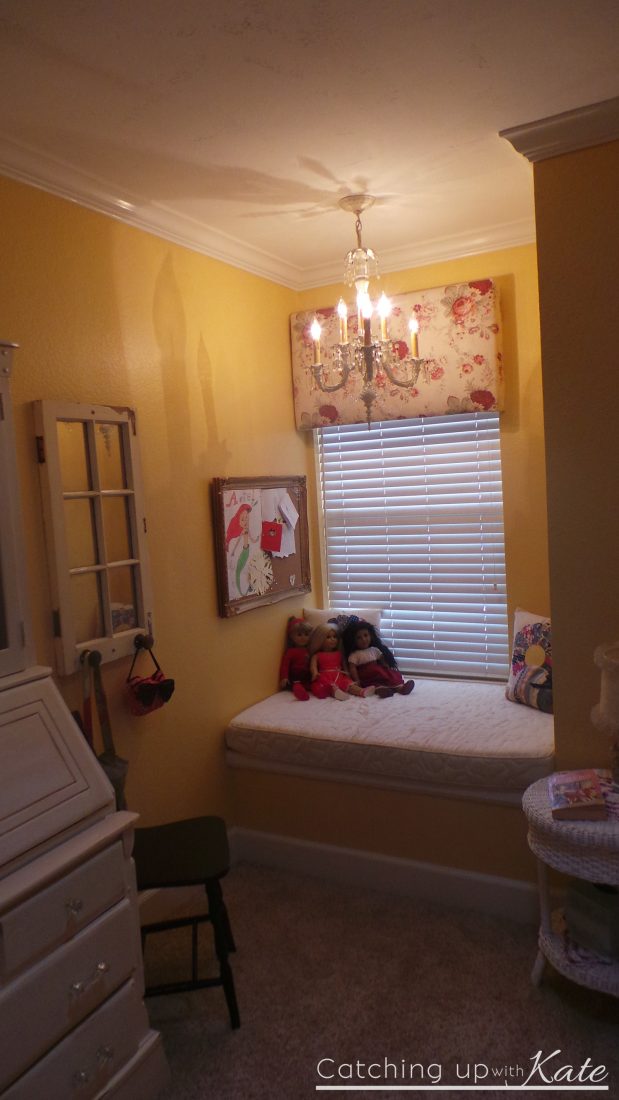 We waited more than 6 months between the time our offer on our new home was accepted and actually having escrow close – so we had a lot of months to "garage sail" and thrift to prepare for this room.  Grandma was also happy to share many of the treasures she has tucked away over the years.  J's new room is tiny – barely 10 X 10, but it has so much character, and it is all hers!  She loves the little built in window seat.  She has room for a twin bed, a dresser, and a little desk.  We tried several different arrangements, and this is what we settled on……….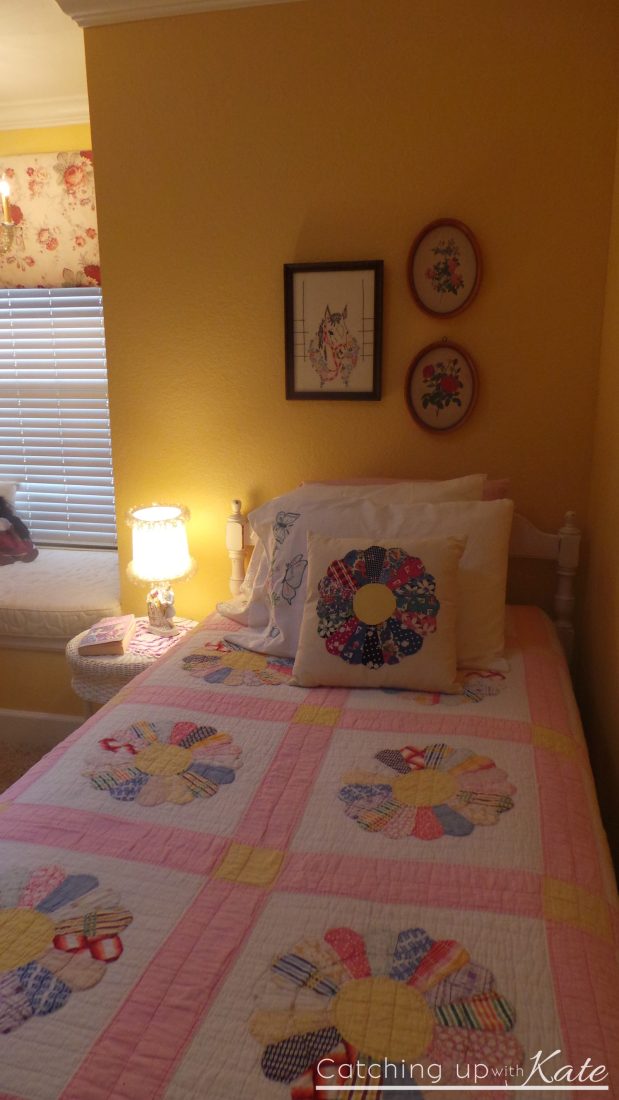 The inspiration for the whole room starts with this beautiful quilt that my Great Great Grandmother Blanche actually made many decades ago.  This quilt had been folded up neatly in my mom's closet for nearly 20 years – and now it can be displayed and treasured by a little girl I am sure Great Great Grandma Blanche would be very proud of if she could have met her.  We went back and forth for quite a while trying to decide if it was OK to put such an irreplaceable piece of family memorabilia in a child's room.  Mom and I finally decided that even though we couldn't replace the quilt, that it would be a shame for such a beautiful quilt to never be used, especially when there is someone who loves it so much.
We pulled a pretty color from the quilt as inspiration for the walls.  We again used Behr paint (just like we did in Sister's Minnie Mouse Room, and Brother's Star Wars Room) – it is inexpensive, VOC Free, and covers very well!  For those who love the color, you can purchase it at Home Depot. It is called "Lunch Box Yellow".  Isn't it a yummy color?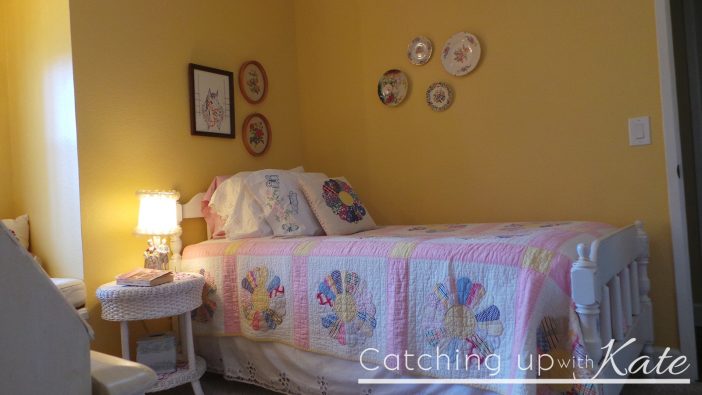 Her new bed was a family friend's that they were getting rid of.  Grandma painted it white and 'shabbied' it with a little sand paper – voila – adorable bed – fit for a Country princess & perfect for our budget!  Totally free solid wood bed.  I purchased her wicker side table at a garage sale for $5.  Everything was so perfect for our Country Shabby Chic Room.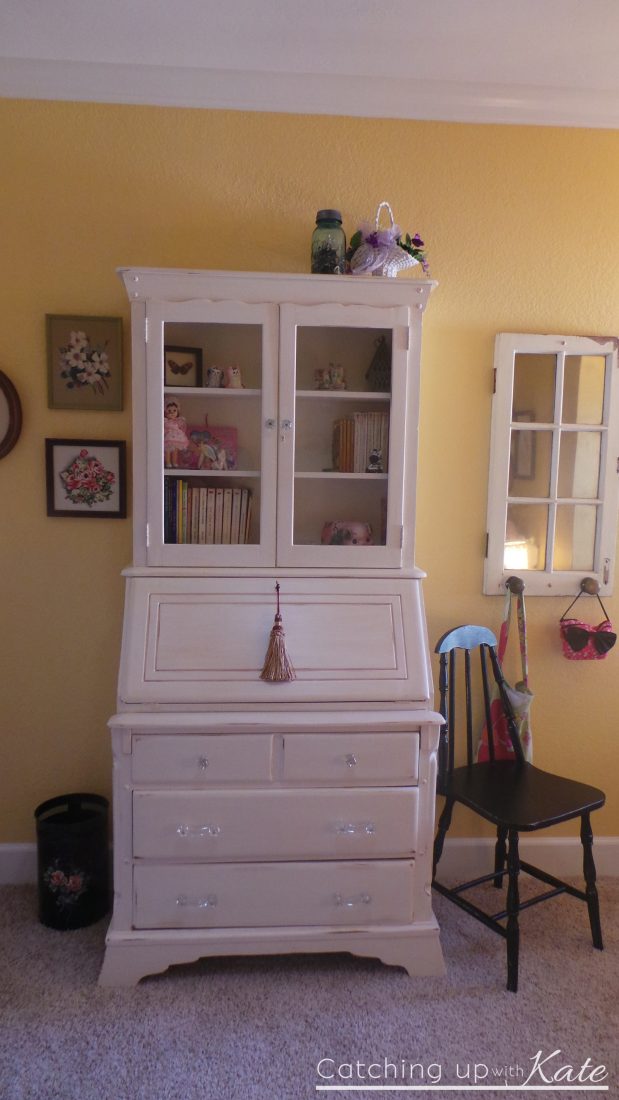 I am not quite sure what this desky thing is exactly?  It's got drawers, a bookshelf above, and a 'secret' desk.  J thinks it is fantastic…. Grandpa found it for free at a job site.  It was literally in a dumpster.  Grandma painted it and founds some fancy, country chic glass drawer pulls and voila!  A practically FREE desk with storage for our country shabby chic room!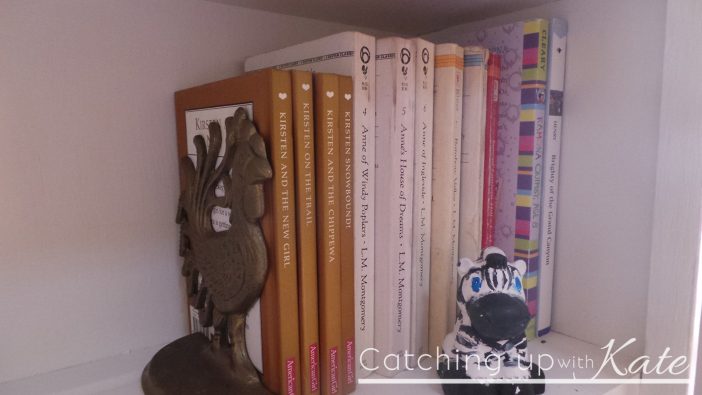 J loves that she can display her books (Mommy's old Little House on the Prairie, Anne of Green Gables, and Nancy Drew along with her Magic Treehouse, American Girl Doll, etc, this kid loves to read!).  Her little tchotchkes, autograph book, and piggy bank are also displayed the little glass shelves above – it is a little girl's dream!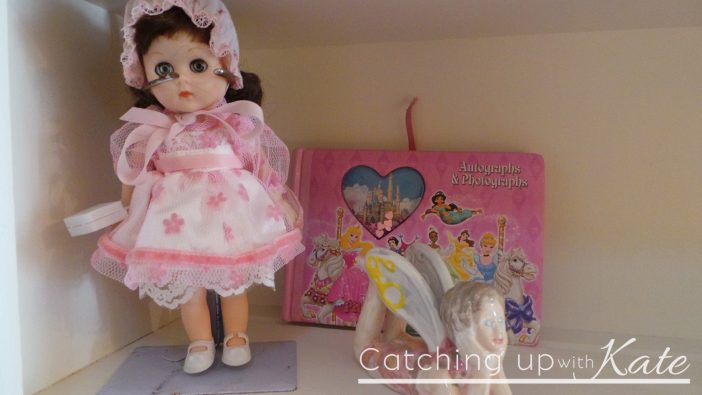 Grandpa found the sweet chair discarded also.  For real – why are people throwing awesome stuff away?!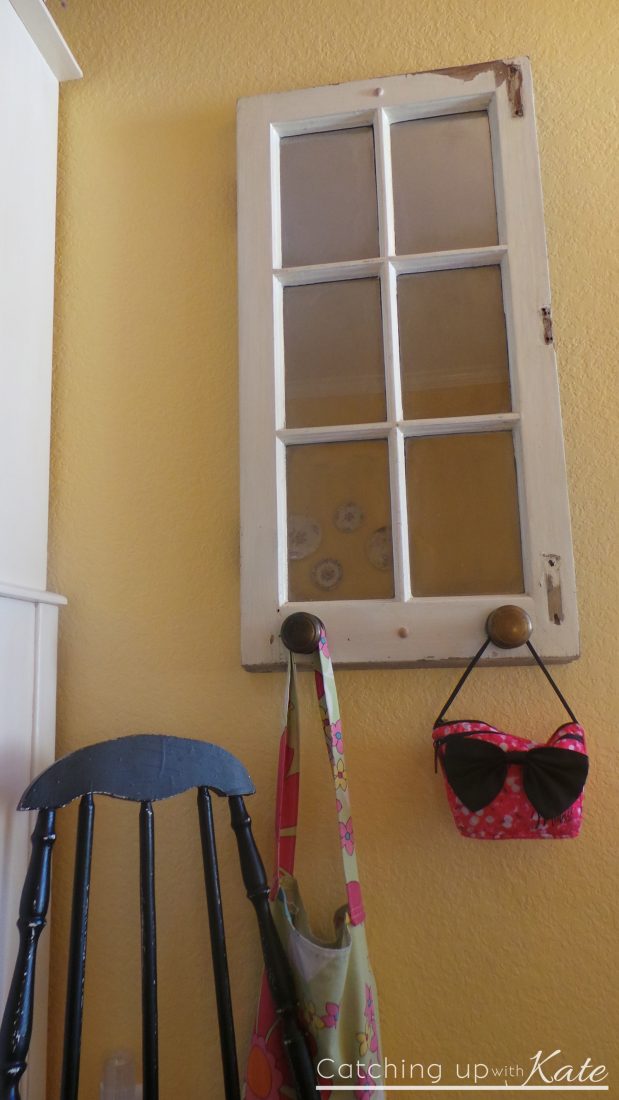 Salvaged antique windows made for an awesome purse and dance bag hanger. We purchased the windows for a mere $5.  All we really had to do was add some door knobs, and we had a nice, functional piece of art!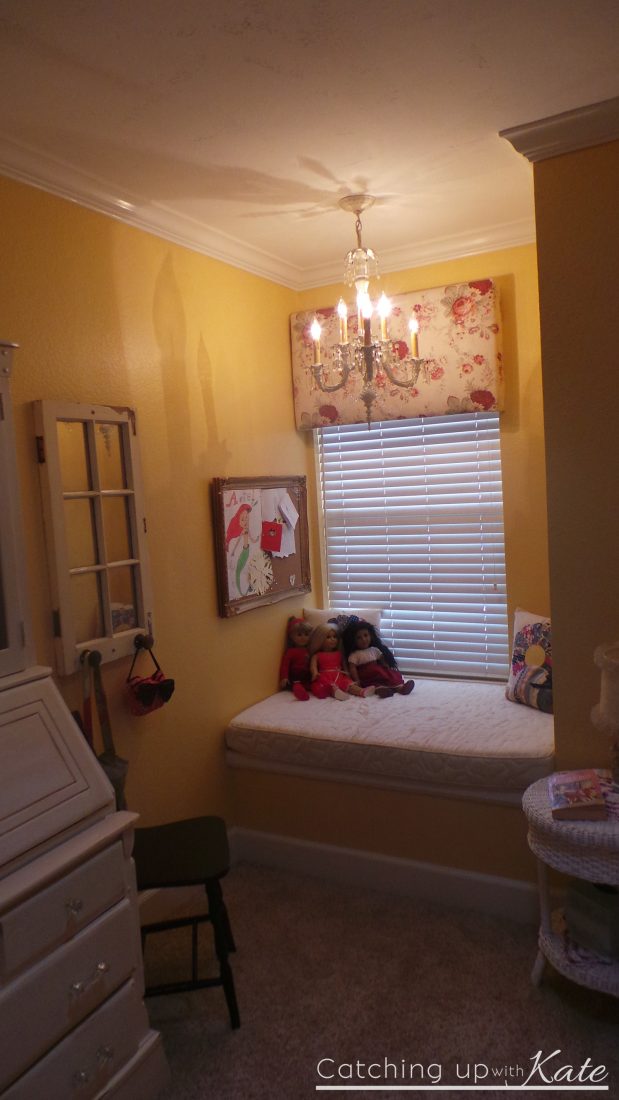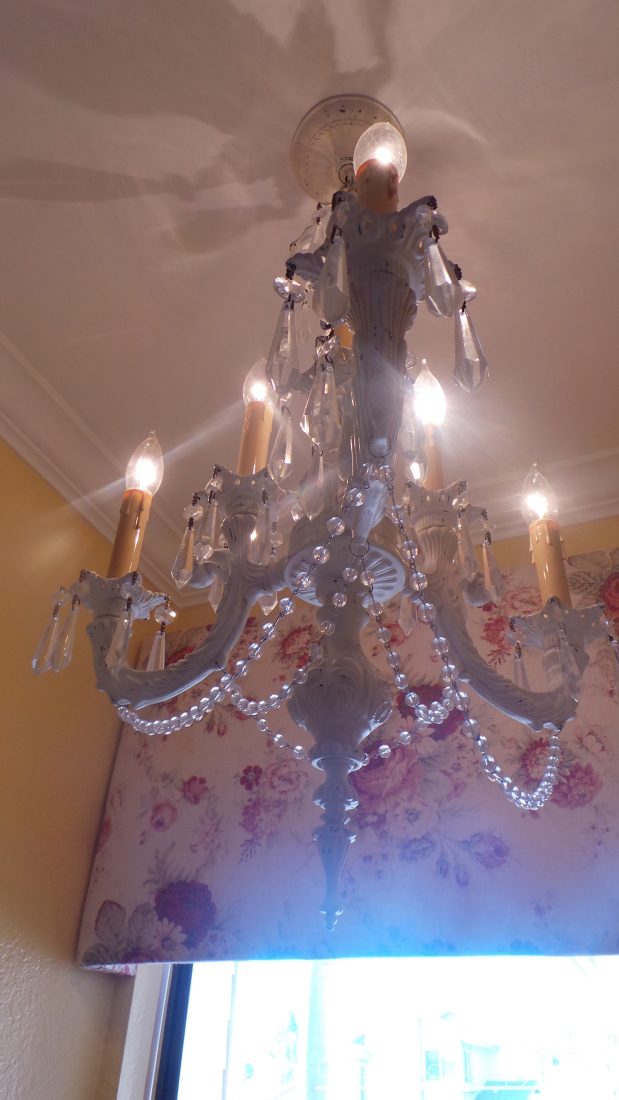 One of her favorite areas is her window seat.  We simply washed the seat cover that was already there and dressed it up like a dream.  The window box cover was pretty easy, we used the window box from the old house that Daddy made years ago and covered it with fabric we had bought at (you guessed it), a garage sale.  Grandma made her this pretty corkboard out of a salvaged frame.   I found her fancy schmancy chandelier at a garage sale for only $12!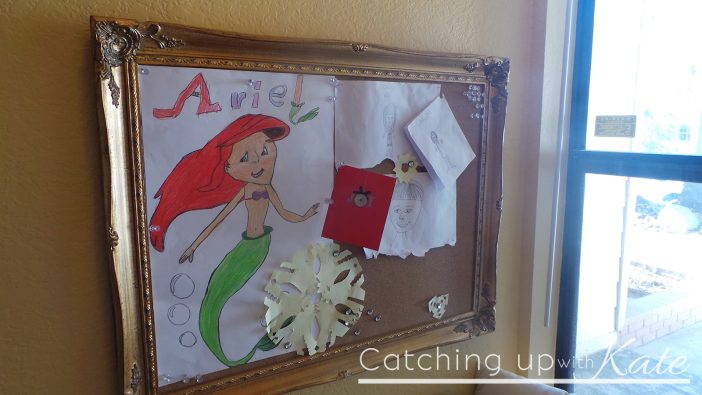 (Yes, my seven year old drew that picture of Ariel).  All her American Girl Dolls are Garage Sale finds too.  This year is the first year we are saving to get a brand new one in a box for her birthday, so far these dolls have proven that she is totally into them, so Isabelle is likely going to be joining this trio soon.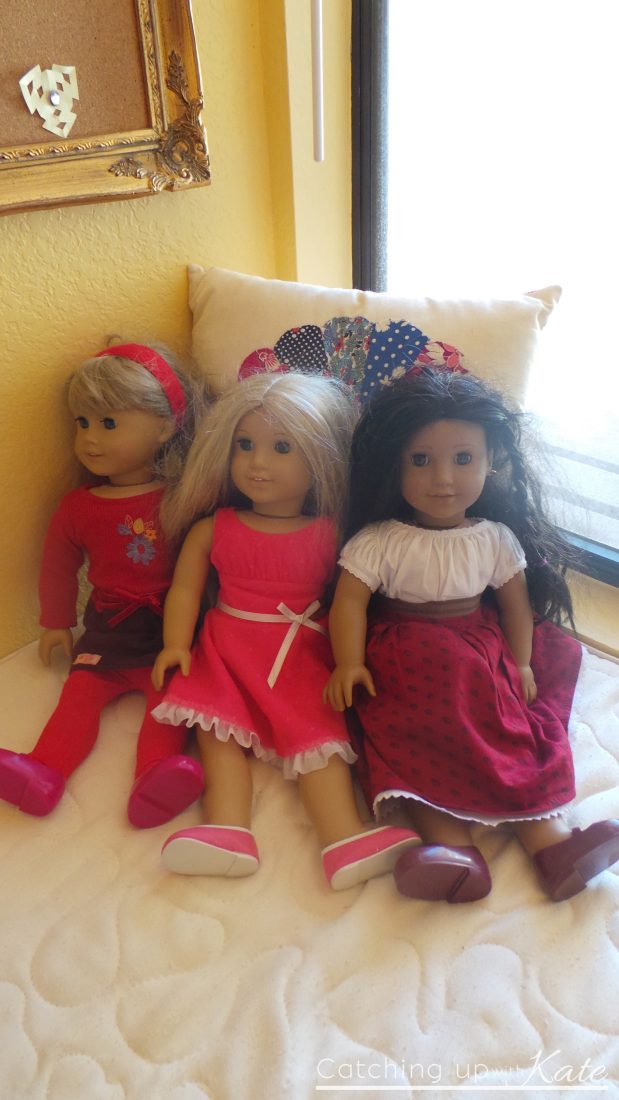 We decorated the Country Shabby Chic Room walls with some final touches – all found in thrift stores, garage sales, or grandma's Mary Poppin's bag of a closet (for real, stuff just keeps coming out of there).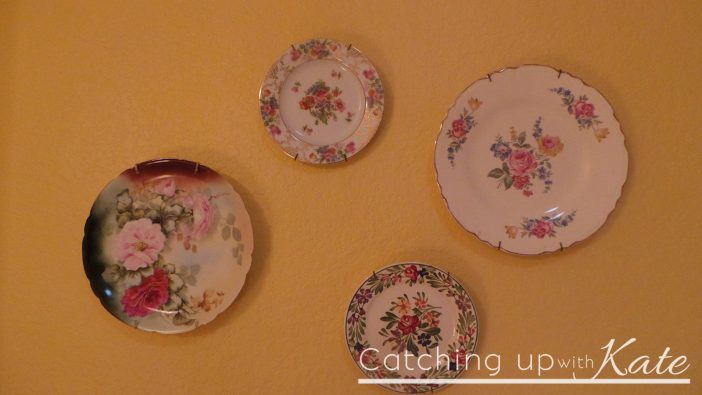 These pretty plates were a quarter each at a garage sale, we hope it is the start of a collection.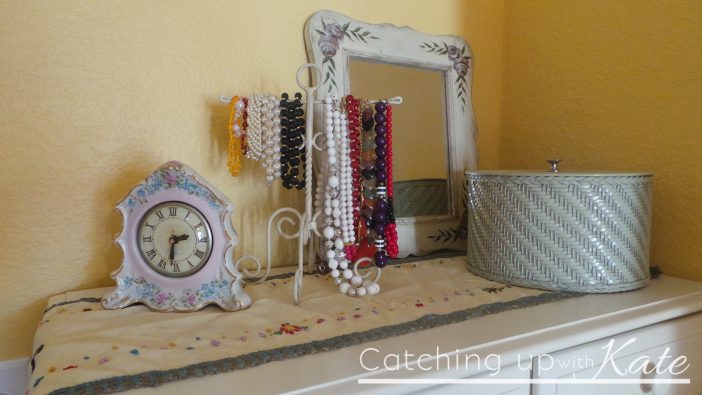 Beautiful decorations – her favorite is her jewelry tree (of course from a Garage Sale) – but she loves it because it displays her favorite necklaces that are a treasured gift from her Great Great Aunt Jewel who recently visited and gave them to her in person.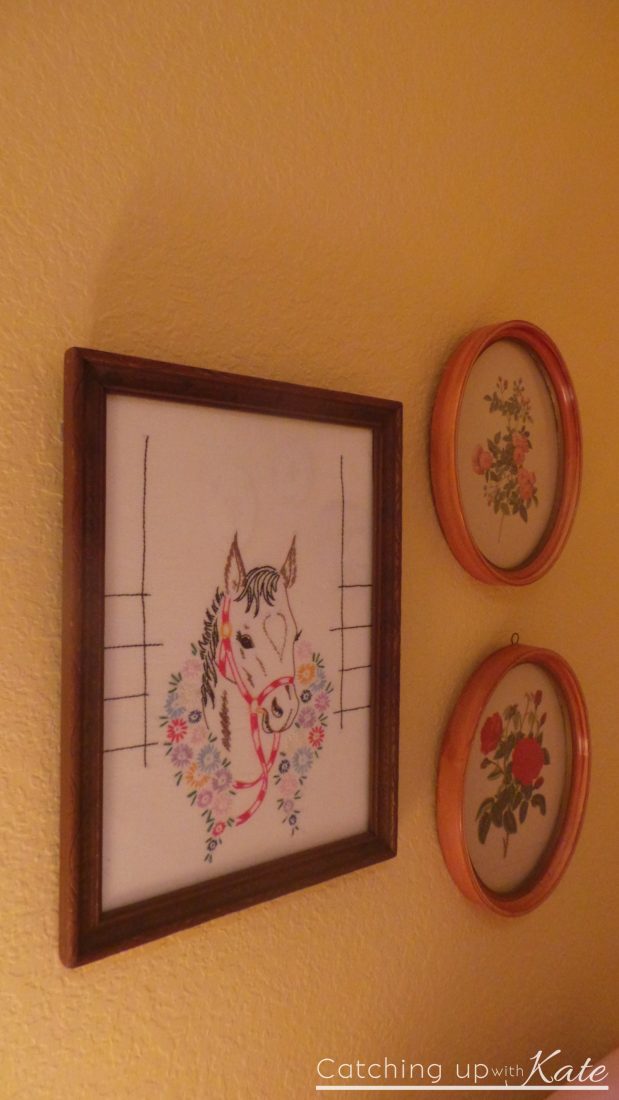 We have pretty, vintage floral prints and framed hand embroidered handkerchiefs to finish off the look.
This room is just beautiful and J treasures it.  We love that we could never replicate it exactly, every piece is a special one of a kind treasure, every piece has a special story.  We love that even though it took quite a bit of time, it honored our budget – by collecting things over several months from second hand options and digging through what we already had this little room only cost a couple hundred dollars (and that was mostly in knobs, and things to secure our new finds to the walls!).
A HUGE, HUGE thank you to Grandma and Grandpa for helping us see our vision through!  It is just lovely!
Have you blogged about a Country Shabby Chic room? I would love for you to link it in the comment section!  I love new fun ideas!