Courtney American Girl Doll Printable Coloring sheet
Disclosure: Sponsored by Mattel.
Courtney Moore is a fun 80s girl! Print out a downloadable coloring sheet featuring Courtney Moore here. Printable is free for you to color at home or school. Courtney is a beautiful doll with a rich story-line. Fans of American Girl will love this story about a way cool girl from 1986 who loves to have fun and play video games. Moms who grew up in the 198s are going to find her fun and nostalgic. A big thank you to American Girl for sponsoring this giveaway!
"Courtney Moore™ is the best gamer in the arcade. But in the real world, she needs to learn a thing or two before she can unleash her inner hero."
Courtney American Girl Doll Coloring Sheet Free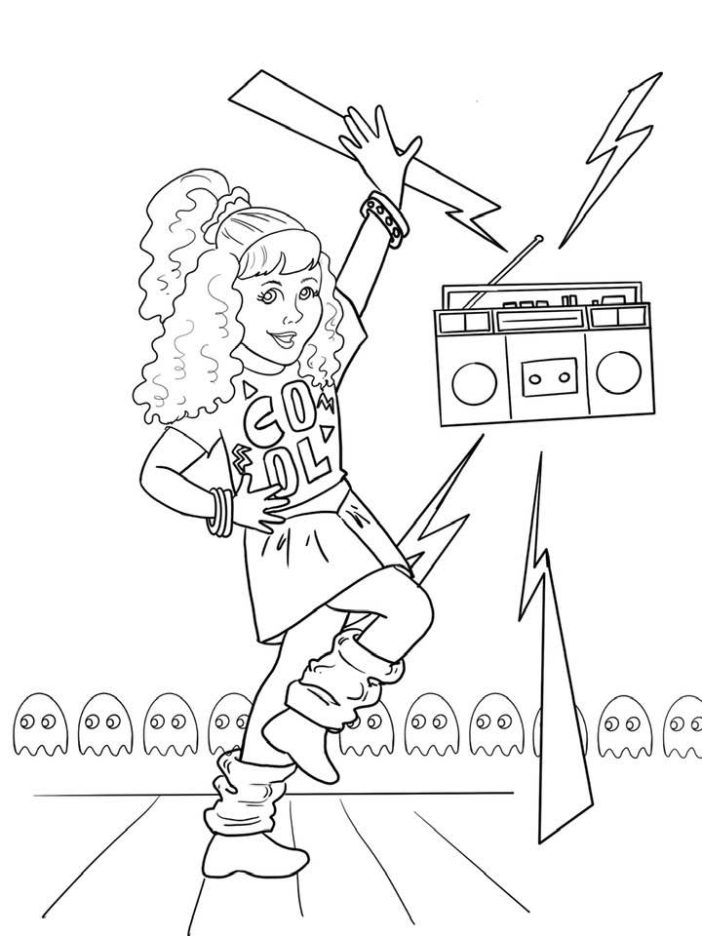 Courtney is sure to be fun for little girls and moms alike. So many of us moms grew up in the 1980s and can really identify with Courtney. Courtney's accessories consist of Care Bear pajamas, a walkman tape player, and a PacMan video game… just to name a few. In addition to that, 8 year old Courtney wears an outfit I am pretty sure I had. "Cool" statement Tshirt, leggings, and Acid Wash Jean Skirt. She is the epitome of cool.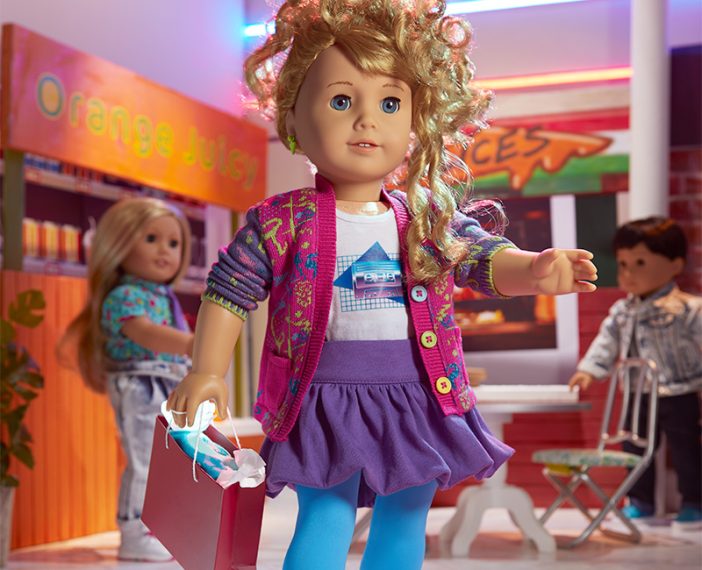 Image Credit American Girl
I can see so many little girls wanting to celebrate an 80s themed party with Courtney! Feel free to print out the coloring sheet below and enjoy. Please tag @KateHamArt and @HighlightsAlongtheWay to have us share your beautiful creations! If you color, take a picture, and tag us on Instagram before the end of our giveaway it is a bonus entry! See more about our giveaway below!
American Girl Doll Free Coloring Sheet
Our printable coloring sheet below is available to download and share. Readers do not need to enter any information or even subscribe to our blog to enjoy this fun freebie. Make sure to check back for more free coloring pages as we love to add regularly. We also shared a free printable Female Astronaut coloring page which was inspired by the American Girl Doll, Luciana. Of course check out our entire collection of licensed and unique printables on our page. We have hundreds of free coloring and activity sheets available for use. Printable coloring sheets are allowed for home and school use. We encourage readers to use printable coloring and activity sheets for American Girl Doll themed birthday parties as a fun budget friendly activity for children. The printable below features Courtney in all her 1980's glory!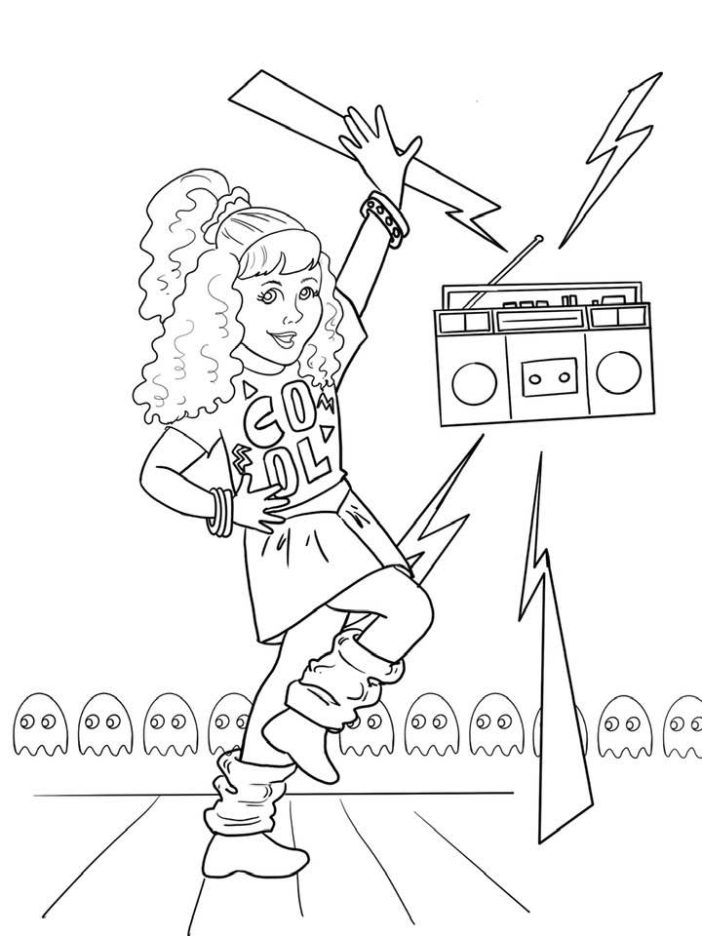 Simply click and print from home!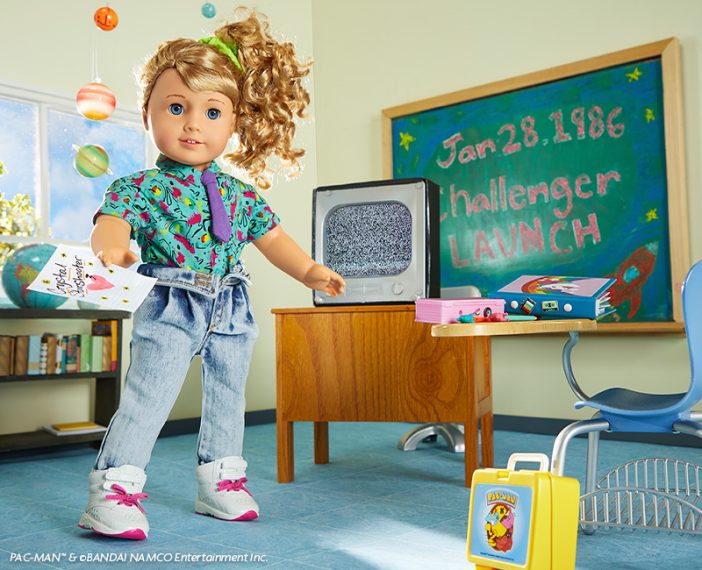 Image credit American Girl
Another reason we love American Girl is because they have so many books to accompany their dolls. Each doll comes with a rich background and so much reading material. While I have linked American Girl and there are many books to buy there, if you are a kindle user, you will be happy to know there are several American Girl Kindle books available. While we have a huge collection of American Girl books, we also love to download a few to read digitally too.
We also have two videos featuring a couple of Courtney's accessories.
Seriously, how many of us had a walkman that looked exactly like this one?!
Giveaway has ENDED but our free coloring page is still available.
Who wouldn't love to win a Courtney American Girl Doll of the Year for their American Girl fan? I am so excited that Mattel has been kind enough to offer a doll for us to give away. One lucky Highlights Along the Way subscriber will have Courtney mailed straight to their home just in time for the holidays! As with most of our giveaways, you must be a fan of Highlights Along the Way, that is it! Make sure to leave us a comment letting us know who you would gift Courtney to (it is OK to say yourself!). That's it! We also have several ways that you can earn more entries by engaging with us on social, but being a subscriber is the only requirement. Void where prohibited. This giveaway is valid only within the United States. The winner's American Girl Doll will be mailed directly from American Girl Doll and cannot be mailed to PO Boxes, only a physical address.
UPDATE! Giveaway has ended – winner will be contacted – coloring sheet printable is still FREE!
Enter for your chance to win by leaving a comment below. Giveaway starts NOW and will end on 11/7/2020. Winner will be chosen and notified by or before 11/9/2020. Winner will be contacted via email. Winner's name will also be visible on our blog post here (First name and last initial). Only the winner will be contacted. Winner MUST respond within 48 hours of winner announcement and provide a mailing address. If the winner does not respond within that time frame, the prize is forfeited and a new winner must be chosen. While we have never had a problem with a giveaway before, Highlights Along The Way cannot be held responsible for lost or damaged prizes.
UPDATE! Winner is Lisa Marie W*** – email will be sent – Lisa, please email back within 48 hours or we will have to replace you as the winner – I hate doing that so pretty please respond soon!
Extra entries?
*Print out our Courtney coloring page and post a pic on Instagram! Instagram picture must be public and tag us to see it! Come back and leave a separate comment with a link to your Instagram share.
*Follow "This and That" on Youtube – comment separately letting us know
*Follow "Highlights Along the Way" on Youtube – comment separately letting us know
Best of luck to all! Thanks again to our friends at American Girl who were kind enough to share a doll with us and one with our readers!